OK, so I know by now I have already sold you on why you would want to make cheesy ranch chicken pasta, but I am going to go ahead and add another thing. It all cooks in one pot! Just one. If you are like me, this is an amazing discovery. My kids love it and it cleans up easy which means I am winning. There is a little bit of prep work to be done but if you do that, I am here to tell you the rest of your week will be a breeze too.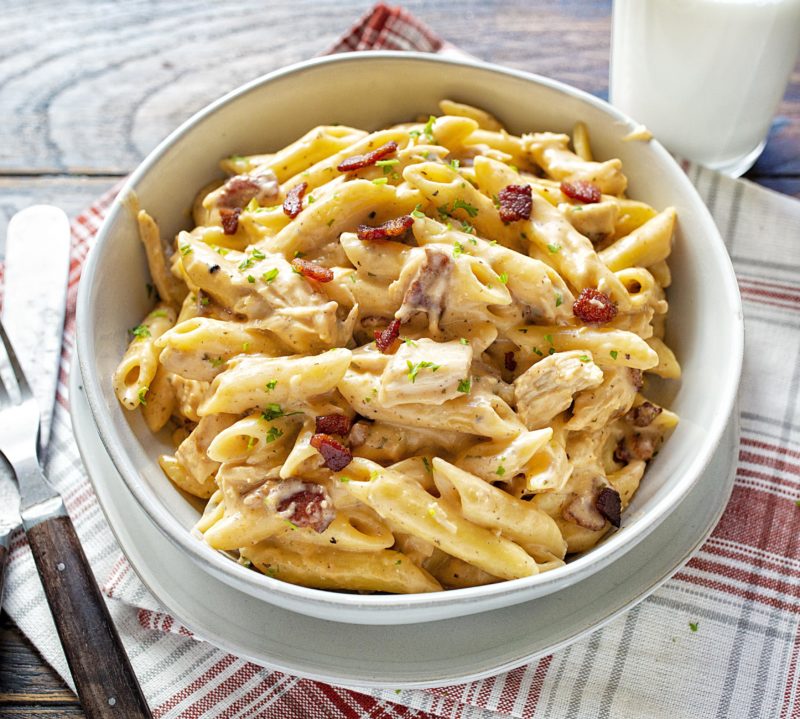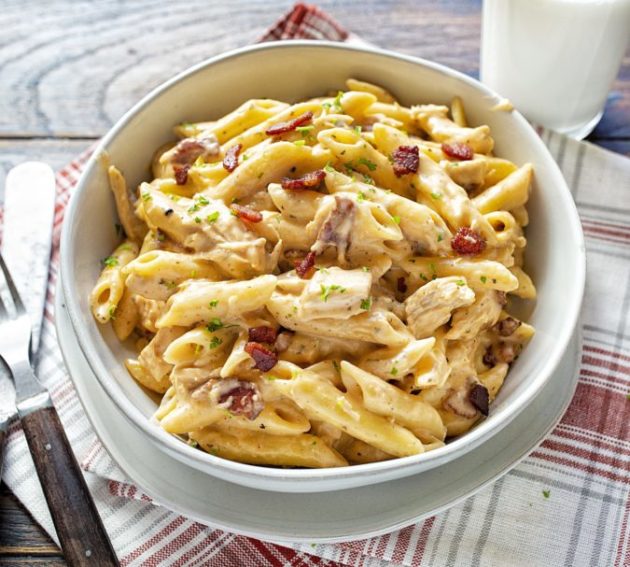 Cheesy Ranch Chicken Pasta
I don't know what it is about kids and ranch. They just love the stuff. So anytime I can make a dinner for them that has the flavor of ranch infused, I know it will be a hit. Cheesy Ranch Chicken Pasta had them licking the bowl and asking for more. I'll be honest, I was in the same camp. It was so delicious I couldn't stop grabbing a bite full.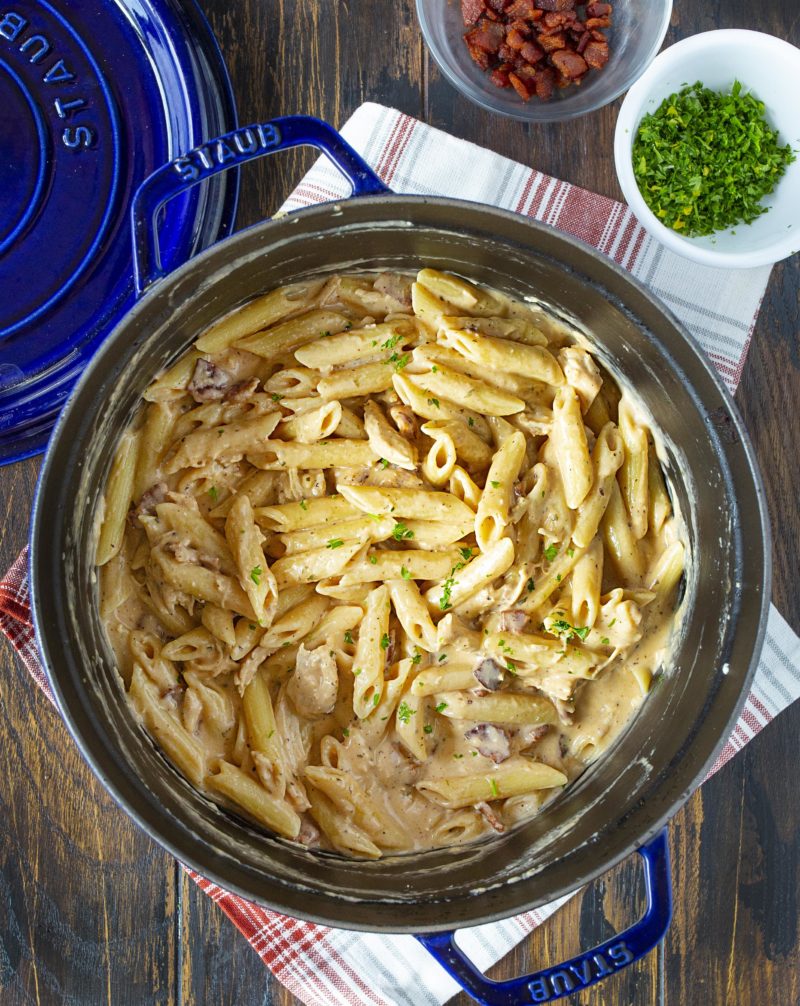 Prep Ahead
Shredded Chicken: You can buy your chicken cooked and pre-shredded but I prefer to make it ahead. Use this easy shredded chicken recipe for perfectly cooked and moist chicken every single time.
Bacon: You can also buy pre-cooked bacon at the store but again, there is nothing better than the taste and crunch of perfectly cooked and crispy bacon. I always bake mine in the oven. Start by lining a large baking dish with tin foil and lay out the individual pieces of bacon. Bake them in the oven at 415° F for 18-20 minutes. Cook times will vary based on your oven heat.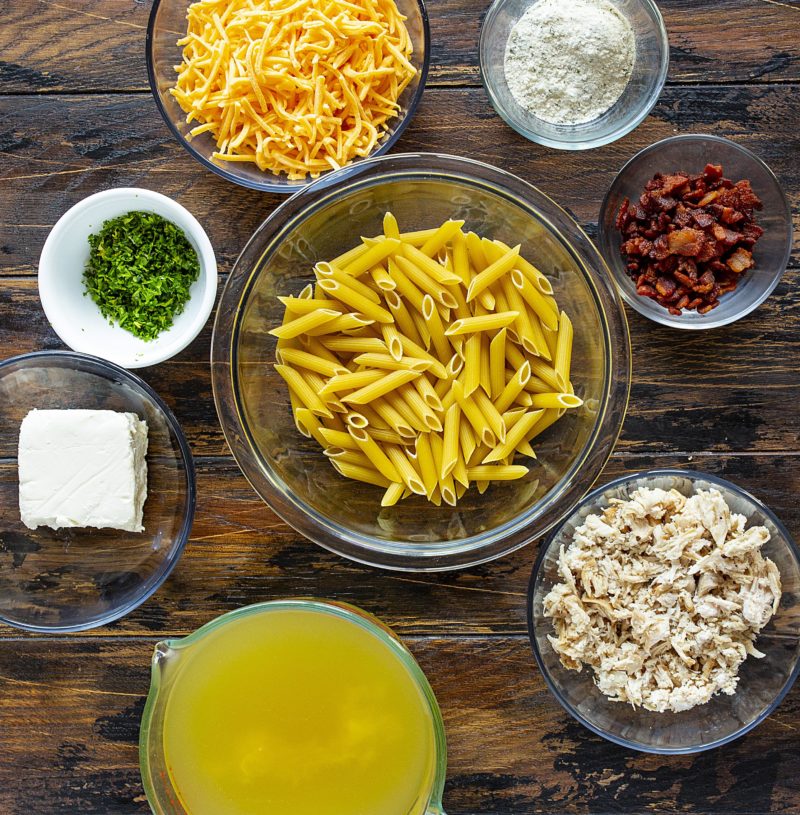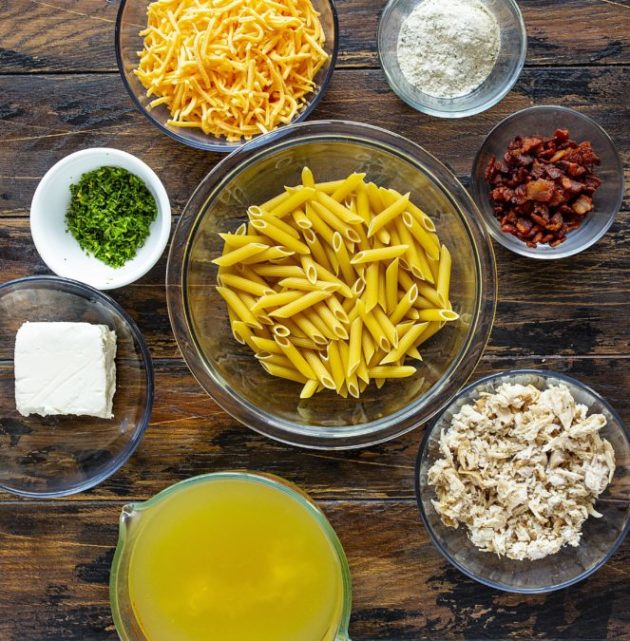 Other Ingredients
Dry Ranch Seasoning
Penne Noodles
Chicken Broth
Cream Cheese
Cheddar Cheese
Parsley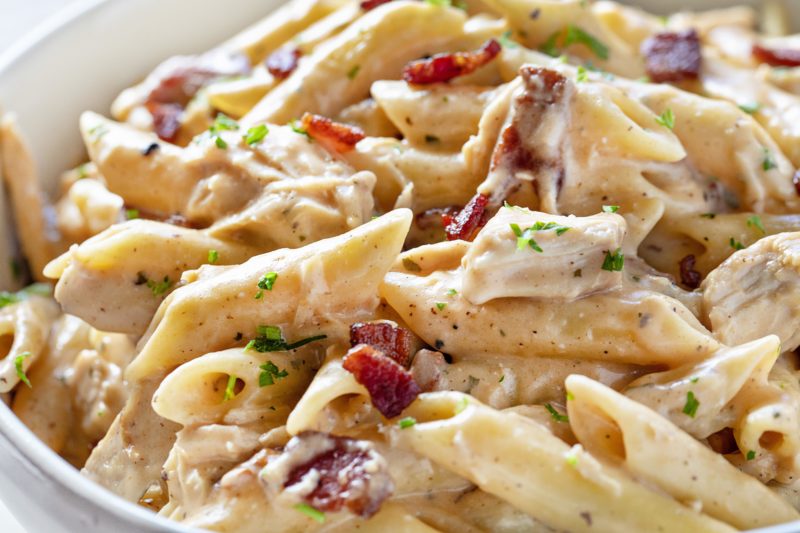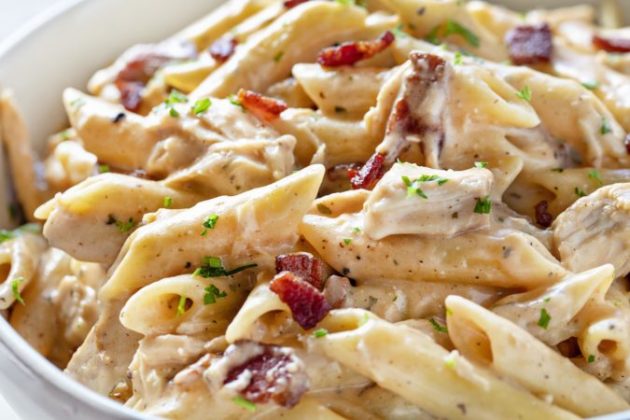 How to Make Cheesy Ranch Chicken Pasta
Start with a small to a medium-sized bowl.
Add the chicken and the dry ranch seasoning and stir to combine making sure to coat all of the chicken well.
Move to the Dutch oven and set it over medium heat. Add the broth, the dry penne noodles, and the chicken mixture. Stir to combine and bring everything to a boil.
Reduce the heat down to low and cover. Allow this mixture to simmer 15-20 minutes.
Stir it occasionally to make sure it doesn't stick to the bottom of the pan. (There will still be liquid in the pan when the noodles are finished cooking.)
Add in the cream cheese and stir until it has completely melted into the mixture.
Remove from heat and add the bacon and the shredded cheddar cheese. Stir everything together until it has completely melted.
Garnish with parsley and serve! Yup, it's just that easy.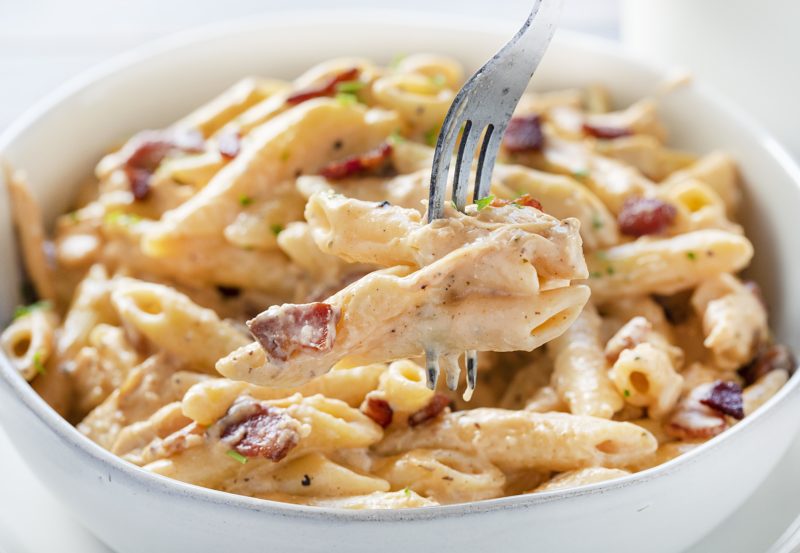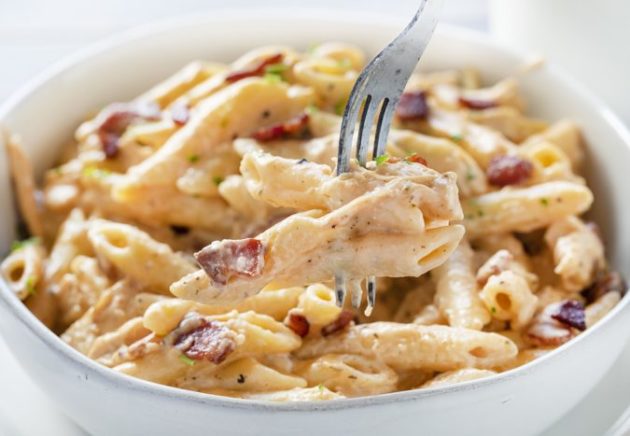 INGREDIENTS
2 cups shredded chicken, cooked
1 package dry ranch seasoning mix
8 ounces penne noodles, uncooked
3 1/2 cups chicken broth
4 ounces cream cheese, room temperature
4 slices thick-cut bacon, cooked and crumbled
2 cups cheddar cheese, shredded
1 tablespoon fresh parsley, chopped
INSTRUCTIONS
In a small bowl combine shredded chicken and dry ranch seasoning. (This is your chicken mixture.)
To a large Dutch oven over medium heat, add the chicken broth, penne, and chicken mixture. Stir to combine and then bring to a boil. Reduce heat to low and then cover and cook for about 15 to 20 minutes or until the pasta is cooked to your preference. There should still be some liquid in the pot when the pasta is done cooking.
Add the cream cheese to the dutch oven and stir until most of the cream cheese has melted.
Add the bacon and shredded cheddar cheese. Stir everything until cheese is fully melted.
Garnish with parsley and serve.