Dress up your boring pork chops with creamy and delicious browned butter sauce and fresh, earthy mushrooms. This combination of flavors is perfectly paired and will be a new favorite on your recipe resume.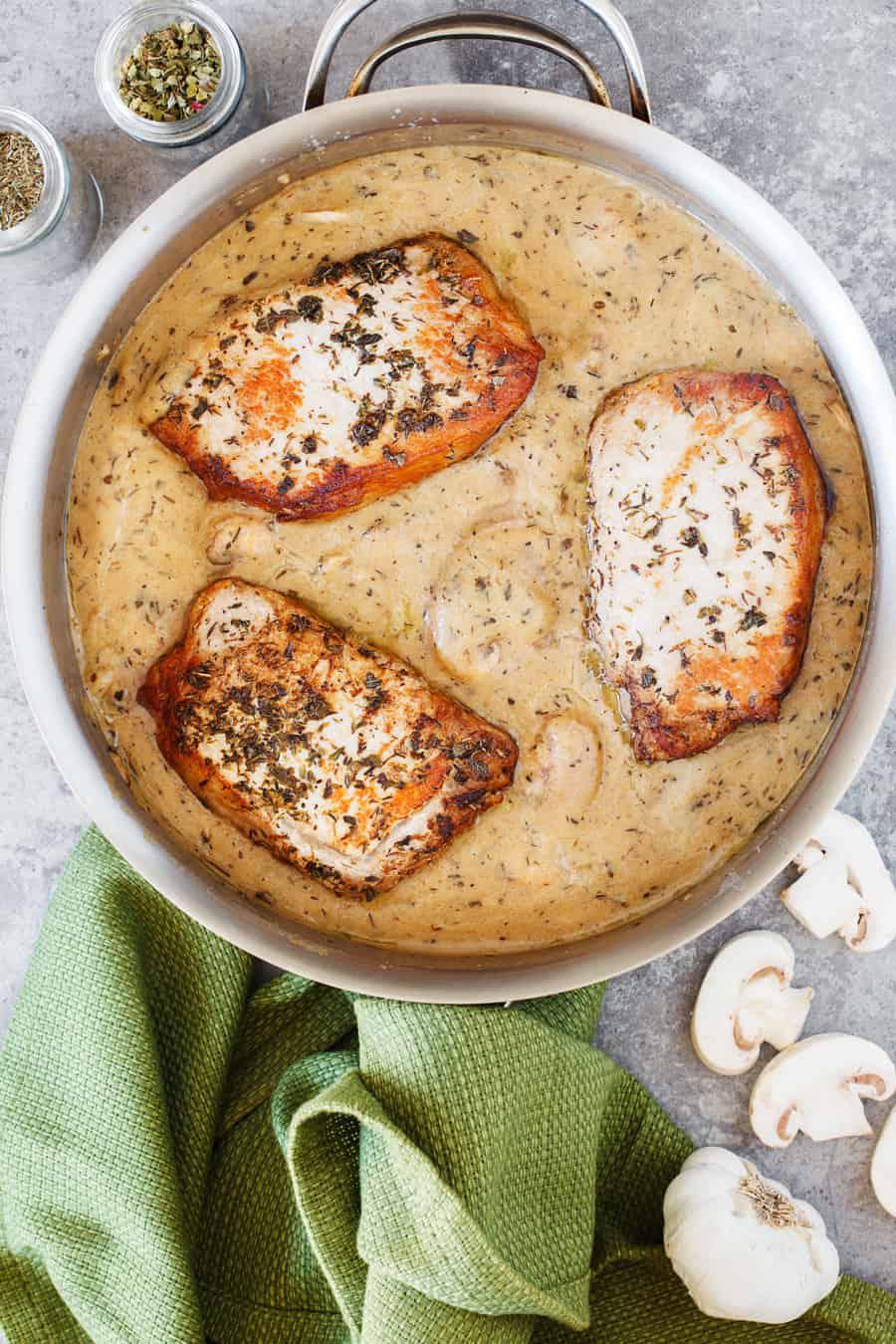 PORK CHOPS
There are literally thousands of pork chop recipes you can find if you are looking on the internet. By adding browned butter and mushrooms to my pork chop recipe, I know I have a hit in my house! You'll want to lick the plate when you are done. Just do it. No judgment here!
Browned butter is incredibly easy once you've got the hang of it and can add tons of depth to your baked goods and entrees like these Browned Butter Pork Chops with Mushrooms. The process of browning butter includes slowly heating butter in a saucepan until it starts to bubble. You then whisk vigorously until the bubbles create a foam and eventually turn golden brown. Pro tip: once the butter turns golden brown, make sure to pull it from the heat. Burning happens relatively quickly once you get to that point.
HOW TO COOK PORK CHOPS
Starting with a room-temperature chop is a great way to ensure that they cook perfectly. You can leave them on the counter for 30 minutes (up to 2 hours) to ensure that the chop is not cold throughout.
It is important to make sure that your pork reaches an internal temperature of 145°F. Using a meat thermometer is a great idea when cooking with pork as you do not want to over cook it.
Another thing to consider when cooking pork chops is the cut of meat you choose. This recipe used boneless but can also work well with bone-in chops. A bone-in chop can provide substantial flavor as well as cook more evenly. When testing the meat temperature just be sure to not touch the thermometer to the bone to ensure an accurate reading.
Normally I recommend letting pork chops rest before cutting into, but this recipe solves that problem for us. Letting the pork chops rest in the gravy for a few minutes helps to ensure all of the flavor is packed in and that these Pork Chops will be seriously delicious!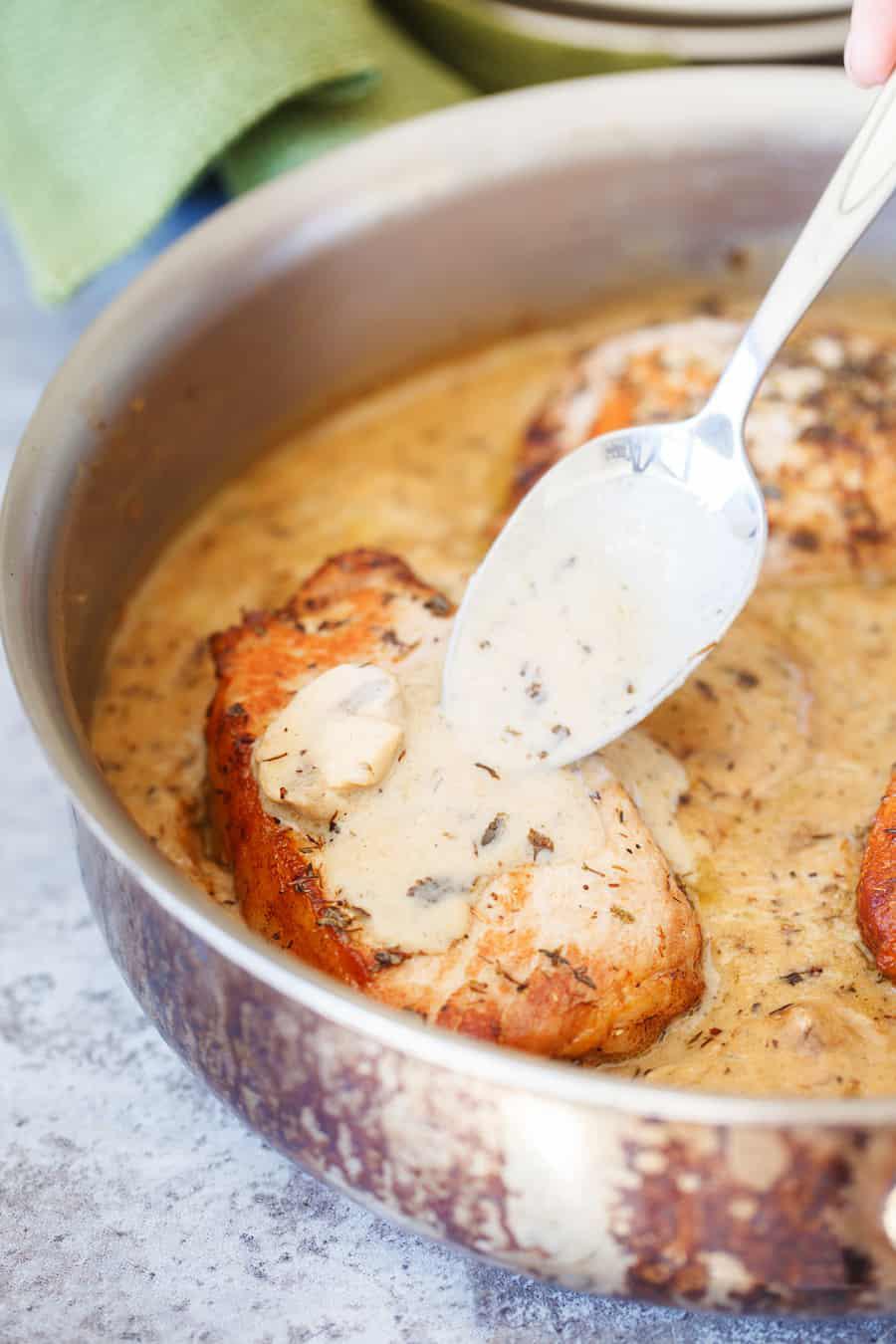 PORK CHOPS RECIPES
Serve these pork chops with browned butter and mushrooms with a side of mashed potatoes and some fresh sauteed green beans, and dinner is complete! The sauce will make an excellent gravy over the mashed potatoes too, so you may want to double the batch! You could also prepare some of our easy and delicious: breadsticks or even some Cheesy Roasted Potatoes. These are always great addition with a saucy dish like this!
You can also make this recipe with CHICKEN! You will need to cook the chicken a bit longer (5-7 min. per side) to ensure it is done.
Other Pork Chop Recipes that I recommend are Ranch Pork Chops with Green Beans and Potatoes, this one is a sheet pan recipe so if you are a fan of no cleanup, you should get on this one asap! Another is Baked Pork Chops, these are made with an onion ring on the top (not fried).
Ingredients
4 tablespoons unsalted butter
2 garlic cloves, minced
3 thick-cut, boneless pork chops
1 cup mushrooms, sliced
1 tablespoon dried oregano
1 tablespoon dried thyme
1/4 cup all-purpose flour
1 to 1 1/2 cups whole milk, can use heavy cream
Salt and pepper to taste
Instructions
In a large skillet over medium-low heat, heat the butter with garlic until melted. Continue to heat until the butter foams, stirring constantly to prevent overflowing. Once the foam subsides, continue to heat until brown bits form at the bottom of the skillet and a nutty aroma is produced.
Add the pork chops and cook on each side until cooked through. (3-5 minutes per side, or until internal temperature reached 145°F)
Remove the cooked chops to a clean plate and tent loosely with foil.
Lower the heat to low and add the mushrooms, oregano, and thyme to the butter mixture. Cook until the mushrooms are slightly softened and cooked.
Whisk in the flour until no lumps remain. Slowly stir in the milk until the desired gravy consistency is achieved. Season with salt and pepper to taste. (With the heat still on low) return the pork chops to the gravy for about 5 minutes. Serve and enjoy!