Fun, bite-sized Cheesy Roasted Potatoes are always a hit at our table. The potatoes are intentionally scored in order to absorb the mixture of seasonings and cheeses they are topped with! Make these as a side dish to Magic Meatloaf or Browned Butter Pork Chops!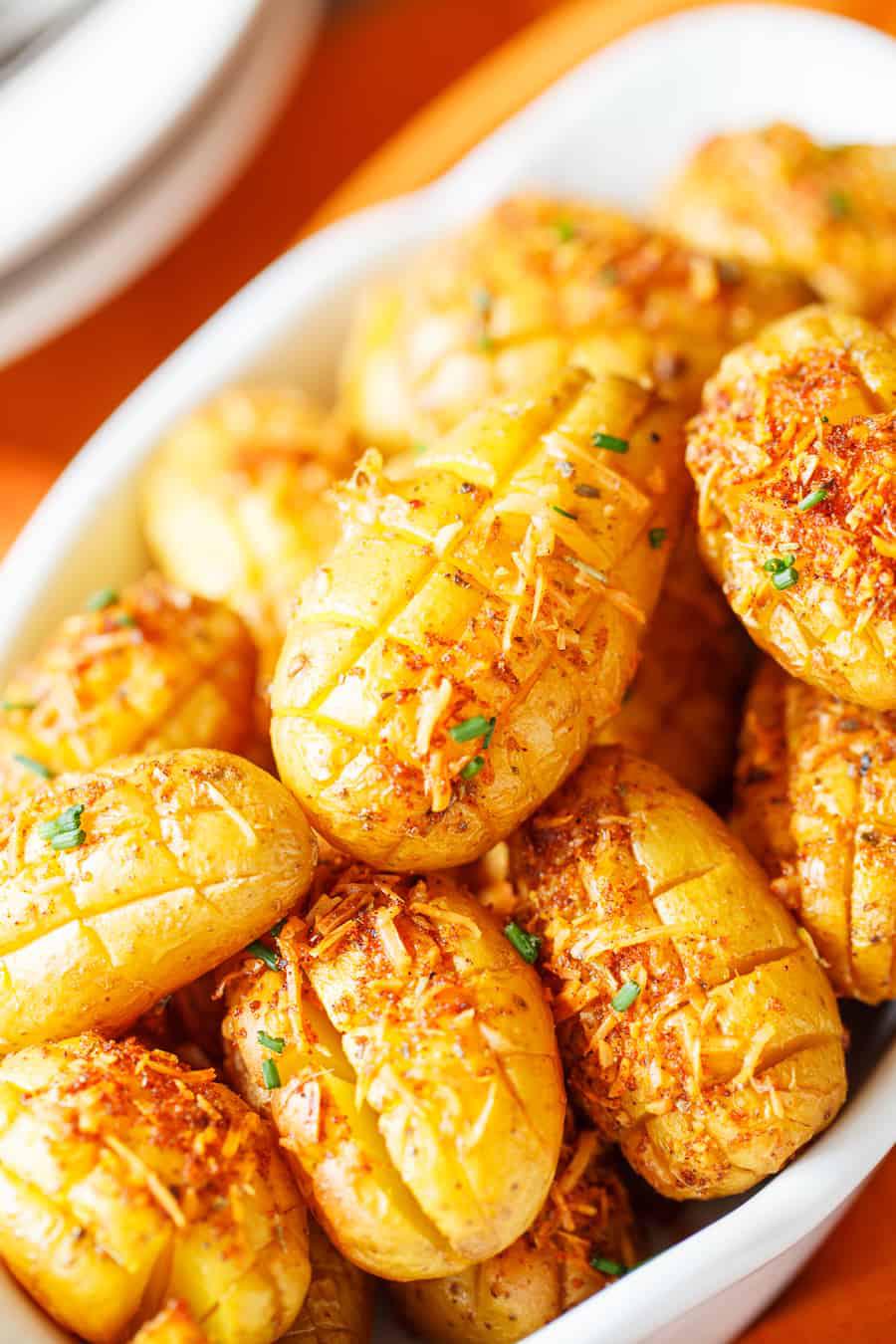 HOW TO MAKE CHEESY ROASTED POTATOES
These are like a miniature version of Hasselbeck Potatoes and they are glorious. The result is a crispy, perfectly seasoned potato skin, with a soft and fluffy inside. This cheesy roasted potato recipe is amazing from start to finish. To make the potatoes, you will score them both lengthwise and widthwise. This allows the seasonings and the cheese to reach inside of the potatoes while they are cooking. All of the flavors meld together in the middle making every bite perfection.
To make the score marks, I like to use chopsticks or grilling skewers to create a barrier at the bottom of the potato. This way, you won't cut all the way through the potato when you score it, holding everything together nicely. Just place one chop sick on each side, hugging the sides of the potato together. Using one hand to hold the skewers and the other to make the scores. Using a sharp knife, cut three to four times lengthwise, and then turn the potato and the chopsticks and make four to five widthwise cuts. The number of cuts you make will be determined by the size of your potato. The more scores you make the more opportunity to get the seasonings and cheese inside of the potato.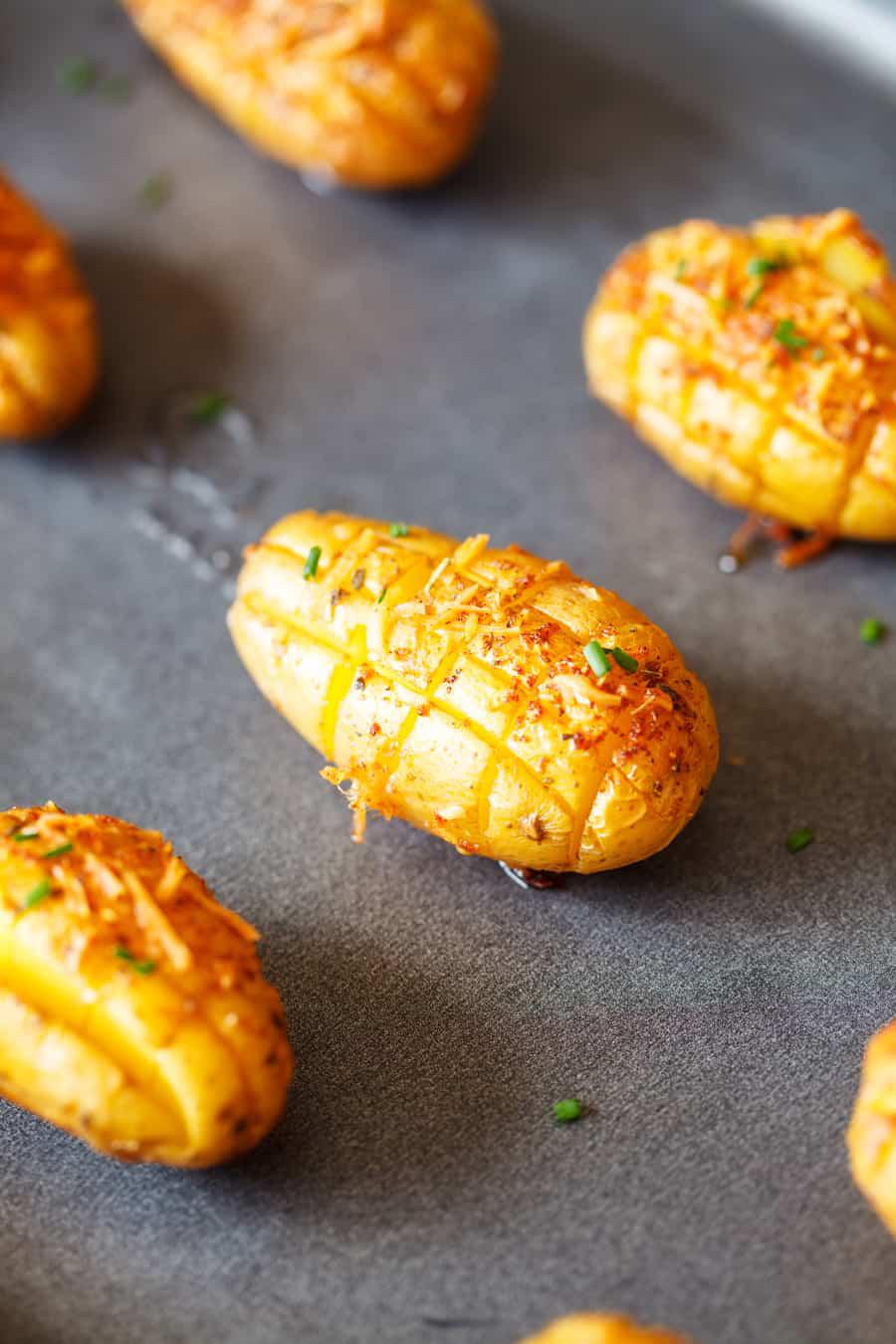 CHEESY ROASTED POTATO RECIPE
The ingredients list for this recipe is relatively simple. It is completely customizable too. To start you will need:
Golden Baby Potatoes – You can get the potatoes a little larger, but you will need to adjust the cooking time.
Butter
Parmesan Cheese
Seasonings (salt, pepper, garlic powder, paprika, and Italian seasoning)
Chives for topping at the end
As I mentioned this recipe is completely customizable. I change it up almost every time I make it. You can change the cheese to something different like cheddar, or pepper jack. Sometimes I will try to stuff the shredded cheese into the score marks to really take it up a notch. Or, go crazy and top it with some nacho cheese sauce. You could also try serving it with a healthy dollop of sour cream, or top it with salsa, or some of grandmas homemade chili. If you are looking to get some additional green in the mix, try adding some steamed broccoli or kick up the spice with diced jalapenos. I like to make a little tray of extras and let people decide how they want to eat it. This is a great way to turn a simple side dish into the main course.
WHAT SHOULD I SERVE WITH CHEESY ROASTED POTATOES?
We are a meat and potatoes family, so really, when is a bad time to serve Cheesy Roasted Potatoes? I'd go with never. However, I like pairing meals and flavors as much as the next person, so I might have a few recommendations:) Browned Butter Pork Chops or Baked Pork Chops would both make an excellent choice for the main course.
Ingredients
2 pounds golden baby potatoes thoroughly washed
1/2 cup unsalted butter melted
1/2 cup grated parmesan cheese
1/4 teaspoon fresh cracked black pepper
1/2 teaspoon salt
1 1/2 teaspoons garlic powder
1 1/2 teaspoons paprika
1/2 teaspoon Italian seasoning
Fresh chives chopped, for garnish
Instructions
Preheat oven to 400°F.
Score each potato by creating 4 to 5 slits lengthwise and then widthwise. Do not slice all the way through.
Arrange the potatoes on the baking sheet, scored side up.
Pour the butter over the potatoes.
In a small bowl, mix together the cheese, pepper, salt, garlic powder, paprika, and Italian seasoning. Sprinkle over the potatoes.
Bake for 35 to 45 minutes until fork tender.