Grandma's Homemade Chili is the ultimate comfort food! She had a way with her recipes that brought everyone to the table and left them happy and satisfied. She even converted a die-hard chili hater with this recipe!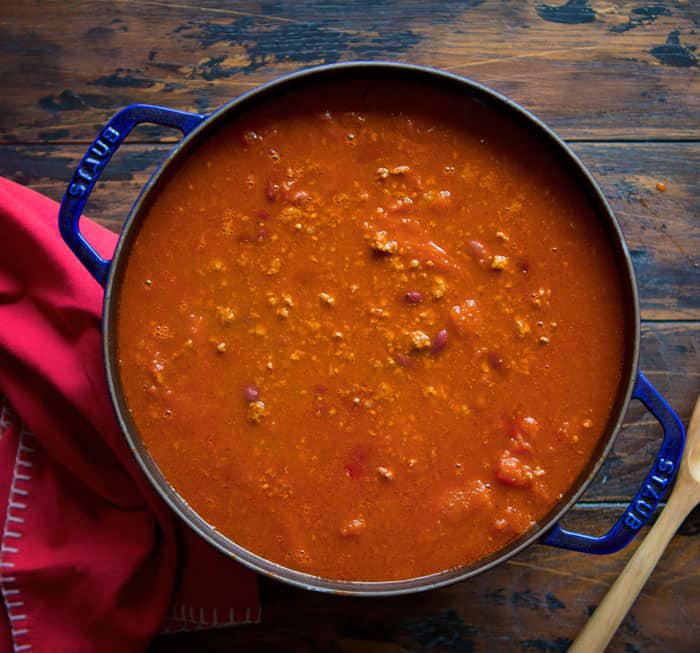 HOW TO MAKE HOMEMADE CHILI
This homemade chili recipe is easily adaptable. For instance, when my grandma would have a good tomato crop she would can until her pantry was overflowing. Instead of buying canned tomatoes she would use her canned whole tomatoes, juice and all, in this recipe. If you try this, just be sure to break up large tomatoes with your hands or a masher first. Also, during deer hunting season, if grandpa would get a deer she would make this with venison. When she would have a great pepper crop she would add green peppers, jalapenos, even habanero. Although, she only did that once. Grandpa did not like it too hot! Bottom line, you can modify this recipe to what you have in your cupboard, or what you prefer.
HOMEMADE CHILI SEASONING
Homemade chili seasoning can be a great addition as well. To make your own homemade chili seasoning, just grab a small bowl and mix together the following: 1 tbsp chili powder, 1 tsp ground cumin, 1/4 tsp cayenne pepper, 1/4 tsp garlic powder, 1/2 tsp onion powder, 1 tsp salt, and 1/4 tsp pepper. Put it in an airtight container for up to six months!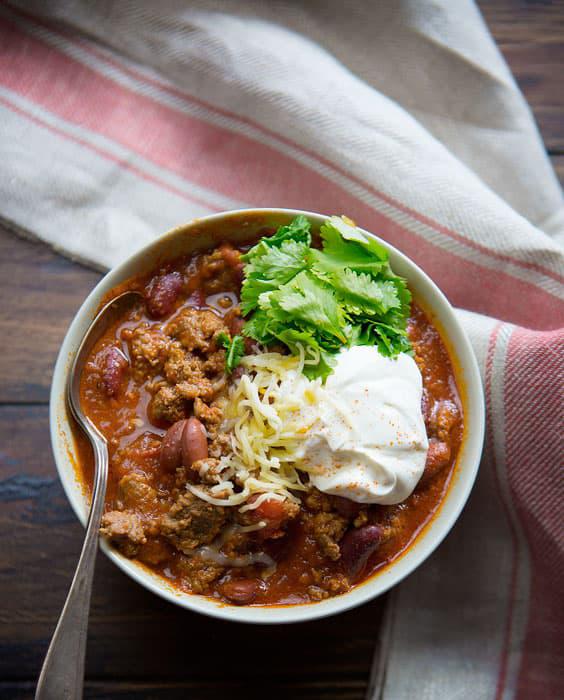 HOMEMADE CHILI RECIPE
If you were a young wife like I was, you may have wondered, "How do you make Homemade Chili?" To be more accurate, I asked, "How do you make Homemade chili, FAST?" I am so thankful that my Grandma was willing to share her award-winning recipe! But a few extra tips and tricks really helped me to perfect it and streamline the process. The process of making homemade chili is actually relatively simple. The secret is in the time! The flavors in the tomatoes, the seasonings, the meat, and the beans need time to start to work together. They start to blend perfectly if you let the whole thing simmer. Grandma was known for her patience as well:)
HOMEMADE HOT DOG CHILI
A lot of people ask me if you can just throw this homemade chili recipe right on a hot dog. The answer is Yes! This homemade chili actually tastes amazing on hot dogs. The trick to a good homemade hot dog chili is that it needs to a be thick. If the chili is runny it will make the hot dog bun soggy. To give this chili the texture for hotdogs, just scale back on the liquids. Personally, I prefer chili to be on the thicker side anyway. It gives it that hearty taste that I love.
HOMEMADE SLOWCOOKER CHILI
Most people these days think of chili in a crockpot. So, what's the deal? Can you make this in a crockpot and still get that amazing aroma and flavor? Absolutely. Simply brown ground beef or venison in a large skillet over medium-high heat, drain the fat and put the cooked beef, seasonings, tomatoes, and beans in slow cooker. Stir the mixture up really well and then cover and cook for about 8 hours. You will want to make sure it is on a low-temperature setting. Some recipes will tell you that it is ok to turn a slow cooker to high for only 4 hours, but personally, I don't think this gives the meal enough time to start to really blend together.
WHAT DO I SERVE WITH HOMEMADE CHILI?
Chili and cornbread go together like peanut butter and jelly. Also, I like to set my chili table up like a DIY smorgasbord. I will put a big pot of chili in the middle of the table and surround it with all of the fixings. Cornbreads, cheese, sour cream, jalapenos, diced tomatoes, homemade chili seasoning, oyster crackers, cilantro, and we like to throw some tortilla chips in the mix too! I have seen some people pour their chili over steamed white rice too. I guess it looks pretty darn good, but I have never tried it. This is one of those meals that I love so much I don't really like to mess with it.
TOOLS USED TO MAKE CHILI
Listen up, there is only ONE tool that you absolutely must have to make this chili. A dutch oven. I good dutch oven is a must. I love my Staub Dutch Oven. They are an investment, but they are SO worth it in my opinion. Now, if you go the homemade slow cooker chili route, you won't need a dutch oven, but you might want to get yourself a good crockpot.
HOW TO FREEZE CHILI
Chili is usually made in large batches, so that means there will probably be leftovers. For best results, freeze the chili immediately after serving the chili (don't wait until the day after). Put small portions of the leftover chili in freezer-safe containers, date it, and eat it within two months. When you are ready to eat the chili, defrost the chili in the microwave for a few minutes and continue heating it in a saucepan, over medium heat.
Ingredients
2 pounds ground beef
1 onion chopped fine
4 cloves garlic minced
2 15 ounce cans kidney beans (roughly drained)
2 14.5 ounce cans stewed (or canned) tomatoes, undrained
3 tablespoons McCormick chili seasoning mix or to taste
salt and ground black pepper to taste
Instructions
Cook and stir ground beef, chopped onion, and garlic in a skillet over medium heat until crumbly and browned, 5 to 10 minutes. Drain.
Stir drained ground beef, kidney beans, tomatoes, and chili seasoning together in a large pot over medium-high heat.
Bring to a boil, reduce heat to low, and simmer, stirring occasionally, until vegetables are slightly tender and chili is heated through. (15 to 20 minutes)
Season with salt and ground black pepper to taste.