When it comes to peanut butter desserts, this Peanut Butter Oreo Dessert will top them all. This delectable treat has layers of velvety peanut butter filling, peanut butter filled chocolate candy, and a rich hot fudge mousse piled on top of an Oreo cookie crust. To top it all off, there is no baking involved!
Peanut Butter Oreo Dessert
Peanut butter is life around here. It is a great source of protein, and my kids love it. Let's get real, who doesn't love peanut butter? If you are a peanut butter dessert lover like me, this one is hands down one of my favorites. The thick oreo crust is the perfect complement to peanut butter. Boy oh boy do we introduce peanut butter in this dessert. In a few different amazing ways!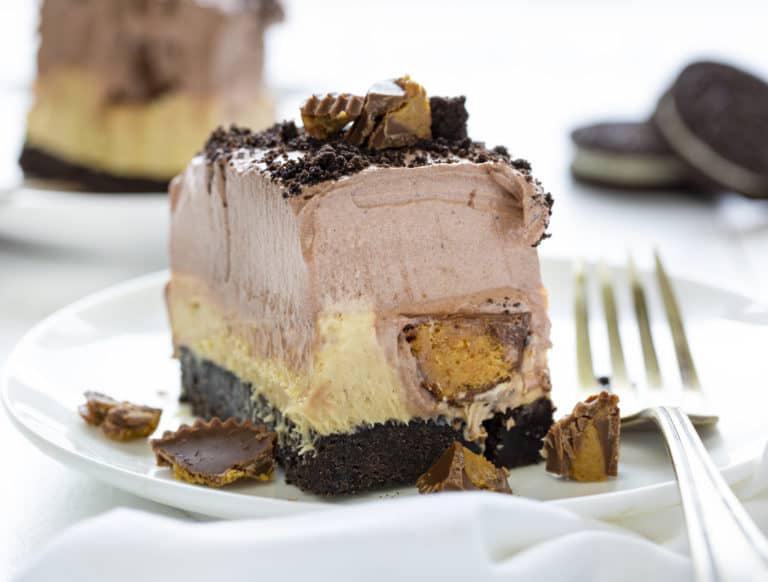 How to Make this Peanut Butter Dessert
Since this is a no-bake Peanut Butter Dessert the steps are relatively simple. I'll break each one down for you.
Crust
The crust is a simple mixture of crushed Oreo Cookies and butter. The consistency of the cookie crumbles is important, so I would recommend using a food processor to ensure that you can get the finest grain. For this dessert, I left the white filling in during the food processing step.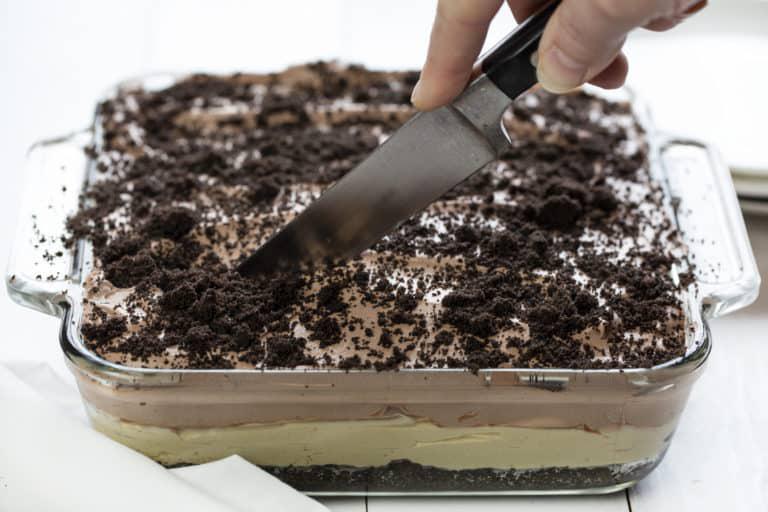 Peanut Butter Filling
I dare you to not lick the spoon. Ok, that is just mean. Go ahead and lick the spoon during this step. It is so delicious! For the peanut butter filling, start by creaming the cream cheese to make it light and fluffy, and then add in the peanut butter, whipped cream, and powdered sugar. Pour that on top of the Oreo Crust. Next, chop up some peanut butter cup candy and make another on top. Or, you can buy the mini peanut butter cups and just use those (which is what I did).
Chocolate Mousse Topping
For this layer, we use hot fudge pudding mix, milk, and powdered sugar. Using a hand mixer, beat this combination until it starts to thicken (about 2 minutes). It will be soft set, and that is ok. Let it sit another two minutes and then fold in the remaining whipped topping. Pour this mixture over the peanut butter cups. Top with some of the reserved cookie crumbles and refrigerate. Don't skip the refrigeration, this is what helps hold everything firmly together.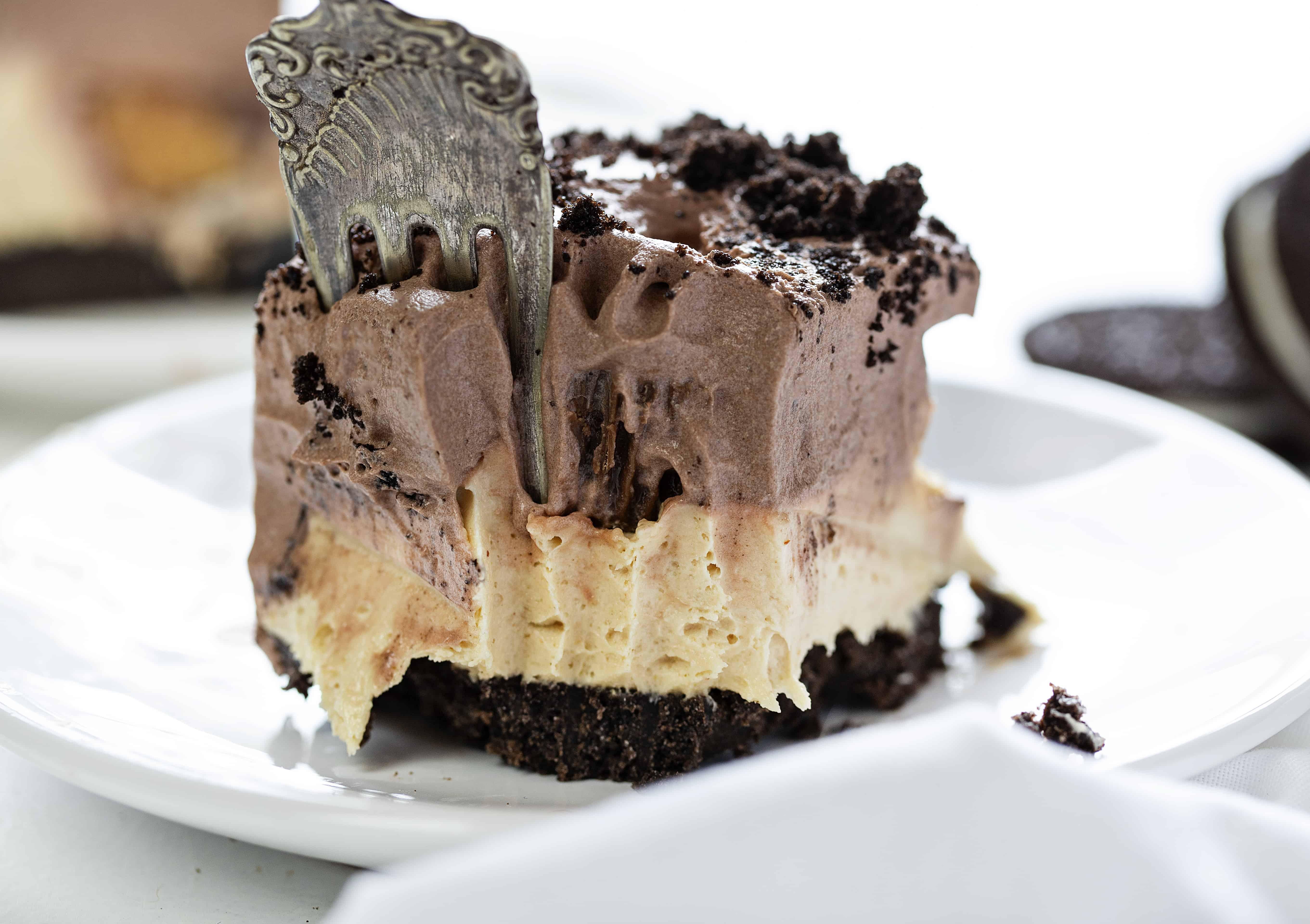 The Key to the Perfect Crust
Since this is a no-bake Oreo crust, just a few small tips on how to get it right the first time. Butter and pressure.
Butter – make sure that all of the Oreo crumbles are completely covered in butter. The butter helps them solidify and stick together. Obviously, you don't want too much butter, that would result in a bad tasting and liquidy crust, but too little butter will result in a crumbly crust.
Pressure – Another trick to getting this crust to hold together nicely is pressure. I typically will take the bottom of a drinking glass and use that to create a flat and level crust. Don't be shy when you do it, but don't use all of your might either. If you push too hard you will lift up the crust a bit. It's ok if you do, just put it back in place and start again.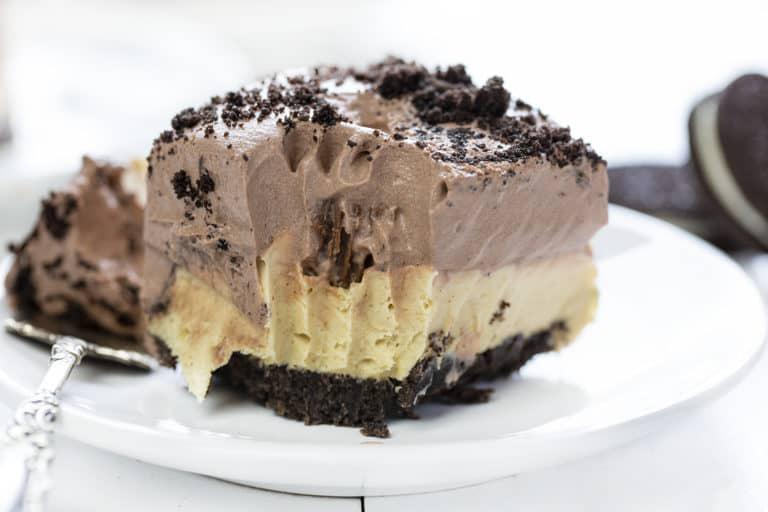 INGREDIENTS
OREO CRUST
30 Oreo cookies
1/2 cup (113g) butter, melted
CREAM CHEESE LAYER
8 oz cream cheese, softened
1/2 cup (128g) creamy peanut butter
1 cup (125g) confectioners sugar
8 ounces whipped topping
30 mini peanut butter cups (or 9 full size), chopped
CHOCOLATE MOUSSE LAYER
1 package (3.9 ounces) dry instant chocolate fudge pudding mix
2 cups (490g) whole milk
8 ounces whipped topping
1/2 cup (63g) confectioners sugar
INSTRUCTIONS
OREO CRUST
Using a food processor, process 30 Oreos cookies until they are a fine crumb (it's ok if there are a few cookie chunks).
Set aside 1/4 cup for the topping.
In a large bowl, combine remaining cookie crumbs with melted butter until fully incorporated.
Press cookie mixture into an ungreased 9-inch square dish; set aside.
CREAM CHEESE LAYER
In a large bowl, beat the cream cheese until light and fluffy.
Add peanut butter and 1 cup confectioners sugar and stir together until smooth.
Fold in the whipped topping. Spread over crust.
Sprinkle with chopped peanut butter cups.
CHOCOLATE MOUSSE LAYER
In another large bowl, beat the milk, pudding mix, and confectioners sugar until soft-set (about 2 minutes).
Fold in whipped topping and continue folding until fully combined. Spread over chopped peanut butter cups. (I did not use all the chocolate mousse for this layer, some was put in individual cups for the kids.)
Crush remaining cookies; sprinkle over the top. Cover and chill for at least 2 hours.