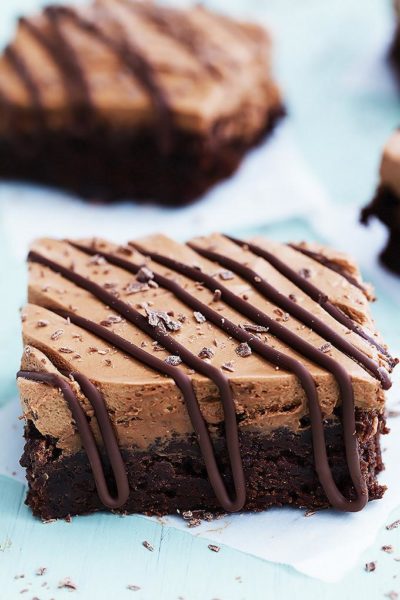 Ingredients :
brownie layer
¾ cup flour
½ cup cocoa powder
½ teaspoon salt
12 tablespoons butter
1½ cups sugar
1 teaspoon vanilla
2 eggs
mousse layer
¾ cups miniature marshmallows
¾ cup semi-sweet chocolate chips
¼ cup milk
1 cup heavy whipping cream
chocolate drizzle (optional)
⅓ cup semi sweet chocolate chips
3 tablespoons heavy cream
Directions :
Preheat oven to 350 degrees. Line a 9×9 inch square pan with nonstick foil and lightly grease.
Melt butter over medium heat. Once completely melted, continue to stir over medium heat for 2-3 minutes until the color changes from yellow to a golden amber color. Remove from heat.
In a large bowl whisk flour, cocoa powder, salt, and sugar. Add melted butter, vanilla, and eggs and mix to combine.
Pour brownie mixture into prepared pan and bake for 25-30 minutes until an inserted toothpick comes out clean. Allow to cool completely on a wire rack.
While the brownie layer is baking, begin to prepare the mousse. Add marshmallows, chocolate chips, and milk to a medium sauce pan and stir over medium-low heat until melted and smooth. Allow mixture to cool while brownies cool.
When brownies are cooled, finish the mousse layer. Add heavy cream (it should be very cold straight from the fridge) to a large bowl and mix until stiff peaks form. Add cooled chocolate mixture and mix til smooth. Spread mousse over cooled brownie layer.
For the chocolate drizzle (optional) add chocolate chips and heavy cream to a heat safe bowl and microwave on half power for 2 minutes. Stir, and return to microwave (at half power) for 20 seconds at a time stirring after each, as needed til mixture is completely melted and smooth. Allow to cool slightly before drizzling over mousse layer.
Chill for at least 30 minutes before cutting into bars and serving.
ENJOY!