Frito Taco Salad is quickly making a name for itself as a hearty, tasty, crunchy meal that's easy to make and super fun to eat!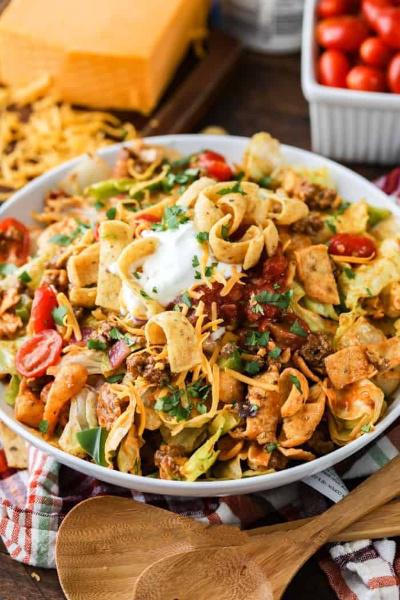 Building a Frito Salad
Taco salad ingredients are the same as what you'd put in a regular ground beef taco, but served over a bed of lettuce instead of in a taco shell. Make individual salads or assemble and serve a Frito taco salad bar and let everyone build their own! Assemble the base and let people choose their favorite dressing and add-ins!
Base: ground beef, iceberg lettuce, tomatoes, shredded cheddar, Fritos corn chips
Dressing: salsa, Catalina dressing, avocado dressing, buttermilk ranch dressing, or blue cheese dressing.
Add-Ins: peppers, onions, jalapenos, green chiles, black olives, sour cream, guacamole, or lime wedges.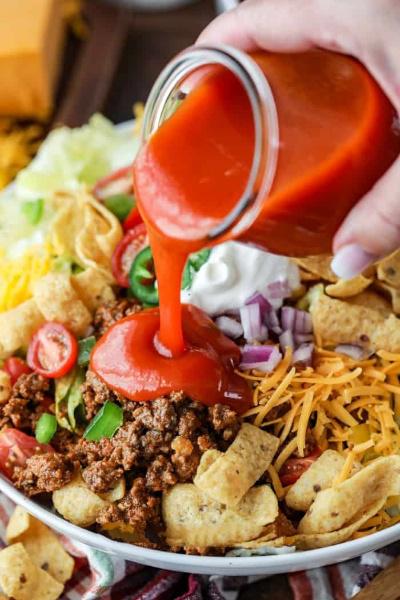 How to Make Frito Taco Salad
You can make individual servings or like a Dorito Taco Salad, this is also a great dish to serve at a potluck or party! Just cook the meat mixture, assemble and serve!
Brown beef until fully cooked and drain fat.
Add taco seasoning (or homemade taco seasoning) and water and simmer until thickened.
Top shredded lettuce with meat mixture and remaining ingredients.
You can toss with your desired dressing or serve dry and let guests choose their own dressing! Once dressed, add extra corn chips and dive in!
What Goes with Frito Taco Salad
This salad definitely stands on its own, but a citrusy side like orange wedges or a bright, flavorful lemonade drink are crowd-pleasers for sure!
Ingredients
1 pound lean ground beef
1 package taco seasoning or homemade
6 cups iceberg lettuce chopped
1 cup tomatoes chopped
1 cup cheddar cheese shredded
2 cups Frito corn chips
½ cup salsa
½ cup Catalina dressing or to taste
toppings as desired peppers, onions, jalapenos, sour cream
Instructions
Brown beef over medium heat until no pink remains. Drain any fat.
Add taco seasoning and ½ cup water. Simmer 5 minutes or until thickened.
Place lettuce in a large bowl. Top with meat, tomatoes, cheese, 1 cup of Frito corn chips, salsa and desired toppings.
Add dressing and toss well. Top with remaining corn chips. Serve immediately.