This Potato Soup is the ultimate comfort food! Thick, rich, and creamy soup packed with flavor. It is one of our go-to dinners for a reason!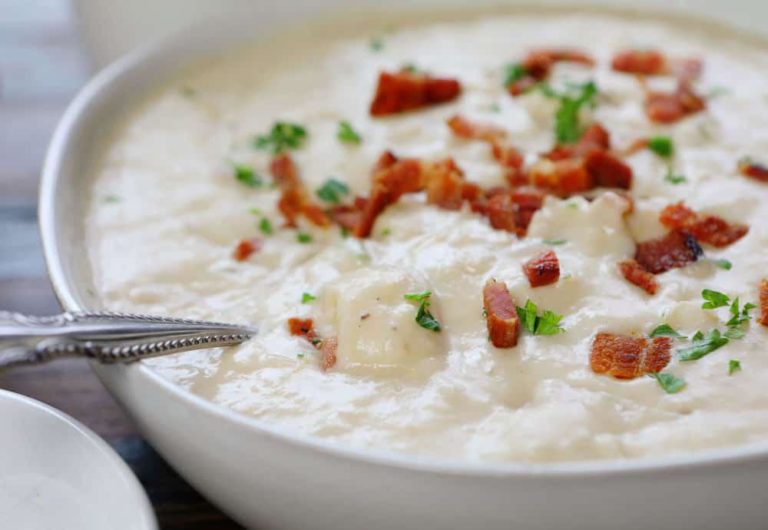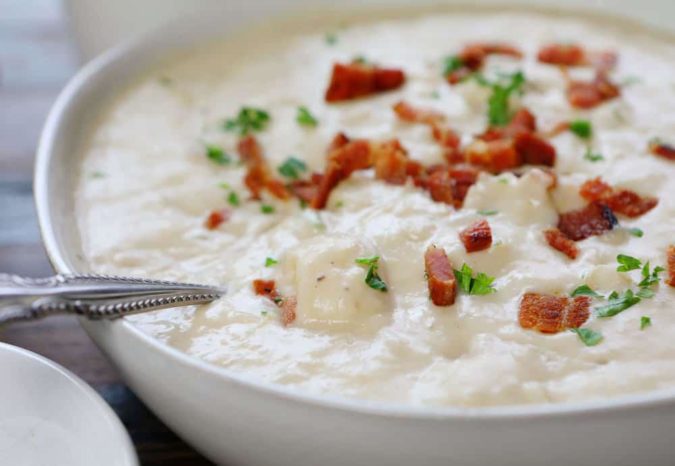 Potato Soup
This is more of a "loaded" baked potato soup as I add bacon and cheese at the end, but I don't think anyone will complain. ? I have served this soup so many times the kids refer to it as "the" soup.
"Mom, can you make the soup?" Why, yes I can! It's easy enough to pull together and satisfying enough for dinner. Served with a salad and some fresh bread for dipping and you have one heckuva perfect meal!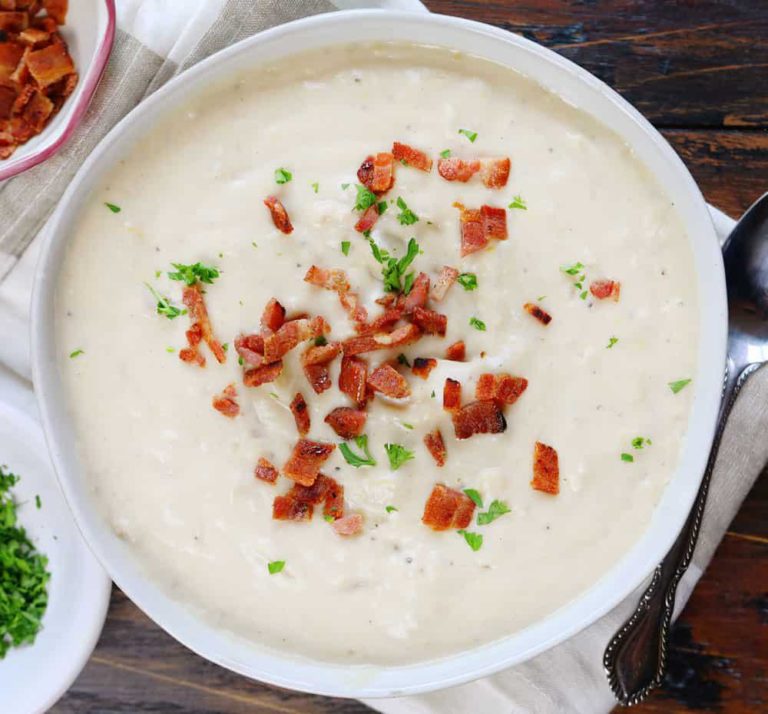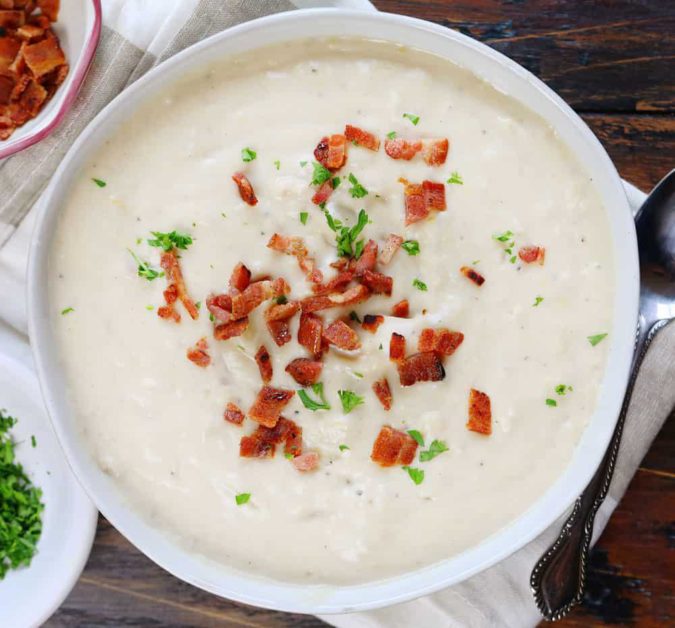 How to Make Potato Soup
Start with a good potato. I love using Russet potatoes in Potato Soup. They are high-starch potatoes with a light, mealy texture. My second favorite is red potatoes with a little of the skin left on. They hold their shape better than other potatoes after cooking, which makes them ideal for soups when you want skin-on chunks of potato.
Next is the cream base. Normally you would melt the butter in a saucepan, stir in flour and seasonings, and then whisk in the milk or heavy cream until smooth. Then cook over medium-high heat until the base is slightly thickened and bubbly. I opted for sour cream in this recipe as I find it adds extra creaminess and holds up well to the other liquids in the soup. You don't need to cook the sour cream mixture as long as you would the milk roux mixture, it just needs to be heated through.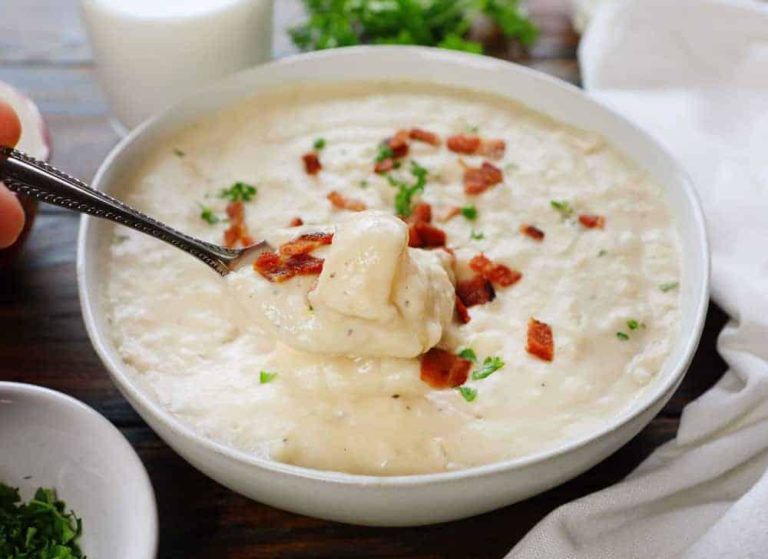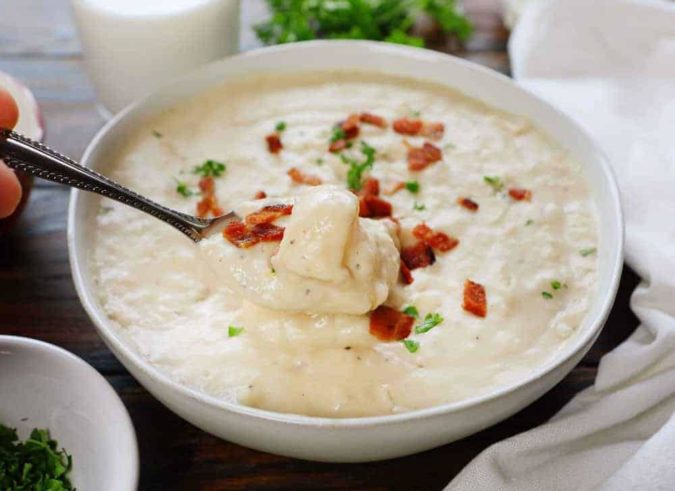 Finally, you finish off the soup with an immersion blender or countertop blender. I like a half-n-half ration… meaning I will remove half the potatoes and blend the rest. This ensures big glorious bites of potato among the silky creamy soup. Cook soup until heated and adjust seasonings. (I much prefer to season at this stage of cooking.) If you want a thinner soup, stir in a little milk or heavy cream.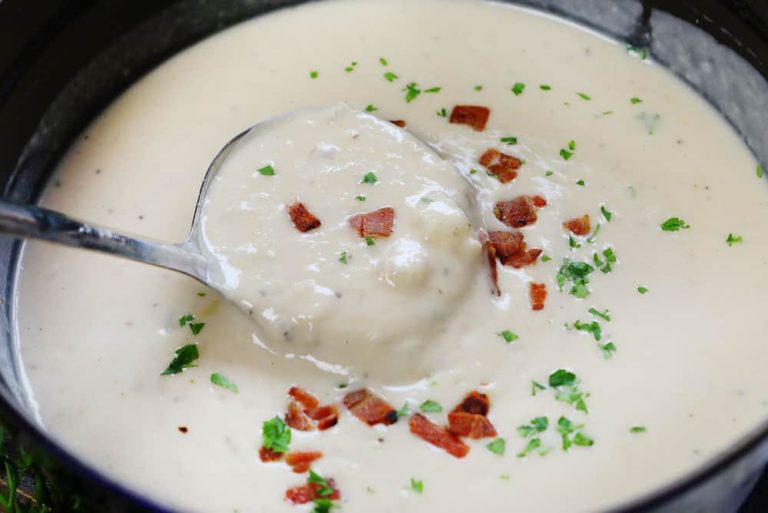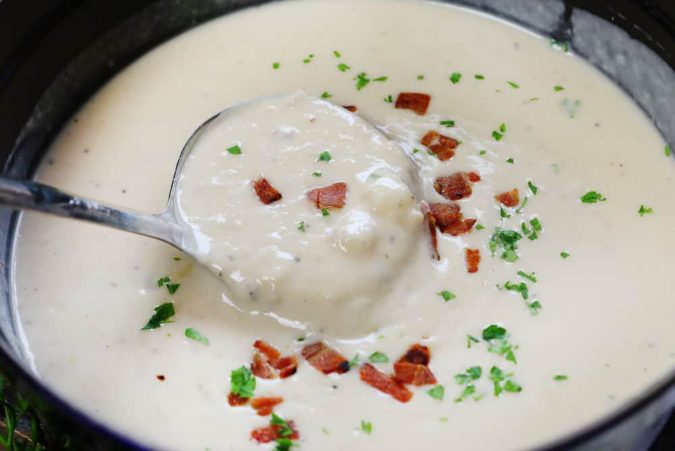 Slow Cooker Potato Soup
Just in case you want to use your crockpot for this amazing potato soup, here are the directions for that.
Add the chopped bacon, onion, garlic, potato, bouillon cube, and chicken stock to your slow cooker. Cook on low for 6-8 hours or on high for 3-4 hours. After the potatoes are completely cooked through add butter to a small saucepan. Melt and then add in the flour. Whisk until combined. Add the sour cream and cilantro and stir until combined and heated through. Add the butter mixture to the crockpot and stir well. Add in the seasonings.
If you want to you can use an immersion blender or potato masher to break up some of the potatoes, it just depends on how creamy you want the soup.
Serve warm and add cheese, cilantro, and bacon bits if you have any.
*If you want your bacon crispy instead of cooked in the soup, you can fry it in a pan prior to adding to the soup.
INGREDIENTS
3-4 slices thick cut bacon, cut in half
1 yellow or white onion, chopped
3 cloves garlic, minced
8 potatoes, peeled and cubed
4 cups chicken stock, or enough to cover potatoes
1 chicken bouillon cube
3 tablespoons butter
1/4 cup all-purpose flour
1 cup sour cream
2 tablespoons chopped cilantro*, divided
1/2 – 1 teaspoon chili powder optional
salt and pepper to taste
shredded cheese for garnish
INSTRUCTIONS
In a Dutch oven, cook the bacon over medium heat until done. Remove bacon from pan, and set aside.
Cook chopped onion in reserved bacon drippings until onion is translucent, about 5 minutes.
Add in garlic and continue cooking for 1 to 2 minutes.
Add cubed potatoes, chicken bouillon cube, and toss potatoes to coat. Saute for 3 to 4 minutes.
Add chicken stock to just cover the potatoes.
Cover and simmer until potatoes are tender, about 20 minutes.
In a separate pan, melt butter over medium heat. Whisk in flour.
Cook, stirring constantly, for 1 to 2 minutes.
Add in the sour cream and 1 tablespoon chopped cilantro and stir until heated through.
Stir the cream mixture into the potato mixture. Using an immersion blender, puree about 1/2 the soup, and return to the pan. (Can also use a blender, just be careful!)
Add in salt, pepper, and chili powder if using, as well as half the crumbled bacon. Adjust seasonings to taste.
Garnish with remaining crumbled bacon, cheese, and cilantro.