Crock Pot Beef Pot Pie is the way to go when you want to come home to your house smelling wonderful and you don't have a lot of time to make dinner. In about 30 minutes from the time you get home, you can have a warm, hearty meal on the table!
CROCK POT BEEF POT PIE
With everyone's busy schedule, it's so nice to have meals that are ready (or close to being ready) as soon as everyone gets home. I love knowing that I have prepared the night's dinner already–it just makes my day go better! Plus, a slow cooker recipe is easy to keep warm if things come up and dinner is a little off schedule.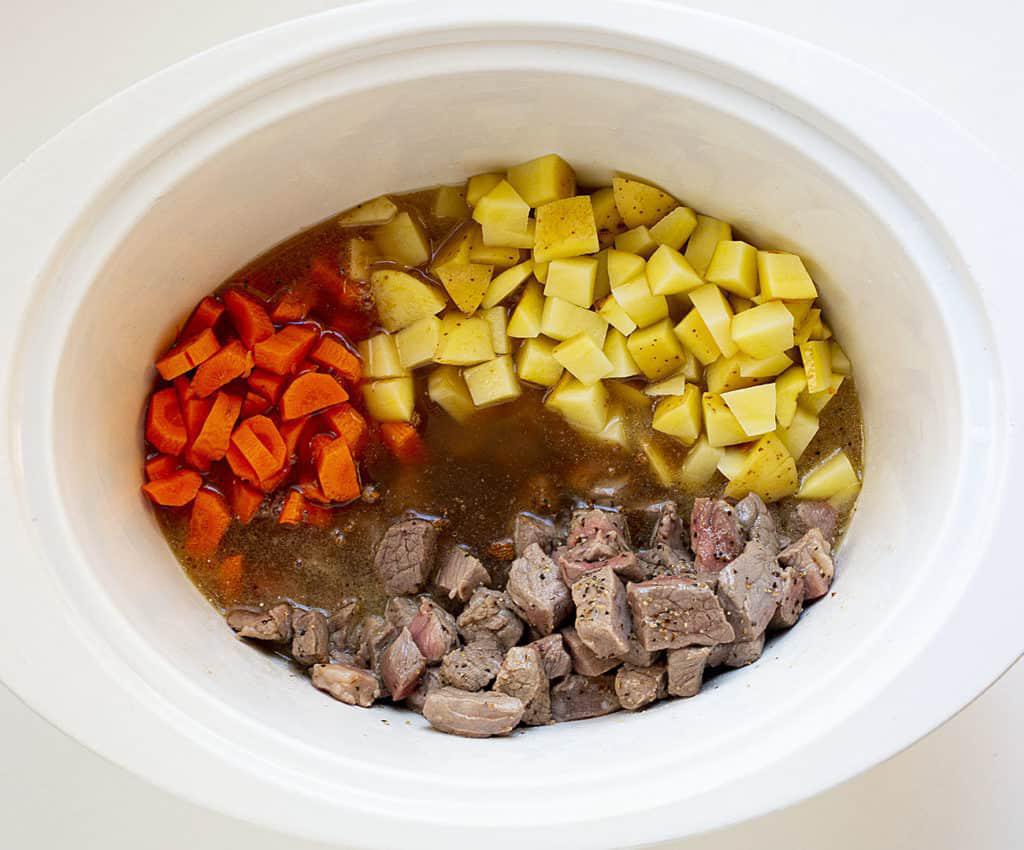 CROCK POT BEEF POT PIE RECIPE
There is a bit of prep work that has to be done before you can fill up the slow cooker with the meat and veggies, but it is so worth it! Just think about how great your day will be, knowing that supper will be close to ready when you get home!
Ingredients (printable recipe below)
Unsalted butter
Sirloin
Beef broth
Beef bouillon
Potatoes
Carrots
Corn
Corn starch
Milk
Peas
Salt
Pepper
Oregano
Biscuits–store-bought or homemade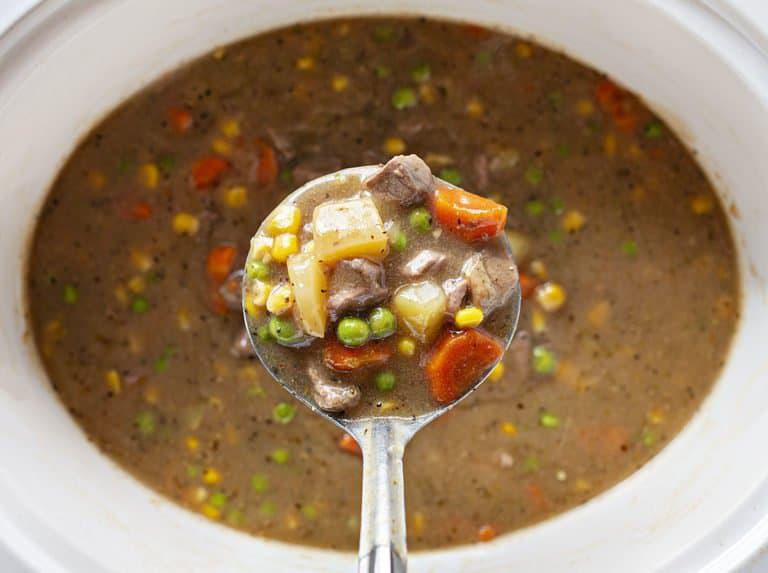 HOW TO MAKE CROCK POT BEEF POT PIE
To prepare the beef, be sure to season it with salt and pepper before you brown it. Then, chop the vegetables that will be going in the Beef Pot Pie Slow Cooker Recipe. The only ingredients you need to chop are the potatoes and the carrots, so that part isn't too terrible at all! In fact, if you want to get that out of the way the night before, that would work!
Once you have browned the beef, put the beef into the slow cooker, along with half the beef broth, bouillon, potatoes, carrots, and corn. Stir it up and let it cook on low for 6 hours. After the 6 hours, add the rest of the beef broth to the slow cooker. In a small bowl, combine the milk and corn starch. Add this to the beef mixture to thicken it up. Finally, add the peas, salt, pepper, and oregano. Let this cook for 30 minutes. Now, this part is important…30 minutes is time enough to make the biscuits. If you bought some from the store, I won't judge at all! But, if you make my cheesy garlic biscuits, I know you will never buy biscuits again! I actually used this biscuit recipe for my Chicken Pot Pie Casserole and my Beef Pot Pie Casserole. My only warning to you is if you make the biscuits too far ahead of time, there will not be any left to go with the Crock Pot Beef Pot Pie! Don't say I didn't warn you!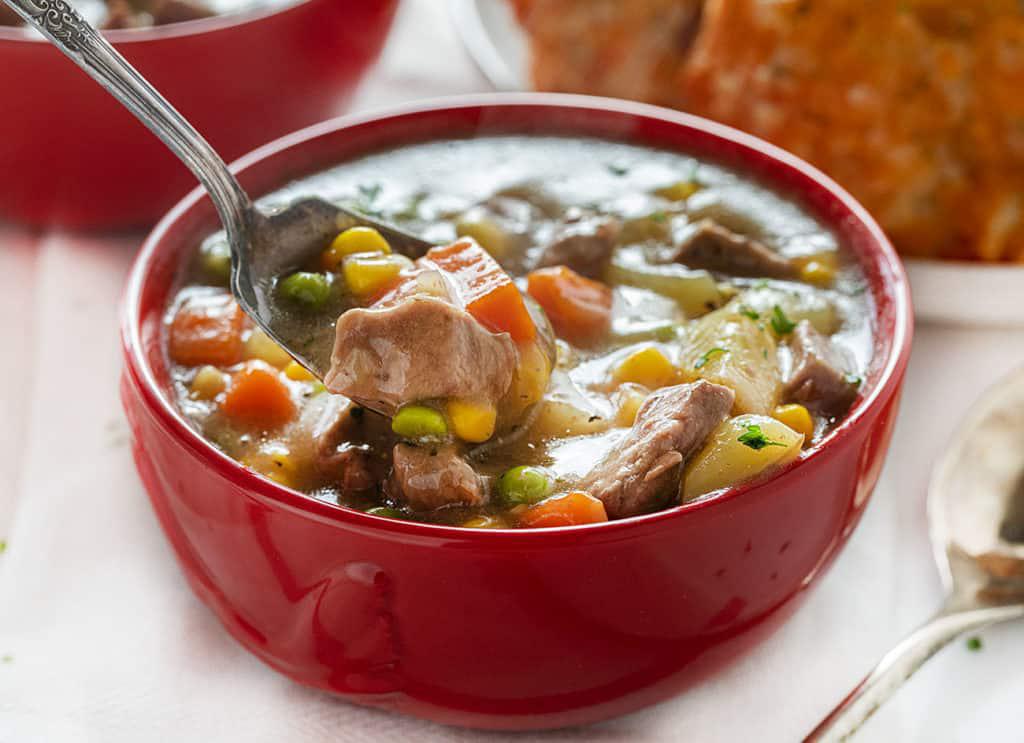 Ingredients
1/4 cup unsalted butter
3 cups beef sirloin or beef stew meat, seasoned with salt & pepper and cubed
4 cups beef broth, divided
1 cube beef bouillon, crushed
2 cups potatoes, diced
1 cup carrots, sliced
1 can (15 ounces) corn
1/2 cup corn starch
1/2 cup whole milk
1 cup peas, frozen
2 teaspoons salt
1 teaspoon pepper
1 teaspoon oregano
1 package biscuits, cooked to package directions
Instructions
In a skillet over medium heat, melt butter.
Add beef cubes and sauté until browned on all sides.
Transfer beef to slow cooker set to low. Add 2 cups of beef broth, bouillon, potatoes, carrots, and corn. Stir to combine.
Cook on low for 6 hours.
Add the remaining 2 cups of beef broth.
In a small bowl, combine corn starch and milk. Slowly add this mixture to the slow cooker, stirring constantly. The mixture will thicken.
Add frozen peas, salt, pepper, and oregano and replace the lid and cook for an additional 30 minutes.
Season with salt and pepper.
Serve with biscuits.