A classic cheesecake recipe doesn't require fancy ingredients, thank goodness! They're all things you can easily find in your local supermarket.
Graham Cracker Crumbs – Can't find graham cracker crumbs? You can always make your own crumbs by adding graham crackers into a storage bag and crushing them with a rolling pin. Vanilla wafers are a great alternative to graham crackers.
Butter – I prefer to use unsalted butter when baking, as I like to control the salt content as well as make sure my butter is fresher. Salted butter also tends to have a higher water ratio and can affect the outcome of cheesecakes.
Cream Cheese – always make sure you use room temperature cream cheese. Cold cream cheese will provide a lumpy cheesecake.
Granulated Sugar – I prefer superfine granulated sugar, but you can also use regular granulated sugar.
Powdered Sugar – this is a must for situations that granulated sugar will leave the recipe grainy like in our sour cream cheesecake topping.
Sour Cream – I recommend always using full-fat sour cream unless low fat or fat-free is specified in the recipe.
Vanilla Extract – a great quality pure vanilla extract is always a must when it's the primary flavor for a recipe.
Eggs – room temperature always works best. Another tip is to go with extra-large eggs in recipes unless stated otherwise.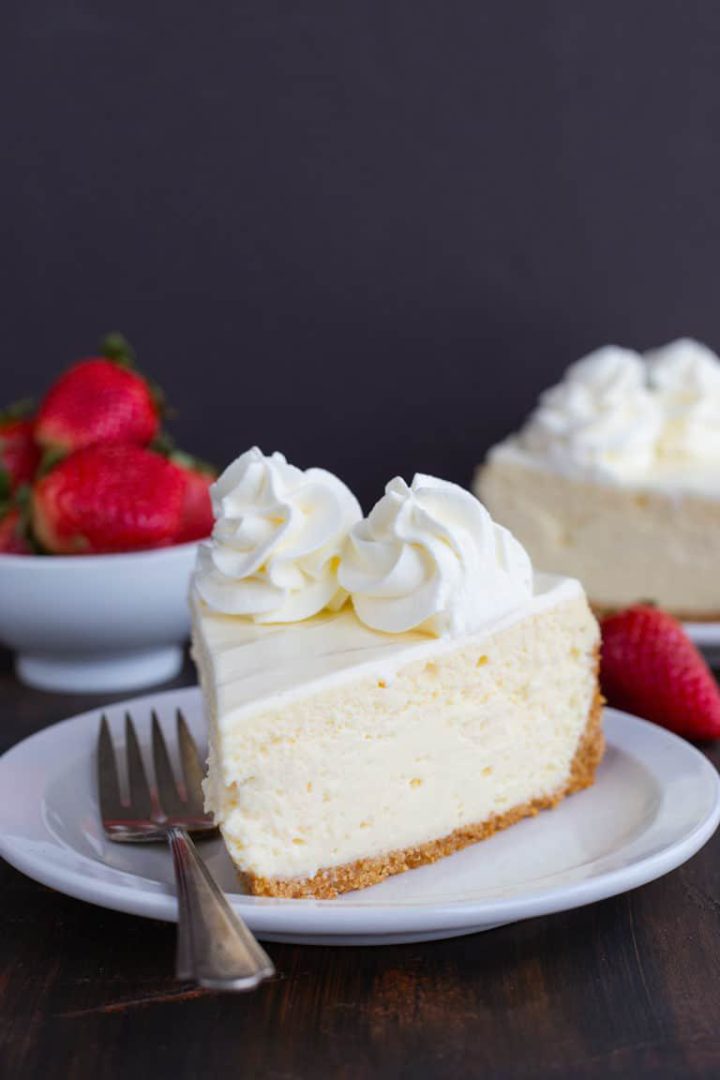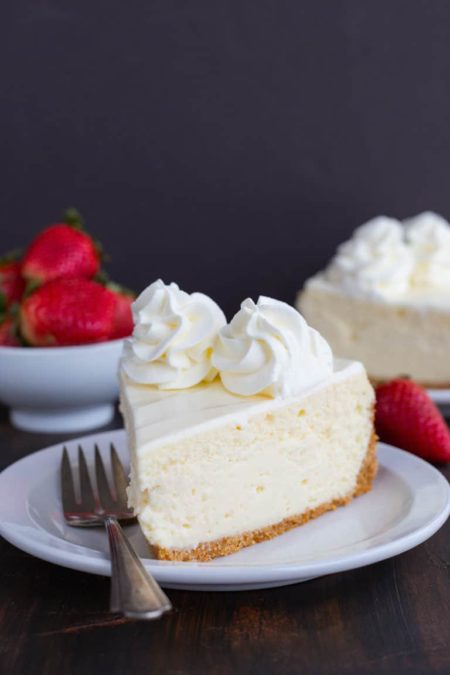 Cheesecake Crust Recipe
An easy cheesecake crust recipe can be made from graham crackers, any cookies, animal crackers, etc. There are cheesecakes with brownie crusts and cookie crusts too, but we're going to stick to the basic cheesecake crust recipe to keep with our perfect cheesecake theme.
A cheesecake crust recipe is easy and typically only consists of 2 to 3 ingredients. If you're using a cookie, you can omit the sugar. For this classic cheesecake crust, graham cracker crumbs, granulated sugar, and melted butter were used.
The butter binds everything together so bits of crust doesn't pop up in the cheesecake. The sugar is just to sweeten the deal.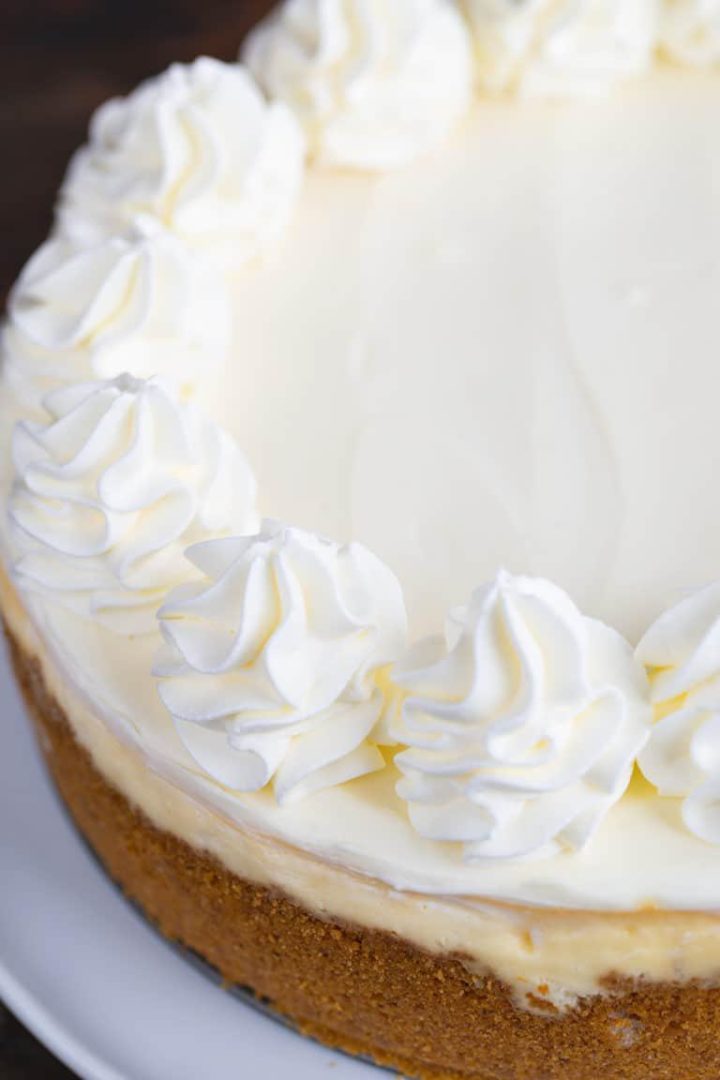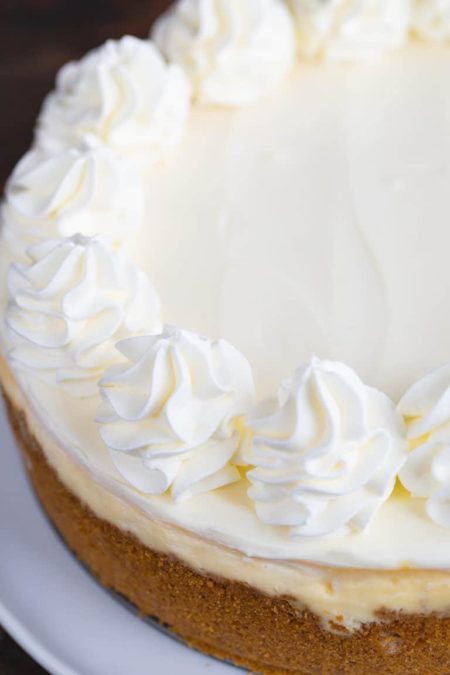 PRO TIP: When mixing together the ingredients (with a fork) I like to make sure every single graham cracker crumb is coated in butter. The butter acts as the binding agent, so when you see cheesecake recipes that have piles of graham cracker left of the plate, it is usually because they were not coated with butter.
You can either bake the crust for 10 to 15 minutes until the edges are slightly brown or freeze it for 10 to 15 minutes until the crust is firm.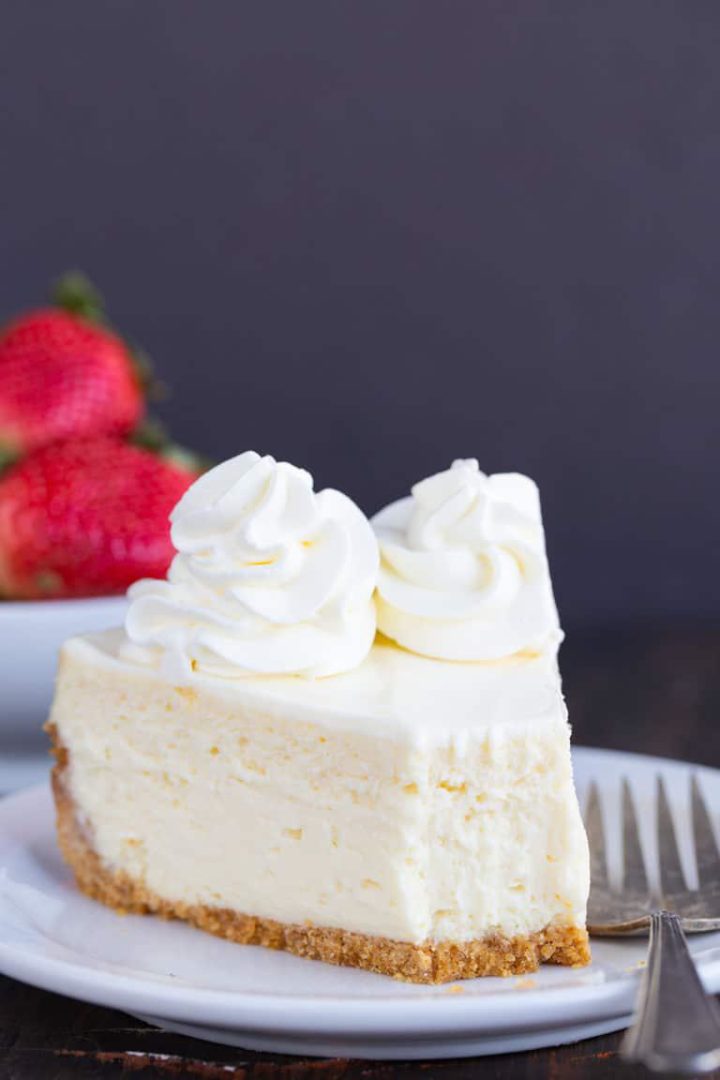 How to Make Cheesecake Filling with No Lumps
One of the most important steps in making sure you have no lumps in your cheesecake is making sure your cream cheese is room temperature all the way through. If you have to heat your cream cheese in a microwave be sure to whisk it smooth before using not only to ensure there aren't lumps but that there are no "hot spots" throughout. I prefer to let my cream cheese come to room temperature for about 4 hours before using.
To make the cheesecake filling, grab a hand mixer and beat the cream cheese until it's creamy, and then just the sugar into the cream cheese. By doing this and scraping down the sides of the bowl after every step will ensure there are no lumps left before adding the ingredients with more of a loose consistency.
Next, add in the vanilla extract and sour cream. Lastly, add in the eggs one at a time. Beat just until the egg is mixed and add the next egg. Do not overbeat the cheesecake filling otherwise, it may change the texture of your cheesecake.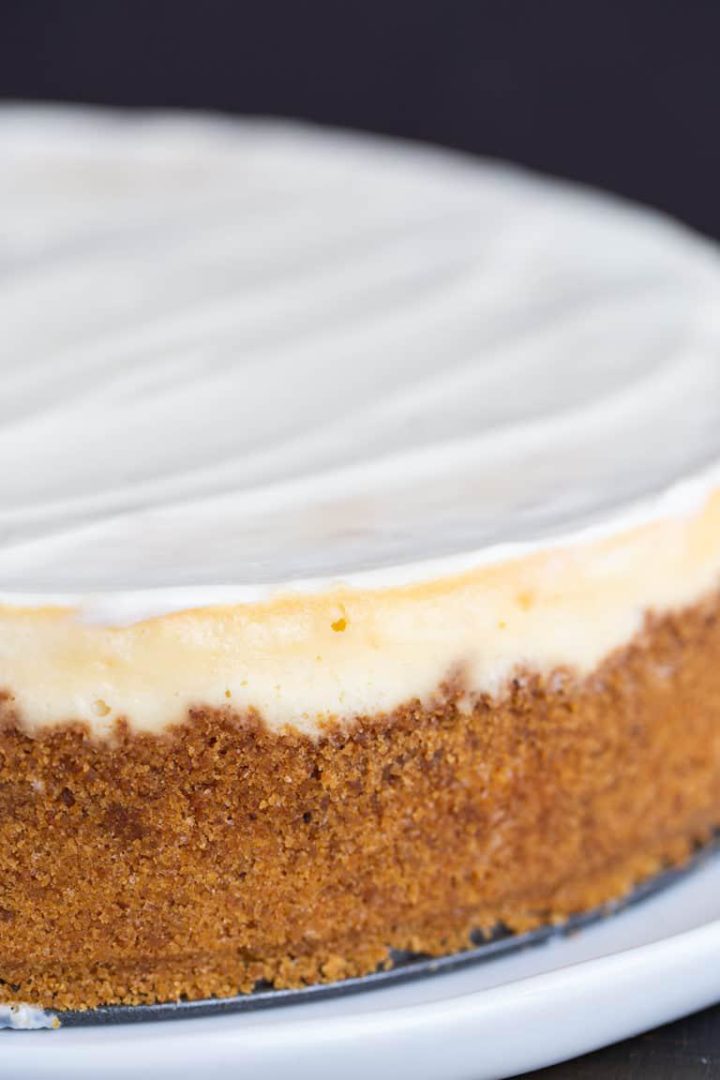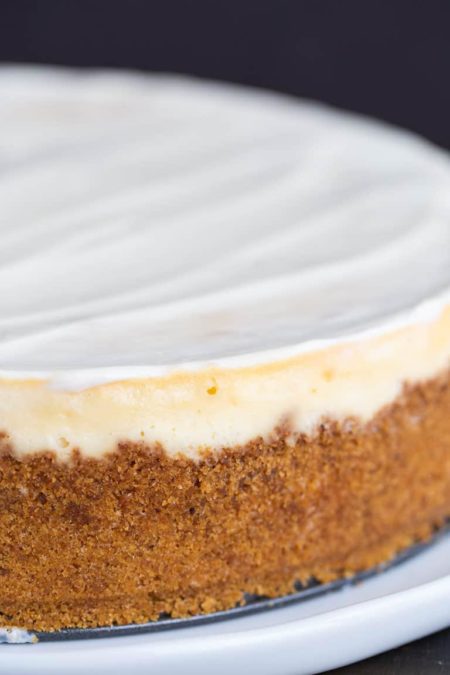 Sour Cream Topping for Cheesecake
This no-bake sour cream topping for cheesecake adds a sweet and tangy flavor. I bet your favorite high-end restaurant does this too! Not only does this topping add the most WONDERFUL flavor to your cheesecake, but it works great at covering imperfections if you didn't water bath your cheesecake and have a raised edge on your cheesecake or some cracks.
Mix together some sour cream and powdered sugar and spread it on top. I like to make sure it's spread neatly because it doesn't settle on it's own. After the sour cream is added to the baked cheesecake, refrigerate for at least 4 hours. I highly recommend overnight.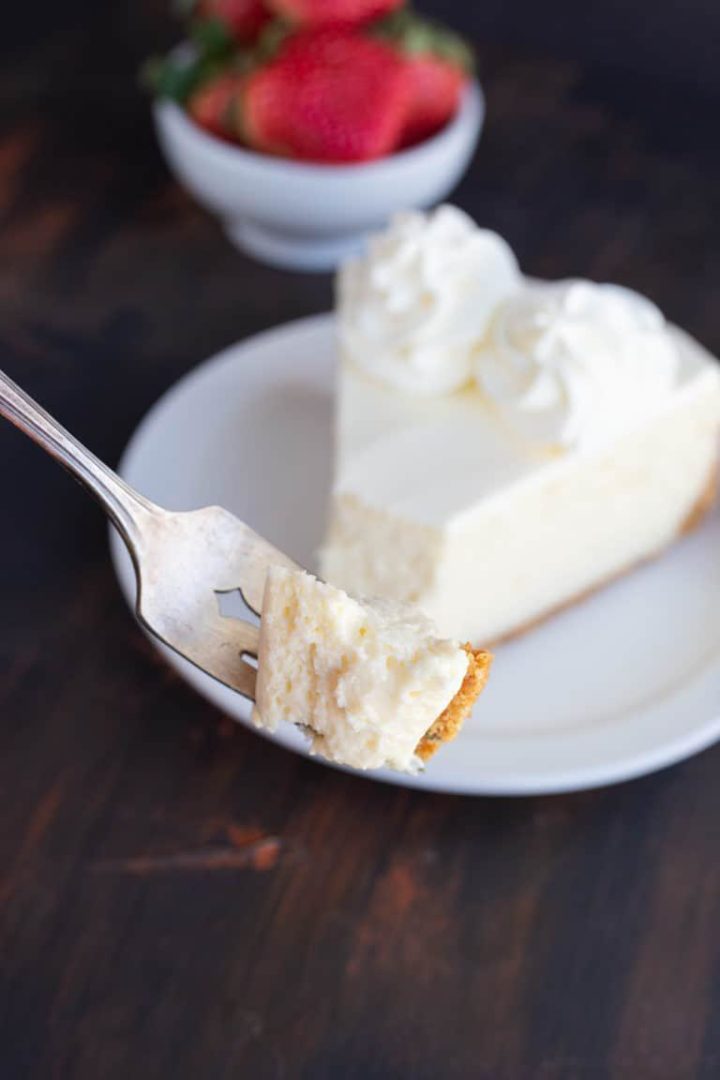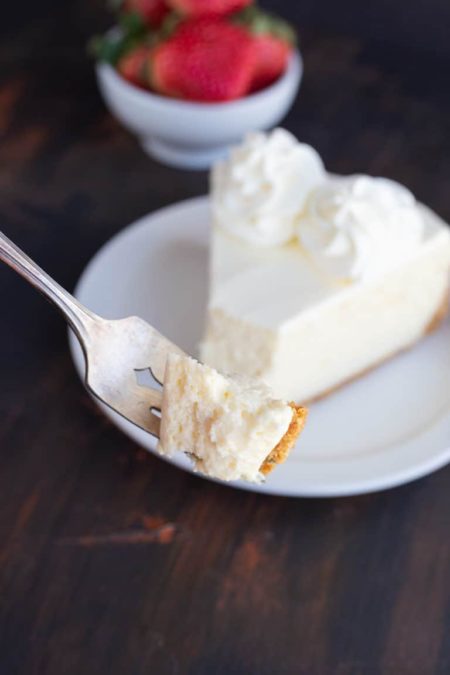 Water Bath for Cheesecake
A water bath for cheesecake is the best way to prevent the edges of the cheesecake from browning in the oven and getting cracks in the top of the cheesecake. Simply place your springform pan with the cheesecake in it into a slightly larger pan and add about 1 inch of hot water to the outside of the pan.
To keep the water from getting into the cheesecake, I like to wrap the outside of the pan with 2 layers of heavy-duty tin foil.
How to Decorate Cheesecake
For an extra fun twist, pipe out some whipped cream dollops around the top of your cheesecake! I like a 1M tip and my homemade whipped cream recipe.
1 cup cold heavy whipping cream
1/4 cup confectioners sugar
1/2 tsp vanilla (optional)
In the clean bowl of a stand mixer fitted with the whisk attachment, add the heavy whipping cream, powdered sugar, and vanilla extract. Start mixing on low speed, then increase the speed to medium-high until soft peaks form, about 3-5 minutes.
INGREDIENTS
CRUST:
1 1/2 cups graham cracker crumbs
2 tablespoons granulated sugar
1/3 cup unsalted butter, melted
FILLING:
4 packages (8 oz. each) cream cheese, softened
1 1/4 cups (250g) superfine granulated sugar
1/2 cup sour cream, room temperature
2 teaspoons vanilla extract
5 large eggs, room temperature
TOPPING:
1/2 cup sour cream, room temperature
2 teaspoons powdered sugar
INSTRUCTIONS
Preheat oven to 350°F. Place a large pan filled with 1-inch water in the oven.
CRUST:
Mix graham cracker crumbs, sugar, and butter. Make sure all graham crackers are coated in butter and that it is a coarse sand consistency.
Press crust onto bottom and 2/3 of the way up a 9-inch springform pan lined with parchment. Wrap 2 pieces of heavy duty tin foil around the bottom and sides of the pan. Place into the oven and bake for 13 minutes until the edges of the crust are golden.
FILLING:
Use an electric mixer or stand mixer fitted with the whisk attachment to mix cream cheese until creamed.
Beat in the sugar and scrape down the sides of the bowl.
Add in the sour cream and vanilla.
Blend until smooth and creamy. Scrape down sides of the bowl. With the mixer on low, add in eggs one by one until fully incorporated.
Pour the filling in the crust. Carefully place cheesecake into the preheated water bath. Bake until the top of cheesecake turns golden, about 60 – 70 minutes. Let cheesecake cool on a wire rack.
TOPPING:
Combine sour cream and sugar; spread over cheesecake. Cover and refrigerate at least 4 hours. I recommend letting it chill overnight.