This simple Chicken and Noodles recipe is filled with chicken, noodles, and lots of veggies to create a creamy, comforting, classic dish that the whole family will enjoy. It's the perfect hearty meal for cool evenings and is quick and easy enough to make on weeknights.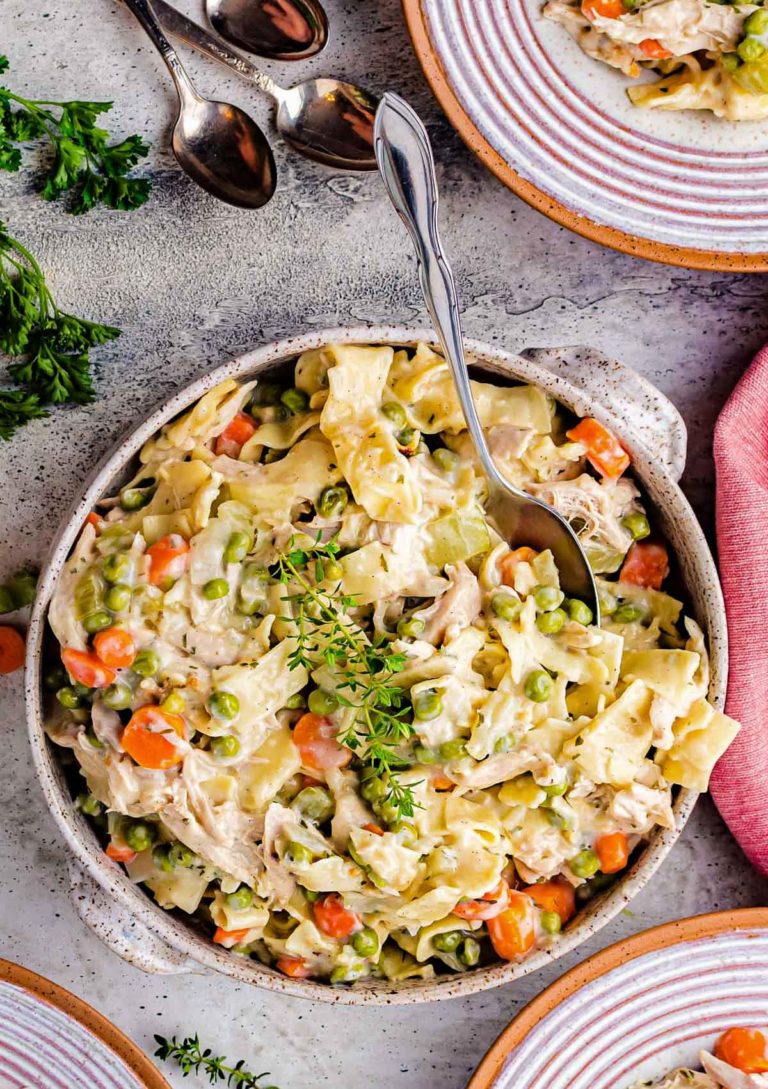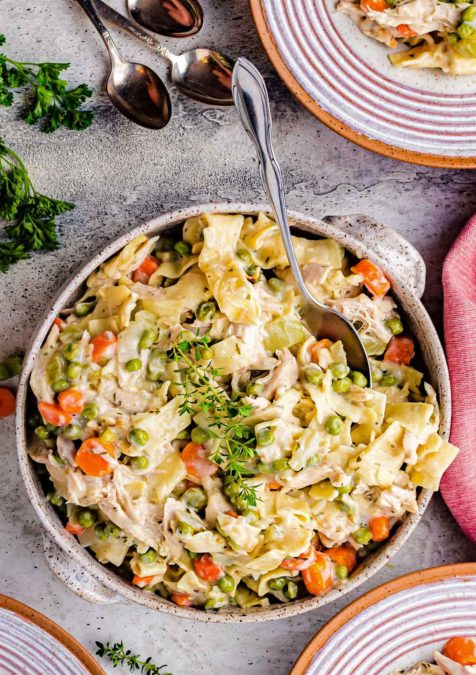 Chicken and Noodles Recipe
This Chicken and Noodles recipe is a cross between chicken noodle soup and chicken pot pie. It's creamy, and thick and wonderfully hearty. It's comfort food at its best and the perfect dinner recipe for the fall and winter months.
When people first try this dish it will be wonderfully familiar but different in a good way. Many liken this Chicken Noodles recipe to the filling of a pot pie with noodles or a chicken noodle soup without the broth. I find it to be similar to chicken and dumplings with noodle type dumplings instead of biscuits. No matter what, you will find this dish to be both delicious and easy to prepare.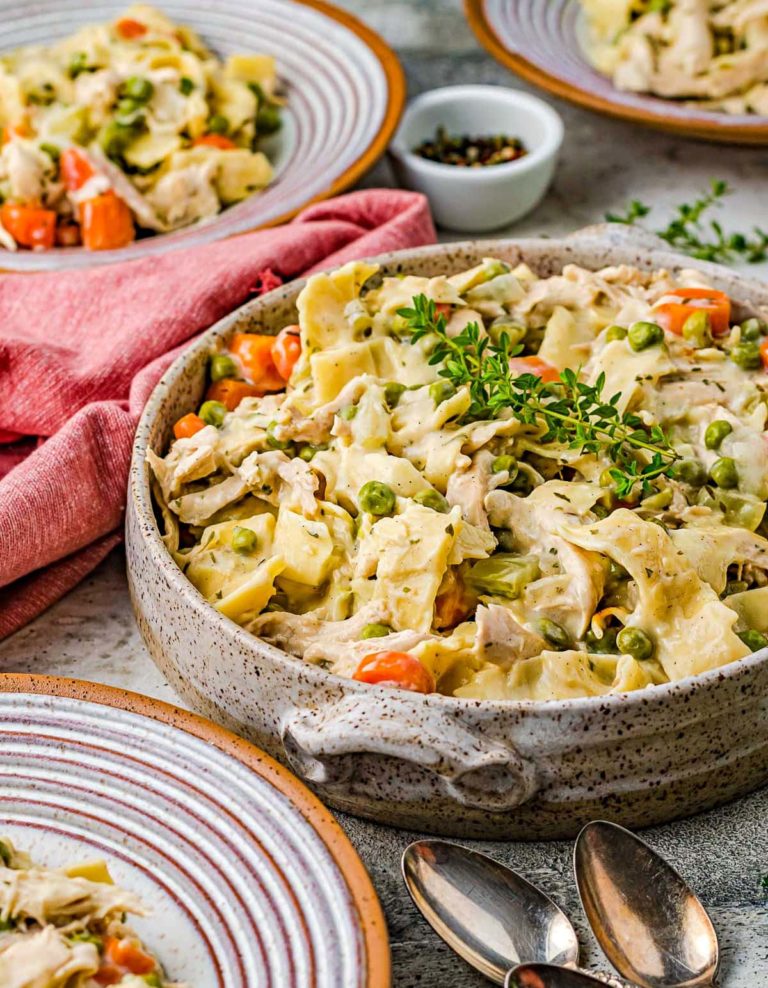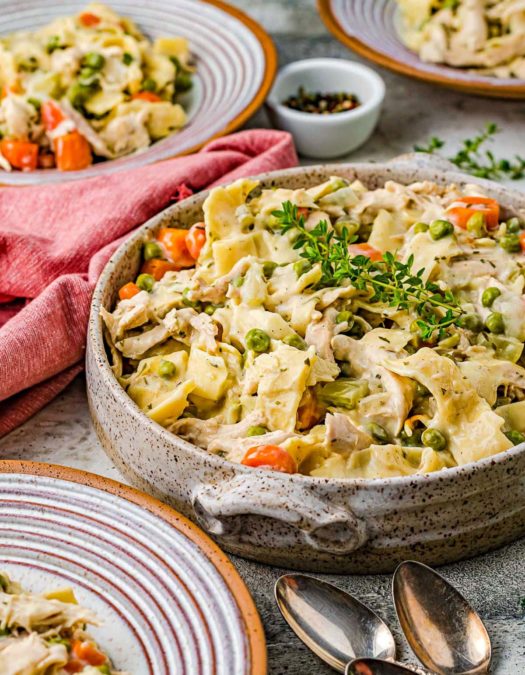 This recipe is so filling that it can stand alone for a meal. We like to serve rolls or bread along side this to scoop up any leftover creaminess that remains in the bowl.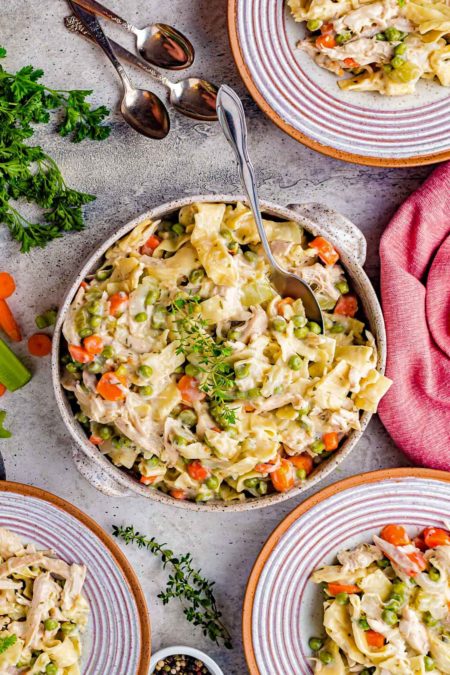 What You'll Need
This recipe is a weeknight go-to for us. Often times, I'll have picked up a rotisserie chicken specifically for this recipe and it works so well in it. All the other ingredients are pantry staples for us and likely will have on hand. As always, you can find the full printable recipe with complete instructions in the recipe card at the end of this post. Let's take a look at what you'll need:
Main Ingredients
shredded cooked chicken – this can be any leftover chicken especially chicken leftover from this Garlic Herb Roast Chicken. I used rotisserie chicken this time and it's quick, easy, convenient so use what you like.
extra virgin olive oil
onion – a large yellow onion, diced.
garlic – I like to use about 3 cloves for this recipe but you can increase or decrease depending on your preference.
carrots – I typically use about 3 large carrots. If you scrub the carrots well they don't need to be peeled.
low sodium chicken stock or chicken broth – you can use either in this recipe so use what you have on hand.
bay leaf – I love adding bay leaves to soups and stews and this one is no exception.
thyme – use one fresh sprig or 1 teaspoon of dried thyme. I grow this in my garden so I used fresh.
Kosher salt or sea salt – for seasoning and flavor.
fresh ground black pepper – for seasoning and flavor.
celery – you'll need about 1 cup diced which is typically about 2 to 3 stalks of celery.
dry wide egg noodles – or the noodles of your choice. You'll need one pound.
whole milk – you'll use half for the roux and the other half will be added directly to the pot.
frozen peas – I prefer frozen to canned but you can used canned in a pinch. Just add at the very last because otherwise they will become mushy.
garnish with fresh parsley, thyme, other herbs, Parmesan cheese, smoked paprika, fresh ground black pepper or all of the above.
For the roux
unsalted butter – this is for the roux that will be used to thicken the soup.
all purpose flour – the second component of the roux.
whole milk – you'll use half for the roux and the other half will be added directly to the pot.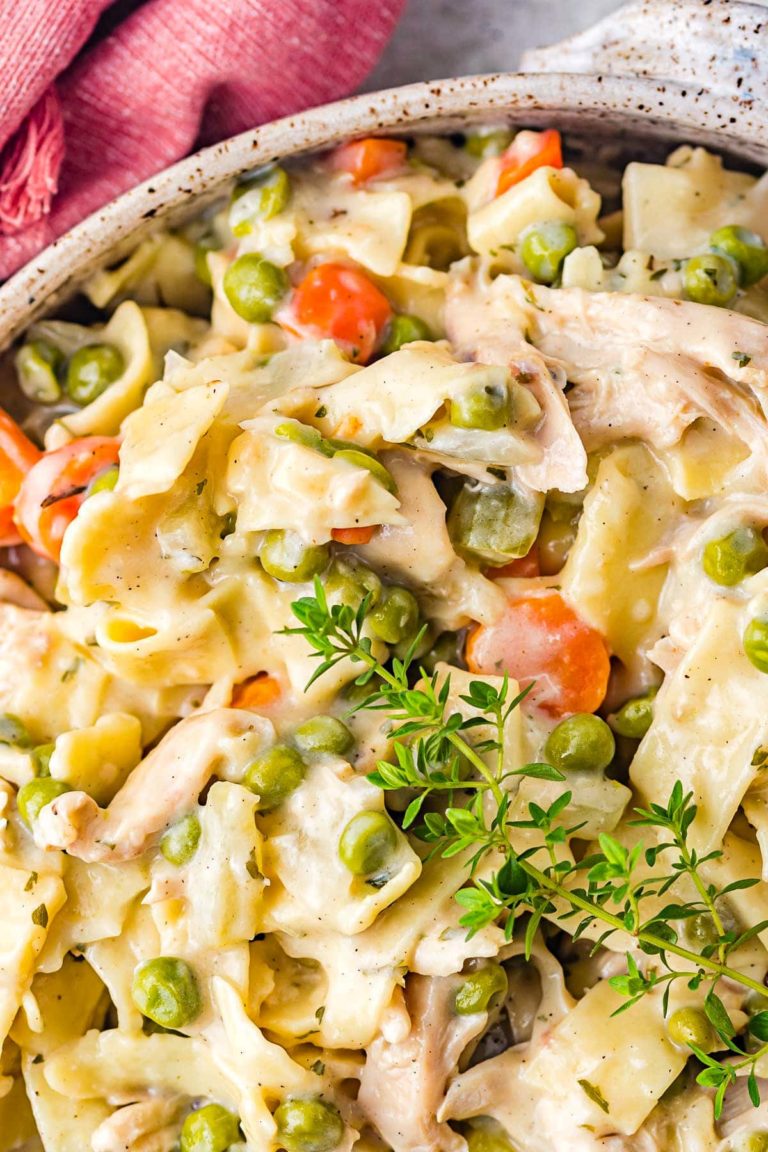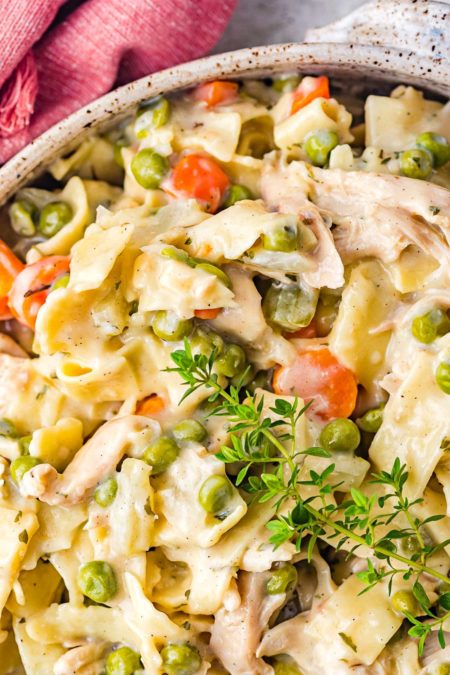 How To Make Chicken Noodles
Here's a quick overview at how easy it is to make this homemade chicken and noodles recipe:
Sauté veggies. Sauté diced onion in olive oil over medium high heat until translucent, about 3 to 5 minutes. Add garlic and carrots and continue sautéing for an additional minute, stirring frequently.
Cook carrots. Add 1 ½ cups chicken stock or broth, bay leaf, salt, pepper and thyme and bring to a simmer over medium high heat.
Cook until the carrots are tender, about 7 to 9 minutes.
Add noodles. Stir in the remaining chicken stock or broth and celery and bring to a boil. Add the noodles and cook for 5 minutes, uncovered.
Make roux. In a small skillet, melt butter then add flour and whisk to combine. Cook for one minute and then add 1 cup of milk and bring to a simmer and let simmer for 2 to 3 minutes until thickened.
Add milk and peas. Stir in the remaining one cup of milk, frozen peas, and prepared roux into the pot with the noodles.
Stir in chicken. Add shredded chicken and continue cooking until thickened to your liking.
Garnish and serve. Serve hot with fresh herbs, Parmesan cheese, smoked paprika or fresh ground black pepper.
Trish's Tips and Tricks
Have fun with the noodles! I used artisan egg noodles this time but if we're feeling up to it, we'll make a quick batch of homemade noodles. They take less time to cook so keep that in mind. You can also use the Amish noodles I mentioned earlier or any other pasta, like fettuccine.
This soup gets thicker the longer it cooks. The starch from the noodles will thicken the soup as well as the roux. If the soup gets too thick, simply thin with additional milk or chicken stock.
Garnish options include everything from freshly grated Parmesan to smoked paprika to fresh herbs. Have fun and take this opportunity to add a little more flavor and flair to these homemade chicken and noodles.
Make sure to use a large dutch oven or deep pot to prevent splattering or boiling over.
Storage Information
Refrigerator: Store in the refrigerator for up to 4 days in an airtight container.
Freezer: Store in a freezer safe container for up to 3 months. To serve, thaw overnight in the fridge and reheat on the stovetop or in the microwave at 50% power.
Ingredients
3 cups shredded cooked chicken I used rotisserie chicken
2 tablespoons extra virgin olive oil
1 onion diced
3 cloves garlic minced
2 cups diced carrots about 3 large carrots
2 ½ cups low sodium chicken stock or chicken broth, divided
1 bay leaf
1 fresh thyme sprig or 1 teaspoon dried thyme
1 teaspoon Kosher salt or sea salt
1 teaspoon fresh ground black pepper
1 cup diced celery
1 pound dry wide egg noodles or noodles of your choice
3 tablespoons unsalted butter
3 tablespoons all purpose flour
2 cups whole milk divided
1 cup peas frozen
Garnish
fresh herbs (Parsley, thyme), Parmesan cheese, smoked paprika, fresh ground black pepper
Instructions
In a large pot or dutch oven, sauté diced onion in olive oil over medium high heat until translucent, about 3 to 5 minutes. Add garlic and carrots and continue sautéing for an additional minute, stirring frequently.
2 tablespoons extra virgin olive oil, 1 onion, 2 cups diced carrots, 3 cloves garlic
Add 1 ½ cups chicken stock or broth, bay leaf, salt, pepper and thyme and bring to a simmer over medium high heat. Cook until the carrots are tender, about 5 to 7 minutes.
2 ½ cups low sodium chicken stock, 1 bay leaf, 1 fresh thyme sprig, 1 teaspoon Kosher salt, 1 teaspoon fresh ground black pepper
Add the remaining chicken stock or broth and celery and bring to a boil. Add the noodles and cook for 5 minutes, uncovered.
2 ½ cups low sodium chicken stock, 1 cup diced celery, 1 pound dry wide egg noodles
While the noodles are cooking, prepare the roux. In a small skillet, melt butter then add flour and whisk to combine. Cook for one minute and then add 1 cup of milk and bring to a simmer and let simmer for 2 to 3 minutes until thickened. Remove from heat.
3 tablespoons unsalted butter, 3 tablespoons all purpose flour, 2 cups whole milk
Stir the remaining one cup of milk, frozen peas, and prepared roux into the pot with the noodles. Stir to combine.
2 cups whole milk, 1 cup peas
Add the shredded chicken and continue cooking over medium heat at a gentle simmer until thickened to your liking.
3 cups shredded cooked chicken
Serve hot with fresh herbs, Parmesan cheese, smoked paprika or fresh ground black pepper.
fresh herbs (Parsley, thyme), Parmesan cheese, smoked paprika, fresh ground black pepper