Easy 30 Minute Chicken Chow Mein is so easy to put together and has the most incredible flavor! The whole family will love this 30 minute meal!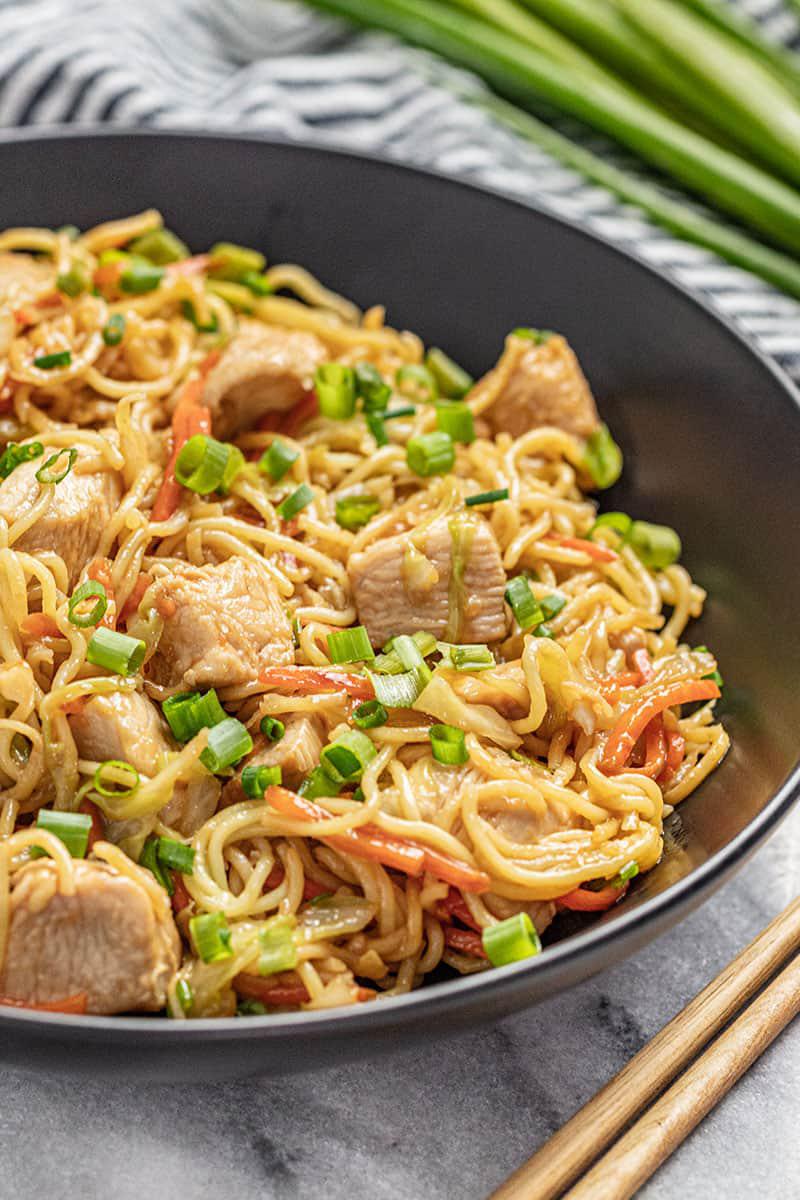 Who needs Chinese take-out when you can make chicken chow mein this delicious right at home! Even though chow mein is a popular side dish, we're here to tell you that this is hearty enough to be the main course! With the added protein in the chicken, and so many veggies, your stomach will thank you for forgetting the orange chicken on the side.
This recipe moves FAST. Chop those veggies, make that sauce, and make sure you are fully prepped and ready to go before you start cooking. If you are using dried Lo Mein noodles, make sure they are cooked before you get started with the rest of this recipe.
WHAT NOODLES CAN I USE FOR CHOW MEIN?
You have so many options here! Chow Mein noodles give this recipe a nice crunch. However, most Americans are used to soft Lo Mein noodles or Yakisoba noodles. You can find Chow Mein and Lo Mein in the Asian food section of your grocery store, and Yakisoba in the refrigerated or freezer section. If you don't have any of these available to you, you can use spaghetti pasta.
CAN I USE RED CABBAGE INSTEAD OF GREEN?
Definitely. Both red and green cabbage work well in this recipe. Use whichever you prefer.
WHAT PAN DO I USE IF I DON'T HAVE A WOK?
Don't own a wok? Don't let that discourage you from making chow mein! The benefits of a wok are that it allows a lot of heat to go up the sides of the pan, creating a LOT of surface area to cook in. However, if you don't have a gas stovetop, you aren't really getting those benefits anyway. All you really need is a wide, flat bottomed pan to give you plenty of surface area for cooking. Your largest skillet should do the job!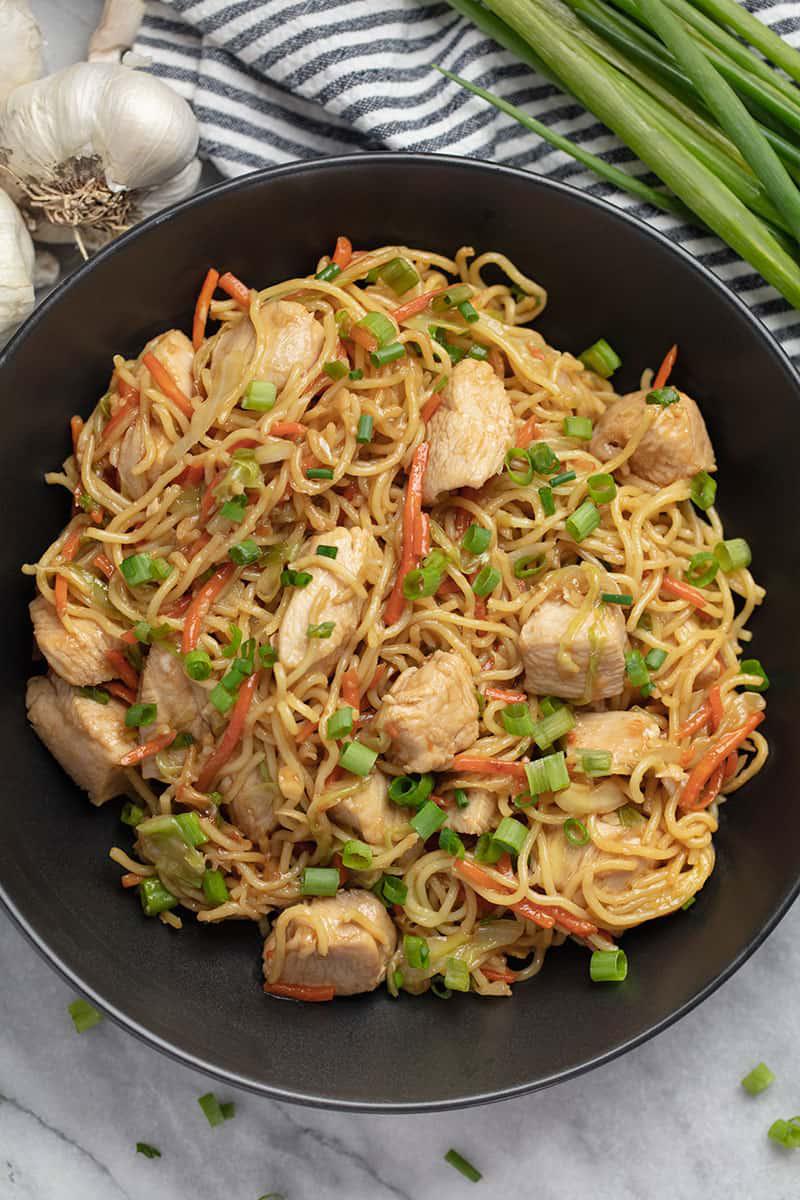 INGREDIENTS
Sauce
1/4 cup oyster sauce
3 tablespoons soy sauce
1 teaspoon sesame oil
1 tablespoon cornstarch
1/4 cup chicken broth
2 cloves minced garlic
2 teaspoons freshly minced ginger
Chicken Chow Mein
12 ounces chow mein noodles*
1 tablespoon sesame oil
1 to 1 1/2 pounds boneless skinless chicken breasts cut into 1-inch cubes
1/2 teaspoon salt
3 large carrots cut into matchsticks or shredded
1/2 head green cabbage shredded or thinly sliced
1/2 cup sliced green onion
INSTRUCTIONS
In a small bowl, make the sauce by whisking together oyster sauce, soy sauce, 1 teaspoon sesame oil, and cornstarch until well combined. Stir in chicken broth, garlic, and ginger. Set aside.
Cook chow mein noodles according to package directions.
Meanwhile, heat 1 tablespoon sesame oil in a large skillet over medium high heat. Add chicken into skillet and season with salt. Cook until chicken is browned, about 5 minutes.
Add in carrots and cabbage and cook until tender and the chicken is completely cooked through, about 5 to 7 minutes.
Pour sauce over veggies and let cook 2 to 3 minutes, stirring constantly.
Add in cooked noodles and toss to combine. Garnish with sliced green onion.
NOTES
You can use crunchy chow mein noodles for this recipe, refrigerated or dried low mein noodles, or even spaghetti pasta.