Cheeseburger Pasta is loaded with flavor and coated in homemade cheddar cheese sauce that perfectly complements every ingredient. This is going to be one of your new favorite recipes, I promise! You might even be tempted to call it Gourmet Cheeseburger Pasta!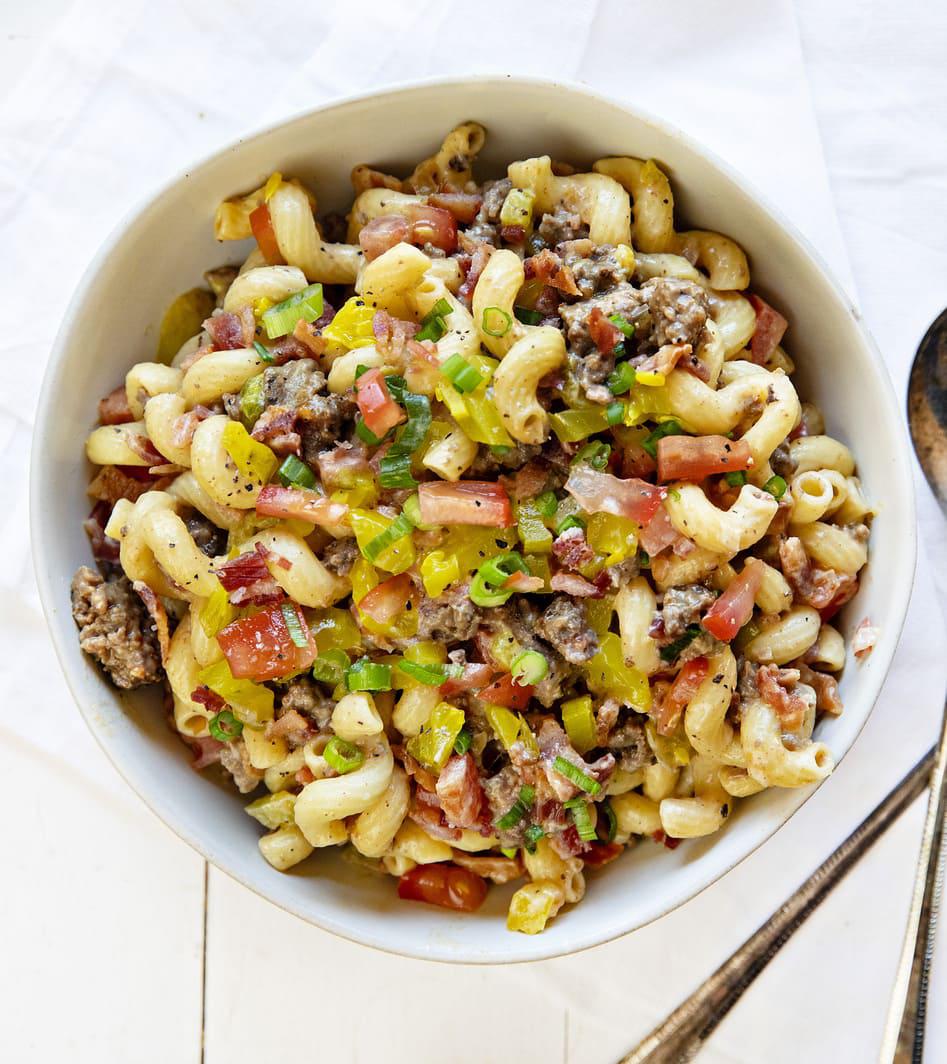 This cheeseburger pasta is unlike anything you have ever tried, and that is my sincere promise to you. It's almost a contradiction in your brain. When we think of cheeseburgers we think of heavy, greasy, giant mouthfuls of delicious beef and toppings. And when you think of most pasta dishes the same can apply… heavy sauces and gluten overload.
But this… this is not like that. It's ligther!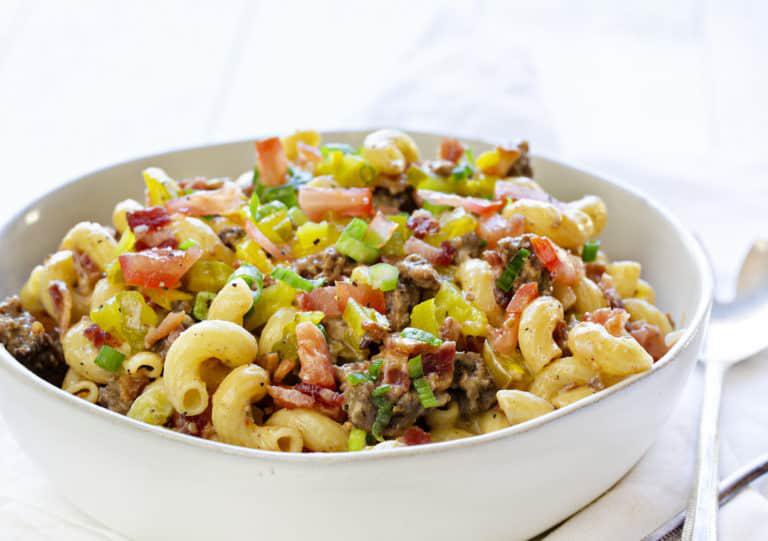 Cheeseburger Pasta Recipe
There are 4 main components to this recipe:
Pasta: I chose Cavatappi pasta. I love how it looks and love how the sauce and seasonings coat the noodles so perfectly. I got mine at the country grocery store, but if you can't find any I think rotini, rigatoni, and macaroni would all be good options. Or, make your own homemade shaped pasta!
Ground Beef: So, full transparency, this recipe was born out of having too many hamburgers in my fridge. I wanted to make a pasta dish with chopped up cooked hamburger and that is where the brainstorming began. And while that's a great option in this dish, it was easier just to make the ground beef fresh and crumbled in a pan.
Cheese Sauce: I used my homemade creamy cheddar cheese sauce which is also a fantastic recipe in its own right!
Toppings: Just like a cheeseburger, or bacon cheeseburger to be exact, I added bacon, tomatoes, and dill pickles to the mix. Reserve some of the tomatoes and pickles to add as garnish before serving.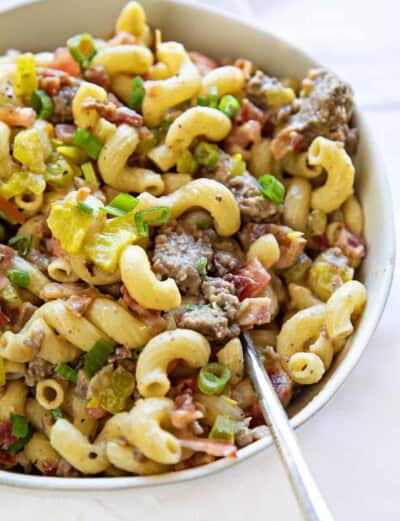 Can I Make Cheeseburger Pasta Ahead of Time?
As I mentioned above, you can just make extra hamburgers next time you grill and use chopped-up leftovers. You can also make the sauce ahead of time and store it in the refrigerator for up to four days. When you are ready to make the recipe, boil your pasta, heat up the hamburger, and reheat the sauce. Drain the water from the pasta and mix all the ingredients in the warm pot you boiled the noodles in. This method takes about 10 minutes and still tastes amazing!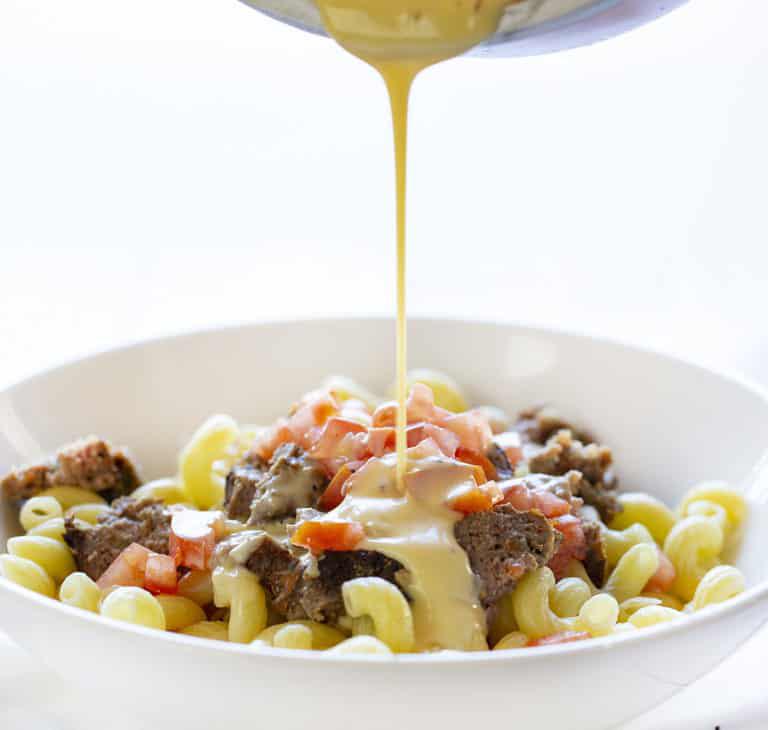 How to Store Cheeseburger Pasta
After the cheeseburger pasta has cooled, store leftovers in a sealed container in the refrigerator for up to three days. You could also freeze this for up to 3 months.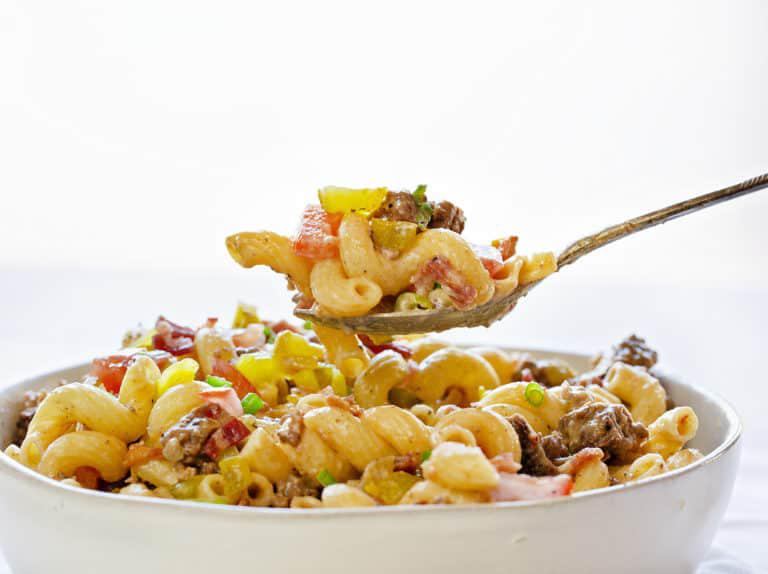 Ingredients
8 ounces cavatappi noodles
Hamburger
1 tablespoon canola oil
1 teaspoon seasoned salt
1½ tablespoons hamburger seasoning
½ teaspoon kosher salt
¼ teaspoon black pepper
½ cup yellow onion, minced (about 1 small onion)
1 teaspoon garlic, minced
1 pound ground beef
½ teaspoon Worcestershire sauce
Cheese Sauce
1 cup whole milk, divided
4 teaspoons all-purpose flour
½ teaspoon kosher salt
¼ teaspoon black pepper
⅔ cup sharp cheddar, shredded
Topping
8 slices bacon, cooked and crumbled
2 Roma tomatoes, diced (about 1 cup), reserving some for garnish
½ cup dill pickles, chopped, reserving some for garnish
2 tablespoons green onions, thinly sliced, for garnish
Instructions
In a large pot of salted water, cook noodles according to package directions, drain and set aside.
Hamburger
In a small bowl, mix together the seasoned salt, hamburger seasoning, salt, and pepper. Set aside.
To a large skillet over medium heat, add the onions and garlic. Cook for about 1-2 minutes.
Add the ground beef to the pan. Break up the meat with a wooden spoon. Add the Worcestershire sauce and prinkle with the seasoning mixture. Cook for about 8-10 minutes, or until no pink remains in the meat. Remove from heat.
Cheese Sauce
In a medium saucepan, whisk together ¼ cup of milk and flour.
Pour in the remaining milk, salt, and pepper, bringing it to a boil over medium heat. Stir frequently.
Reduce heat to low and simmer for 2 minutes, stirring constantly. The mixture will start to thicken.
Remove from heat, and immediately whisk in the cheese until the cheese melts.
Assembly
To a large bowl, add the cooked pasta, bacon crumbles, tomatoes, pickles, cheese sauce, and hamburger. Stir to combine.
Top with green onions, reserved pickles, and reserved tomatoes. Serve immediately.