These Raspberry Cream Cheese Jalapeno Poppers are the ultimate jalapeno popper treat. Fresh jalapenos are halved and seeded before being stuffed with cream cheese and raspberry jam then wrapped in bacon. These sweet and spicy bites are grilled until the jalapenos are tender and the bacon is crisp.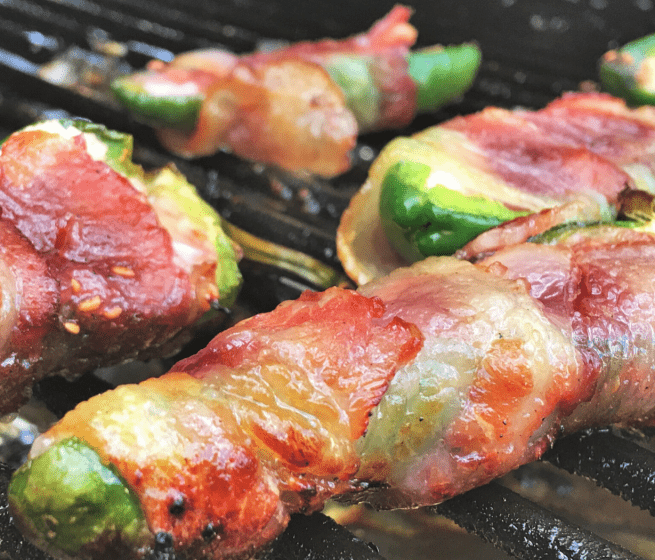 Homemade Jalapeno Poppers
Out here in Utah, we have this snack that makes an appearance at almost every party. It's a full brick of softened cream cheese and it is dowsed with a jar of sweet/spicy goodness. This is usually some kind of pepper jelly or sweet salsa, and it's served with chips and crackers as a dip. The flavor combos are endless, but my favorite is a jar of jalapeno raspberry jelly that I get at a specialty grocery store. Since I have 3 kids, a blog, and other adult 'sponsibilities, I don't venture out to that cute local food boutique as often as I want to, so I was driven to recreate the same flavors at home. Plus, bacon. For obvious reasons.
These raspberry cream cheese jalapeno poppers are sweet from the jelly, spicy from the jalapeno (but not too spicy), creamy from the cheese, and, rich and salty from the bacon. They cover all of the major flavor bases and have a serious "wow" factor. I hope you guys enjoy these tasty beauties as much as we do!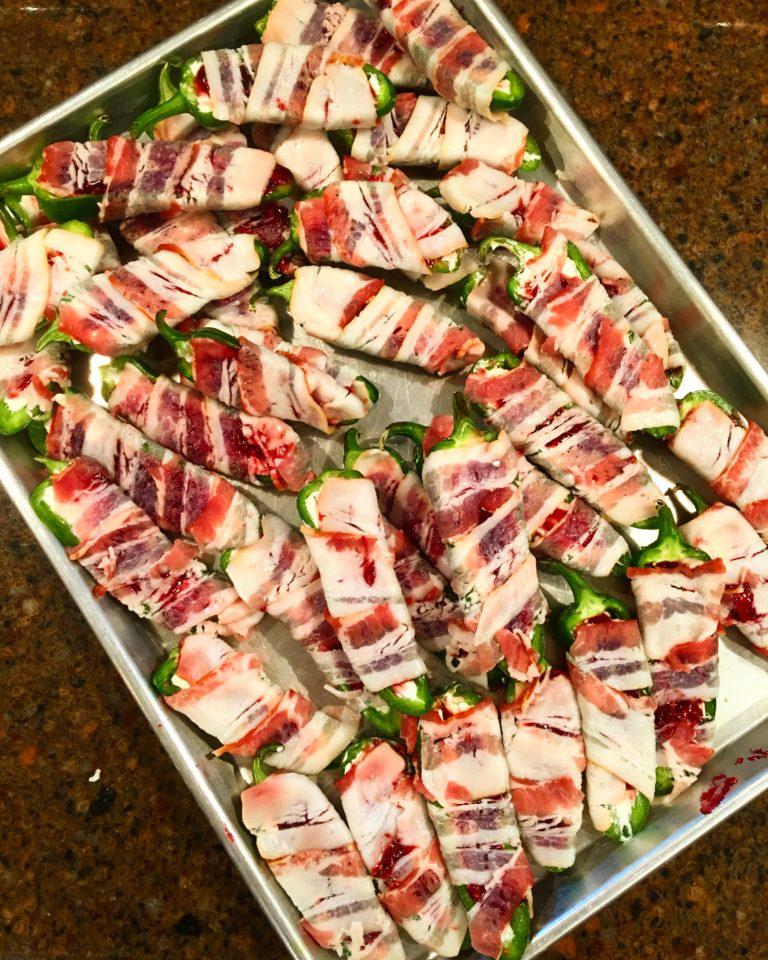 Ingredients for Raspberry Cream Cheese Jalapeno Poppers
Not only are these jalapeno poppers easy to make, but they only contain a few ingredients. Anytime a recipe calls for 5 ingredients or less, it's a winner in my book. Here's what you'll need to pick up from the store prior to making these yummy treats:
9 medium jalapenos
4 oz. softenend cream cheese
1/4 cup raspberry jam/jelly
18 slices bacon
That's seriously it! These poppers sound much more difficult than they really are. And bonus for you: they taste and look incredible, and your guests will assume you spent oodles of time and energy making them (when they took less than 45 minutes from start to finish!).
How to Make Jalapeno Poppers
Once you have your ingredients assembled, you're ready to make the jalapeno poppers. I've included instructions on how to make these poppers on any grill you have in your backyard. The key to cooking these poppers is to grill them over indirect heat.
PREHEAT YOUR GRILL FOR INDIRECT HEAT COOKING.
For your gas grill: preheat half the burners to Medium-Low heat. For charcoal grills: pile the coal in the middle and arrange the poppers around the outside of the grill. Finally, for pellet smokers: preheat to 350 degrees F.
MAKE THE POPPERS.
Slice the jalapenos in half lengthwise and scrape out the seeds and ribs. Fill each sliced jalapeno with a spoonful of cream cheese and a spoonful of raspberry jam. Wrap each jalapeno in a slice of bacon, and secure with a toothpick if needed.
GRILL!
Place the wrapped jalapeno poppers on the grill, close the lid, and cook for 25-30 minutes, turning periodically to crisp the bacon.
Once the bacon on your poppers is crisp, remove them to a serving dish or platter. Serve immediately.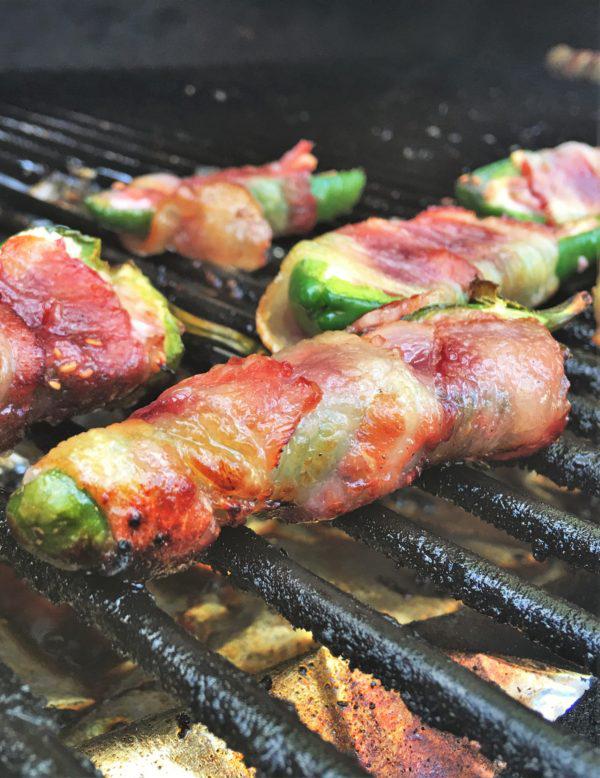 Tips for Making Jalapeno Poppers
Jalapeno poppers are relatively easy to make, but I've included some helpful tips to help you get the most out of your poppers.
Wear gloves. Make sure to always wear gloves when making jalapeno poppers. Also, don't rub your face or touch your eyes when the gloves are on. If this happens, you can help the burning by making a paste of equal parts baking soda and hydrogen peroxide plus a drop or two of blue Dawn dish soap. I promise this works!
Scrape well. Take the time to thoroughly scrape out the ribs and seeds from the inside of the jalapenos. This step will cut down the heat dramatically and even non-spice lovers will enjoy these peppers. (If everyone you're serving likes some heat in their jalapeno popper, go ahead and leave some seeds in. You choose your popper adventure).
Try a different jam! You don't have to stick with raspberry jam for these poppers. Mix it up, and try making these with apricot, strawberry, peach, or a combination of fruit flavors. You can even make a batch of these jalapeno poppers with a few different jam flavors and let your guests do a taste test to determine which one is their favorite!
These poppers are pretty foolproof, and you can play around with them until you get your favorite flavors.
INGREDIENTS
9 medium jalapenos
4 ounces softened cream cheese
¼ cup raspberry jelly
18 slices bacon
INSTRUCTIONS
Preheat your grill. Before you begin assembling your jalapeno poppers, preheat your grill for indirect cooking. For gas grilling: turn the burner temperature to Medium-Low heat. If cooking on charcoal: pile the coals in the middle and arrange the poppers around the outside of the grill. If you are cooking with a pellet grill: set the temperature and allow the grill to preheat for 10-15 minutes before putting the poppers on. You are looking for a grill temperature of about 350 degrees F.
Cut the jalapenos. Slice jalapenos in half lengthwise and clean out the ribs and seeds with a spoon. (Make sure to scrape well if you don't want a spicy popper. If you know you and your guests can take a little heat, you don't have to be so diligent at this step).
Make the popper. Fill each jalapeno with a small spoonful of both the cream cheese and the raspberry jam. Wrap in a slice of bacon, securing the ends with a toothpick if necessary.
Grill the jalapeno poppers. Place the poppers directly on the grill grates, close the lid, and cook the poppers for 25-30 minutes, turning as necessary to crisp the bacon.
Serve hot. Once your bacon is crisp and your cream cheese is bubbly, remove the poppers from the grill to a serving dish. Serve immediately.