Learn how to make Pickled Red Onions and customize the pickling juice several different ways. Pickled Red Onions add a punch of flavor to any dish!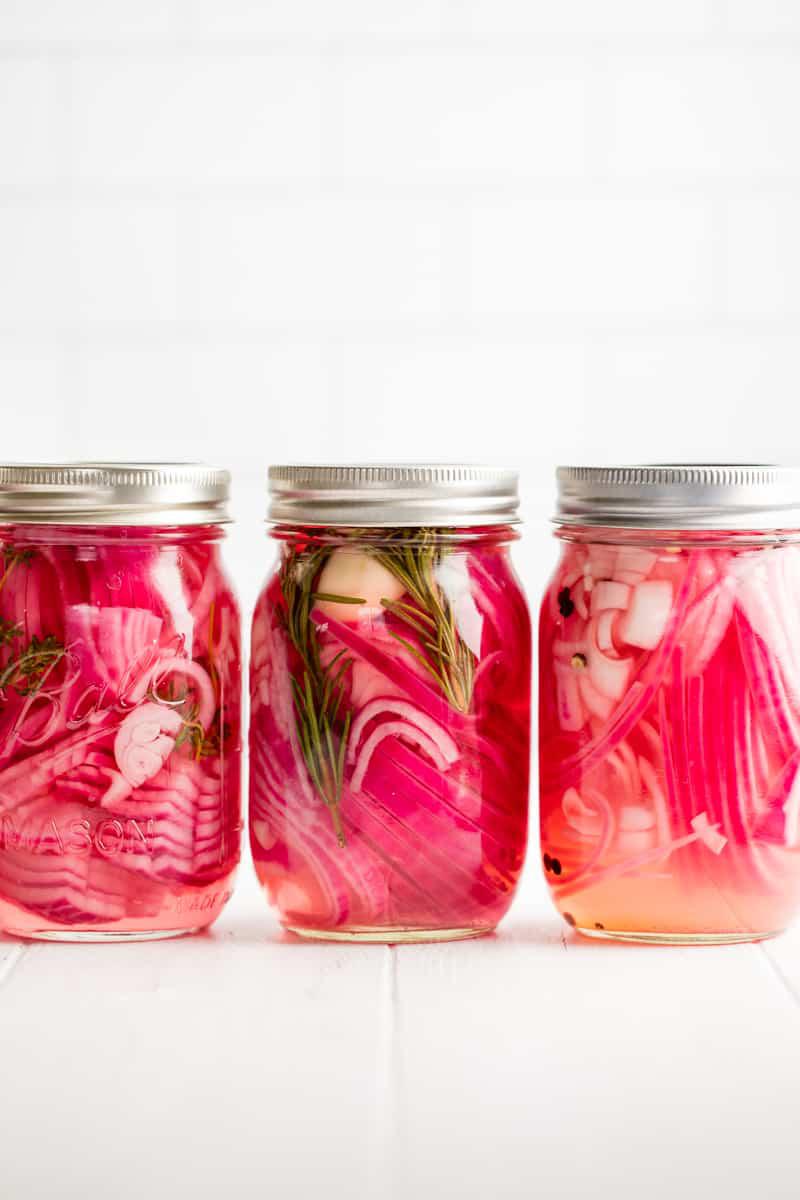 DO I NEED TO USE A RED ONION? CAN I USE WHITE OR YELLOW?
Red onions are best suited for pickling because they have a more mild flavor. While you can certainly pickle white or yellow onions, they both have much sharper, more potent onion flavors. Yellow onions in particular are rarely consumed raw. Red onions will produce the best results.
WHAT KIND OF JAR OR CONTAINER SHOULD I USE?
When pickling any kind of vegetable, you should use containers that are suitable for fermentation and pickling. These include stoneware, glass, and food grade plastic containers. Mason jars are the most commonly used containers for pickling for home cooks.
CAN I MAKE DIFFERENT FLAVORS OF PICKLED RED ONIONS?
Yes you can! You can use a very basic recipe for pickling and then add other items to the container to change the flavor slightly. This recipe, as written, contains both a base recipe as well as gives you several suggestions from which you can mix and match, or come up with your own. Fresh herbs and whole spices are the most common used additions.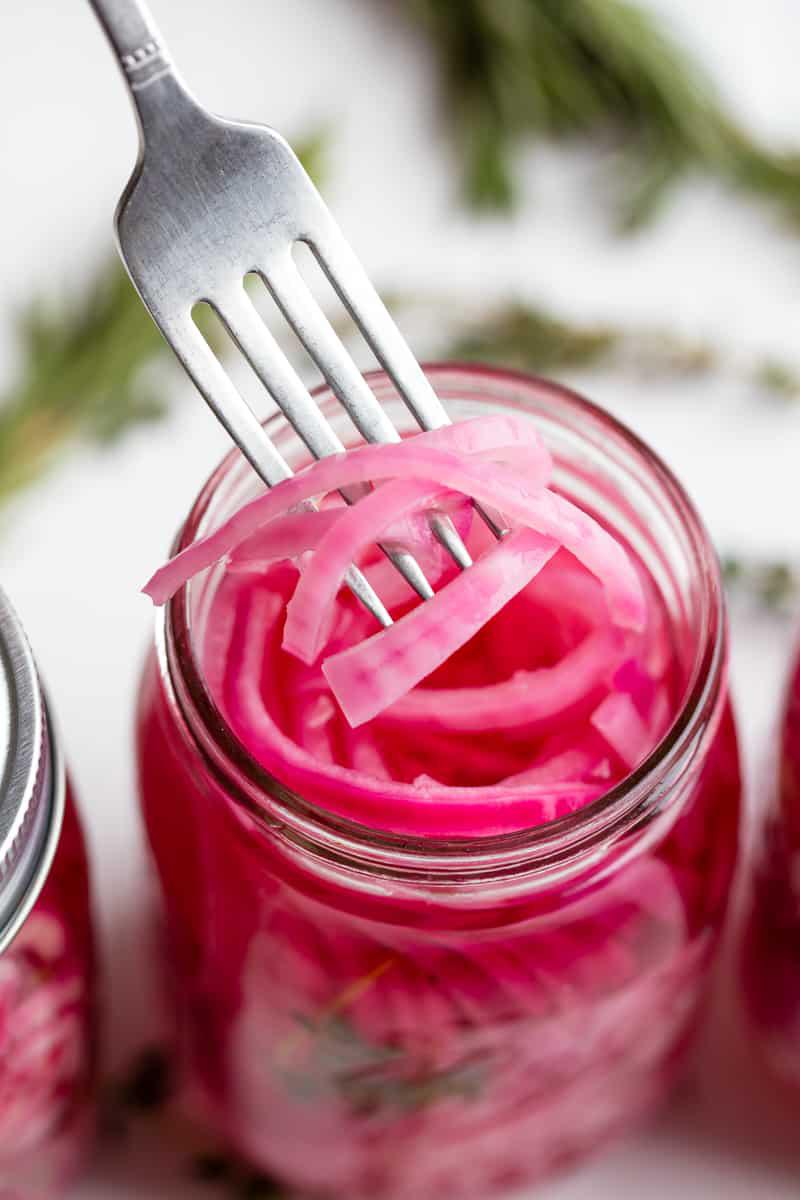 HOW LONG CAN YOU KEEP PICKLED VEGETABLES?
Opened, unsealed jars of pickled vegetables will stay good in the fridge for about 2 to 6 months. Be sure to keep your pickled vegetables in the refrigerator.
WHAT DO PICKLED RED ONIONS GO GOOD WITH?
Pickled red onions can be used in place of raw red onions in any recipe calling for red onion. They are great in salads, on tacos, on sandwiches, on burgers, and more!
INGREDIENTS
Pickled Red Onions
1 red onion
1 1/2 cups white vinegar
2 tablespoons sugar
1 tablespoon salt
Optional Flavorings (Pick one or mix and match)
1 teaspoon black peppercorns
1 teaspoon allspice berries
2 sprigs fresh rosemary
2 sprigs fresh thyme
1 small hot red pepper
3 whole peeled garlic
1 teaspoons whole cumin seeds
INSTRUCTIONS
Peel and slice red onion into thin slices. Place into a pint sized mason jar, or other glass, plastic, or ceramic container with a sealable lid.
In a small saucepan stir together vinegar, sugar, and salt. Add in 1 or more additional optional flavorings as desired. Bring to a boil, then remove from heat.
Pour mixture over onions in jar until full. Place the lid on and let cool to room temperature.
Place the lid on to seal and refrigerate. Let them sit and pickle for at least 12 hours before using.
NOTES
This recipe as written will yield 1 pint-sized mason jar. These will stay good in the refrigerator for between 2 and 6 months.