Bacon Macaroni Cheese is creamy and cheesy homemade mac n cheese made with elbow macaroni, two kinds of cheese, and crumbled bacon.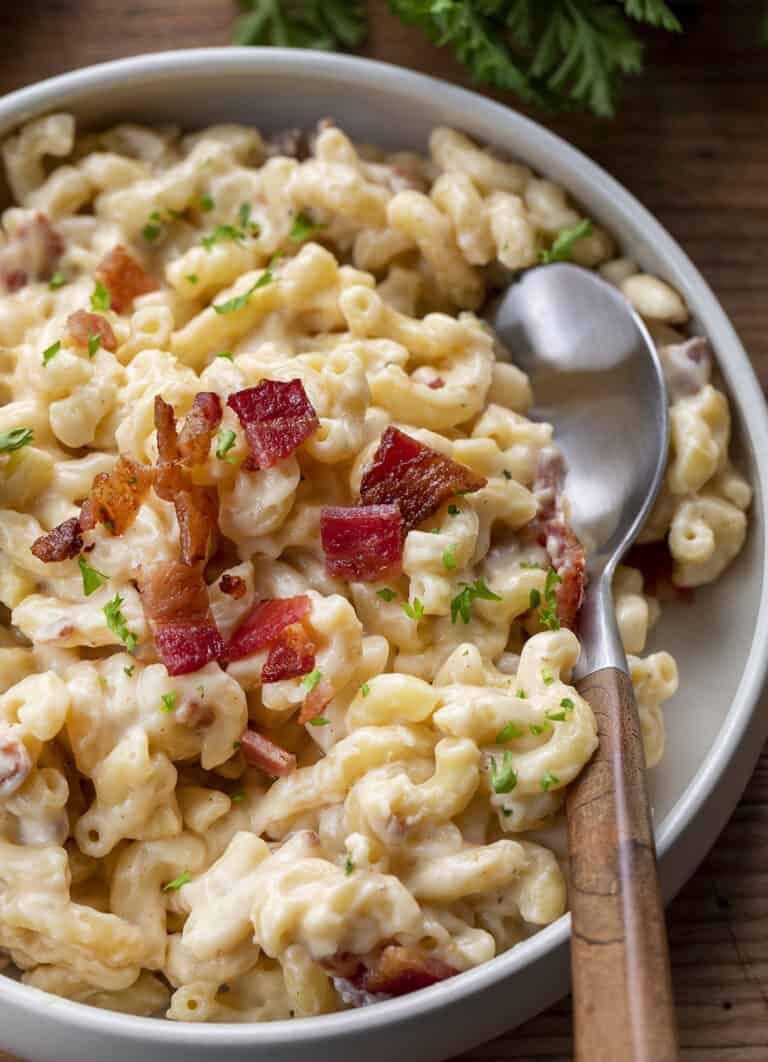 Bacon Macaroni Cheese Ingredients
Bacon: I prefer thick-cut bacon in this recipe. But, you can use regular bacon as well.
Noodles: I went with elbow macaroni for the noodles. Use pasta noodles that you prefer and be sure to cook them al dente before adding the cheese sauce.
Cayenne Pepper: Cayenne pepper was added to the cheese sauce with ground mustard and garlic powder. But, you could definitely leave it out.
Cheese: Shredded sharp cheddar cheese and shredded mozzarella cheese are the kinds of cheese I used. But, you can certainly kick it up with whatever cheese blend you would like.
How to Make Bacon Macaroni and Cheese
Start by cooking the noodles al dente and cooking the bacon in a separate large pot (preferably a Dutch oven, if you have one). Cook the bacon until it is crispy and browned. Then, remove it with a slotted spoon onto a paper towel-lined plate. Drain all but about 2 tablespoons of bacon grease. (You'll want to leave a bit in for flavor, trust me!).
To make the cheese sauce, start with melting the butter and adding flour. Then, add the milk and seasonings, followed by the cheese. Check the instructions to know exactly when to remove the pot from the heat. Finally, pour the cheese sauce over your cooked pasta and add the crumbled bacon. Stir everything together and serve it right out of your pot for the best, creamiest macaroni and cheese you've ever had.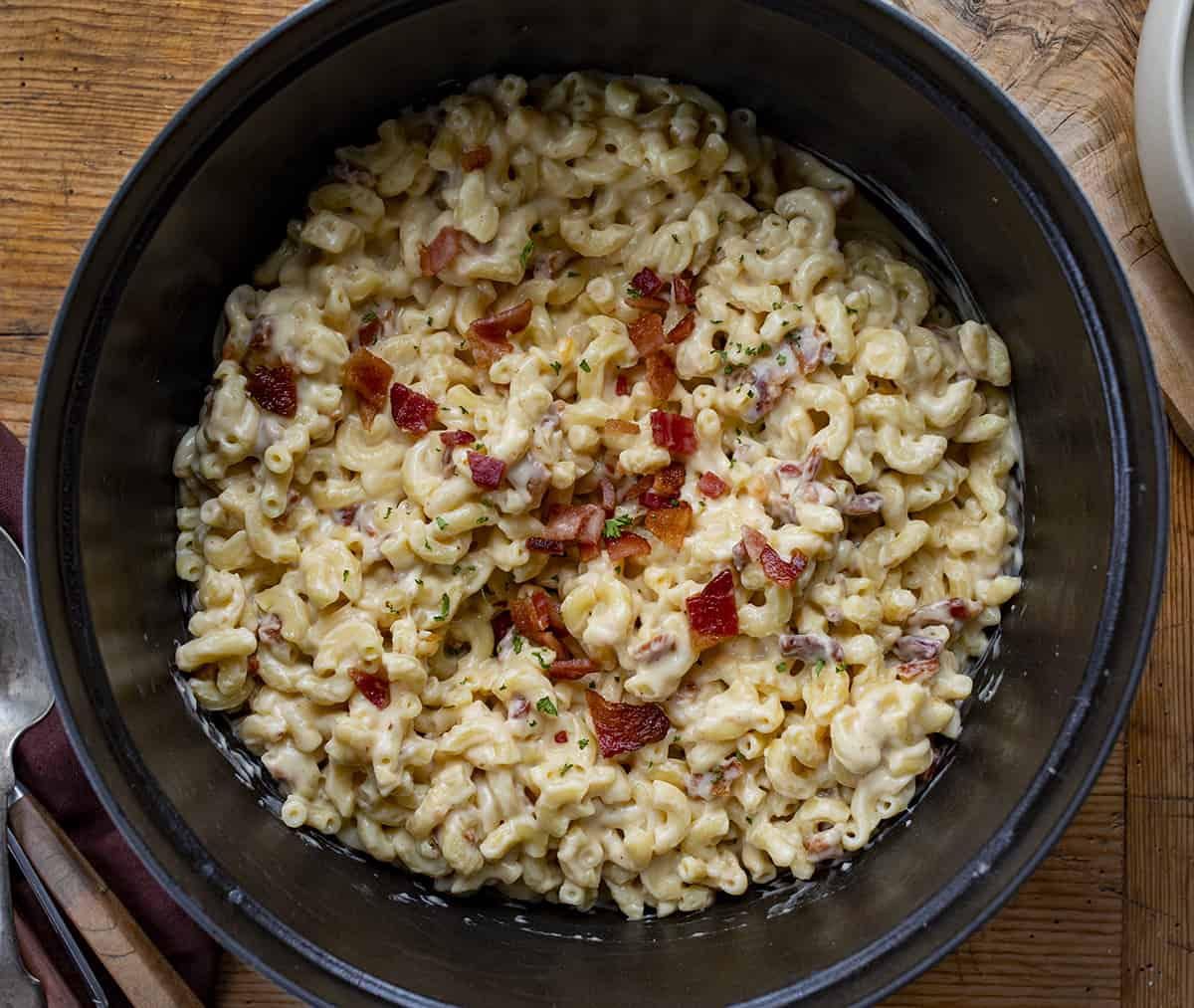 How to Get Creamy Macaroni and Cheese
I am on a mission to make sure no one has grainy homemade mac n cheese ever again… and in my research discovered this awesome tip. Do NOT put the pan back over the heat to melt the cheese. The ingredients in the pan are already hot enough to do the job of melting the cheeses. If you get cheese too hot that is when you will end up with a grainy texture. After you have stirred in the cheese, pour the mixture over the cooked noodles and serve. Best served hot!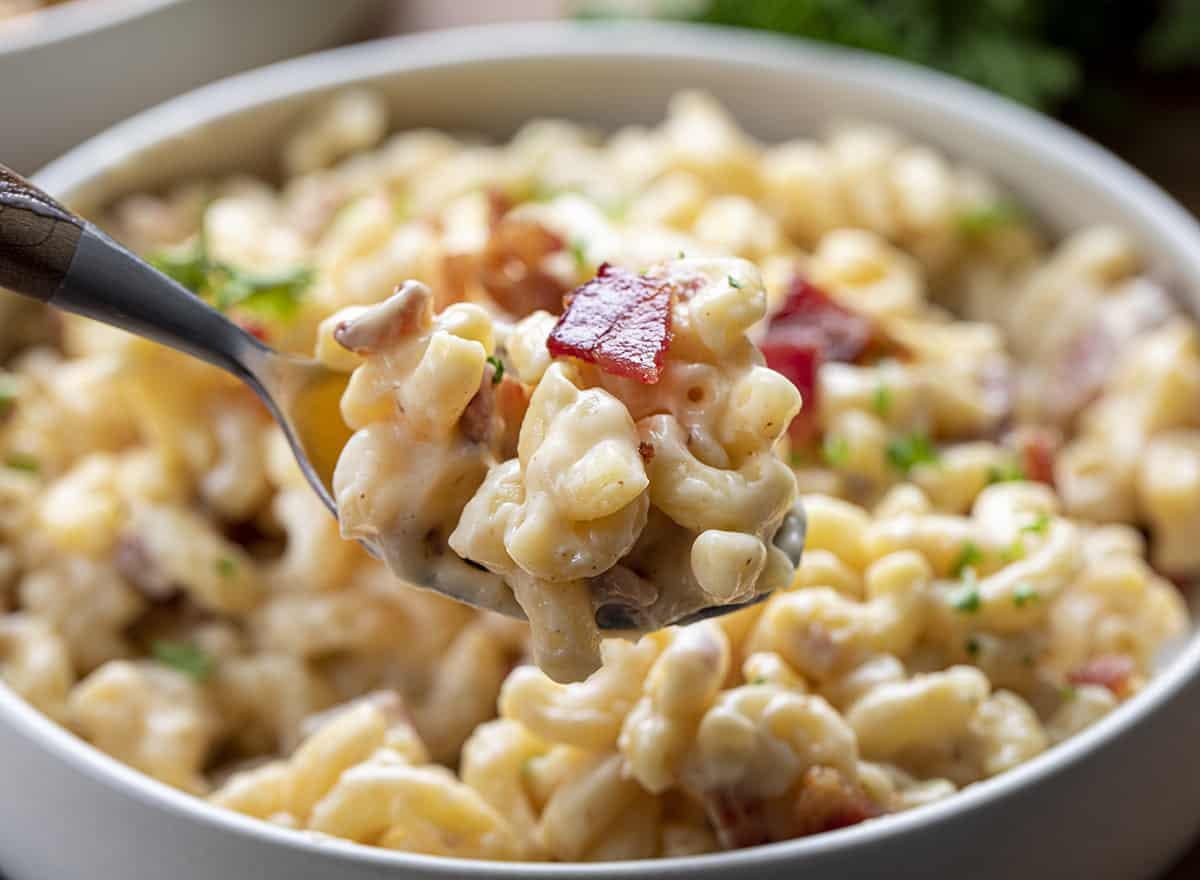 INGREDIENTS
8 slices thick-cut bacon, chopped into small pieces
16 ounces elbow macaroni, cooked al dente and drained
¼ cup butter
½ cup all-purpose flour
3 cups whole milk, warmed
2½ teaspoons salt
½ teaspoon ground mustard
¼ teaspoon garlic powder
¼ teaspoon cayenne pepper, optional
1 cup sharp cheddar cheese, shredded
½ cup mozzarella cheese, shredded
salt and pepper, to taste
parsley, chopped for garnish
INSTRUCTIONS
In a large Dutch oven over medium heat, add bacon. Cook until crispy.
Use a slotted spoon to remove the bacon from the pot. Place on a paper towel-lined plate to drain.
Leave 2 tablespoons of bacon grease in the pot, draining the rest. Add butter and melt.
Add flour and whisk constantly for 1-2 minutes, or until the mixture turns light brown.
Remove from heat and gradually pour in the warm milk, whisking constantly.
Return the pan to heat. Whisk another 3-5 minutes, or until thickened.
Add the salt, ground mustard, garlic powder, and cayenne pepper (if using). Stir to combine. Remove from heat.
Add both kinds of cheese, stirring to melt.
Pour the cheese sauce over the top of the cooked elbow macaroni. Stir to combine.
Fold in crumbled bacon. Season with salt and paper and top with chopped parsley. Serve immediately.