Pasta has been loved by the Filipinos specifically the sweet and meaty version of spaghetti. But there are many other versions of cooking pasta that varies in the wide range of ingredients to use.
If you are bored with the same-old pasta recipe that you have, then you should not miss this creamy chicken pasta recipe.
Chicken and pasta are two versatile ingredients that combined; make a variety of delicious, quick and easy meals for all the family. Whether you're cooking with thighs or breasts, penne or spaghetti, we have all the chicken and pasta recipes you'll ever need.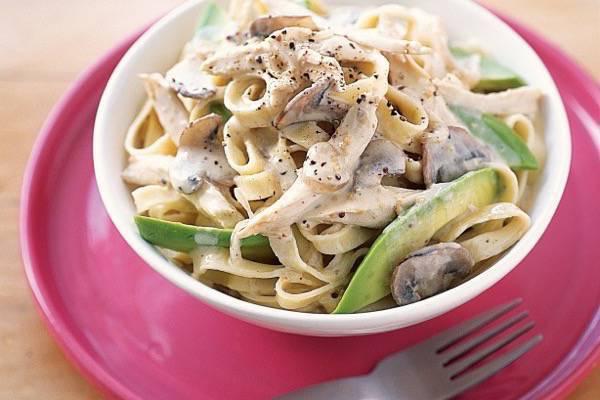 Ingredients
375g fettuccine pasta, cooked
'1½ tablespoons olive oil
2 chicken breast fillet, strips
½ white onion, chopped
150g button mushrooms, sliced
3 garlic gloves, crushed
1 tablespoon dried thyme
1 teaspoon finely grated lemon zest
⅓ cup dry white wine
300ml bechamel sauce (white sauce)
Parmesan Cheeses
Instructions
Heat 2 tabelspoons oil in a large, deep frying pan over medium-high heat. Add chicken strips and cook.
Add onion. Cook, stirring for 2 minutes or until softened. Add mushrooms. Cook for 3 to 4 minutes or until just tender. Add garlic, thyme and lemon zest. Cook for 30 seconds or until fragrant. Cook, stirring, for 1 minute or ubtil coated. Add wine. Bring to boil, stirring. Reduce heat to low. Add bechamel sauce. Stir to combine. Simmer fro 2 to 3minutes or until heated through.
Add pasta and chicken to mushroom mixture. Season with salt and pepper. Cook, stirring, for 1 to 2 minutes or until heated through. Spoon into bowls. Top with grated parmesan and extra thyme. Serve.