This Poor Man's Salisbury Steak is smothered in onion gravy and is ready in about 30 minutes! Serve with my favorite mashed potatoes and you have a meal that even the pickiest eaters will like!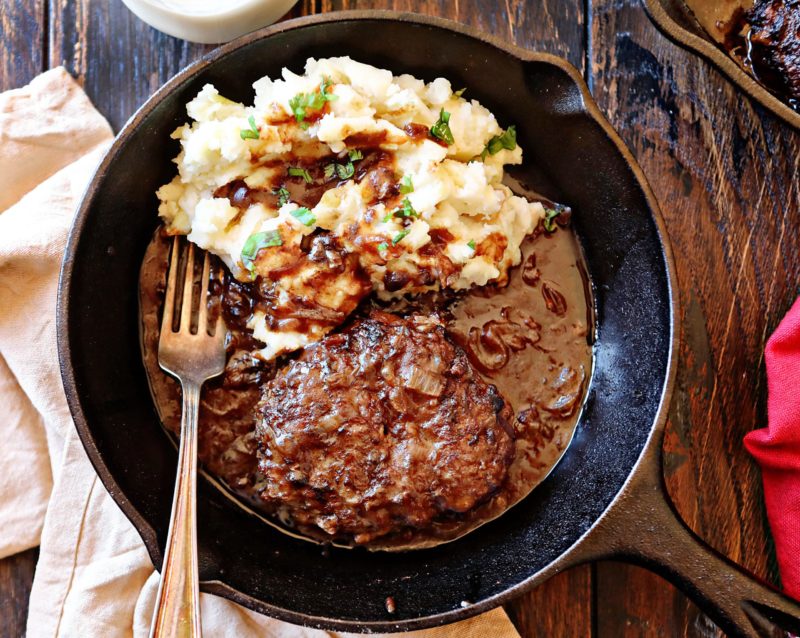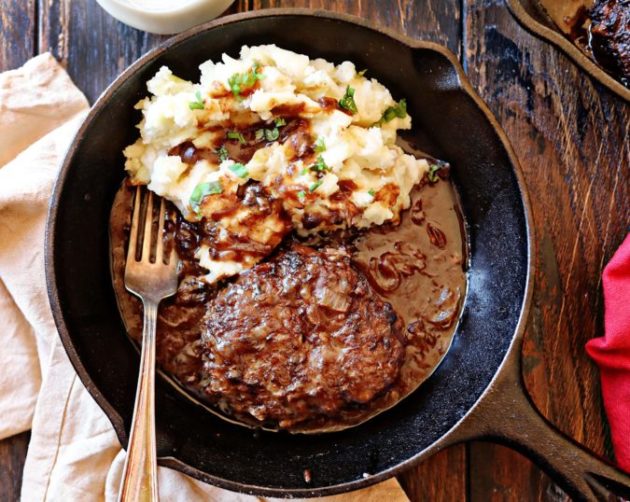 WHAT IS SALISBURY STEAK?
We grew up poor and I remember this being one of those meals we had at least once a week. Salisbury Steaks are simple to make, relatively inexpensive, and loaded with flavor. It usually consists of a homemade hamburger patty smothered in a rich gravy. The consistency is more like a meatball than a hamburger though thanks to my secret ingredient! (more on that below)
And in my humble opinion, it's always the best when homemade!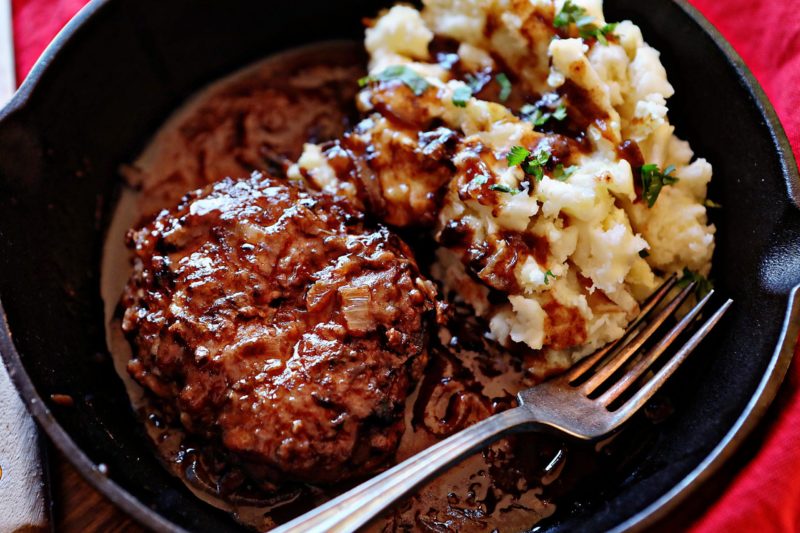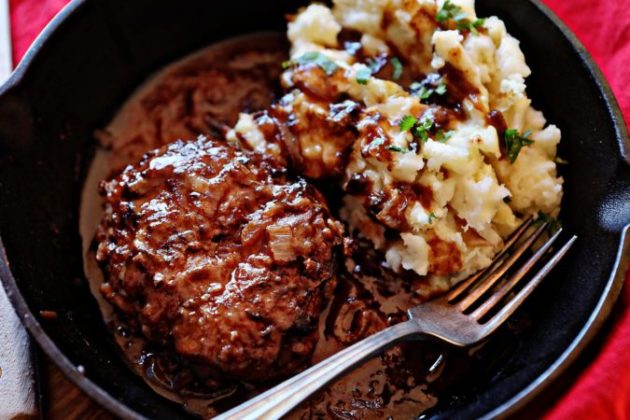 HOW TO MAKE SALISBURY STEAKS
The first step to making Salisbury steak is to make the hamburger patties. We always used 70/30 ground beef growing up because it was the most inexpensive, but these days I like to use a leaner percentage like 90/10. I also like to take my ground beef out of the fridge about 30 minutes before preparing this so that the meat is not cold.
Ingredients:
ground beef
potato chips
eggs
ground mustard
garlic powder
salt & pepper
A traditional Salisbury steak uses breadcrumbs, but we never seemed to have those on hand growing up so my mom would use crushed potato chips. I love the salty and crunchy component that the potato chips add to this recipe. It's my "secret ingredient" and also where the name "Poor Man's Salisbury Steak" comes into play.
The meat is mixed with potato chips and seasonings, then formed into hamburger patties. The patties are then fried in a skillet (I used a 12-inch) with the oil and butter until the juices no longer run pink.
Remove the patties from the skillet and then drain off any excess grease.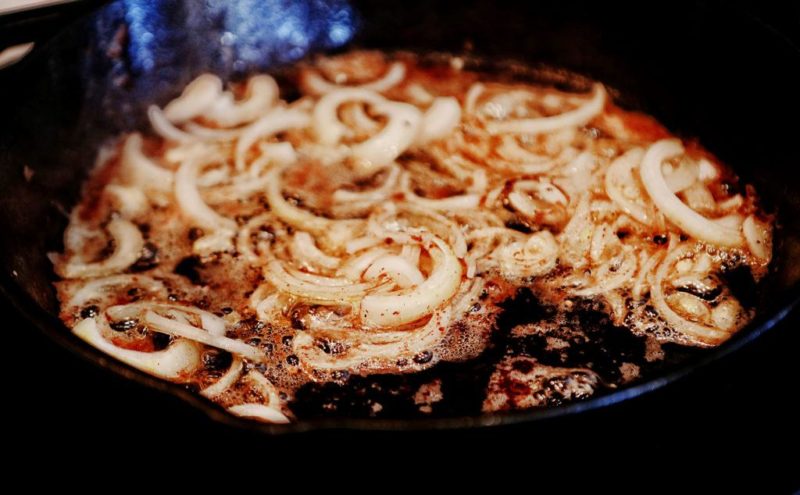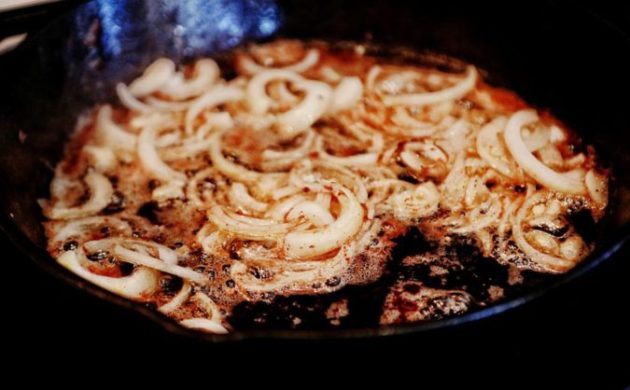 HOW TO MAKE ONION GRAVY
One of my favorite components of this meal is the gravy. I love to cook up a double batch and freeze it to use it different nights of the week. To make the gravy, start with the same skillet you cooked the Salisbury steaks in. With the temperature reduced to medium, add in the sliced onions and cook for about 3-5 minutes, or until they are golden brown and somewhat soft. Next, add in the beef broth and Worcestershire. Once that is combined you can add in the cornstarch and stir everything until it comes to a low boil and the sauce starts to thicken. If you get to a point where the sauce seems TOO thick, you can add more broth to thin it out. Return the steaks to the gravy and spoon gravy over everything.
The end result of this process is a tender flavorful Salisbury Steak, smothered in a rich onion gravy. An easy and flavorful dinner!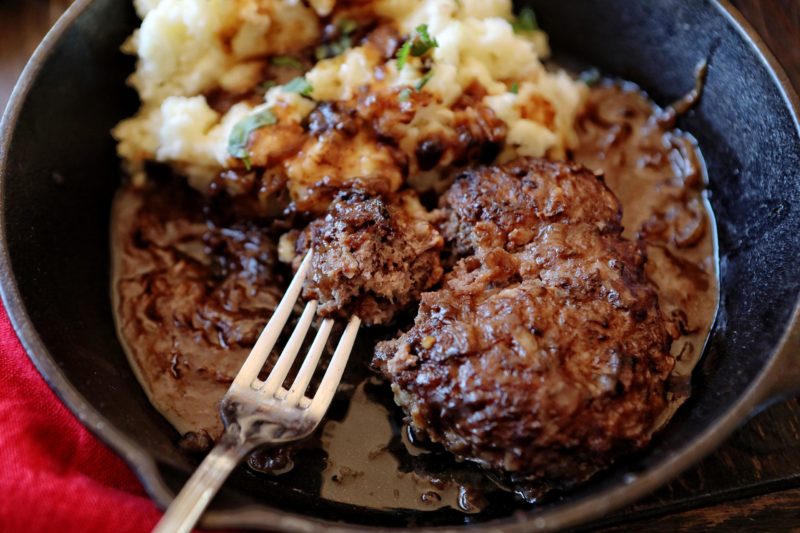 CAN YOU FREEZE SALISBURY STEAK?
This recipe freezes well, so you could absolutely make a double batch for later in the week. There are two methods for freezing:
Freeze the uncooked steaks and then thaw and follow the rest of the recipe as listed.
Freeze the cooked steaks in the gravy, and the defrost them in the fridge and simmer in a pan until they are warmed through.
Ingredients
Hamburger Patties
1 pound ground beef
2 eggs
1 cup potato chips, smashed
2 teaspoons dry mustard
2 teaspoons garlic powder
Salt and pepper
1 tablespoon butter
1 tablespoon olive oil
Gravy
1 whole onion, thinly sliced
2 cups beef broth, more if needed for thinning
4 dashes Worcestershire
1 tablespoon cornstarch
Salt and pepper
Instructions
Hamburger Patties
Combine the ground beef, eggs, potato chips, dry mustard, garlic powder, and some salt and pepper.
Using your hands, mix all the ingredients until fully combined. Form into four hamburger patties.
In a 12-inch skillet with the butter and oil over medium-high heat, fry the patties on both sides until no longer pink in the middle. (about 5 minutes a side)
Remove patties from the skillet and pour off any excess grease.
Gravy
Reduce the heat to medium and add in the sliced onions. Stir and cook until golden brown and somewhat soft, about 3-5 minutes.
In a small bowl, combine the beef broth and the corn starch. Mix well.
Add the beef broth mixture and Worcestershire sauce to the onions and stir as the mixture comes to a low boil. The sauce will reduce and thicken.
If the sauce appears too thick, you can add more broth for thinning.
Return the cooked hamburger patties to the gravy. Spoon the gravy over the top and let them simmer and heat back up for a couple of minutes.