This Mashed Potatoes Recipe is the creamiest you will ever try. They remind me of velvet… silky and smooth and so decadent you feel like you are at a 5⭐️ restaurant! Just be sure to use a russet or Yukon gold potato to ensure the ultimate creaminess!
Mashed Potatoes Recipe
When my friend Autumn and I were making these mashed potatoes I was skeptical. There was very little butter, but a lot of cream cheese and sour cream. How on earth was I going to send mashed potatoes to my table without 2 sticks of butter?!? But after I tried the first bite I was officially converted. While the "skins on" recipe is beyond rich, this one brings a level of ridiculously smooth texture that I had not experienced in a homemade mashed potato before.
Another perk about this recipe is how easy mashed potatoes are! When I went to mash the boiled potatoes I was shocked by how quickly they blend with the cream cheese and sour cream and develop into the gorgeous creamy texture that we all want in our mashed potatoes recipe. Normally I will bust out a hand-held mixer or ricer to make sure the potatoes are all properly mashed, but there was no need with this recipe.
The other easy part is the ingredients… there are very few and that makes me happy when I am trying to put together a Thanksgiving feast and have 47 things to do.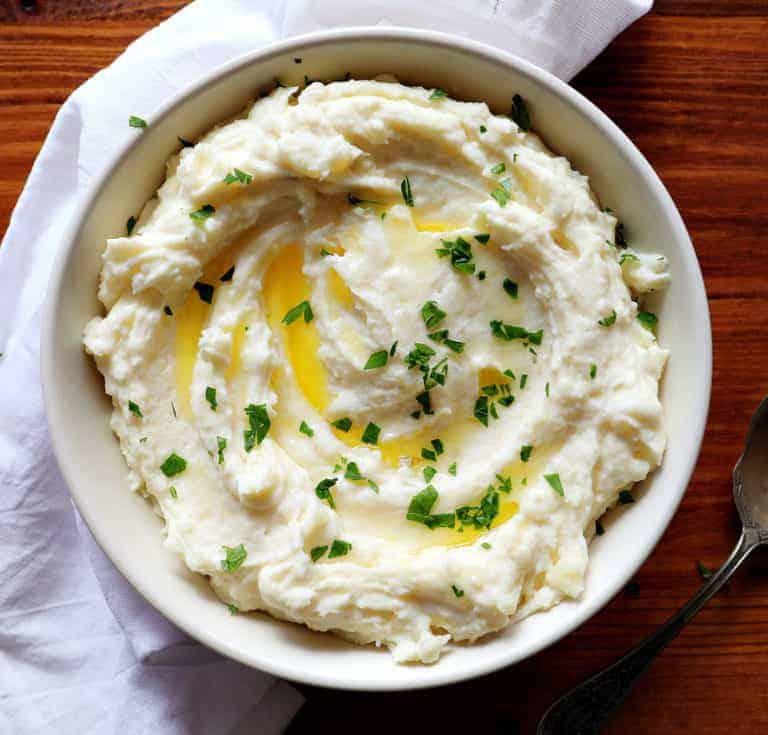 How to Serve Mashed Potatoes
My favorite was is in a big bowl next to a big bowl of gravy, but turns out there is some controversy there. Some folks do NOT like gravy on their mashed potatoes and are butter purists. If I were being honest, that is how I eat them every other day of the year. But when there is gravy on the table… that gravy is going to have a happy union with my mashed potatoes and that's that. Just in case you have some folks at your table who prefer their potatoes gravy-less, melt a little butter and pour it over the mashed potatoes right before serving. Cut up some parsley or scallions and sprinkle over top, then tightly cover with foil until ready to serve.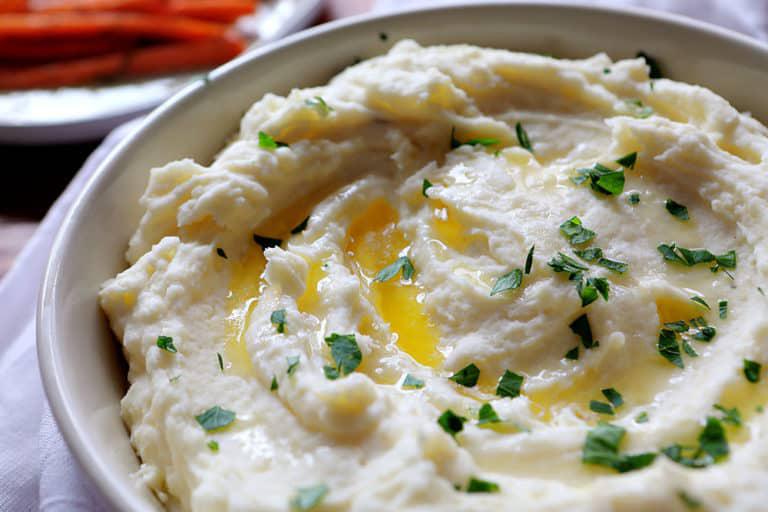 Can you Freeze Mashed Potatoes?
Just so happens this is the perfect recipe for freezing because mashed potatoes thrive if they're protected by plenty of fats and cream when frozen.
To freeze, place the mashed potatoes in a quart-size freezer-safe bag and squeeze out extra air. Lay the bag down and flatten it as much as possible so the potatoes can freeze in an even layer. Repeat until you use up all the mashed potatoes. Label each bag with the date and then try to use within 3 months.
By far my favorite method to reheat the mashed potatoes is to heat the frozen (or thawed) potatoes slowly over low heat in a covered saucepan, stirring occasionally, until heated through. You can watch the potatoes and add whole milk, heavy cream, or butter if potatoes start to dry out. I have also popped them in the microwave in a pinch, just make sure you remove the bag and place them on a plate or large bowl so they can heat evenly through. It's about 4 minutes for 2 cups of mashed potatoes.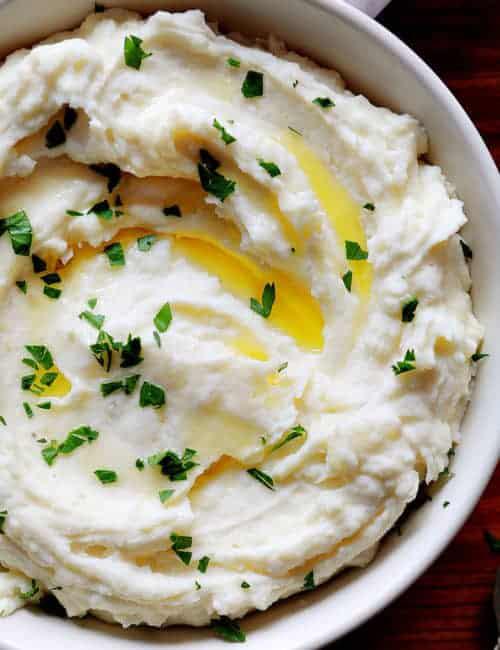 Are your mashed potatoes lumpy or watery?
If your mashed potatoes are lumpy it usually means they are undercooked. You can fix this by just adding a little bit of milk or cream and cook the potatoes over a low heat until the lumps begin to soften. (I have never run into this with this specific recipe!)
If your potatoes are watery, you can try keeping them over low heat to cook out some of the moisture. Just be sure to keep a close eye on them and stir often as you don't want the bottom to burn.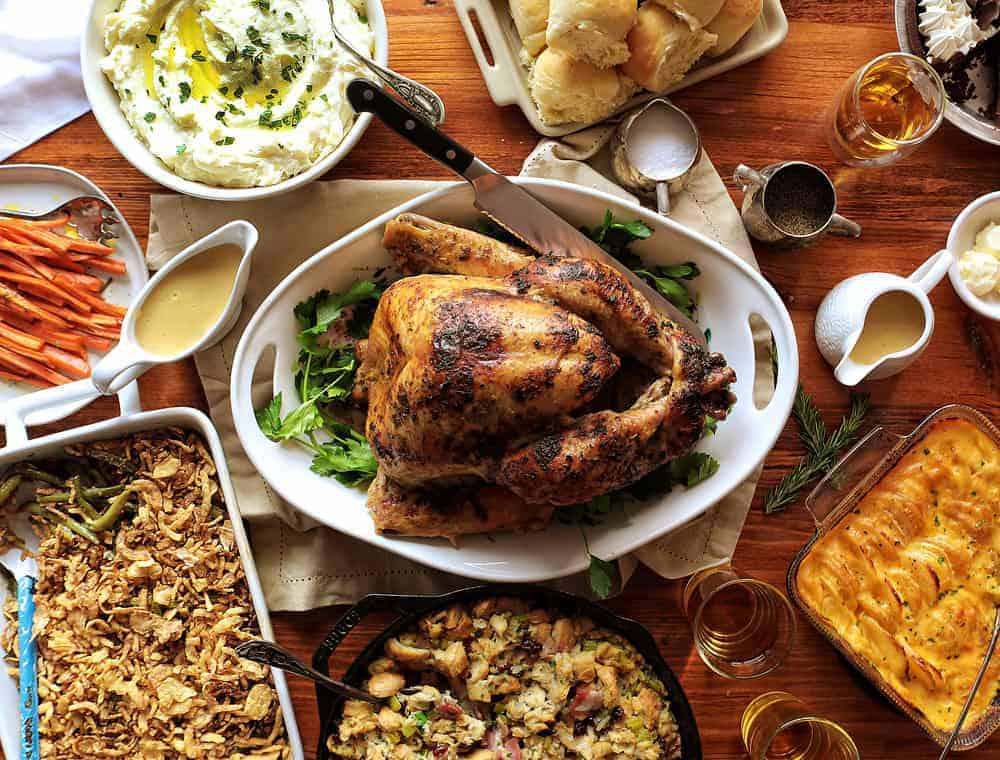 INGREDIENTS
10 medium russet potatoes, peeled and diced
1 package (8 ounce) cream cheese, room temperature
1 container (8 ounce) sour cream, room temperature
2 tablespoons salted butter
1 teaspoon garlic salt
parsley for garnish
salt and pepper to taste
INSTRUCTIONS
Peel the potatoes, removing as many of the eyes as possible with the tip of your peeler. Set each potato in a bowl of cold water to keep them from turning brown while you are chopping them. Cut the potatoes into 1-2 inch chunks.
Add the cut potatoes in a large pot filled with salt water. Use a pot large enough to hold the potatoes with enough water to cover, plus room for the water to boil up without boiling over.
Bring the water to a boil over high heat. Cover the pot and simmer until potatoes are tender–about 20 to 30 minutes. A knife tip inserted into a potato should not get stuck. If the potato sticks to the knife, the potatoes need to cook longer.
When potatoes are done, remove from heat and drain immediately in a large colander.
Using a potato masher or a hand-held mixer, mash the potatoes with the cream cheese, sour cream, and garlic salt until creamy. Be sure to taste as you go making sure there is enough salt and pepper.
Spoon into serving bowl and garnish with butter and parsley or chives.