Chicken Lasagna Soup is a creamy and filling soup that is loaded with noodles, rotisserie chicken, spinach, and two kinds of cheeses.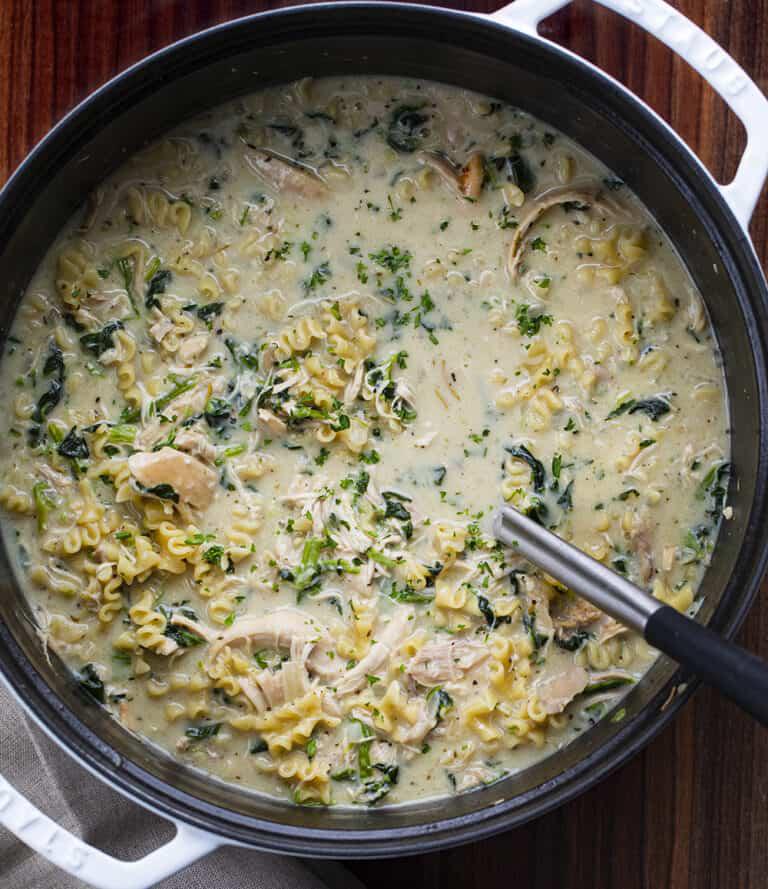 CHICKEN LASAGNA SOUP
This soup recipe is adapted from my Lasagna Soup. But, in this version, I used rotisserie chicken instead of ground beef, spinach in place of tomatoes, and chicken broth to replace the beef broth. They are both hearty soups that can be eaten as a main dish. Not to mention, it is beyond delicious!
CHICKEN LASAGNA SOUP INGREDIENTS
Rotisserie Chicken: It's easy to go out and buy a rotisserie chicken, shred it, and use it in this soup. You can also check if there is chicken already shredded and packaged at your local deli.
Mafalda Noodles: You can break apart lasagna noodles to use in this recipe, but you may miss out on the lovely frills on the sides. So, if you can find them, use Mafalda noodles! It is a ribbon-shaped pasta that is flat and wide with wavy edges on the sides.
Spinach: I used frozen baby spinach that had been thawed. This is the easy way to go. If you do use fresh spinach, you would have to cook it down before chopping it and adding it to the soup.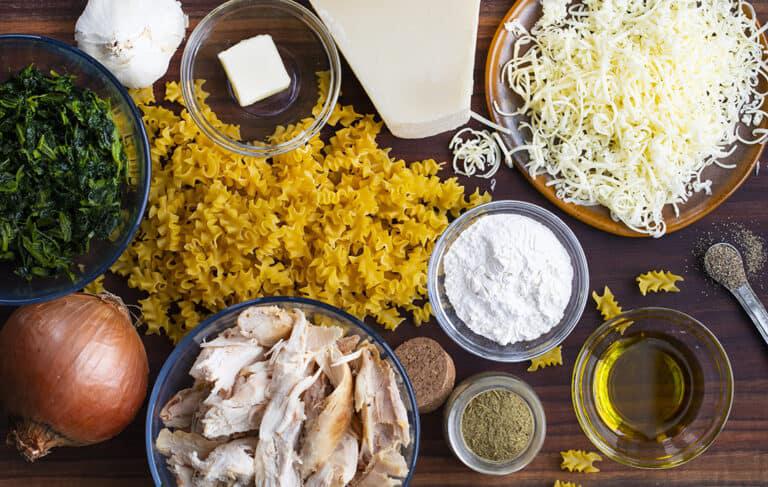 HOW TO MAKE CHICKEN LASAGNA SOUP
The nice thing about this recipe is that it is all made in one big pot! I used a Dutch oven and started by heating up and melting the oil and butter over medium-high heat. Next, add the chopped onion and cook it for a few minutes. Then, add the garlic to cook for one additional minute.
After the onion and garlic have cooked, add the flour and whisk it to form a paste. Stir it constantly for 2-3 minutes, or until golden brown. Add the chicken, Italian seasoning, salt, and pepper. Pour in the chicken broth and let this simmer on medium-low heat for about 10 minutes.
Once simmered, add the noodles and continue to let the soup simmer another 6-8 minutes, or until the noodles are cooked al dente. Finally, add the spinach, half-and-half, and both kinds of cheese. Stir until everything is combined. Serve immediately.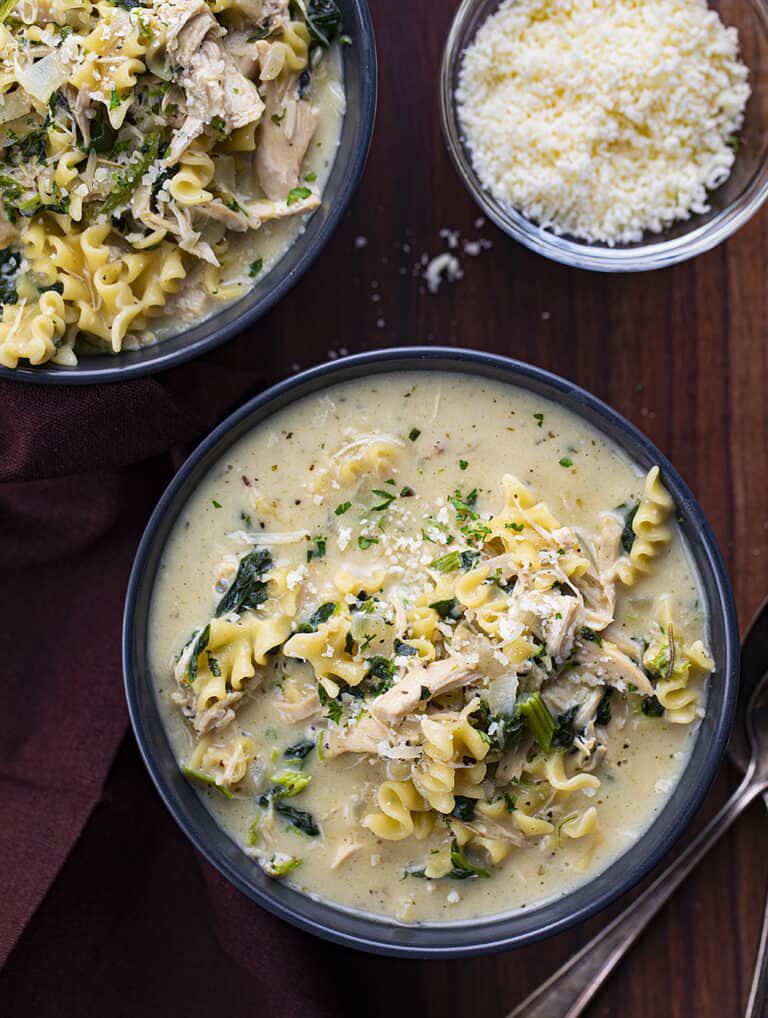 CAN I MAKE THIS IN A SLOW COOKER?
Yes, you could definitely get this made in a slow cooker. Follow the first few steps in a skillet. Heat the oil and butter and cook the onions and garlic. Next, form the paste with the flour. Add those ingredients to the slow cooker. Then, add the remaining ingredients (except for the pasta) and cook on low for 6-7 hours or high for 2-3 hours.
Thirty minutes before you are ready to serve, add in your noodles. Test the noodles at 15 minutes to see if it is done al dente. I have let them sit for 30 minutes without issue, but that may not be the case if you use a different style noodle or a noodle that is not good quality.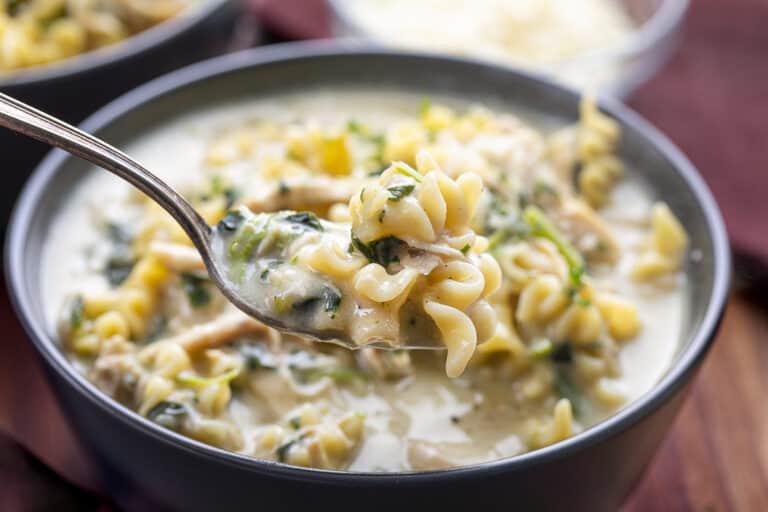 Ingredients
1 tablespoon oil
1 tablespoon butter
1 large yellow onion, diced
1 tablespoon garlic, minced
¼ cup flour
3 cups rotisserie chicken, shredded
2 teaspoons Italian seasoning
½ teaspoon kosher salt
½ teaspoon pepper
8 cups chicken broth
12 ounces Mafalda noodles, or broken lasagna noodles
10 ounces frozen baby spinach, thawed and chopped
1 cup half and half
1 cup mozzarella cheese, shredded
1 cup parmesan cheese, grated
Instructions
Heat Dutch oven over medium-high heat.
Add in oil and butter.
Once butter is melted, add chopped onion. Cook for 3-4 minutes or until translucent. Add in garlic and cook for 1 additional minute.
Sprinkle with flour and mix to form a paste. Cook, stirring constantly, for about 2-3 minutes, or until golden brown.
Add the shredded chicken and sprinkle with Italian seasoning, salt, and pepper.
Pour in chicken broth. Simmer on medium-low for 10 minutes.
Add in Mafalda noodles and allow soup to simmer for 6-8 minutes, or until noodles are al dente.
Add in chopped spinach, half and half, and cheeses. Stir until combined.
Serve immediately.