Great for beginners and for using up bananas that have seen better days, Chocolate Chip Banana Bread is perfect for an easy weeknight dessert, a quick breakfast, or for when it's your turn to bring snacks.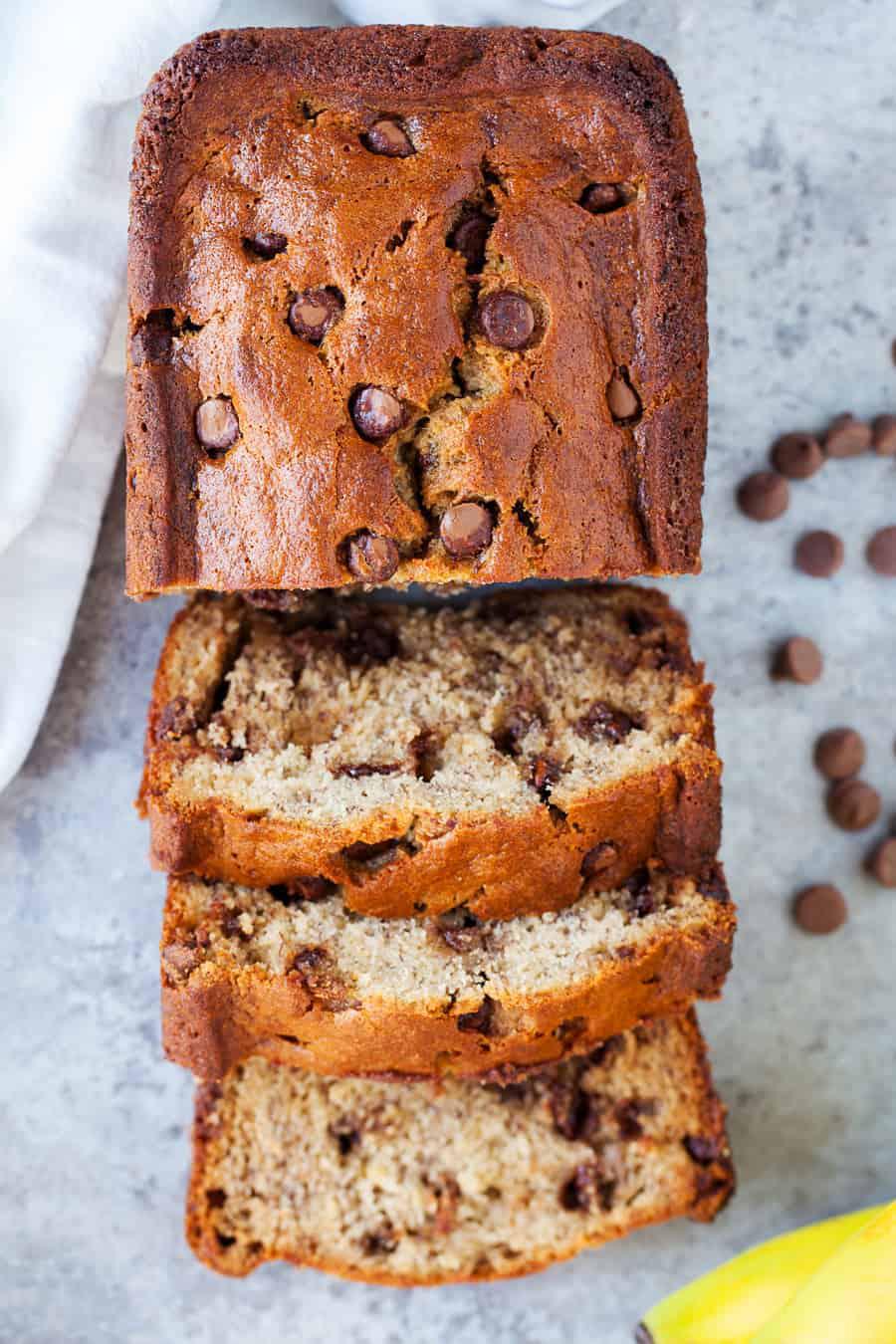 Chocolate Chip Banana Bread
Not only is this recipe the most delicious, but it is quite easy! You can prepare the entire thing in one bowl. (and who doesn't love less clean up?) The bread is saturated with banana flavor (5 whole bananas!) and the chocolate chips make it completely irresistible. Try adding chopped walnuts along with the chocolate chips. Absolutely sublime! This is the best way to use up those leftover bananas. You know the ones that your kids won't eat because they have started to get a little brown on the outside. This chocolate chip banana bread whips up in minutes. Trust me, this is the best way to eat bananas!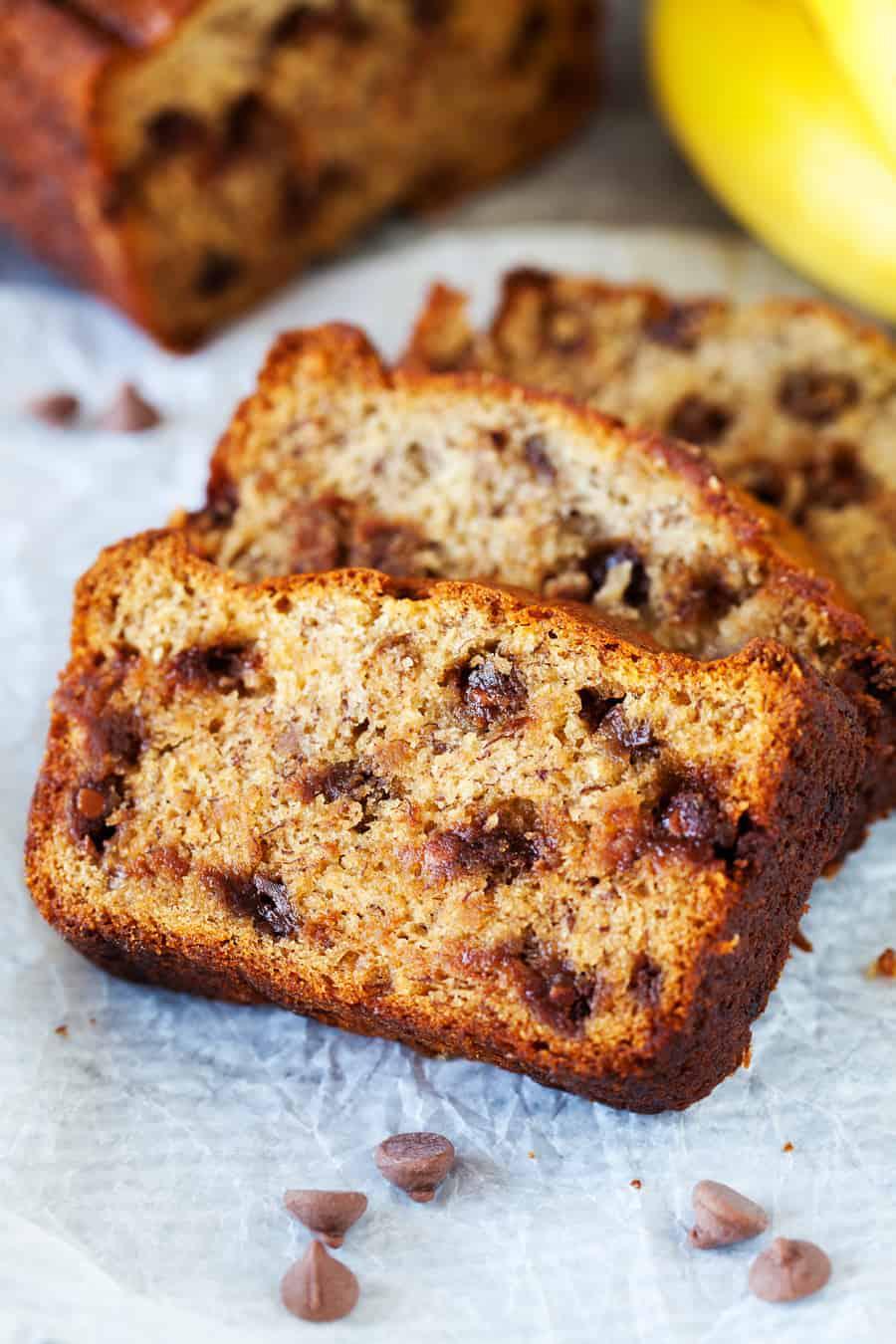 How long does chocolate chip banana bread last?
Freshly baked banana bread will keep well for about 1 week in the refrigerator. To maximize the shelf life of banana bread, cover with foil or plastic wrap and place in a plastic bag to prevent drying out. I like to cover with a piece of parchment paper and then place in a sealable plastic bag. Freshly baked banana bread will last for about 1 to 2 days at normal room temperature. (We are lucky if a loaf lasts longer than a day!)
Can you freeze chocolate chip banana bread?
Yes! You will want to make sure you allow it to cool completely. Just wrap the banana bread tightly with aluminum foil or plastic freezer wrap and place in heavy-duty freezer bag. If you prefer not to use foil directly on your bread, wrap tightly with parchment paper, then place that into a sealable plastic bag. Be sure to label it with the date. Bread is typically good for three to six months in the freezer, but the flavor will start to dull after about 1 month. To thaw bread, take it out of the freezer and set it on the counter. Allow it to reach room temperature before you take it out of its packaging. It will re-absorb some of its moisture this way.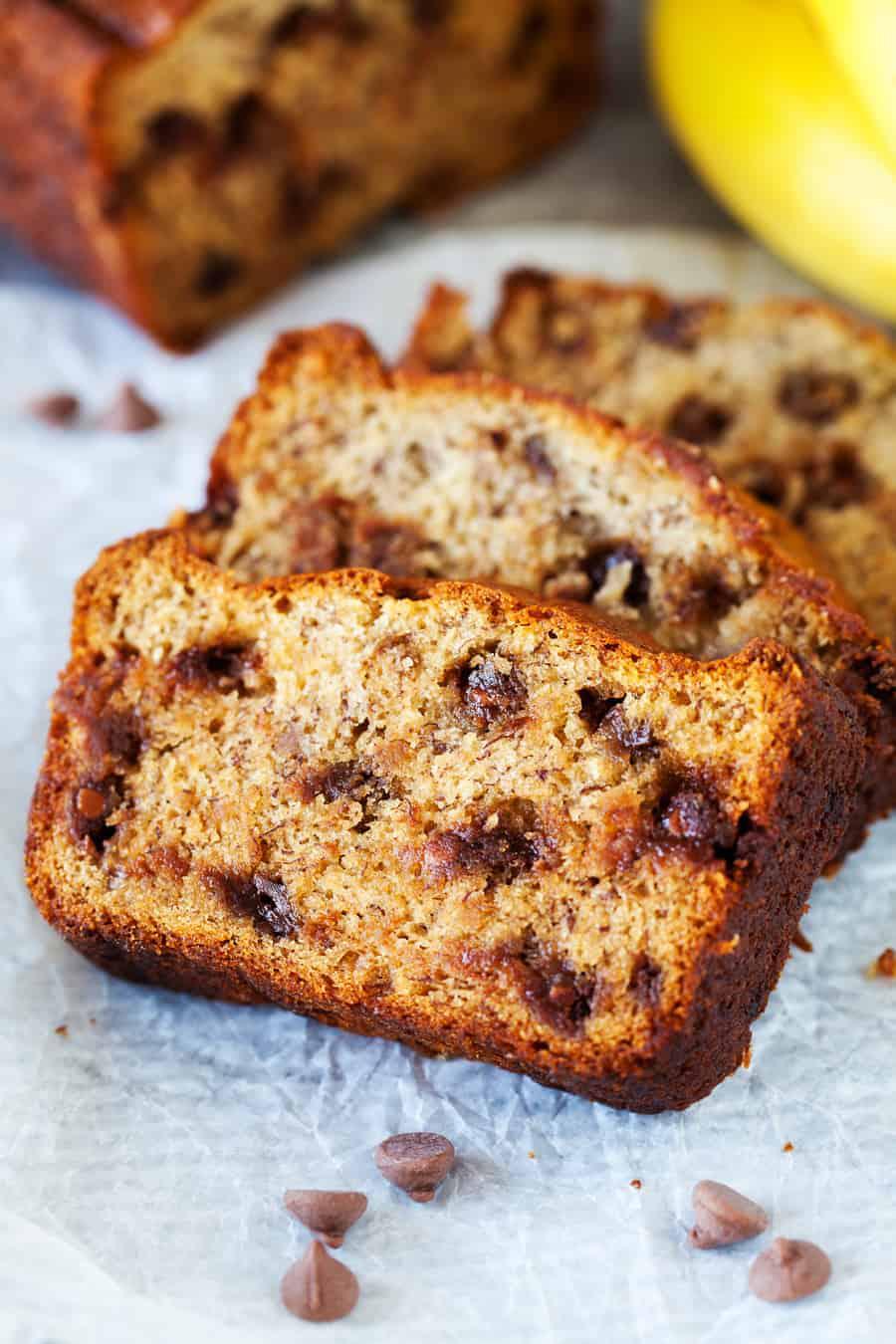 Ingredients
2 cups (256 g) all-purpose flour
1 teaspoon baking powder
1 teaspoon baking soda
1 teaspoon kosher salt
5 ripe bananas
2 teaspoons vanilla extract
½ cup (113 g) unsalted butter, room temperature
2 large eggs, room temperature
½ cup (100 g) granulated sugar
½ cup (100 g) brown sugar, packed
1 cup semi-sweet chocolate chips
Instructions
Preheat oven to 325°F and grease a 9×5-inch loaf pan. (use glass or a light colored pan if possible)
In a large bowl, whisk together the flour, baking powder, soda, and salt. Set aside.
In the bowl of a stand mixer fitted with the paddle attachment (or with a hand-held mixer), add the bananas and roughly mash. (There can be chunks, you do not want them pureed) Add the butter, sugars, vanilla, and eggs. Mix until combined.
Slowly add the flour mixture. Mix just until combined.
Fold in the chocolate chips by hand. Pour the batter into the prepared loaf pan. Place on a rimmed baking sheet and bake for 55-70 minutes until a toothpick inserted into the center comes out mostly clean. A few crumbs are fine, you do not want to see wet batter on the toothpick.
Allow the bread to cool in the pan for 20 minutes. Run a thin knife along the edge of the loaf to loosen and invert onto a cooling rack.
Flip the loaf right side up and allow to cool completely before slicing.