This Sloppy Joe recipe is just as quick and easy as using canned sloppy joe sauce but without hefty amounts of sodium and other added ingredients.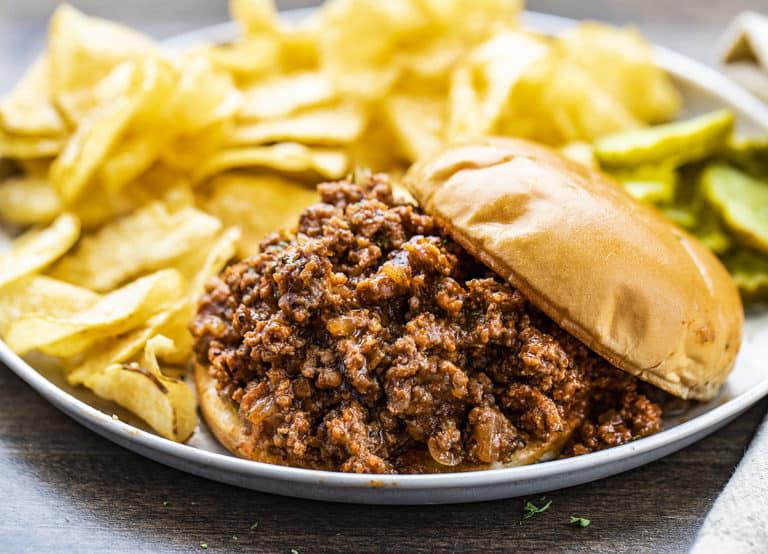 SLOPPY JOE RECIPE
In the 1930's, a cook named Joe (makes sense) decided to add some tomato sauce to ground beef. These 'loose meat sandwiches' with the tomato sauce became known as Sloppy Joes. These sandwiches are inexpensive to make and are loved by both kids and adults alike!
You may notice that one thing is missing from my Sloppy Joe recipes… green peppers. I used to make Sloppy Joe the same way everyone else did, adding the chopped green peppers and calling it a day. A few years ago I had rotten green peppers and had to leave them out. What happened was a magical thing, the flavors of the seasonings really shone through. Folks at our BBQ kept asking me for the recipe, wondering what my secret was! And it really is that easy… leave out those green peppers!
HOW TO MAKE SLOPPY JOES
As I mentioned, there really is no need to go to the grocery store to pick up a canned sloppy joe sauce, especially when you see how easy this recipe is to make! Get started by cooking the ground beef with the chopped onion. After the beef has been browned (no pink), drain the beef.
After draining the beef, add the garlic powder, mustard, ketchup, brown sugar, and water to the skillet. Reduce the heat to medium and simmer for 30 minutes. Salt and pepper, to taste.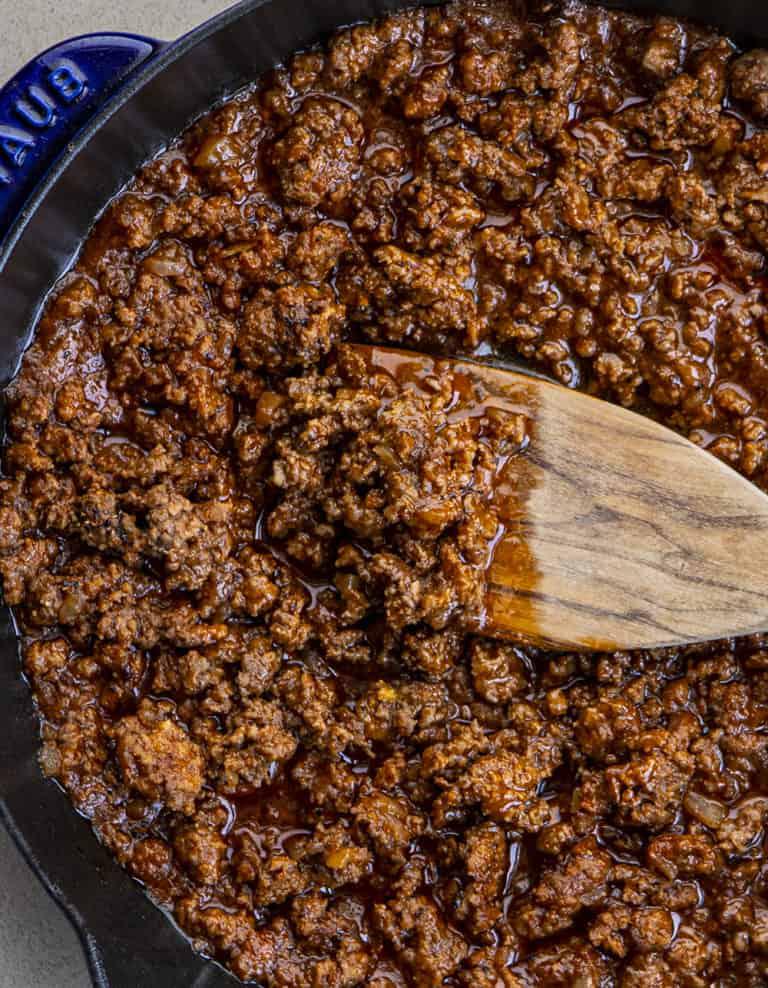 TIPS, TRICKS, AND VARIATIONS
The number one thing I tell people who make sloppy joes is to toast the bun. Sloppy joes are supposed to be "sloppy" not "soggy". Toasting the bun keeps the juices from soaking into the bun and making it a soggy mess. The number two thing is to pair it with the perfect side dish, some pickles, some potato chips or some Classic Country Potato Salad.
Another variation to the recipe is to use ground chicken or pork. Turkey would be delicious as well. You could also use vegetable protein in place of the ground beef for a meatless sloppy joe.
HOW TO SERVE LEFTOVERS
If you have any sloppy joe leftover, you can store it in the refrigerator in an airtight container for up to 3 days. Here are a few options you can use the sloppy joes for (besides in a hamburger bun):
Chili Dog
Bake it with rice and cheese in a bell pepper
Pile it on Chili Cheese Fries
Add it to your baked potato
Scoop it up with some Fritos or add it to a plate of nachos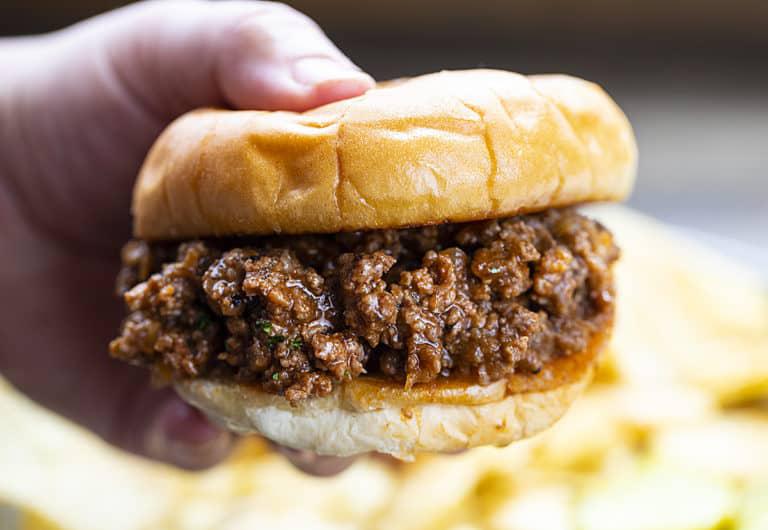 Ingredients
1 pound ground beef
1/4 cup chopped onion
1/2 teaspoon garlic powder
1 teaspoon yellow mustard
3/4 cup ketchup
1 tablespoon brown sugar
1/2 cup water
salt and pepper, to taste
Instructions
In a medium skillet over medium heat, cook the ground beef and onions until the beef is no longer pink. Drain.
Stir in the garlic powder, mustard, ketchup, brown sugar, and water, mixing until combined. Add salt and pepper, to taste.