Everyone loves pancakes. But many people are used to eating them as a dessert with sweet fillings, or pouring a topping over them. But pancakes with meat are also very tasty and excellent as a main course.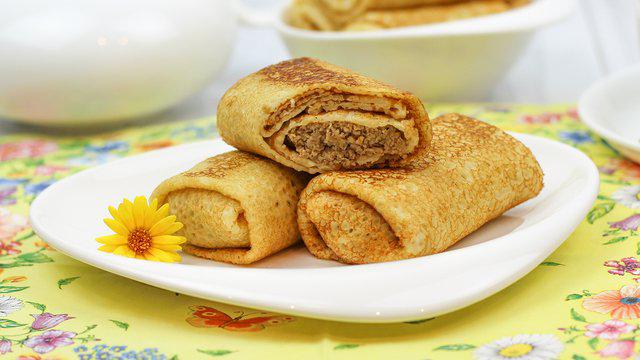 INGREDIENTS
eggs – 4 pcs.
sugar – 1 tbsp.
salt – 1 tsp.
flour – 2 cups (320 g)
milk – 2 cup (400 ml )
boiling water – 2 cup (400 ml )
vegetable oil – 1 tbsp.
vegetable oil for frying
stuffing ingredients
minced meat (beef 70% + pork 30%) – 800 g.
onion – 1 pc.
carrots – 1 pc.
salt
pepper
vegetable oil and butter for frying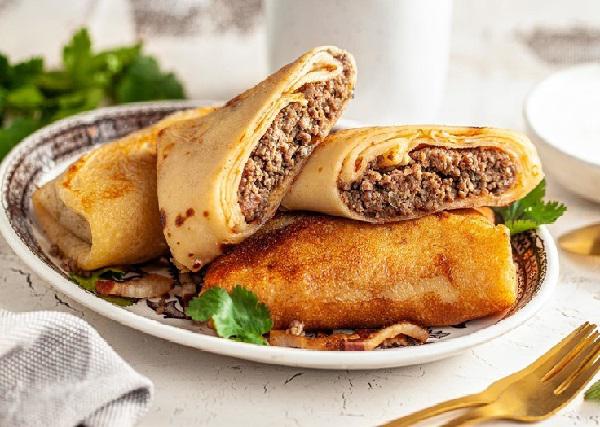 INSTRUCTIONS
In a bowl stir the eggs, salt, sugar, stirring is better with a whisk.
Add milk, mix.
Add all the flour (sift the flour), mix until a thick homogeneous mass, so that there are no lumps.
Add hot water to the pancake batter, mix it.
Add vegetable oil to the batter, mix and leave for 10-15 minutes, then the pancakes can be fried.
Heat a frying pan (the pan should be specifically for frying pancakes only cast-iron or non-stick), grease with vegetable oil and fry the pancakes on both sides until they brown.
If necessary, oil the pan a little more after frying each pancake.
How to make a filling for pancakes with meat:
On a heated frying pan add a little vegetable oil and fry the stuffing until half cooked.
Season with salt and pepper.
Peel and chop the onions and add to the minced meat, stir well and sauté them until translucent.
Peel carrots, grate them on a coarse grater, add to the minced meat, mix it up.
Then add a little butter (30 grams) and stew minced meat with vegetables until tender, under a lid over low heat.
Put the stuffing in a sieve to remove excess oil.
Ready minced meat for pancakes pass through a mincer so that the minced meat was soft and homogeneous.
On each pancake put about one tablespoon of stuffing and wrap the pancake with meat in a convenient way.
Ready stuffed pancakes with meat before serving it is better to heat in a microwave oven or oven.
Enjoy your meal!