The perfect combination of rich dark chocolate, creamy cottage cheese, and sweet-tart cherries creates a delightful symphony of flavors and textures that will leave you craving more.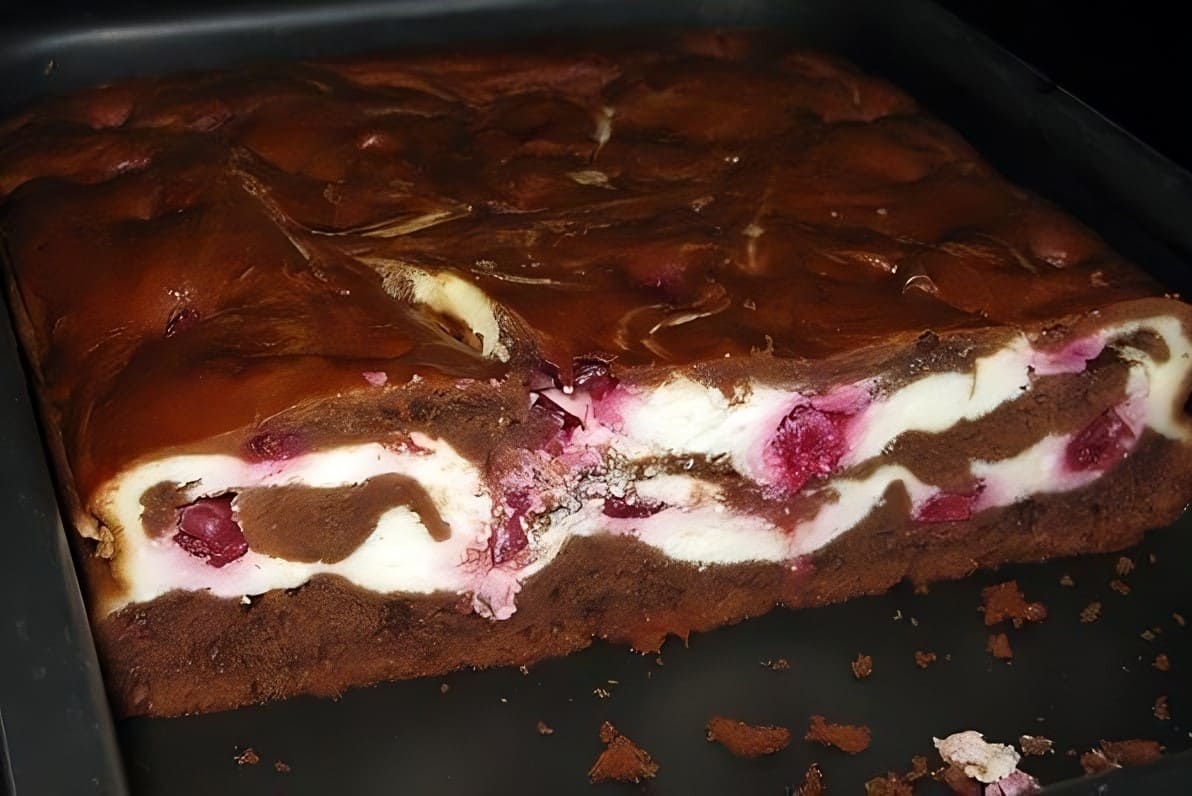 This delectable cake is easy to make and a guaranteed crowd-pleaser. Whether it's for a special occasion or a cozy afternoon treat, this brownie is bound to become a favorite in your dessert repertoire. So, let's get baking and satisfy your sweet tooth with a slice of heaven! Enjoy the moist and decadent goodness of this delightful cherry-infused delight.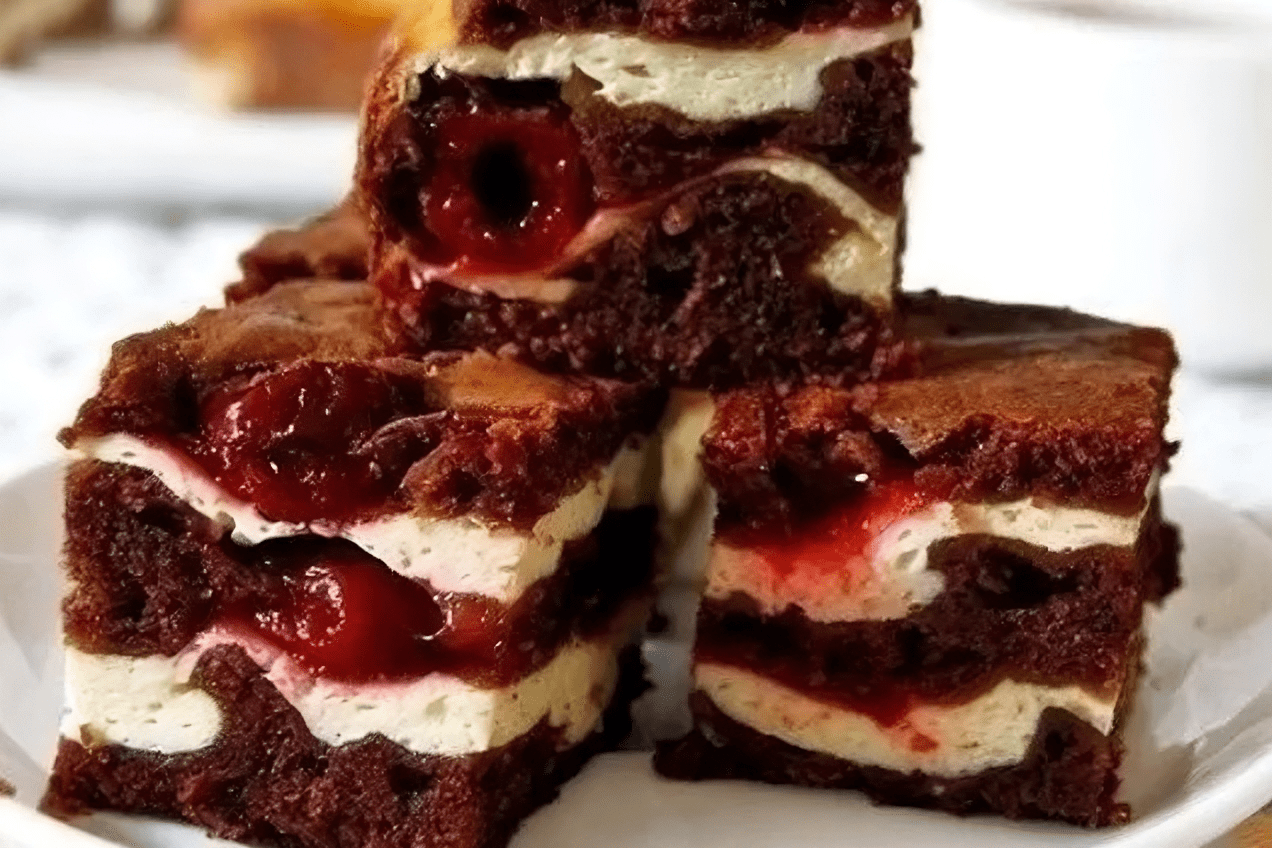 Ingredients:
Dark chocolate – 3.5 oz (100 g)
Unsalted butter – 4.2 oz (120 g)
Sugar – 5.3 oz (150 g)
Eggs – 4
All-purpose flour – 5.3 oz (150 g)
Baking powder – 1 tsp
Cottage cheese (soft) – 10.6 oz (300 g)
Vanilla sugar – 1 packet
Frozen pitted cherries – 14.1 oz (400 g)
Pinch of salt
Instructions:
Step 1. Break the dark chocolate into pieces and melt it together with the butter over a water bath or in the microwave.
Step 2. Whisk 2 eggs with 1.8 oz (50 g) of sugar, add a pinch of salt and vanilla sugar.
Step 3. For the cottage cheese filling: Mix cottage cheese with the remaining 2 eggs and sugar. Blend with a mixer until it becomes a creamy consistency. If the cottage cheese is grainy, pass it through a sieve beforehand.
Step 4. Into the egg mixture with sugar, add the cooled melted chocolate, then the baking powder and flour. Mix with a mixer on the lowest speed.
Step 5. Pour 1/3 of the batter into a baking dish with high sides greased with butter. Spread it out evenly. Add half of the cottage cheese filling. If it is thick and does not spread well, level it with a spatula.
Step 6. Spread half of the cherries over the cottage cheese filling. Then pour another layer of the batter, followed by the remaining cottage cheese filling, cherries, and finally, the last layer of batter. Try to distribute the batter evenly, although it may not be perfect in some spots, and that's okay. You can create swirls on the top layer using a knife or wooden stick.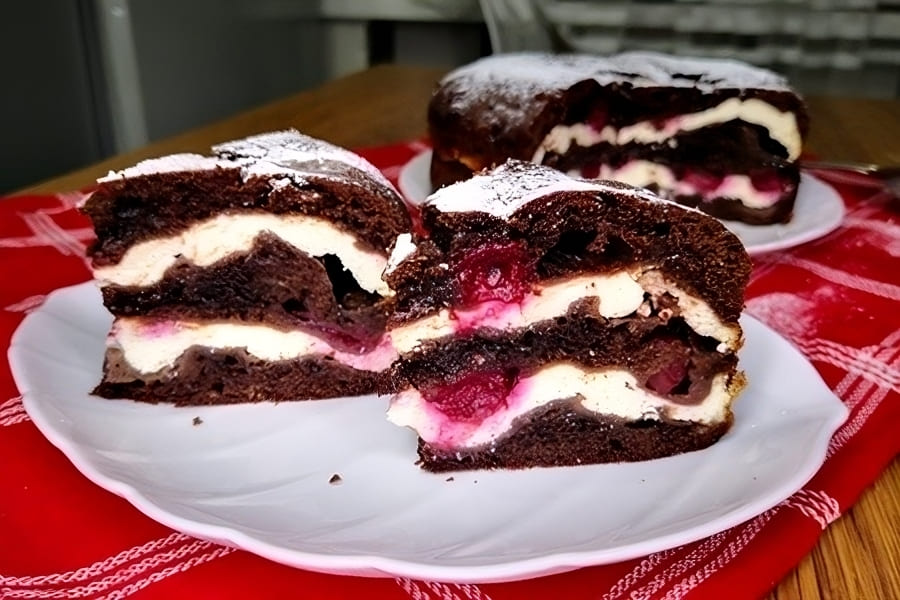 Step 7. Bake for 40-50 minutes in a preheated oven at 180 degrees Celsius (356 degrees Fahrenheit). Check for readiness with a toothpick – it should come out dry. Cool in the baking dish.