This Bacon Ranch Jalapeno Cheeseball is a creamy ball of cheese, onions, jalapeno peppers, ranch seasoning, and bacon that is a flavorful dip to share.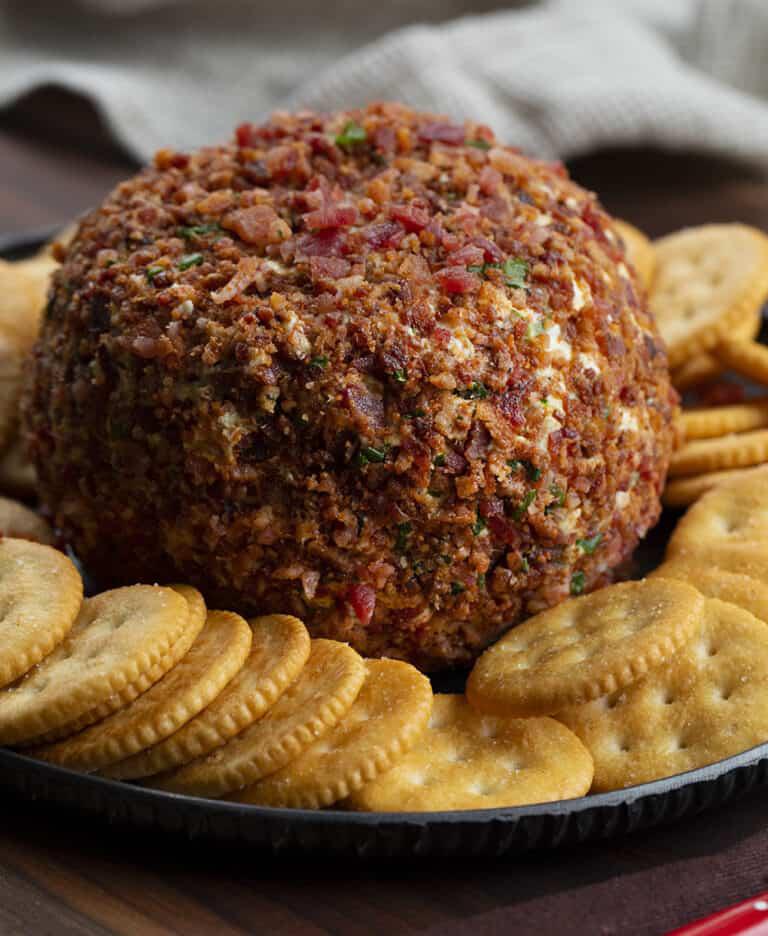 BACON RANCH JALAPENO CHEESEBALL
Who doesn't love a cheeseball loaded with amazing flavors? Plus, there is bacon in the dip as well as covering the outside of the cheeseball. This appetizer is quick to put together and can be served with crackers, pretzels, and toasted bread.
BACON RANCH JALAPENO CHEESEBALL
I have to warn you…this dip is so addicting! I've had to walk away from it more than a few times at this point…
I used cream cheese as well as Monterey Jack cheese. I added green onions as well, but you can certainly use any onion you have. Red, white, sweet, and scallion all work well! The star of this cheeseball is the bacon, of course. I like to use crispy bacon, chewy bacon would be a no-no here.
Before you make the cheeseball, there are a few things you can do ahead of time–bake the bacon and seed and dice the jalapeno peppers.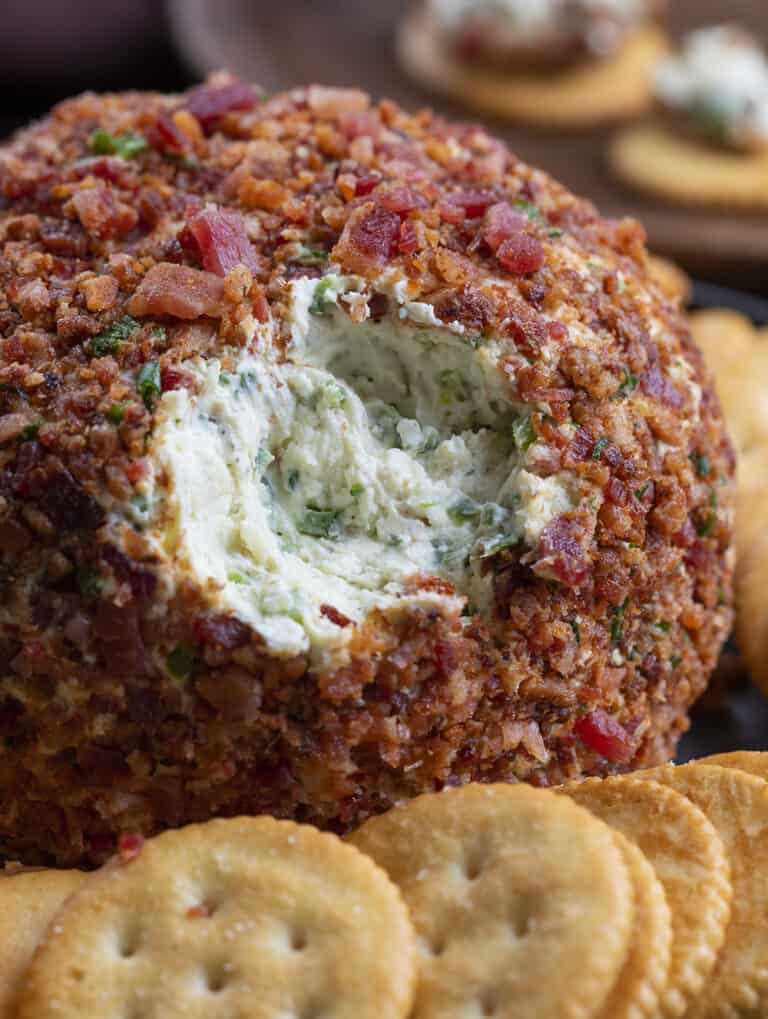 HOW TO BAKE BACON
When I cook bacon, I do it in the oven. Set the oven temperature to 415°F and while it is preheating, place the individual slices of bacon on a foil-lined rimmed baking sheet. (Yes, right on the pan! No rack needed.) They are perfectly crispy in 18-20 minutes. No flipping and easy cleanup!
When the cooked bacon is cool enough, crumble each strip into little pieces. Store the bacon in the refrigerator for 4-5 days. Use this trick for other recipes calling for bacon like my Cheesy Bacon Chicken Pinwheels. Yes, more of that cheese and bacon combo that goes together so well!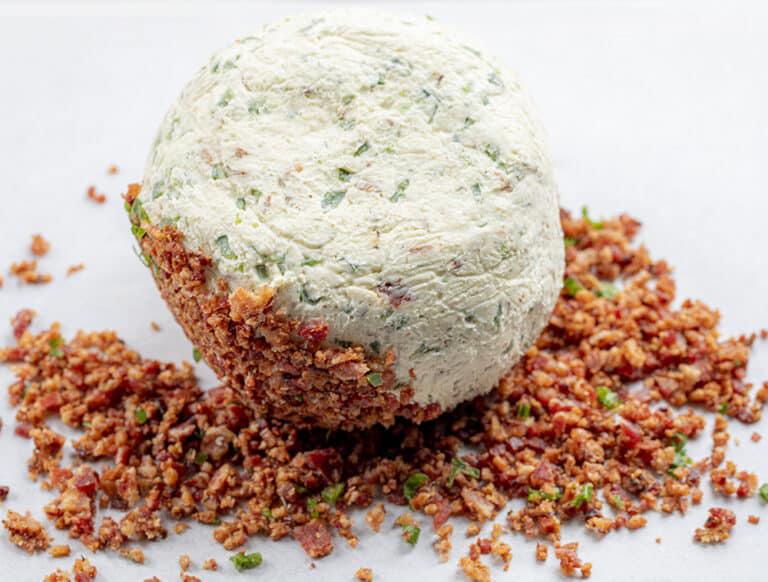 HOW TO MAKE BACON RANCH JALAPENO CHEESEBALL
With some of the prep work out of the way, it's easy to get this cheeseball rolled and dipped into! First, mix together the cream cheese, Monterey Jack cheese, onions, jalapenos, and ranch seasoning. You can use a food processor, but I just grabbed a fork that worked great too. Just make sure your cream cheese is room temperature!
Add half the crumbled bacon to the cream cheese mixture and fold it in. Scrape the sides of the bowl with a spatula to get all of the mixture to the center of the bowl, forming a ball.
For this next part, be sure to grease your hands with butter or oil. (Gloves could work, too.) Pick up the cheeseball and form it into more of a ball and place it on a sheet of plastic wrap. Wrap up the ball in the plastic wrap and let it chill in the refrigerator for about an hour.
After the hour, remove the cheeseball from the refrigerator, take it out of the plastic wrap, and roll it into the remaining crumbled bacon. Place it on a plate, set out some crackers and pretzels, and let people dig (or dip) in!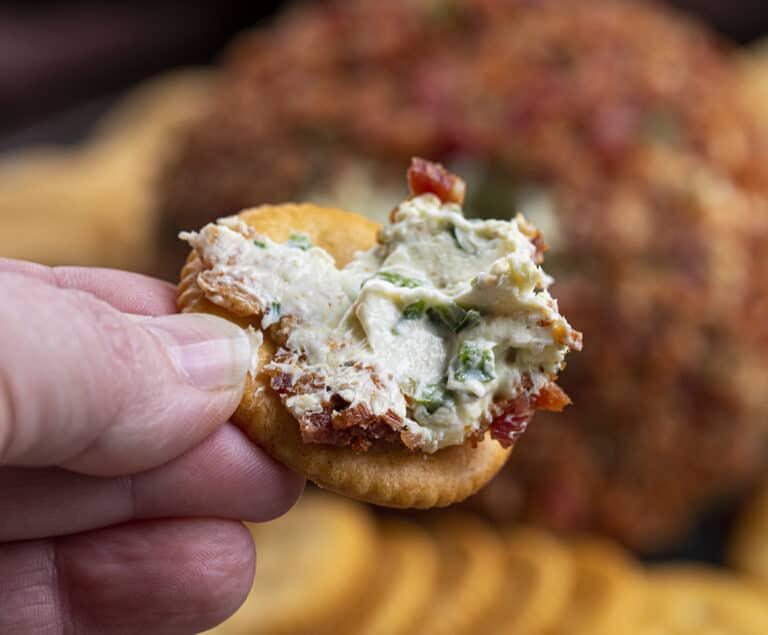 CAN I MAKE THIS INTO CHEESEBALL BITES?
You can definitely roll the cream cheese mixture into bite-sized cheese balls. ANd I HIGHLY recommend it!
Forming them into 1-inch sized balls makes it easy to pop one in your mouth or grab one to top your cracker. One thing to keep in mind is you may need to adjust the amount of bacon you need to get all the bites covered.
Ingredients
16 ounces cream cheese, softened
2 cups Monterey Jack cheese, shredded
2 green onions, diced
3 medium jalapeno peppers, seeded and diced
1 package (1 ounce or 2 tablespoons) dry ranch seasoning
10 slices bacon, cooked, crumbled, and divided
Instructions
In a large bowl, use a hand mixer to beat the cream cheese until smooth.
Add the cheese, onions, jalapenos, and ranch seasoning.
Fold in half the crumbled bacon.
Scrape the sides of the bowl with a spatula, bringing all of the mixture into the center, forming a ball.
Set out a 10×10-inch piece of plastic wrap.
Grease your hands with butter or oil to prevent sticking and pick up the cheese mixture. Form it into a ball with your greased hands.
Place the cheeseball onto the sheet of plastic wrap. Bring together the edges of the plastic wrap to seal the cheeseball. Let it chill in the refrigerator for an hour.
Remove the ball from the refrigerator, remove the plastic wrap, and roll it into the remaining pieces of crumbled bacon.
Serve with crackers or pretzels.