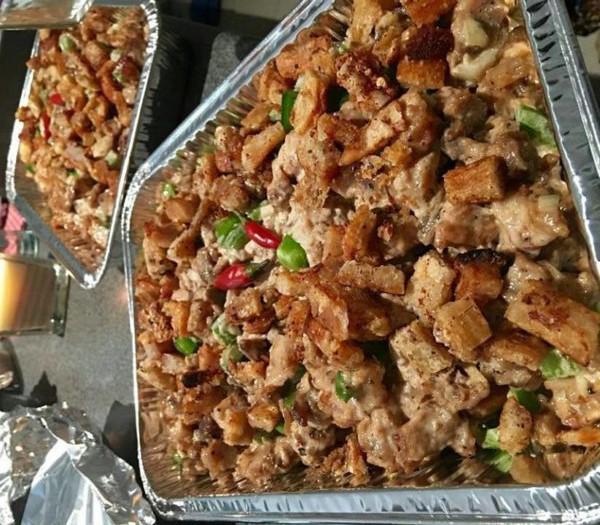 Ingredients
1 Kilo Ground Pork
5 pcs Tokwa or Hard Tofu (diced into small pcs.)
2-3 Tbsp Butter (Buttercup)
1 can Purefoods Liver spread
2 Cloves Garlic chopped finely
2 Red Onion chopped finely (separate at least half for garnishing)
1 Pack Chicharron (pork rind) crushed/powdered
5-7 tbsp Mayonnaise
3 pcs Green Chili Pepper or Siling haba (deseeded and chopped)
2 pcs Red Chili Pepper or siling labuyo chopped (slightly spicy- you can omit if you don't like spicy)
2-3 tbsp Light soy sauce or Maggie Savor
Salt
Pepper
Oil
½ tbsp sugar
3 pcs calamansi
Instructions
Deep fry Tofu in oil until golden brown. Once cooked, remove from heat and drain oil. Set aside.
On another pan, sautee garlic and onion in butter. Once the garlic is slightly brown and onion is translucent, add in ground pork. Sautee for a few minutes until ground pork is cooked.
Drain oil
Mix in tofu cubes
Sprinkle salt, pepper, light soy sauce and sugar.
Add liver spread and mix thoroughly.
Add in Green chili pepper and red chili pepper.
Turn off heat. Set aside to cool. Around 5 minutes.
Once cool, add in mayo and chopped onion. We want to make sure mayo won't be cooked and turn into oil.
Use strainer and squeeze calamansi juice on top.
Mix it all to consistency.
Garnish with crushed chicharron.