Delicious, perfectly moist, drowning in flavor… this Crock Pot Honey Ham is as easy as it is delicious! We enjoy this for special occasions like Easter.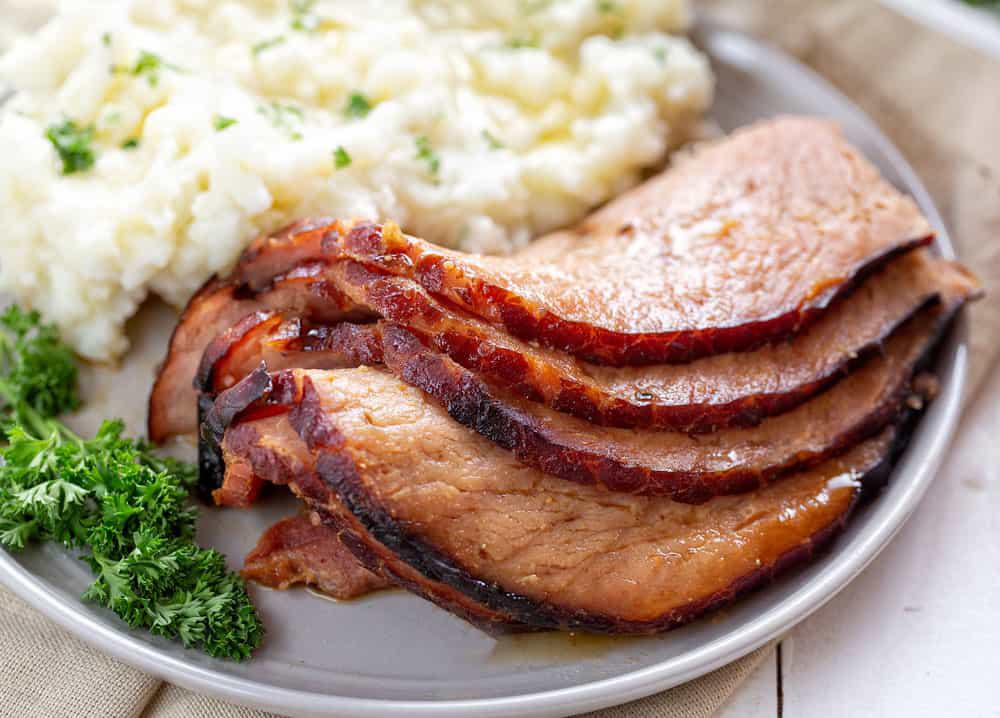 Crock Pot Ham
When it comes to entertaining I am more of a run-around-like-a-crazy-person than an organized-and-calm person. But this recipe changed that for me! I have spent more than one St. Patrick's Day, Easter, Christmas dropping everything to glaze an oven-baked ham every 15 minutes. So when my husband suggested trying out ham in the crock pot a couple of years ago, I decided to give it a go. And I am so thankful for his suggestion! "Baking" a ham in a slow cooker is as easy as you would imagine yet the ham still tastes like you have spent hours slaving away in the kitchen!
A couple of tips for Crock-Pot Ham:
Be sure to get a pre-cooked spiraled ham. When it has already been sliced all of the wonderful juices can seep between every slice and ensure a moist, flavorful ham.
Check your crock pot size before you buy the ham. Ours just barely fits a 5lb ham. If we happen to need more than that I will get out the second crock pot and make two instead of buying a larger ham. If you are making two hams, just double the glaze recipe.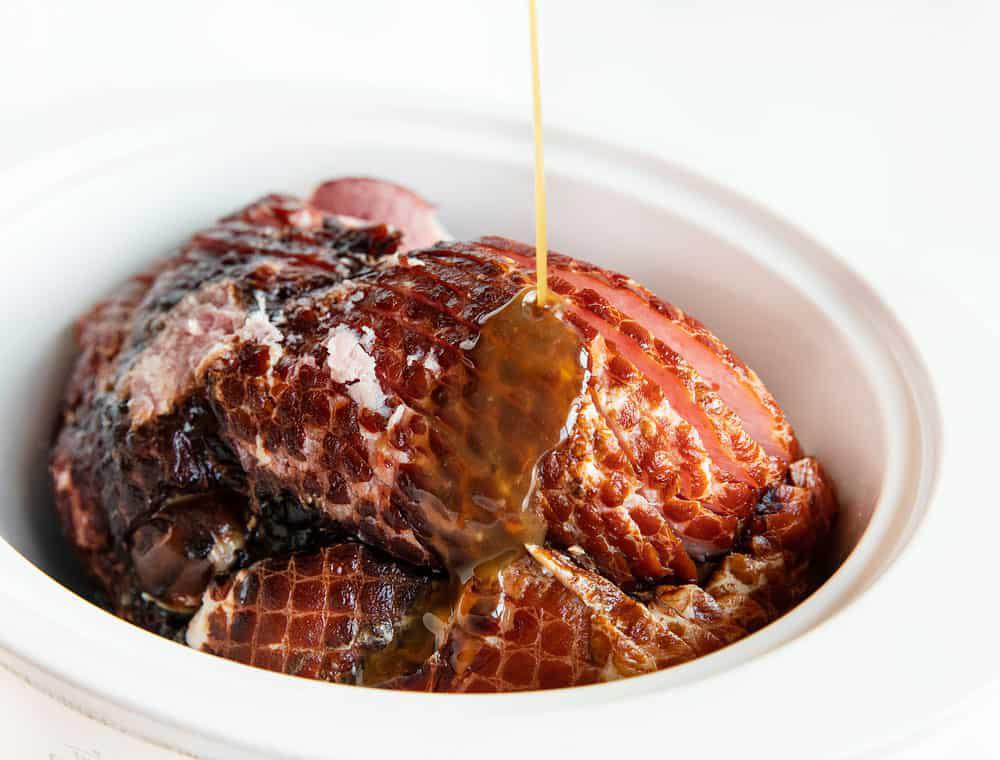 Honey-Baked Spiral Ham in the Crock Pot
I hesitated to call it Honey-Baked. I mean, is it technically 'baking' in the slow cooker? So when I am referring to Honey-Baked ham, I mean the pre-cooked ham that has been baked before cooking it again. Just wanted to make sure we are on the same page!
You may notice that in this recipe I combined all of the ingredients beforehand and then poured over the ham before turning on the crock pot. I use:
brown sugar
honey
mustard
ground cloves
water
I have tried recipes that call for covering the ham in brown sugar and then throwing the rest of the ingredients around and on top and found that this doesn't work as well. For one, the crock pot turns black from the cooked sugar and is impossible to clean. Another is that I want every single bite of the ham to be infused with those sweet flavors, and pouring the ingredients over top and in between the slices works best for that.
This is another reason that using a spiral-sliced ham is important in this recipe.
You may also be thinking, "there is not enough glaze to cover that whole ham!", but trust me, it is.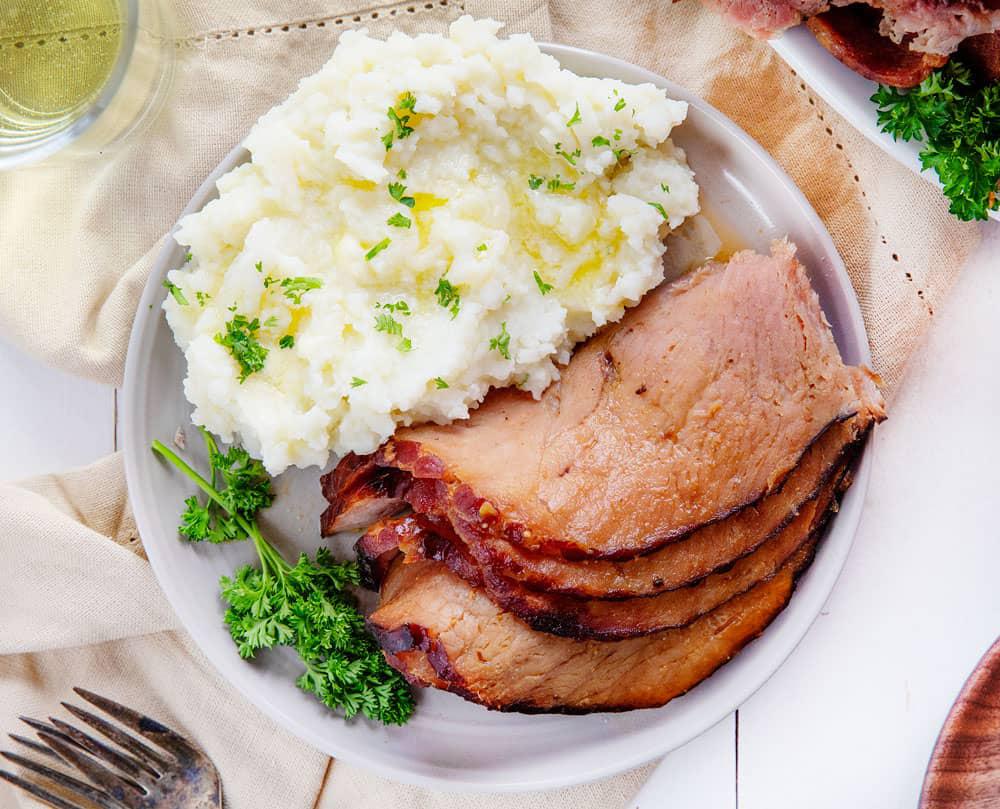 How Often Do You Baste Slow Cooker Ham
The first time I made it I was at my crock pot every 30 minutes basting away. The second time I forgot and didn't baste it once. (Still tasted amazing) Now I will baste it 1-2 times during the cooking, just because I love to get all up in the ham's business and see how it's doing. If you would like you can carefully flip the ham over about halfway through cooking and then flip it back about an hour before it's done. This will not be the prettiest ham you ever made, but who cares when it tastes so good?
I also save all the juices and baste it on my serving platter. This isn't necessary, but it looks pretty.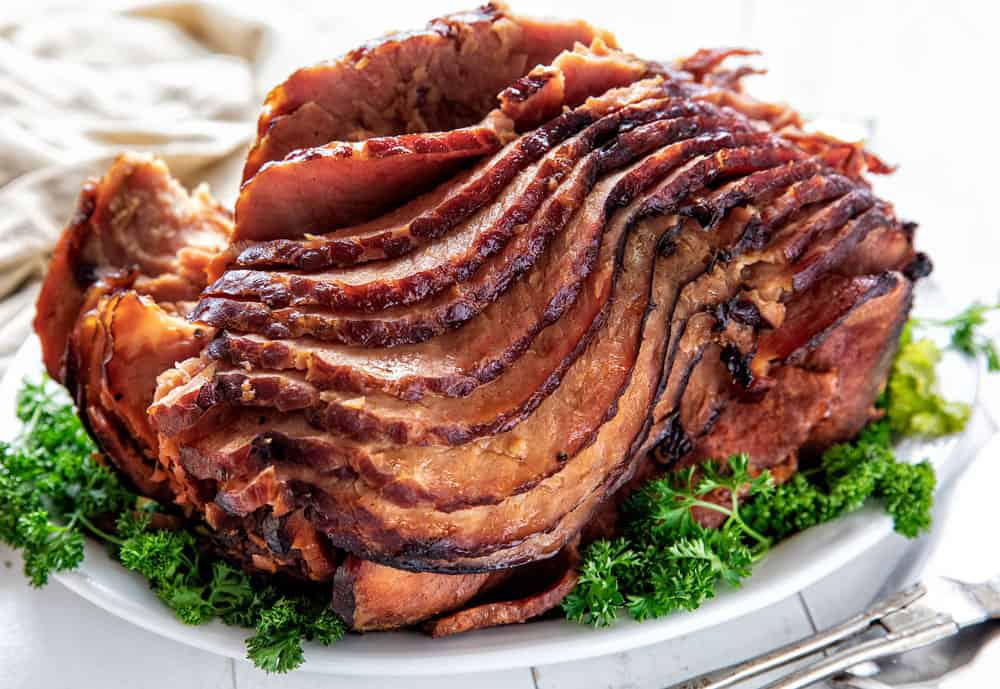 Can You Freeze Ham?
If you happen to have any leftovers, you can store ham in the refrigerator for up to a week. However, some folks say that you can keep it in the freezer for longer storage. (And if you are doing that it is recommended to freeze whole portions, not individual slices or pieces.) I am not a fan of this as it seems to change the texture and moisture level of the ham. (This is just my opinion!) I prefer to come up with different and creative ways to incorporate ham into our meals.
INGREDIENTS
1 (5 lb) fully-cooked ham, spiral-sliced
1/2 cup brown sugar
1/2 cup honey
2 tablespoons Dijon mustard, can use yellow
1/4 teaspoon ground cloves
1/4 cup water
INSTRUCTIONS
Place the ham in the basin of a slow cooker, the spiral side facing up.
In a small saucepan over high heat, combine brown sugar, honey, mustard, cloves, and water. Once the sugar dissolves, pour the mixture over the ham and in between the spiral slices.
Cook on LOW for 6-8 hours or HIGH for 4-5 hours. Be sure the internal temperature reached 140°F before removing from the crock pot.