Strawberry Chicken Salad is a mouthwatering concoction of chicken, freshly picked strawberries, creamy goat cheese, spinach, crisp red onions, and cucumbers covered in a light and refreshing balsamic vinaigrette dressing.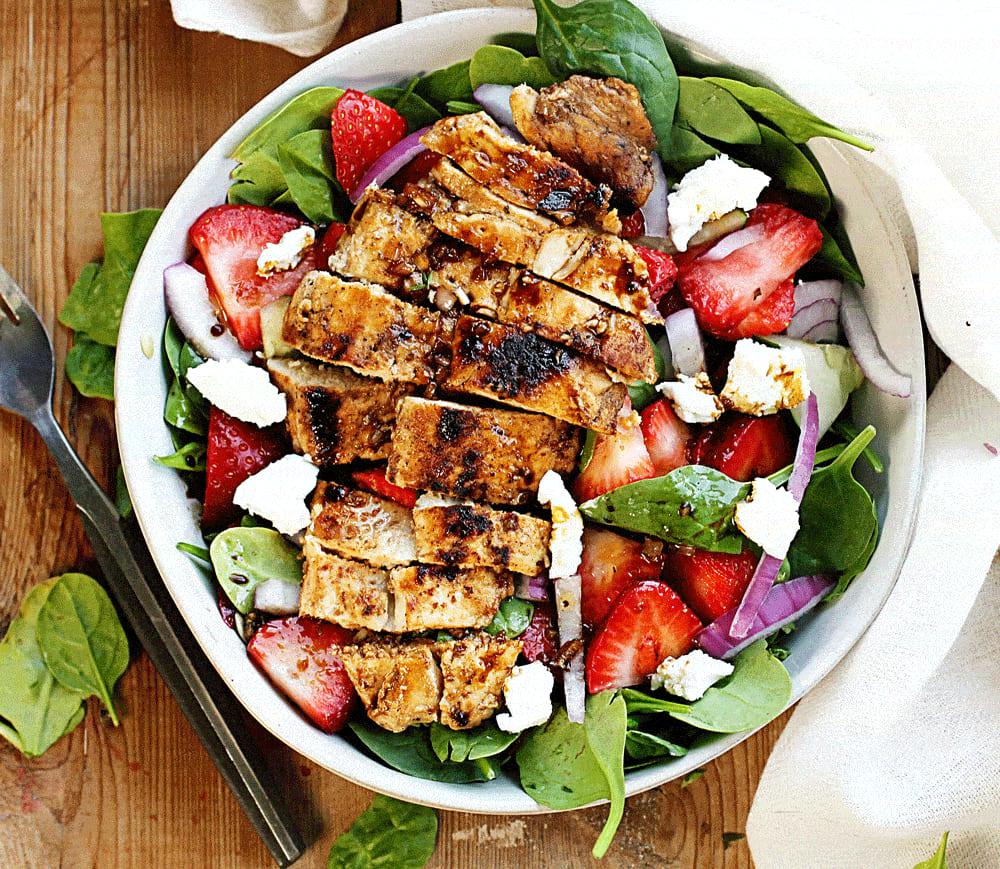 Strawberry Chicken Salad
This strawberry chicken salad just screams summer to me. I don't know if there is any truth to it, but I feel like the hot summer temperatures make me crave different foods. I definitely eat a ton more fruits and vegetables in the summer months. Part of that, I am sure, is the availability of fresh clean produce. But don't hold me to any of that, I will literally eat this salad year-round. It is so good!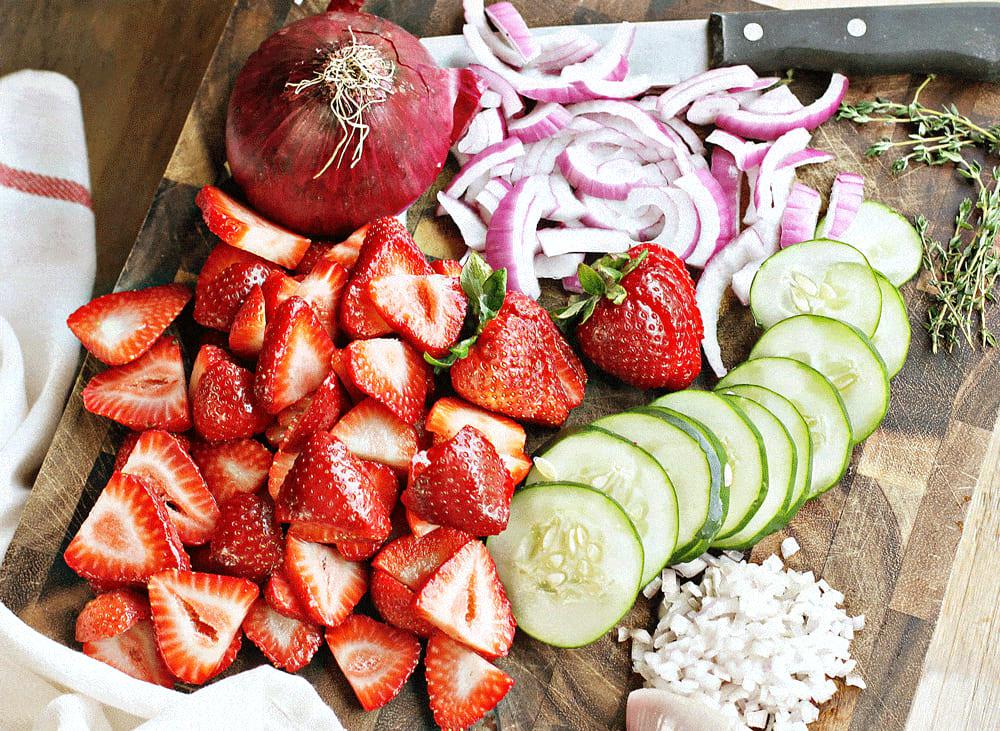 Strawberry Chicken Salad Ingredients
Chicken: I used two boneless, skinless chicken breasts. Cooking time may vary depending on the size of the chicken.
Strawberries: We grow our own strawberries, so after we harvest them, we love to make up a salad like this. It is quick and easy, and oh so delicious! If you don't have your own strawberry patch, there are tons of local strawberry farms around, so just do a tiny bit of research and you should find one. Side perk: Strawberry Farms are usually a fun family outing, too! Otherwise, I like to go the organic strawberry route if I am buying them at the grocery store.
Cheese: I recommend goat cheese for this salad; however, you could use your favorite kind of cheese.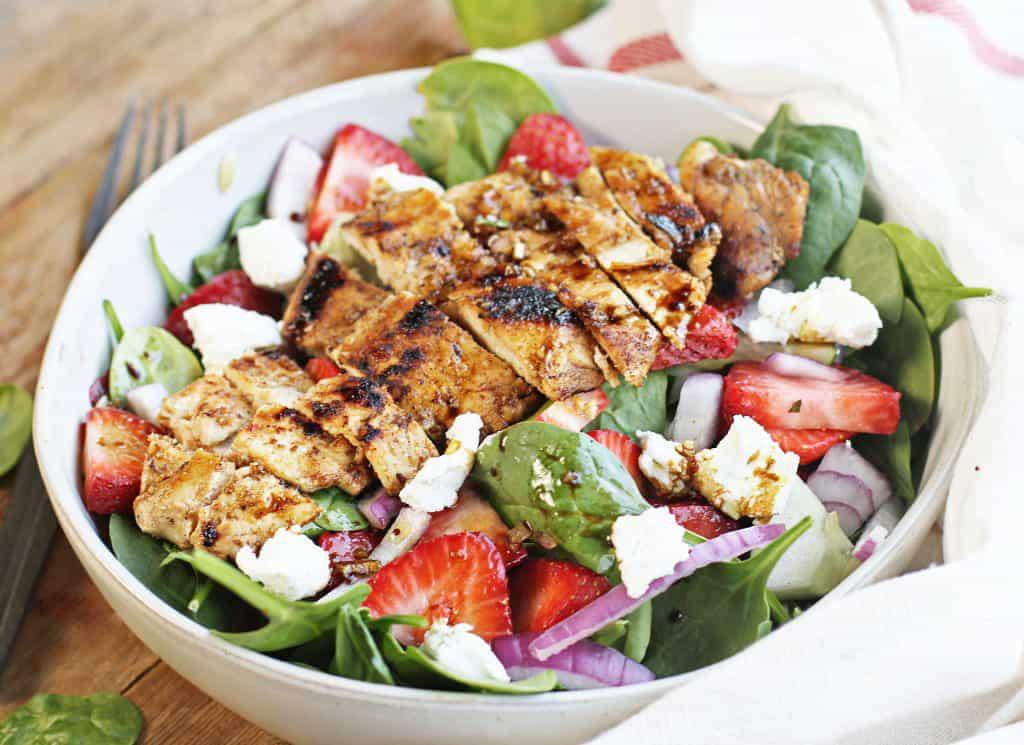 Can I Make this Salad Ahead of Time?
I prefer this salad fresh. I would recommend cutting up the fruits and vegetables as the chicken is marinating, and not much before that. Cutting up fruits and vegetables can shorten their storage life. You could mix together the marinade ahead of time and store it in the refrigerator.
Tips, Tricks, and Variations
I season my chicken by marinating it in the balsamic vinaigrette. You could mix it up for your liking, salt, and pepper, cajun seasoning, or even a seasoning mix will work.
I love the creamy texture of goat cheese, but you could swap it out for feta or even blue cheese. Just make sure it has a little tang to it. A lot of people really prefer cheese with a little more texture to it. For those people, I would recommend Feta. If you are in the group of people that like your cheese super tangy, go with Blue Cheese.
This salad is great with some toasted almond slivers, or even some candied pecans if you want to get fancy:)
Ingredients
Marinade
½ cup balsamic vinegar
½ cup extra-virgin olive oil
2 tablespoons shallots, chopped (about ½ a large shallot)
2 cloves garlic, finely chopped (or 1 teaspoon minced)
2 teaspoons honey
2 teaspoons water
¼ teaspoon fresh thyme
¼ teaspoon kosher salt
¼ teaspoon pepper
Salad
2 boneless skinless chicken breasts, about 2 pounds
3 cups strawberries, rinsed, hulled, thinly sliced
½ cup cucumber, sliced and quartered (about 1 cup)
¼ cup red onion, finely diced (about ¼ of an onion)
6 cups baby spinach, or your favorite greens
2 ounces goat cheese, or your favorite cheese
Instructions
In a small bowl, whisk together balsamic vinegar, olive oil, shallots, garlic, honey, water, thyme, salt, and pepper. You will need to mix this together before serving; the oil will naturally separate.
Place the raw chicken into a plastic zip-lock bag and pour half of the marinade on top. Seal the bag and let the chicken chill for a minimum of 20 minutes. (Letting it marinate longer will add extra flavor.)
When ready, place the chicken in a skillet over medium heat. Cook for about 7 minutes on each side, or until the internal temperature of the chicken reaches 165°F. You may need to adjust the time based on the thickness of your chicken.
Set cooked chicken onto a cutting board; let it rest for 5 minutes, and then slice.
In a large bowl, add spinach, cucumbers, red onions, strawberries, and the remaining marinade. Toss to coat.
Divide the salad equally between 4 plates. Top each salad with chicken and goat cheese.
Serve immediately.