Air Fryer Southwest Egg Rolls are egg roll wrappers that are loaded with rotisserie chicken, cream cheese, cheddar cheese, vegetables, and taco seasoning.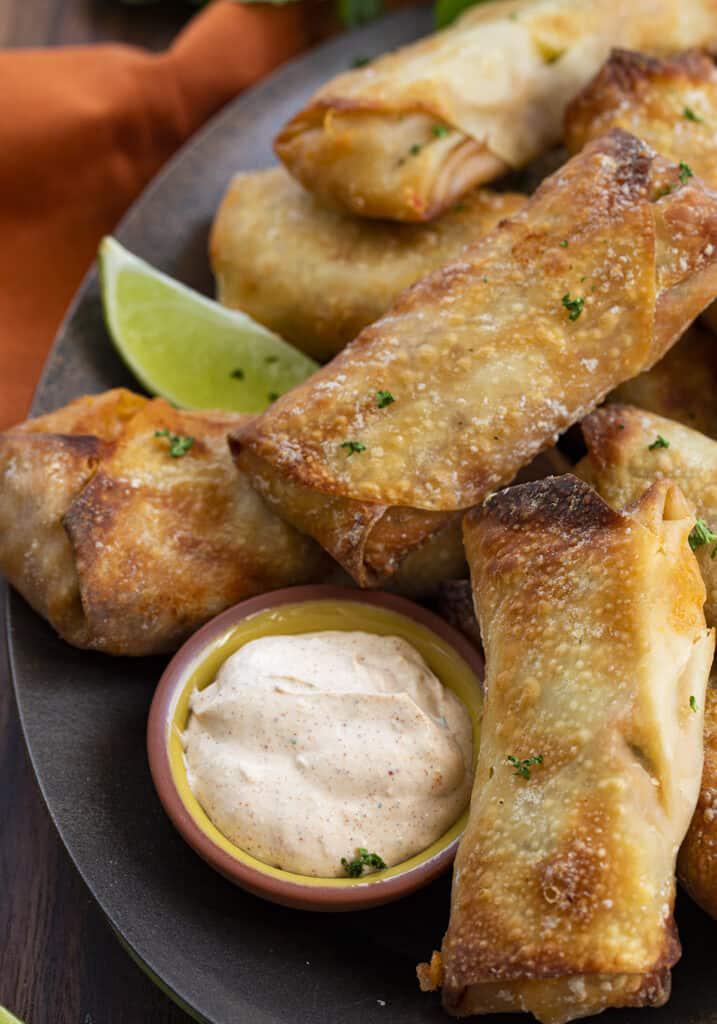 AIR FRYER SOUTHWEST EGG ROLLS
This recipe starts with egg roll wrappers you can buy at the store. Then, they are filled with rotisserie chicken, which you can make at home, veggies, and homemade taco seasoning. Then, after being cooked nice and crispy in an air fryer, there is a creamy seasoned homemade sauce for dipping.
AIR FRYER SOUTHWEST EGG ROLLS INGREDIENTS
Egg Roll Wrappers: Look for the wrappers in the refrigerated section of the grocery store.
Rotisserie Chicken: Skip the rotisserie chickens that have been sitting under a heat lamp and make your own to shred for this recipe! Or, you can check the deli department to see if they have a chicken already shredded and ready to go.
Cream Cheese: Make sure the cream cheese is softened for easy mixing. This is important for both the egg rolls and the dip.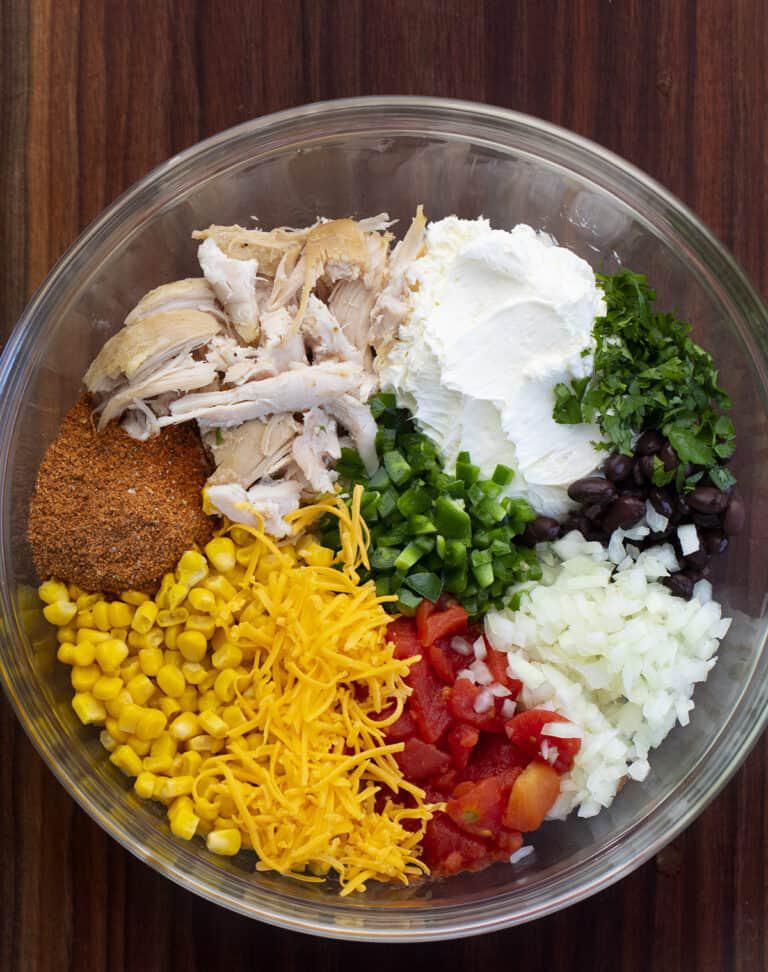 Black Beans: Canned black beans need to be drained and rinsed well before eating. When you open the can, you will notice a liquid in there that doesn't look too appetizing. It's simply a combination of salt and water and the starch from the beans. Rinsing the beans actually does more than just remove that murky substance, it lessens the sodium of the beans. I only used 1/2 cup of black beans in this recipe, but if you love them, you can definitely add more!
Veggies: I used a can of diced tomatoes and a can of sweet corn, both drained. I also added an onion and for a little kick, I added a jalapeno pepper.
Taco Seasoning: Homemade seasonings pack more flavor than store-bought seasonings. Plus, you can make as much as you need at any time!
Cilantro: Fresh cilantro is used in this recipe. It's a flavor that some people love, but some stay away from it altogether. Wash the cilantro well before using. Remove the leaves and discard the stems. Finely chop the leaves.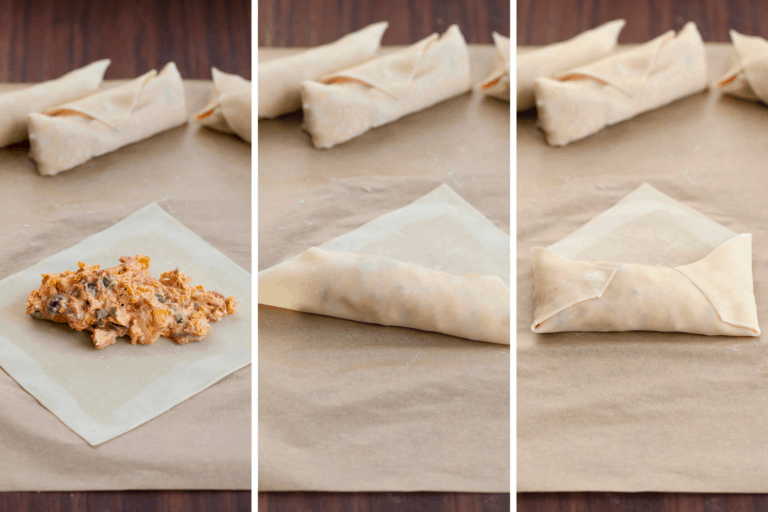 HOW TO MAKE AIR FRYER SOUTHWEST EGG ROLLS
It's really easy to get these flavorful egg rolls made. The hardest part is probably wrapping them, but that is just a matter of folding and sealing the wrapper to keep all the ingredients tucked inside. To get started, preheat an air fryer to 400°F and spray the basket with nonstick cooking spray.
Next, in a large bowl, combine all the ingredients that will go inside the egg roll, from the chicken to the cilantro. Take out one of the egg roll wrappers, rotate it to look like a diamond, and place about 3 tablespoons of the mixture in the center. With a pastry brush or your finger, wet the edges of the wrapper with water.
To fold the egg roll, follow these steps:
First, fold up the bottom corner to just over the filling mixture, pressing it down to seal.
Second, fold in the right and left corners of the wrapper to the center, lightly pressing to seal. (You may need to add more water to the edges and corners to help the wrapper stay folded.) It should now look like an open envelope.
Finally, fold down the top corner and tightly wrap up the filling inside the wrapper, lightly pressing down with your finger to seal.
After you have put together a few southwest egg rolls, place them in the basket of your air fryer. The size of your air fryer will determine how many batches you will need to cook. Spray the tops of the egg rolls with cooking spray and cook for 6 minutes. After 6 minutes flip them over and cook an additional 6 minutes. Serve hot with a side of dipping sauce.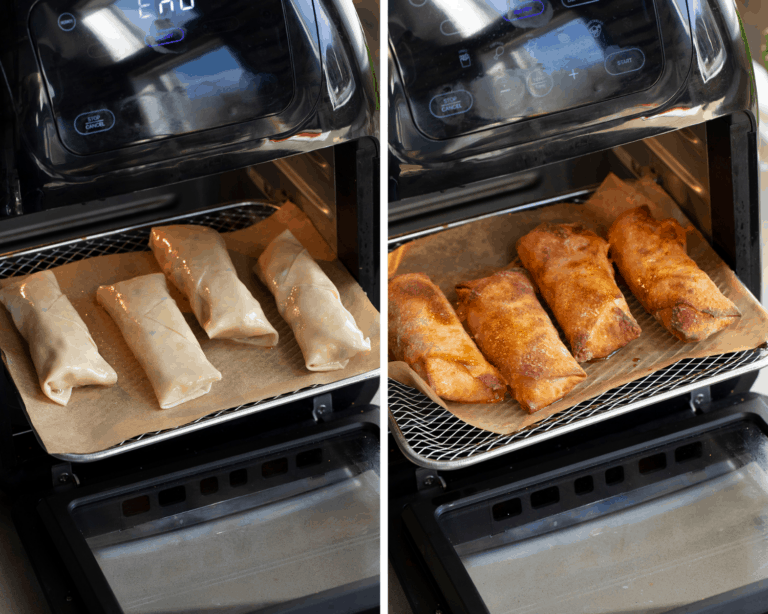 HOW TO MAKE DIPPING SAUCE
The creamy dip is a perfect complement to the southwest flavors in the egg rolls. To make the dip, simply combine the cream cheese, sour cream, ranch seasoning mix, ground chipotle pepper, and lime juice. Serve as a side with the warm egg rolls. If you make the dip ahead of time, store it in the refrigerator until ready to use.
CAN I MAKE SOUTHWEST EGG ROLLS WITHOUT AN AIR FRYER?
Yes! If you don't have an air fryer, you can either bake the egg rolls in an oven or fry them in oil.
To Bake: Bake at 425°F for 10-15 minutes, until the egg rolls are golden brown and the edges are crispy.
To Fry: Add about an inch of oil into a large frying pan over medium heat. Once hot, add 3-4 egg rolls to the oil and cook 2-3 minutes per side (or until browned). Set on a paper towel to drain. Repeat with the remaining egg rolls.
WHAT IS THE BEST AIR FRYER?
I have tested 3 brands in my home and I recommend the Ninja Air Fryer. (affiliate link) You can go up a size if needed, but it is superior in achieving consistent results and also ease of use. I've been very happy with this Air Fryer!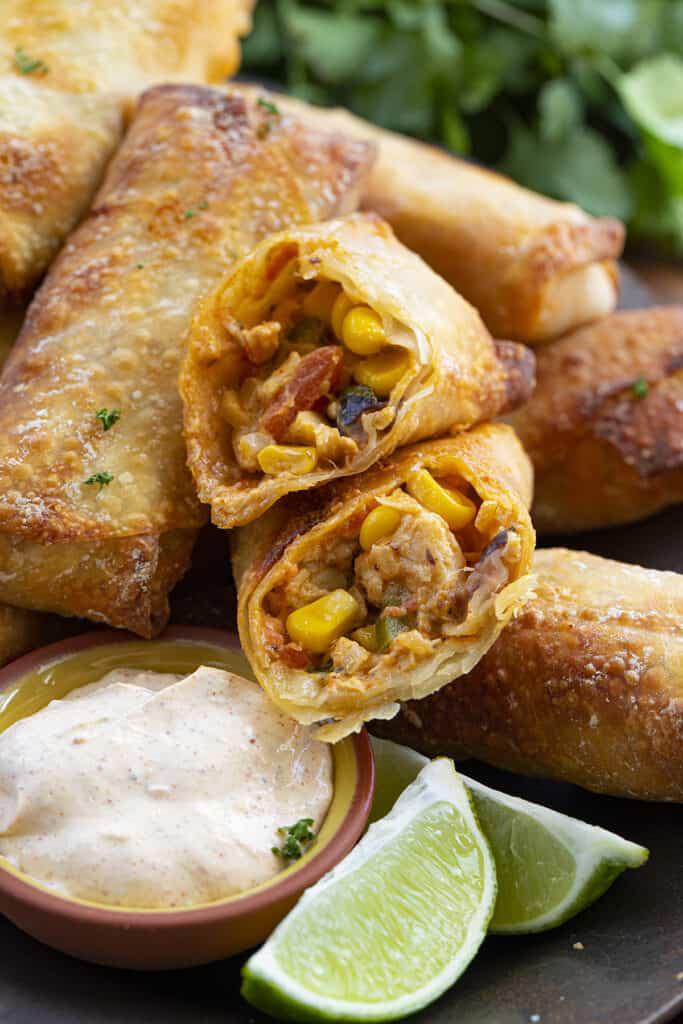 Ingredients
2 cups rotisserie chicken, diced
1 package (8 ounces) cream cheese, softened
1½ cups sharp cheddar cheese, shredded
½ cup canned black beans, drained and rinsed
1 can (15.25 ounces) sweet corn, drained
1 can (14.5 ounces) diced tomatoes, drained
2 tablespoons taco seasoning
1 medium jalapeno, diced
½ yellow onion, diced
1 tablespoon fresh cilantro, minced
12 egg roll wrappers
Dipping sauce
3 ounces cream cheese, room temperature
1 cup sour cream
2 tablespoons dry ranch seasoning mix
1 teaspoon ground chipotle pepper
1 teaspoon lime juice
Instructions
Preheat an air fryer to 400°F and spray the basket with nonstick cooking spray.
In a large bowl, combine the chicken, cream cheese, cheddar cheese, beans, corn, tomatoes, taco seasoning, jalapeño, onion, and cilantro and mix until combined.
Add 3 tablespoons of the chicken mixture to the center of an egg roll wrapper. (I like to rotate the square wrapper to make a diamond shape for easy folding and wrapping.)
Wet the outside edges of the wrapper with water (run a wet finger around all edges or use a pastry brush). To seal, fold the bottom corner up to the center of the roll.
Next, fold the two corners to the left and right into the center (it should look like an open envelope).
Finally, tightly roll the bottom towards the top and fold the top corner down, sealing all of the ingredients inside. Lightly press with your finger to seal.
Place the egg rolls in the basket of the air fryer and spray the tops with cooking spray. Air fry for 6 minutes. Then, flip the egg rolls and cook for an additional 6 minutes. Serve hot with dipping sauce.
Dipping Sauce
In a medium bowl mix together cream cheese, sour cream, ranch seasoning, chipotle powder, and lime juice. Serve with warm egg rolls.