I have another Banana Cake on my blog which is a giant 3 layer cake with fresh homemade banana curd. (It's AHmazing BTW) These recipes have one big thing in common and that is NO CINNAMON. When it comes to banana cake I don't want it to be banana bread. I want fresh, pure, perfect banana flavor. And this cake doesn't disappoint! It is packed full of banana's (3 cups!) and just enough sugar to sweeten them. It is dense yet light and has the most perfect crumb you will ever find. I often prefer this cake without any frosting at all, and when serving it naked you can also serve it for breakfast!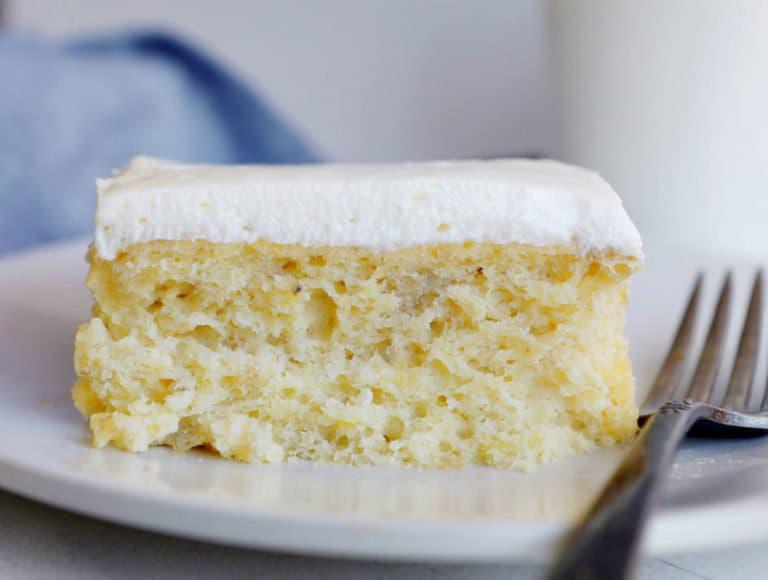 Whipped Cream Cheese Frosting
Because the star of this show is the banana sheet cake, I wanted to use a frosting that has a light and airy texture. This Whipped Cream Cheese Frosting still provides all of that classic joy that comes from Banana Cake + Cream Cheese Frosting, but goes a step further and makes it velvety smooth! I use a stand mixer when making this recipe just to incorporate as much airiness as possible, but it can also be done with a hand-held mixer.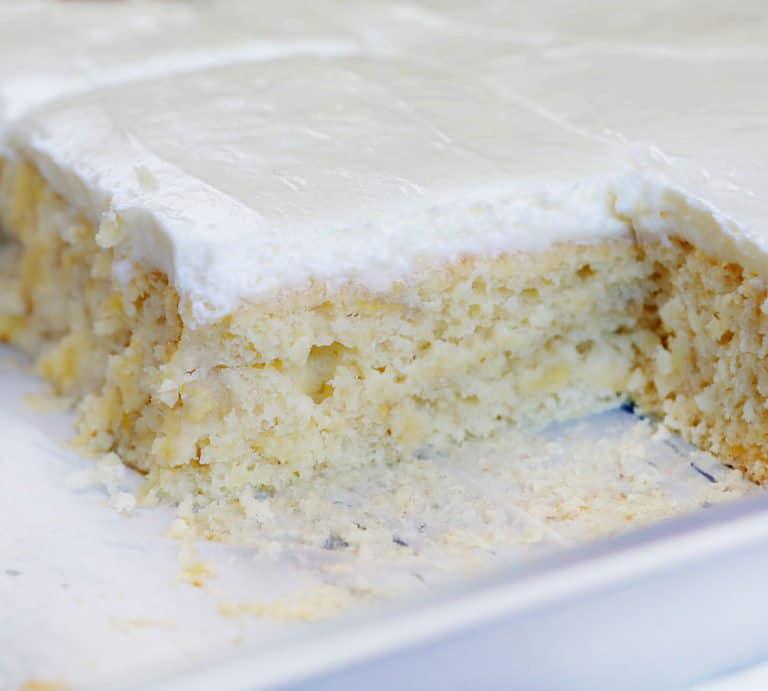 Banana Cake Recipe
Let's talk a little bit about how EASY this recipe is to put together. There are 7 ingredients in total. I was able to do that by using self-rising flour which took the place of the baking powder in the original recipe. It technically has a bit of salt in it, so you can opt to omit the salt I have listed in the recipe if you prefer. (But if you are frosting the cake with the Whipped Cream Cheese Frosting which is VERY sweet, be sure to leave the salt in the first time you make it. After that you can tweak to your preference.)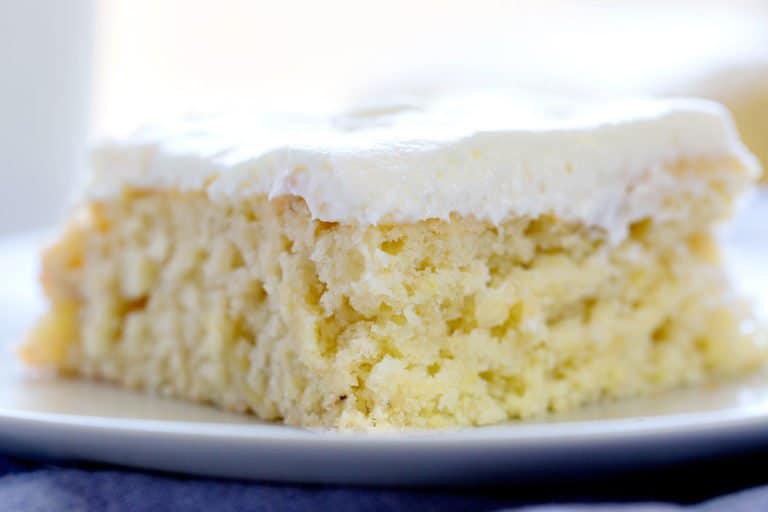 Self Rising Flour vs. All-Purpose Flour
Because the self-rising flour has baking powder already in it, switching out to all-purpose flour is very easy. Simply follow the recipe as listed but in place of self-rising, use the same amount of all-purpose flour and then add 2 teaspoons of baking powder.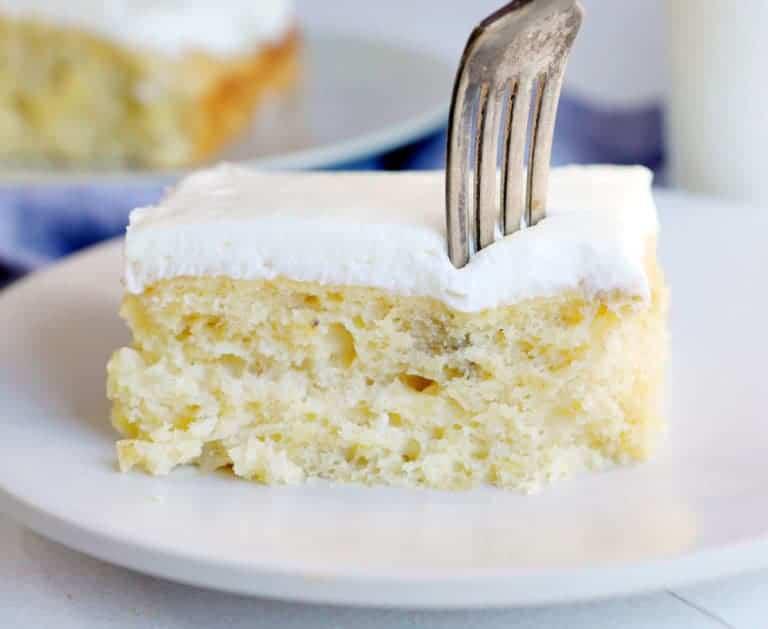 Banana Cake with Cream Cheese Frosting
I mentioned above that you can eat this for breakfast because it is based on my banana muffin recipe. But OH MY WORD what that whipped cream cheese frosting does to this cake!!! It's magical. Pure heaven. You will never want to make regular ole cream cheese frosting again!
I shared the cake with many friends and family and got RAVE reviews from everyone who tried it. I have a feeling it will be your new favorite Banana Cake and the only Banana Cake Recipe you will ever need!
INGREDIENTS
BANANA CAKE
⅔ cup (152g) unsalted butter, melted
8 ripe (3 cups)bananas, mashed
1½ cups (300g) granulated sugar
2 large eggs room temperature
2 teaspoons vanilla extract
3 cups (360g) sifted, self-rising flour
1 teaspoon kosher salt
CREAM CHEESE FROSTING
1½ cups (357g) cold heavy whipping cream
8 ounces package cream cheese, room temperature
1 cup (120g) confectioners sugar
⅛ teaspoon table salt
1 teaspoon vanilla extract
INSTRUCTIONS
BANANA CAKE
Preheat oven to 350°F. Prepare a 10×15-inch baking pan with butter and flour or non-stick spray.
Melt butter and set aside to cool slightly.
In a large bowl, mash bananas with a fork or with a hand-held mixer.
Add butter, sugar, eggs, and vanilla and mix well.
Add in the flour and salt and stir until all ingredients are incorporated.
Bake for 18-25 minutes. You want the top to be a light golden brown and an inserted toothpick to be removed mostly clean. The cake should have risen in the middle and spring back if you press gently with your finger.
CREAM CHEESE FROSTING
In the bowl of a stand mixer (or hand-held mixer), beat cold whipping cream on medium-high until stiff peaks form; about 2-3 minutes. Place whipped cream into a separate bowl and clean out stand mixer bowl.
In clean stand mixer bowl (or using a hand-held mixer) whip cream cheese until light and smooth. Add in sugar, salt, and vanilla and beat until fully incorporated.
Remove bowl from stand mixer and gently fold whipped cream into cream cheese mixture.
Can be used immediately. You can store in the refrigerator until ready to use, just be sure to bring to room temperature before piping or spreading.