Cheesy Bacon Chicken Dip is an amazing combination of juicy shredded chicken, crispy bacon, melty cheese, all in a creamy ranch base that will have you addicted in no time flat. If you are a fan of dips, then make sure to check out my jalapeno corn dip and my white bean chili cheese dip.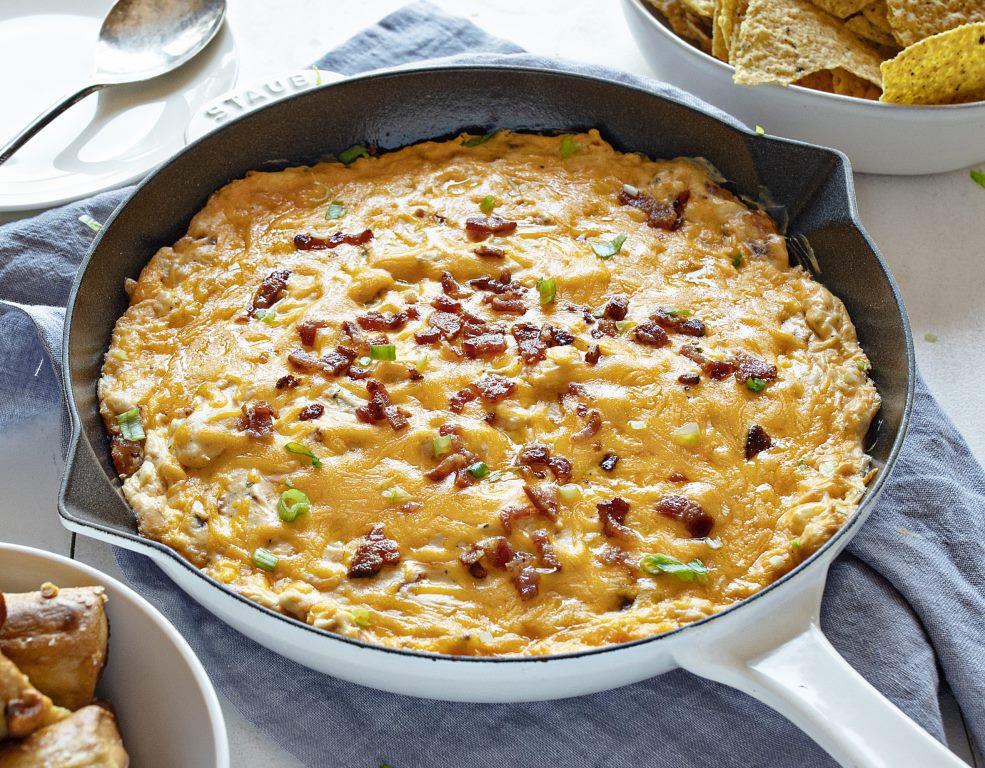 Look no more for the perfect dip! This Cheesy Bacon Chicken Dip will leave your guests begging you to make more immediately! Serve with lightly salted chips or a platter of vegetables, this dip will disappear before your eyes! The cheesy smoothness mixed with ranch and bacon combination makes this dish so different from the average dip recipe.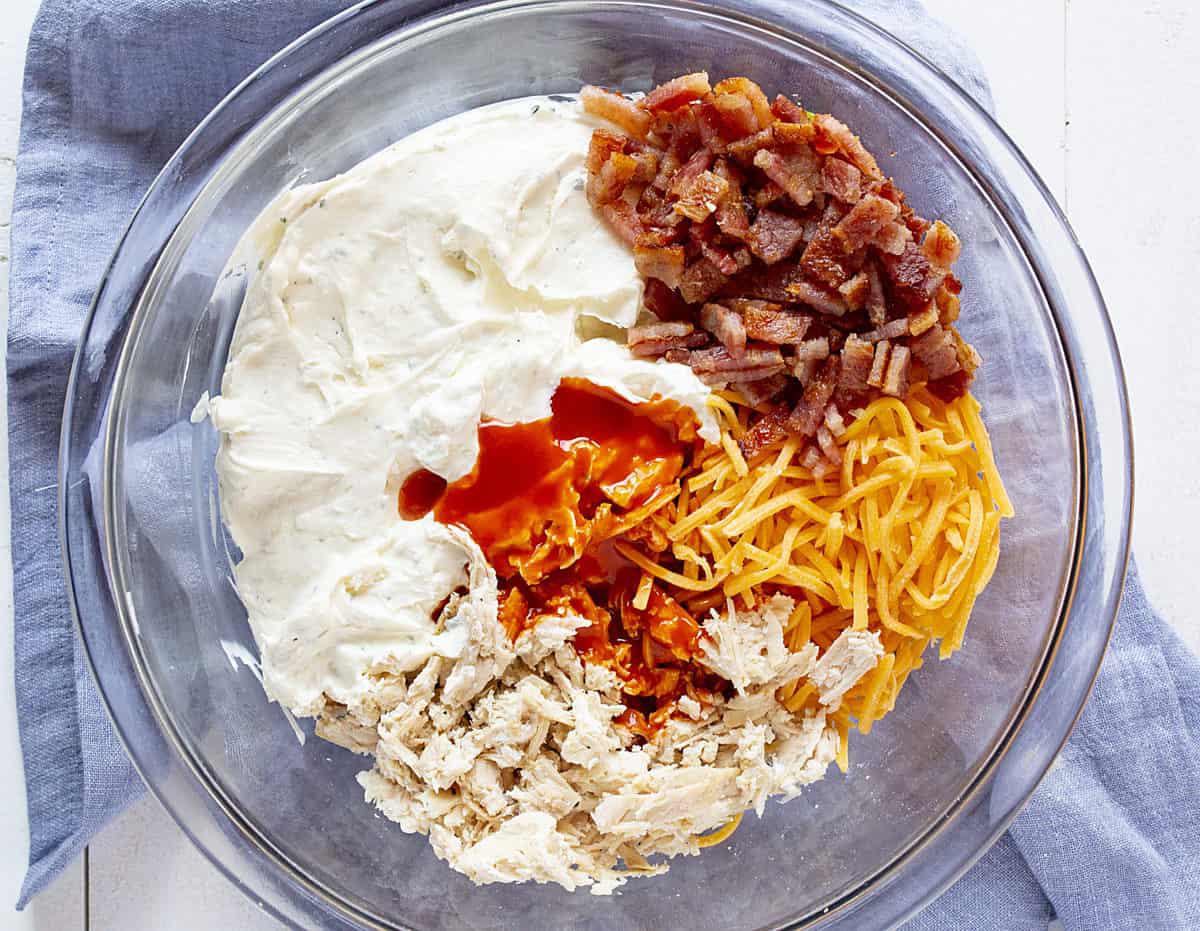 This dip is super easy to mix together as long as you do your prep work. You will need cooked chicken and cooked bacon before you get started. Which makes this a great recipe to prep the night before. I like to make a huge batch of shredded chicken the beginning of the week to use in my cooking. Shredded chicken is one of those staple items that if you have it ready, you can just pop it into your recipes and significantly cut your cooking time down. As far as the bacon goes, you can also cook that a few days in advance. Just lay them flat on a baking sheet and pop them in the oven (cooking times vary but I like to cook mine at 415° F for 18-20 minutes). Once they are cooked through, set them on paper towels to drain. You can chop them when you are ready. Other items you will need are:
cream cheese
sour cream
ranch seasoning
shredded cheddar cheese
hot sauce
green onions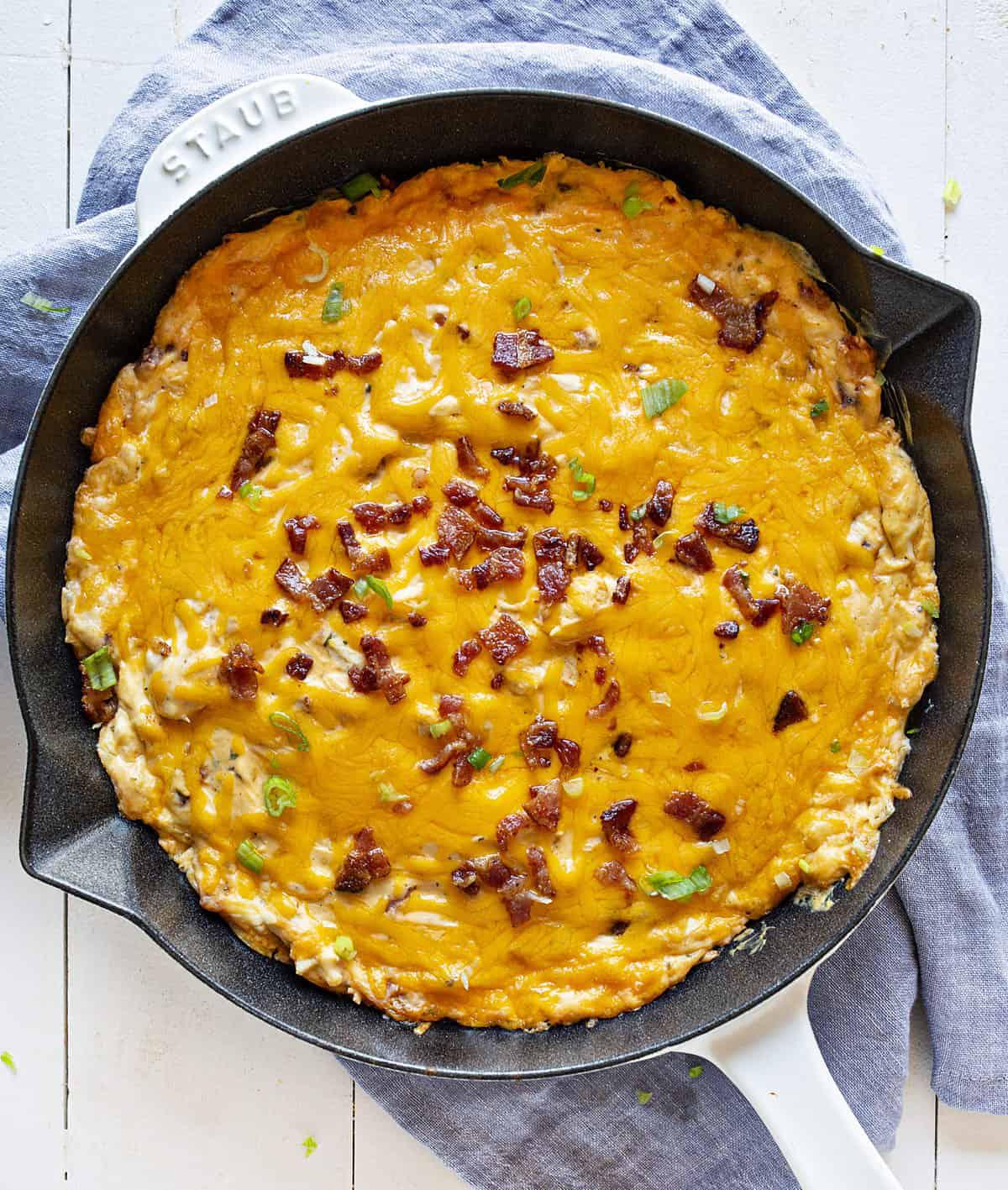 HOW TO MAKE CHEESY BACON CHICKEN DIP
To make this amazing dip, start by combining the ranch seasoning, sour cream, and cream cheese in a large bowl. Once those ingredients are fully combined, you should have a creamy ranch base.
NOTE: It is best to use room temperature cream cheese. One trick to get cold cream cheese to room temperature fast is to fill a metal dish with hot water and submerge the contents of the foil packet into the water. The cream cheese will be at room temperature in about 5-10 minutes.
Next, add in the chicken, cheese, bacon, and hot sauce and combine that into the mixture. Pour the entire contents of the bowl into a medium skillet. Top the dish off with more cheese and more bacon and then pop the entire pan into the oven to bake. You only need to cook it for about 15 minutes (just until the cheese is fully melted and starting to bubble up). Serve immediately!
Odds are that this dish will go fast, but if for some STRANGE reason the pan isn't empty after a few minutes. You can pop the entire thing back into the oven to reheat it if necessary. I highly doubt you will need this advice.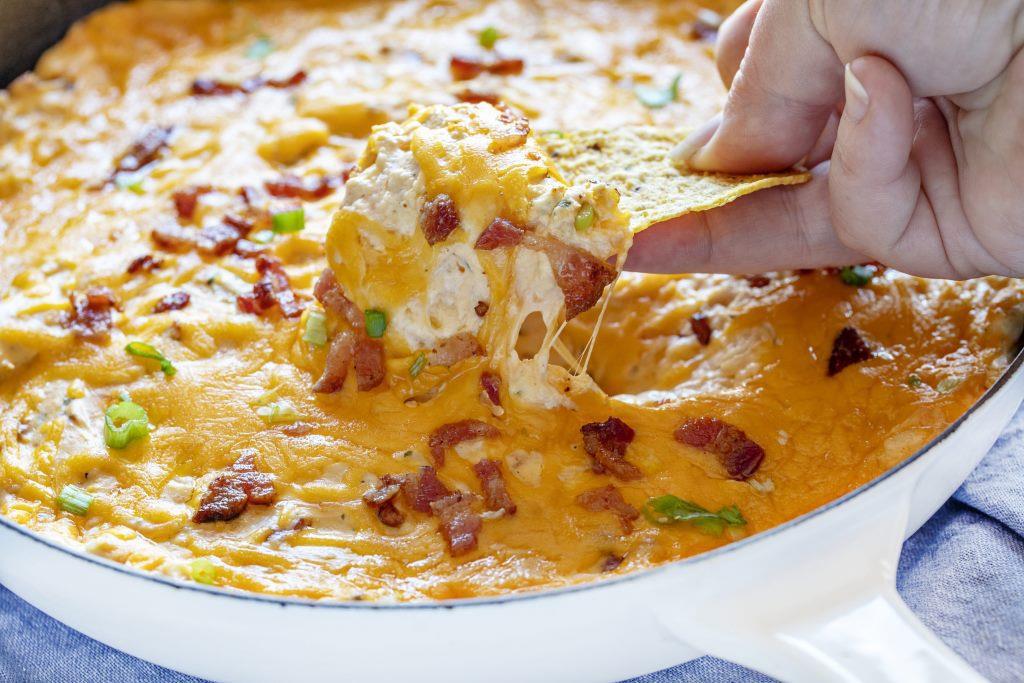 Ingredients
12 ounces cream cheese softened
1 cup sour cream
1 package dry ranch mix
5 slices of bacon cooked and crumbled, reserved 1 tablespoon for garnish
2 cups shredded Cheddar cheese, divided
1 ½ cups cooked and shredded chicken breast
1/4 cup hot sauce
1 green onion thinly sliced, for garnish
Instructions
Preheat oven to 350° Fahrenheit.
In a large mixing bowl, stir together cream cheese, sour cream and dry ranch mix until well combined. Stir in bacon, 1 cup cheddar cheese, shredded chicken, and hot sauce
Pour contents into a medium skillet. Top with remaining 1 cup cheddar cheese and bacon.
Bake in the preheated oven for 15-20 minutes or until the cheese is hot and melty.
Garnish with green onions. Serve hot with tortilla chips.