This delightful recipe features a sweet and sour marinated fish that will have you savoring every bite! The star of the show here is the original marinade that brings out the flavors of the fish.
Ingredients:
For Fried Fish:
Fish (I used haddock) – 1.5 kg (3.3 lbs)
Wheat flour (for coating the fish) – 1 cup
Vegetable oil (for frying the fish) – 150 ml (5.1 fl oz)
For the Marinade:
Water (cold, boiled; 1 cup = 250 ml) – 1 cup
Tomato sauce (sauce with vegetable chunks; 1 can = 500 ml) – 1 can
Vegetable oil – 1 cup
Sugar – 1 cup
Vinegar (6% wine vinegar) – 100 ml (3.4 fl oz)
Salt (heaping teaspoon) – 1 tsp
White onions (large) – 2 pcs
Instructions:
Peel and slice the fish into pieces about 1.5 centimeters thick. Do not salt the fish.
Coat the fish in wheat flour and fry it in vegetable oil over medium heat until it's fully cooked.
Cut the onions into quarters and slice them into thin rings.
Place the cooked fish in a pot and layer it with the sliced onions.
To prepare the marinade, mix in a container: 1 cup of cold boiled water, 500 ml of tomato sauce with vegetable chunks, 1 cup of vegetable oil, 1 cup of sugar, 100 ml of 6% wine vinegar, and 1 heaping teaspoon of salt.
Blend the marinade until you have a smooth emulsion, which should take about 30 seconds.
Pour the marinade over the fish and onions in the pot. You can also add a couple of bay leaves if you like.
Cover the pot with a lid and place it in the refrigerator for marinating for 5 hours.
Enjoy your delicious and flavorful marinated fish! Give this recipe a try, and you won't regret it!
It's delicious to serve this fish with boiled potatoes.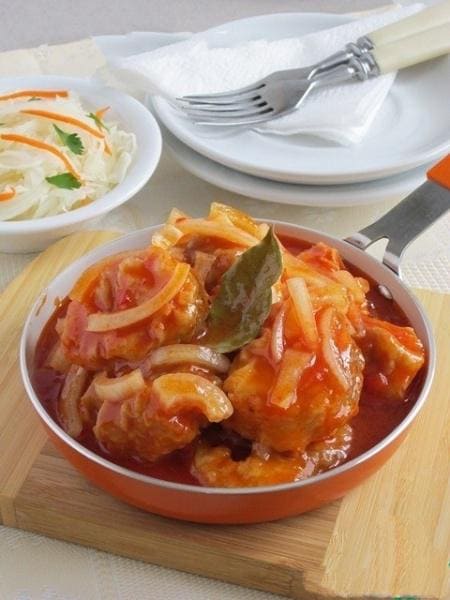 Bon appétit!
That's the entire recipe! Of course, marinating the fish does take some time, and you'll have to be patient, but the result is well worth it. You'll have the most delectable fish in a sweet and sour marinade that's impossible to resist. And that marinade, oh, what a delightful flavor it has! The onions, too, add a unique touch, making every bite an absolute pleasure!