This coffee cake is loaded with pure lemon flavor, cream cheese, and a sweet vanilla glaze! Perfect for a special occasion… like Saturday!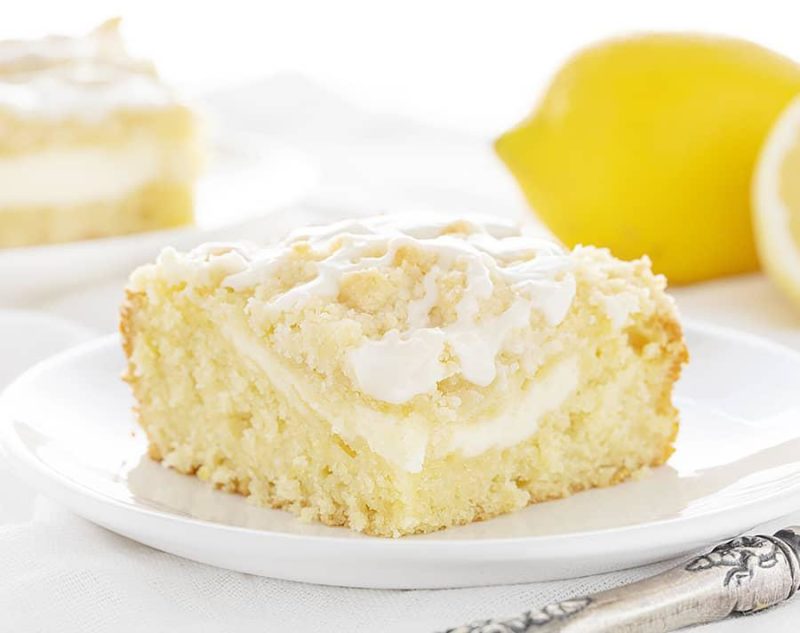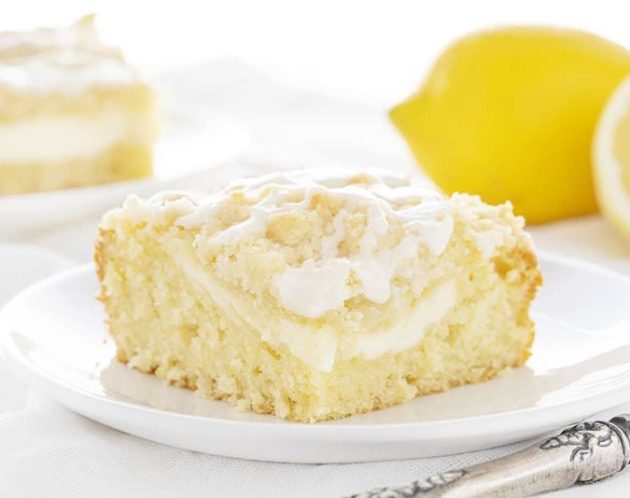 This particular lemon coffee cake recipe with a crumble topping and vanilla glaze is bursting with flavor and has a rich buttery texture. It's made with simple ingredients and takes only a few minutes to whip up but the best thing is that it can be made ahead of time. Perfect for busy mornings.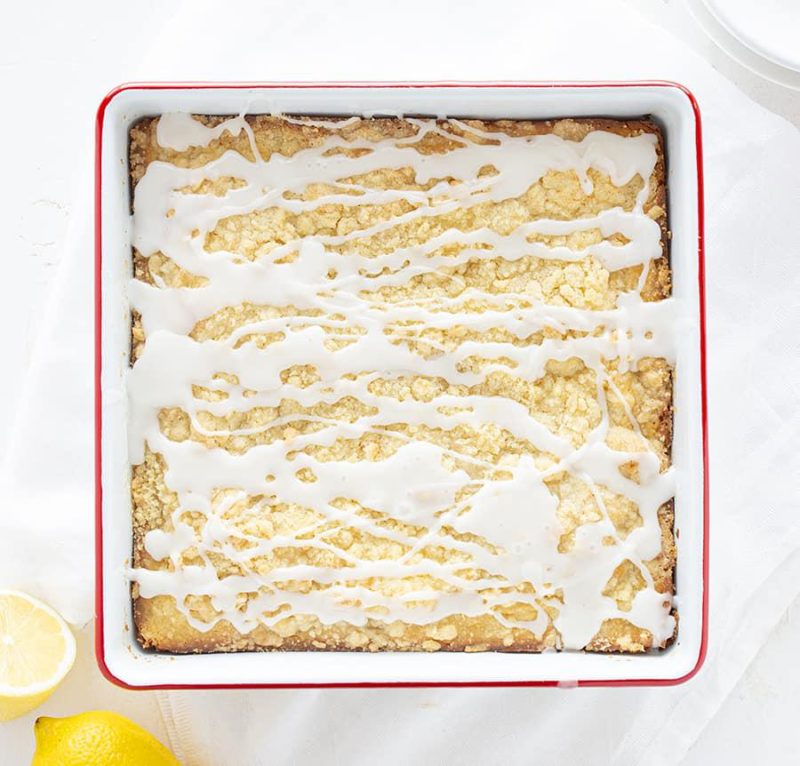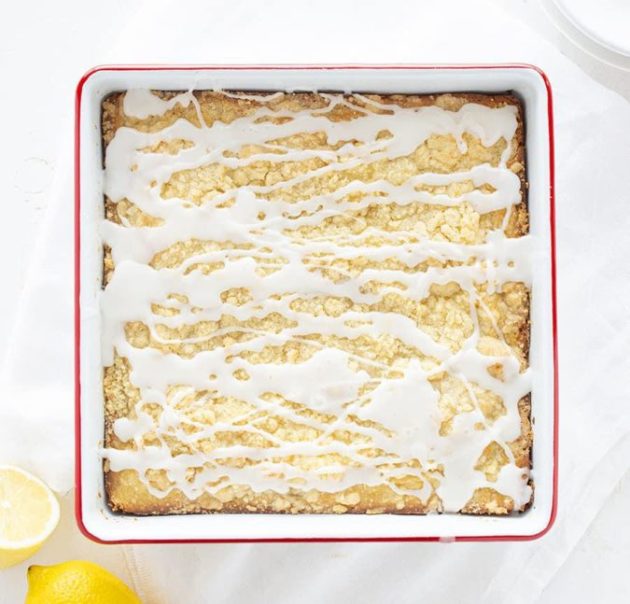 How Do You Bake a Lemon Coffee Cake?
Don't skimp creaming the sugar and butter together until pale and almost doubled in mass. This step aerates the butter and will result in a finer crumb and lighter texture.
The batter should be thick. Just carefully smooth it into the corners of the pan.
Because you are zesting and juicing the lemon, try to use organic if possible.
Make sure you prepare your baking dish well, but either using a non-stick spray or lining with parchment paper. I only recommend 9×9 pan, as 8×8 is too thick and will not bake evenly.
Always test with a skewer if the cake is done! Every oven is different so baking times can vary. A wooden toothpick works best, and you want it removed with a few crumbs clinging to the toothpick. A dry toothpick could mean it's overbaked.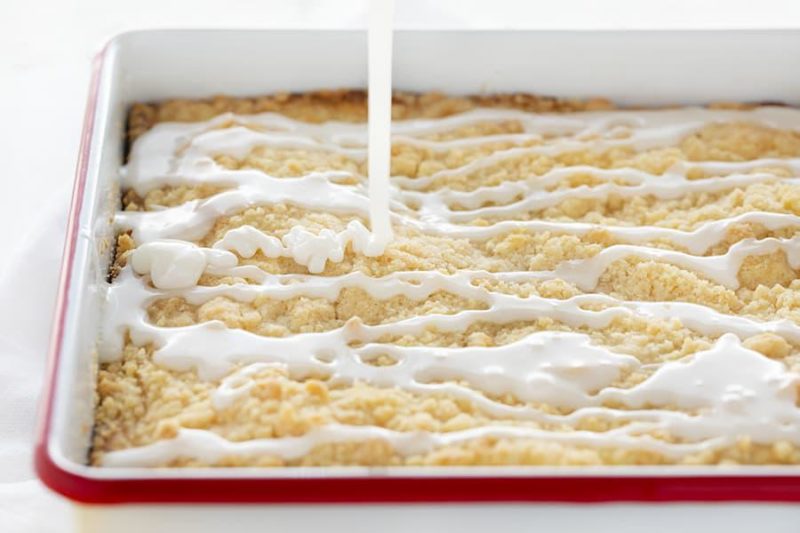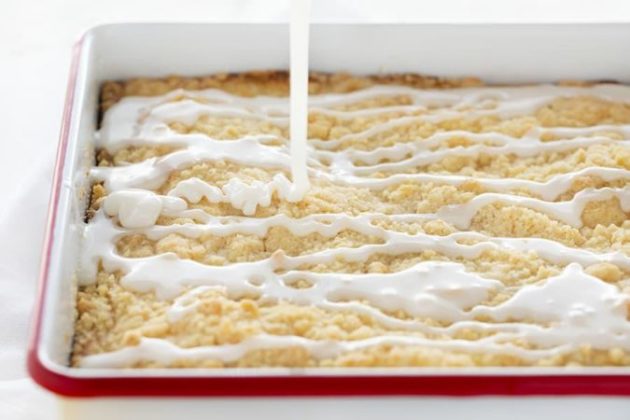 Vanilla Glaze, Yay or Nay?
I mean, it's not even a question in this house. We vote YES on a glaze, every time. This glaze recipe is simple, only milk and confectioners sugar. You could add vanilla or even lemon extract for a fun twist! The most important part is consistency. I prefer a glaze that is loose enough to pour, but thick enough to hold its shape on the cake. If your glaze is too thin it will almost disappear into the cake. If it is too thick it will land in a blob and I kid you not I might fight you for that piece. ?
Start with the basic recipe and tweak as needed. You can always add more confectioners sugar if it is too thin or more milk if it is too thick.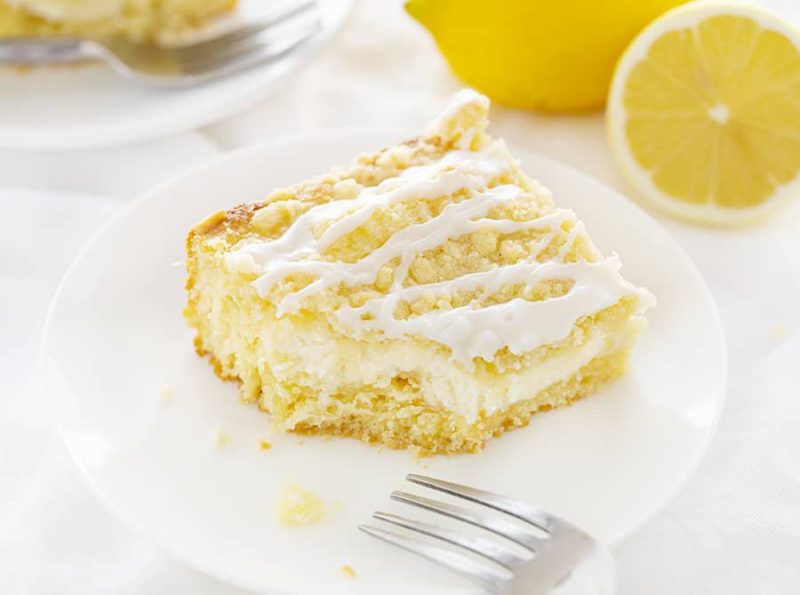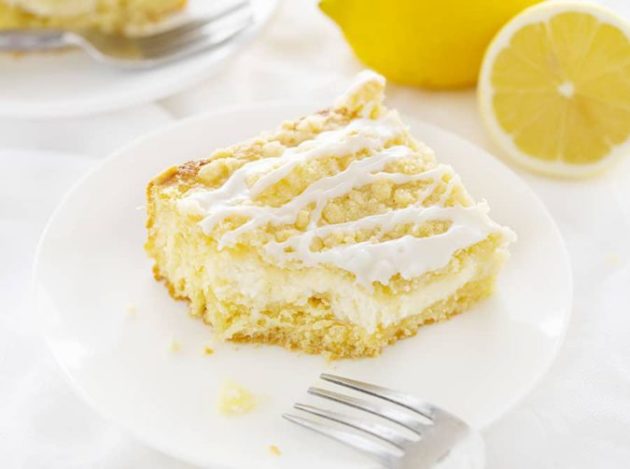 How do You Make a Crumble Topping?
This couldn't be easier, but adds something amazing to any coffee cake! Grab these ingredients:
The butter should be cold and cut into small cubes. Add all ingredients to a bowl and using a fork or your hands (I prefer hands, and often let the kids help out with this step) and combine all ingredients, making sure the butter is broken down and no larger than a pea when you are done. That's it!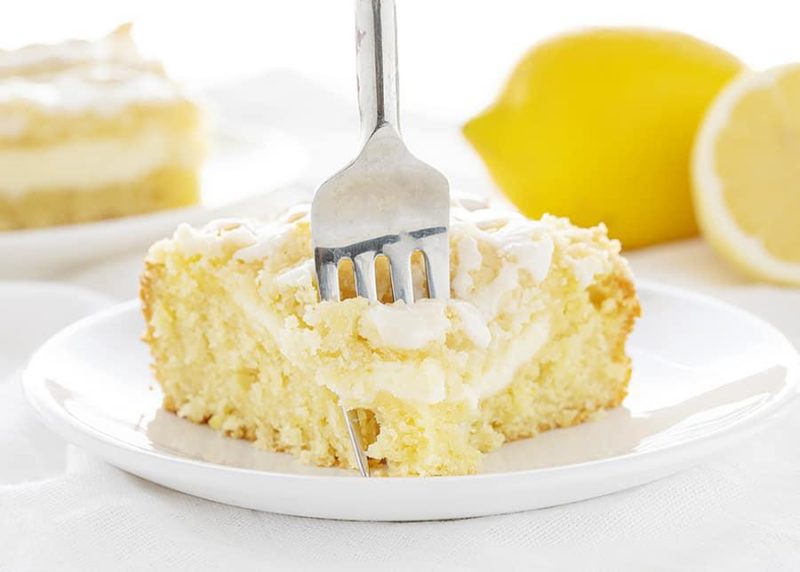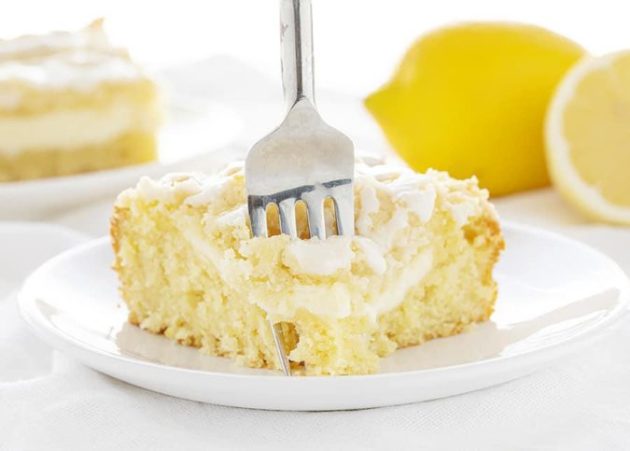 Can This Lemon Coffee Cake be Made Ahead of Time?
Yes, you can make this cake ahead of time. It tastes delicious fresh out of the oven but even better on the next day after it has been warmed slightly. Store it covered at room temperature (or in a cold place if it's a hot day). It will keep fresh for 2-3 days, probably even longer but it's always gone before I could test it.
Can I Add Blueberries to This Coffee Cake?
Yes, absolutely. I have also made this cake with raspberries and it was delicious too. I would use 1 to 1 1/2 cups of fresh blueberries and fold them into the batter last.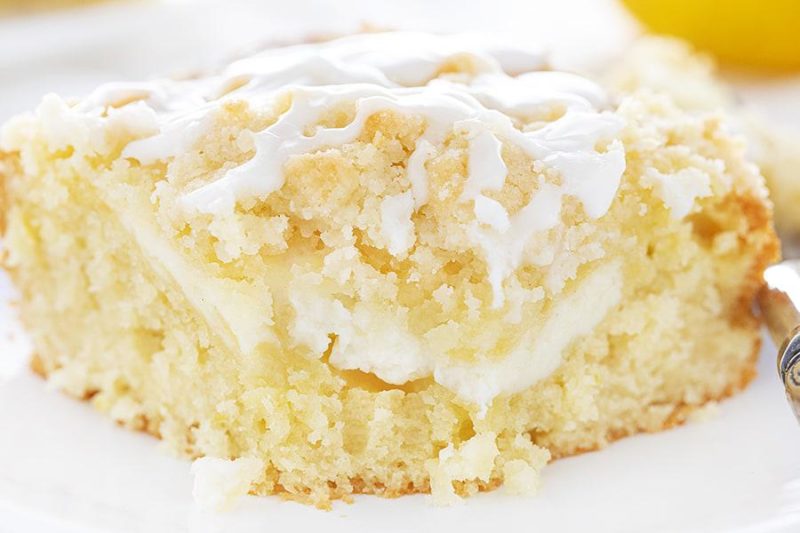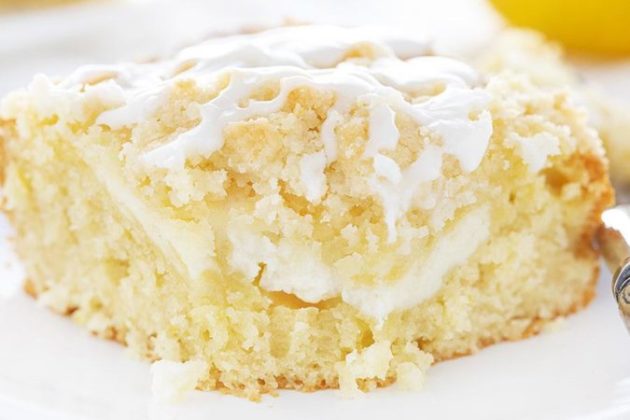 INGREDIENTS
CRUMBLE
1/2 cup (113g) butter, cold and cubed
3/4 cup all-purpose flour
1/3 cup confectioners sugar
CREAM CHEESE FILLING
8 ounces cream cheese, room temperature
1/2 cup (100g) granulated sugar
LEMON COFFEE CAKE
2 cups (250g) all-purpose flour
1/2 teaspoon salt
2 teaspoons baking powder
1/2 cup (113g) butter, room temperature
2 tablespoons lemon zest
3/4 cup granulated sugar
2 eggs, room temperature
2 teaspoons vanilla extract
1/2 cup milk (I prefer whole)
1/3 cup freshly squeezed lemon juice
GLAZE
1 cup (125g) confectioners sugar
1-2 tablespoons of milk
INSTRUCTIONS
Preheat oven to 325°F and prepare a 9×9 square pan with non-stick spray or butter and flour.
CRUMBLE
Using a food processor, fork, or your hands; combine butter, flour, and sugar in a bowl. (I prefer clean hands.) Make sure the butter is broken down and no larger than a pea when you are done. Set aside.
CREAM CHEESE FILLING
In the bowl of a stand mixer or using a hand-held mixer, combine the cream cheese and sugar until smooth and creamy. Set aside.
LEMON COFFEE CAKE
In a small bowl, sift together the flour, salt, and baking powder. Set aside.
In the bowl of a stand mixer or using a hand-held mixer, combine the butter, lemon zest, and sugar. Mix for 2-3 minutes or until light and fluffy. Scrape down the bowl as needed.
With the mixer on low, add in the eggs and vanilla. Mix on low until combined.
In a 1-cup measuring cup, add the milk and fresh lemon juice. Stir together well.
Add the dry ingredients to the butter mixture in the stand mixer and turn it on low. With the mixer on low, drizzle in the milk & lemon juice. Mix until just combined. Turn mixer off. Scrape sides as needed.
ASSEMBLY
Pour batter into prepared pan.
Spoon cream cheese mixture over top and then spread out with a spatula getting it into every corner. It does not matter if the cream cheese and batter combine slightly.
Evenly sprinkle the crumble over top the cream cheese.
Bake for 40 minutes at 325°F. Check doneness of cake with a toothpick. If an inserted toothpick is removed with wet batter, it is not done. (Or if it appears shiny on top it is not done). If the cake is not done and the top is starting to brown, cover with foil and bake an additional 10 minutes. Everyone's oven is different so make sure the cake is done before removing.
Remove coffee cake from oven and allow to cool for about 10 minutes.
Drizzle glaze over top and serve.