Ever wanted to make the perfect Birthday Cake? I have the recipe for you! Classic yellow cake paired with rich chocolate frosting. You can't go wrong with this timeless birthday treat!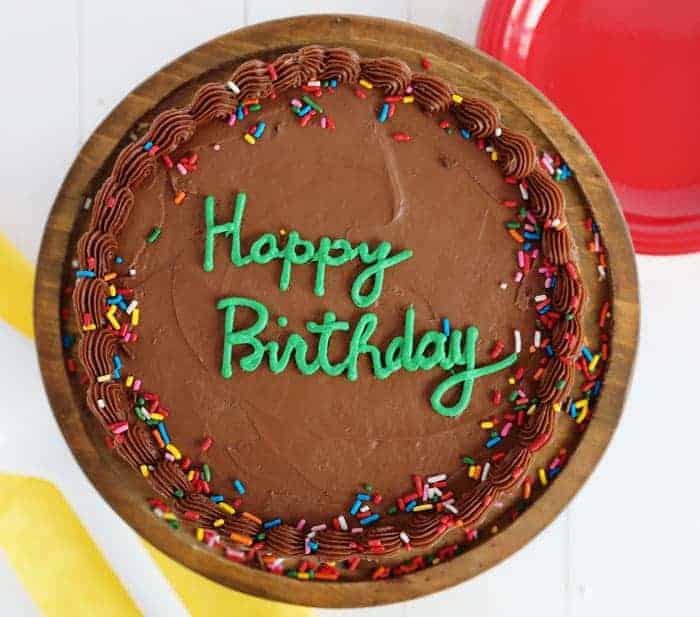 How to Bake the Perfect Birthday Cake
First, you want to start with a great recipe. The yellow cake recipe listed below is a classic, but some folks also like chocolate cake or white cake. Next, pair that classic with the best homemade chocolate buttercream! Once you have made your cake and covered it in buttercream, top with some festive rainbow jimmies. The final touch can be personalizing it with a handwritten "Happy Birthday" or you can also fill the center of the cake with candles. No matter what you decide to do, the birthday boy/girl is sure to love it!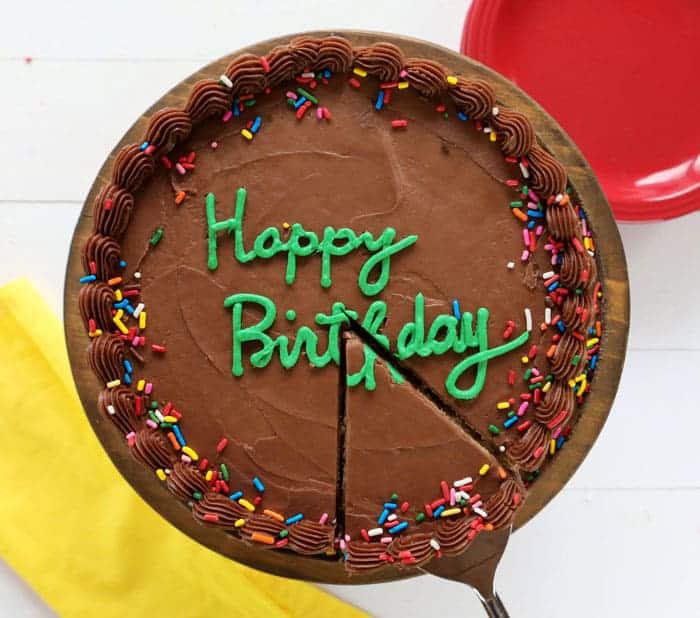 To make this birthday cake you will need:
yellow cake recipe (below)
chocolate buttercream (below)
small offset spatula
piping bag and #32 tip
rainbow jimmies
green buttercream, piping bag, and piping tip #5 for writing a message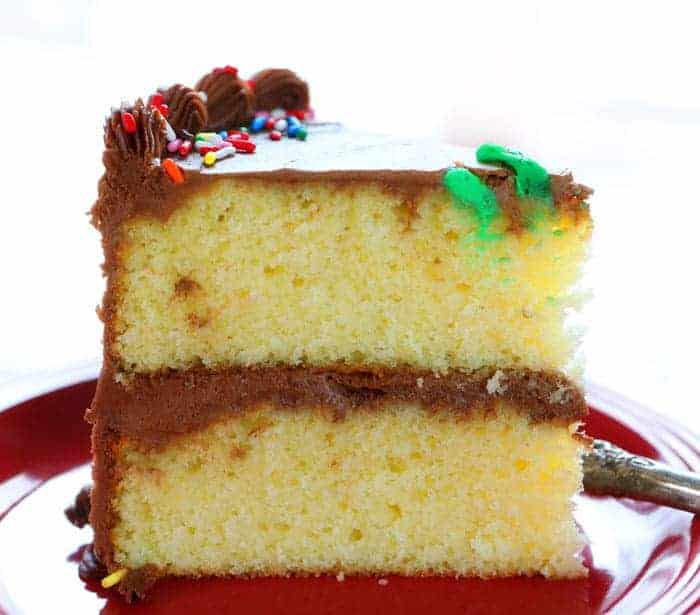 Birthday Cake Recipe
When you are creating a cake for someone special on their birthday, you want to make sure the recipe you are using is NO FAIL. This is that recipe! It works every time and tastes amazing! My no-fail Birthday Cake Recipe is perfect for everyone of all ages!
If you happen to watch the video of me making this cake you will see that I did not spend 1 second fussing over perfection. When I was a child I never noticed things like ripples in the frosting or uneven edges or less-than-perfect writing. All I could see what a cake covered in brightly lit candles being walked slowly towards me as friends and family sang loudly. There is nothing quite as magical as that special moment when you see a cake made just for you!
No one ever wanted to sit back and admire the cake… everyone just wanted to dig in! My mom was never a master cake decorator, but I will never love another cake as much as I loved her birthday cakes, made special for me.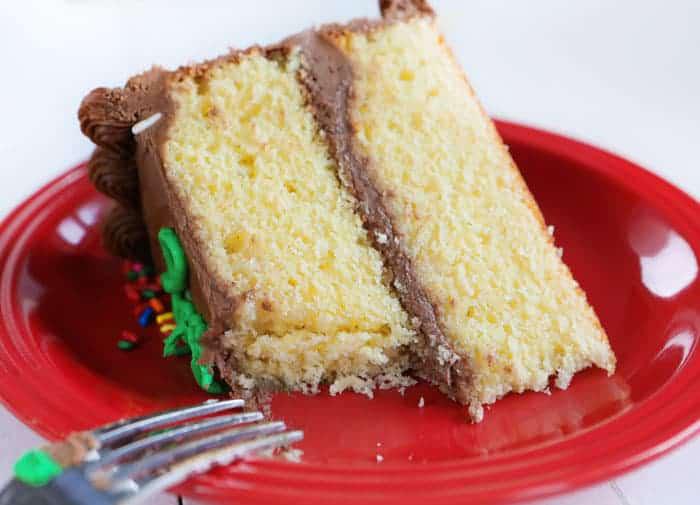 How to Decorate a Birthday Cake
Birthday cake decorations don't need to be fancy or over the top! Don't let the decorating part of making a birthday cake be stressful at all. I used a small offset spatula to spread the frosting on my cake, but you could just as easily use a butter knife.
One fun trick is adding the piped dollops along the edges of the cake. This technique requires no special skills and the supplies are often carried at your local grocery store! Drop the tip in a piping bag (can also use a plastic sandwich bag, just be sure to make a very small hole as plastic bags tend to stretch more) and then add your frosting. The shell border on most birthday cakes is a "swooping" motion. Apply pressure to the piping bag, allow a little frosting to come out, then swoop down. Repeat the around the entire cake on the bottom edge and top edge. (Once you master this technique you can explore new ways to decorate!)
Tips, Tricks, Variations
For this recipe, I like to have my ingredients at room temperature. If that is not possible the cake will still turn out! You just need to make sure you give it enough time in the stand mixer for that the ingredients can fully incorporate and mix together. What if you don't have a stand mixer? Using a hand-held mixer is a great option. Or maybe you are SuperMom and are using a whisk and some elbow grease! ? No matter what method you use, this sturdy recipe should hold up and still taste delicious.
Ever wondered how to write on a cake? The very best thing you can do it practice. Get a piece of wax or parchment paper and your tip and frosting out. Try writing different words in cursive, block letters, capitols letters, etc. The more you can practice the easier it becomes. Pretty soon everyone will be asking you to make their birthday cake!
Want to make this a smash cake? You can cut the ingredients in half and bake the layers in 6-inch round pans. (Baking times may vary, make sure an inserted toothpick is removed clean) You will end up with a small 2-layer cake perfect for baby's 1st birthday!
Ingredients
Yellow Cake
½ cup (1 stick or 113g) butter, softened
1 ½ cups (300g) granulated sugar
1 ¼ cups (307g) whole milk
⅛ cup vegetable oil
1 tablespoon vanilla extract
3 large eggs, room temperature
2 ¼ cups (281g) all-purpose flour, sifted
3 ½ teaspoons baking powder
1 teaspoon kosher salt, if using table salt use ½ tsp
Chocolate Frosting
1 ½ cups (3 sticks or 340g) butter, room temperature
4 cups (500g) confectioners sugar
¾ cup (94g) unsweetened cocoa powder
4 tablespoon (60ml) heavy whipping cream
2 teaspoons (10ml) vanilla extract
⅛ teaspoon kosher salt
Instructions
Yellow Cake
Place softened butter and granulated sugar into stand mixer fitted with the paddle attachment and mix on medium for 1-2 minutes.
Add milk, oil, vanilla, and eggs and mix on medium for one minute or until ingredients are fully incorporated.
Place dry ingredients into stand mixer and mix on low until fully combined about 1 minute.
Pour batter into prepared pans 8-inch round cake pans. Bake at 350°F for 18-25 minutes. Remove from oven and let cool in pan for about 5 minutes, then turn out onto a cooling rack for at least 30 minutes. Cool completely before frosting.
Chocolate Frosting
In the bowl of an electric stand mixer, fitted with whisk attachment whisk butter and sugar on medium-high speed until very pale and fluffy or about five minutes.
Be sure to stop at least once and scrape the bowl.
With the mixer off, add cocoa powder, vanilla, and salt.
Turn mixer on low and blend for about 30 seconds.
One tablespoon at a time, add in heavy cream.
Once all cream has been added and the mixture is mostly combined, turn off the mixer and scrape down the sides of the bowl.
Now turn the mixer onto medium-high to high and whisk for 3-5 minutes or until mixture is lighter and fluffier. The frosting will be shiny and seem to have many large air bubbles throughout and this is exactly what we are going for. (You can smooth those out on the cake if so desired.)