This Orange Shrimp and Crab stuffed Roasted Butternut Squash makes an elegant, yet simple, presentation for Thanksgiving.. This entree may be served as an entree or as a side dish.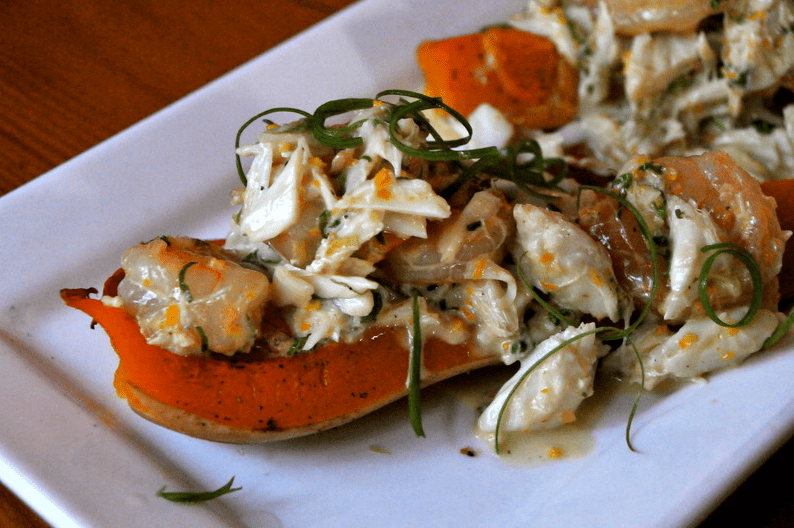 Ingredients
Number of servings 4
1 (2 pound) butternut squash
Cooking spray
1 teaspoon salt, divided
1 teaspoon pepper
½ cup fresh orange juice, divided
2 tablespoons butter
3 green onions, thinly sliced
1 clove garlic, minced
2 tablespoons orange zest
8 ounces peeled and deveined medium shrimp
¼ cup heavy cream
8 ounces lump crab meat
Garnish: orange slices and additional thinly sliced green onions
Directions
Preheat oven to 375 degrees.
Cut the butternut squash lengthwise into 4 wedges.
Remove the seeds and place the squash in a 9 X 12 baking dish that has been coated with cooking spray.
Sprinkle the squash with ½ teaspoon each salt and pepper.
Pour ¼ cup orange juice over the squash. Cover and bake for 40 minutes and until fork tender.
During the last 15 minutes of baking, prepare the Orange Shrimp and Crab.
Arrange the butternut squash wedges on a serving platter, cut side up.
In a large skillet, melt the butter over medium heat. Add the green onions and garlic and saut for 2 minutes.
Stir in the remaining ¼ cup orange juice, orange zest, shrimp and remaining salt and pepper.
Simmer for 6-7 minutes and the shrimp begins to turn pink. Add the heavy cream and simmer an additional minute. Gently stir in the lump crab meat for an additional two minutes.
Divide and spoon the Orange Shrimp and Crab on top of the roasted butternut squash.
Garnish the platter with orange slices and sprinkle all with additional thinly sliced green onions.