Taco Lasagna is a layered dish of soft shell tortillas, filled with perfectly seasoned beef, cheese sauce, and salsa. It's topped off with lettuce, tomato, and sour cream to make this Taco Lasagna your new favorite recipe for Taco Tuesdays!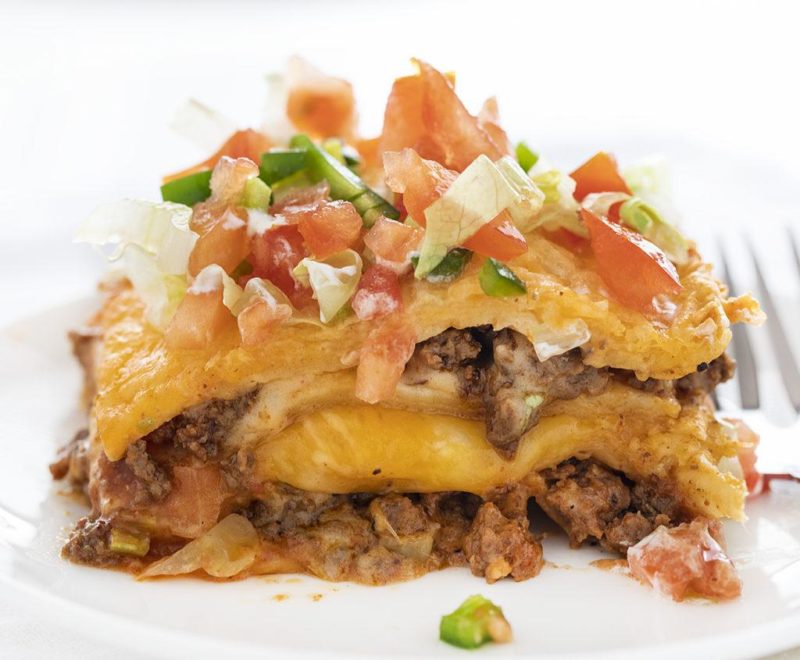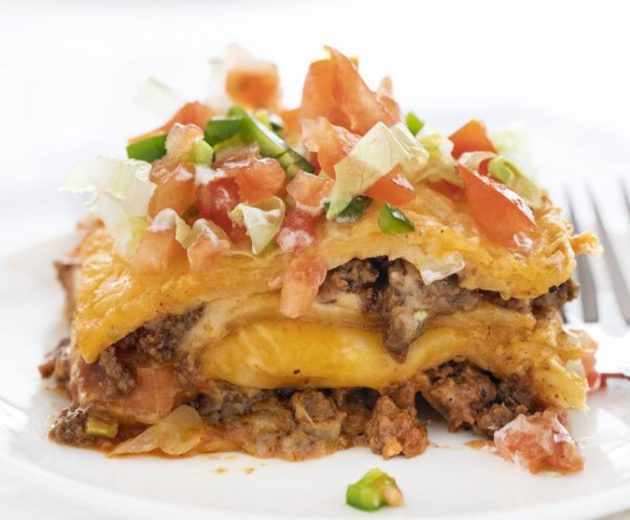 TACO LASAGNA
Lasagna is known for its layered deliciousness of noodles, meat, cheese, and pasta sauce. This Taco Lasagna recipe is still layered with all that goodness, but using all your favorite taco ingredients. Tacos are fun to eat, but it's nice to have an alternative to your Taco Tuesday menu. But, don't wait until Tuesday to make this savory dish. It's good for any night of the week!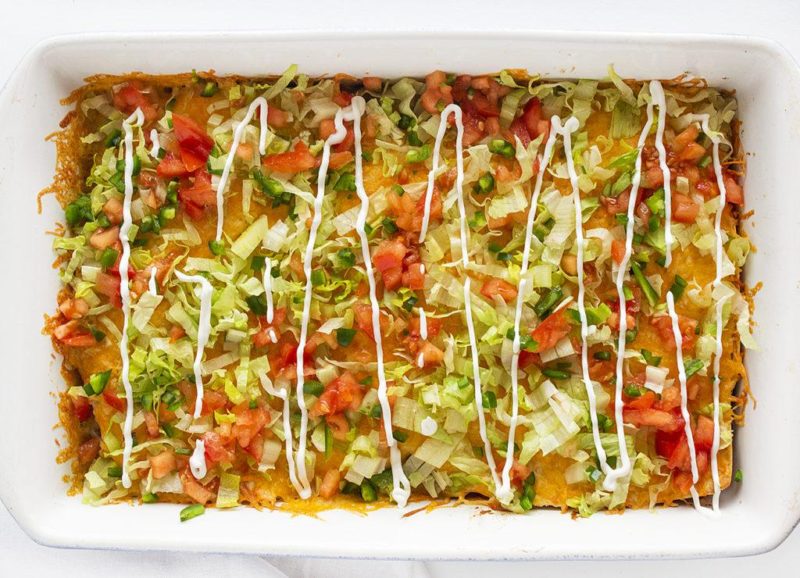 TACO LASAGNA RECIPE
You will notice that most of the ingredients for Taco Lasagna are your typical taco ingredients. One way to step it up a notch is to use my homemade taco seasoning for the beef. This gives you an option to make the beef a little hotter or as mild as you would like it. Then, it's all about the layering of the cheese sauce and salsa.
Taco Meat Ingredients
Ground beef
Homemade taco seasoning
Cheese Sauce Ingredients
Whole milk
Flour
Salt
Shredded cheese
Ground black pepper
Taco Lasagna Ingredients
Soft-shell tortillas
Salsa
Mexican cheese blend
Lettuce
Tomato
Jalapeno pepper
Sour cream
HOW TO MAKE TACO LASAGNA
Preheat the oven to 400°F while you brown the meat and make the cheese sauce. Once the beef has been browned and seasoned, set it off to the side and make the cheese sauce. When you make the cheese sauce, be sure to remove the mixture from the heat BEFORE you add the shredded cheese. It will be hot enough for the cheese to melt. Yes, you do need to remove the saucepan from the heat when stirring in the cheese. If you leave the sauce over the heat, the cheese will curdle and you will not get that creaminess that you would expect. Once the beef and cheese are made, it's time to layer the pan!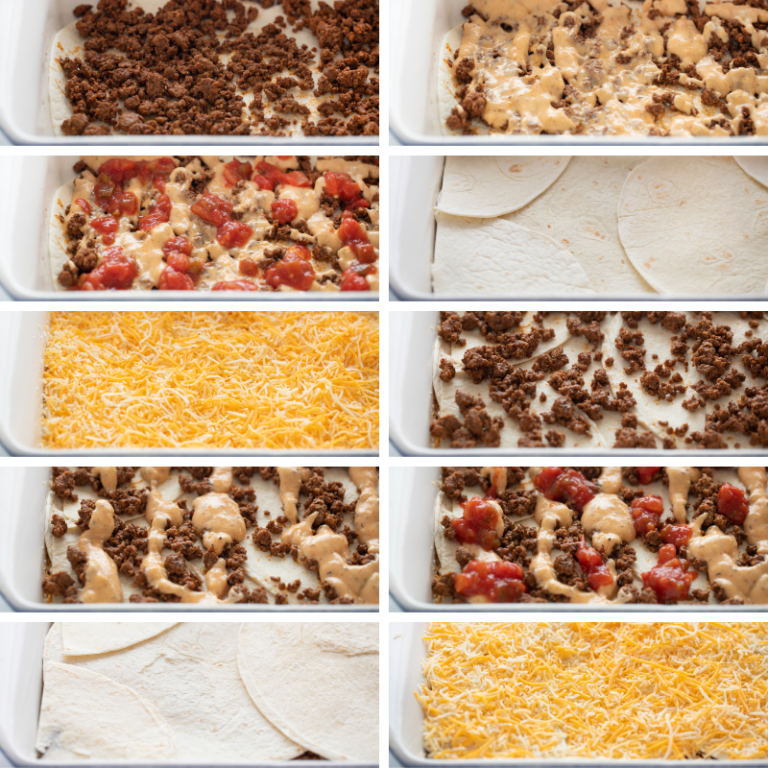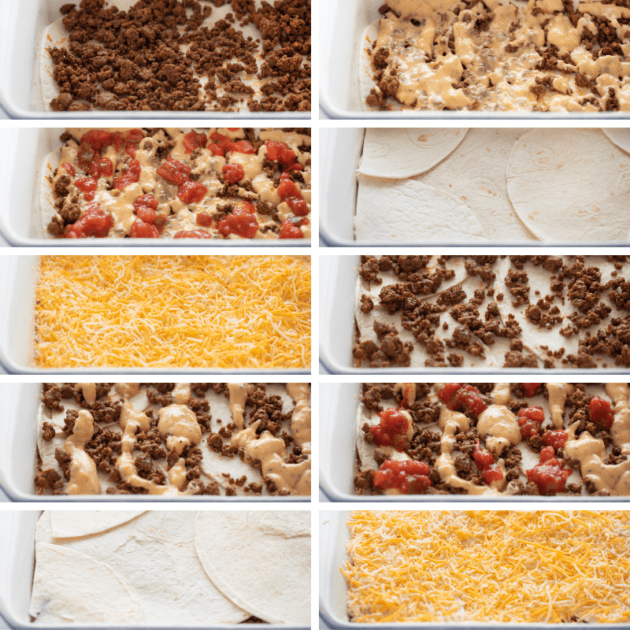 HOW TO ASSEMBLE THE TACO LASAGNA
Grease a 9×13 inch pan and get out your soft-shell tortillas. I used twelve tortillas for this recipe. Three of them need to be cut into fourths. Remember learning fractions in school? Cut the circular tortillas in half and in half again for your four pieces. These fourths of the tortillas will be used to cover any empty spaces in your layers of tortillas. This definitely brings me back to my school days and figuring out which shapes would tesselate and which would not. (Circles do not tesselate, by the way, which is why you need the smaller pieces to fill in the gaps.) Okay, I digress…let's get to the layering part of the Taco Lasagna.
Set two whole tortillas on the bottom of the pan, using the fractional pieces to fill in any spaces in the pan that aren't covered.
Top the tortilla layer with half of the taco meat, half the cheese sauce, and half the salsa.
Add another layer of tortillas.
Top the second layer of tortillas with 2 cups of the shredded Mexican cheese blend. (We call this glorious layer POCKET o' CHEESE because it is literally a beautifully melted layer of cheese in the middle of the lasagna!)
Add a third layer of tortillas. (not seen in image above)
Top with the remaining meat and cheese sauce.
Add one more layer of tortillas, topping it all off with the rest of the shredded cheese.
Cover the dish with aluminum foil and cook for 20 minutes.
After the 20 minutes, remove the foil from the Taco Lasagna and cook an additional ten minutes.
Remove from the oven and load it up with all the fixings–lettuce, tomato, jalapeno peppers, and sour cream.
Enjoy!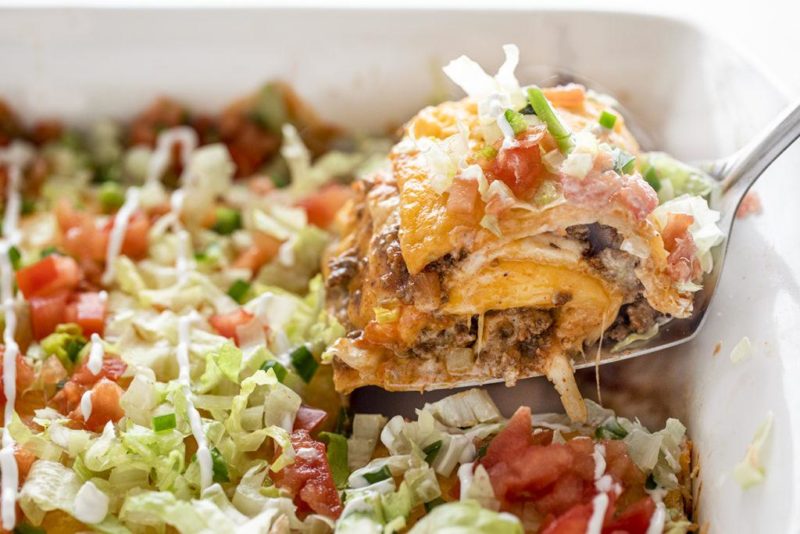 ALTERNATIVES FOR TACO LASAGNA
Tacos are such a versatile meal because you can add or leave off as many fixings as you would like. Taco Lasagna is no exception. If you don't like jalapenos, leave them off. I remember being a very simple taco lover–meat and cheese for this gal. But, I have expanded my love of taco fixings and add as many toppings as I can find. Here are some suggestions to change up this recipe:
Substitute ground turkey or chicken for the ground beef.
Add onions, pico de gallo, more cheese, and scallions to your topping choices.
Have refried beans available for a side or additional topping.
For some color, add some cilantro or parsley to the top of the Taco Lasagna before serving.
For a lighter version of the recipe, substitute the sour cream and cheeses for low-fat varieties.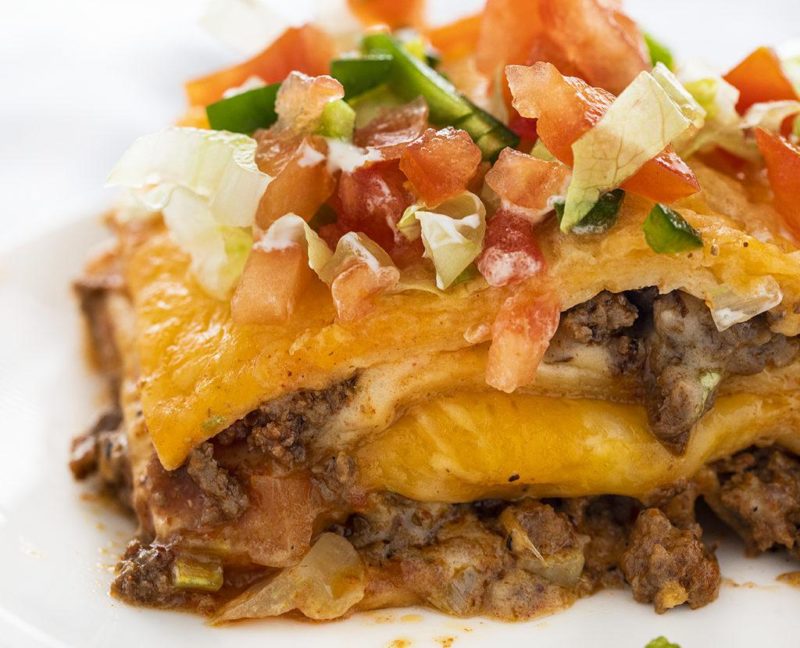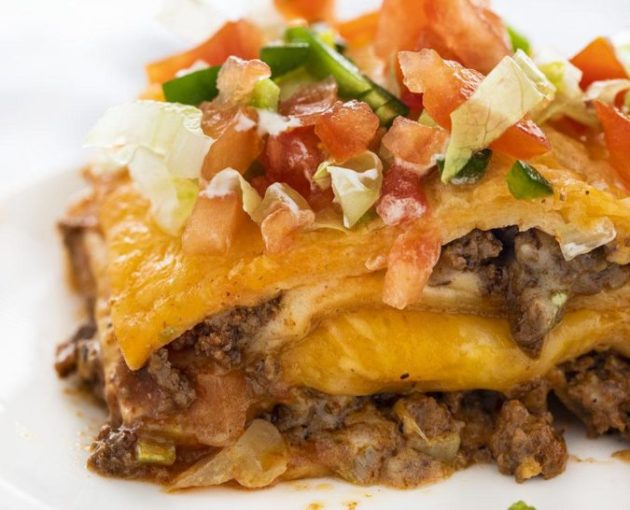 CAN I MAKE TACO LASAGNA AHEAD OF TIME?
Yes, you can make and freeze this recipe to have when you are ready to bake it. Follow all the steps up to cooking the pan of lasagna. I would recommend an aluminum foil pan to freeze in. Cover it, label it with the date and cooking directions, and freeze it for up to 6 months! Let it thaw before you bake it. But, if you forget to take it out of the freezer to thaw, just double the cooking time.
Ingredients
Taco Meat
1 pound ground beef
3 tablespoons homemade taco seasoning, or 1 package store-bought
Cheese Sauce
1 cup whole milk, divided
4 teaspoons flour
1/2 teaspoons salt
2/3 cup shredded cheese
1/4 teaspoon ground black pepper
Lasagna
12 soft 6-inch tortillas, 3 of them into cut into fourths
1 cup salsa, divided
3 cups Mexican cheese blend, divided
1 cup shredded lettuce
1 medium tomato, diced
1 small jalapeno, diced
1 cup sour cream
Instructions
Preheat oven to 400°F
Taco Meat
In a large skillet, brown ground beef until it is no longer pink. Add taco seasoning, stir to combine. Set aside.
Cheese Sauce
In a medium saucepan, whisk together 1/4 cup of milk and the flour.
Pour in the remaining milk and salt, bringing it to a boil over medium heat. Stir frequently.
Reduce heat to low and simmer for 2 minutes, stirring constantly. The mixture will start to thicken.
Remove from heat, and stir in the cheese and pepper until the cheese melts.
Set aside.
Lasagna Assembly
Grease a 9 x 13 pan.
To create an even layer of tortillas, set two whole tortillas in the pan, being careful to cover as much of the pan as possible. Use the smaller cut pieces of tortilla to fill in any empty spaces.
Top with half of the taco meat, half of the cheese sauce, and half of the salsa.
Add another even layer of tortillas. Top with 2 cups of shredded Mexican cheese.
Add another even layer of tortillas, top with remaining meat and cheese sauce.
Add another even layer of tortillas, top with remaining cheese.
Cover the dish with foil and cook for 20 minutes. Remove foil. Cook an additional 10 minutes.
Top with lettuce, tomatoes, jalapenos, and sour cream. Serve immediately.