Reuben Stuffed Shells takes one of my favorite sandwiches, the Reuben, and packs all that flavor into a jumbo pasta shell. Homemade croutons make sure that you won't miss out on the rye bread that Reubens are known for.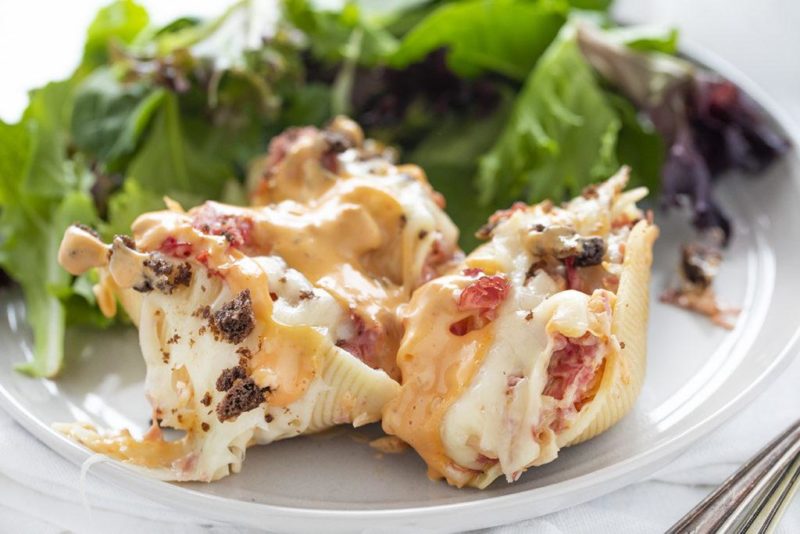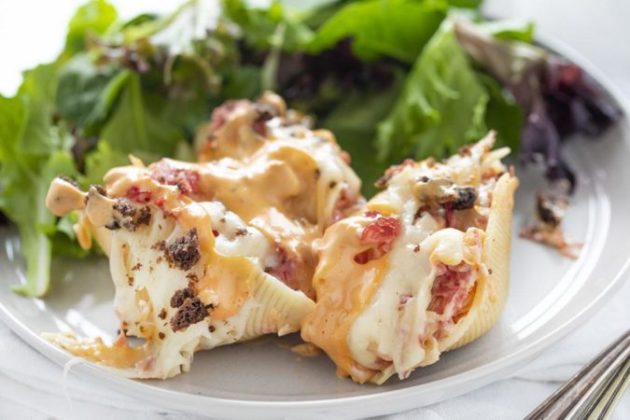 REUBEN STUFFED SHELLS
As a kid, I never liked sauerkraut, so I shied away from ever enjoying the popular Reuben Sandwich. I was definitely missing out! Since my taste buds have decreased (which they do as we get older), I actually have become of fan of sauerkraut's salty and sour flavor! Plus, sauerkraut actually has some health benefits, being that it is a good source of fiber and the fermented cabbage produces probiotics that keep our digestive system on track. Okay, now that I have convinced you to give sauerkraut another chance if you were not already on board, you can try all the Reuben flavors in these Reuben Stuffed Shells. I also encourage you to take a few minutes to make the homemade croutons using pumpernickel rye bread. I have also come to love that bread, just like I have come to enjoy sauerkraut.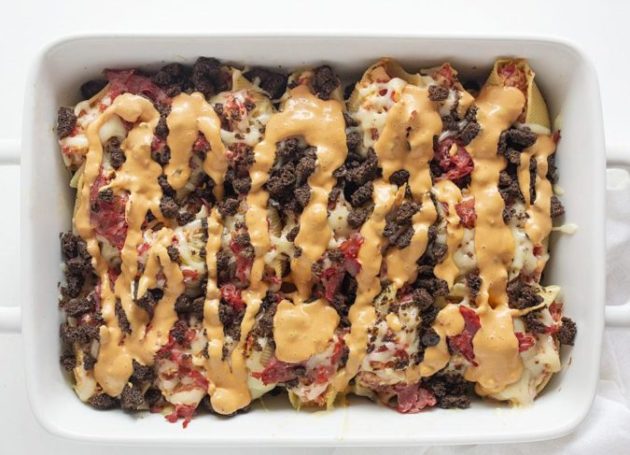 REUBEN STUFFED SHELLS RECIPE
There are three main parts to this recipe…the pumpernickel rye croutons, the corned beef mixture for the filling, and the stuffed shells, cooked al dente.
Croutons Ingredients
Pumpernickel rye bread
Garlic
Butter
Parsley
Stuffed Shells Ingredients
Jumbo shells
Shredded corned beef
Cream cheese
Shredded Swiss cheese
Sauerkraut
Thousand Island Dressing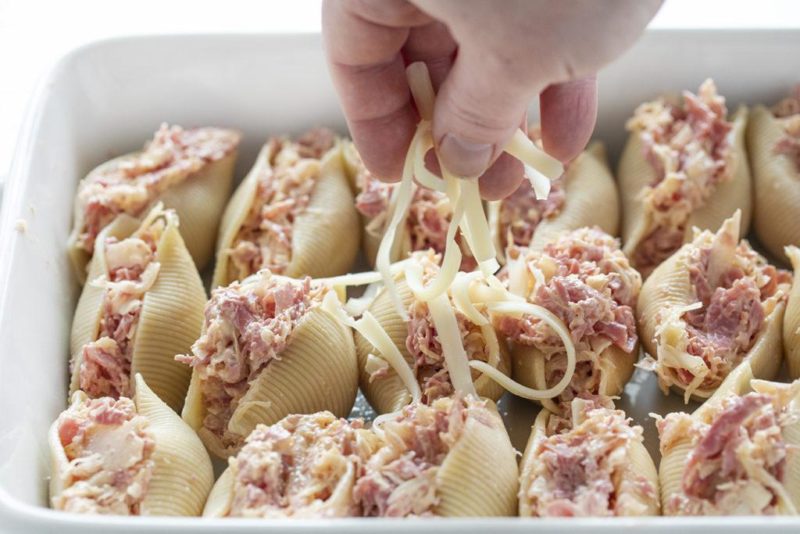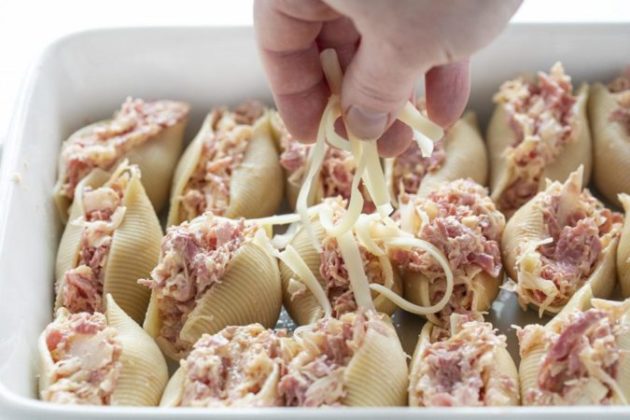 HOW TO MAKE HOMEMADE CROUTONS
The first thing you have to do for Reuben Stuffed Shells is make the croutons. I used a pumpernickel rye bread for my Reuben Stuffed Shells because that is usually what a Reuben sandwich is packed in between. You want the bread to have a solid crust and have minimal sugar. I have seen some family members cut off the crust when making croutons, but that is a no-go in this house. (Not to mention I am all about doing things the easy way!)
Start making your croutons by cutting the bread into slices. I like to them cut each slice into about 9 pieces, sometimes less. Size varies when you are making croutons, but the best rule to follow is to make sure you can fit it in your mouth in one bite. Don't skimp on the butter. It may seem like a lot, but it doesn't overwhelm the croutons. Once you have melted the butter and added the garlic, coat the bread cubes in the butter and garlic. Transfer the bread cubes to a baking sheet and bake for 10 minutes at 350°F. Set them aside as you prepare the corned beef mixture.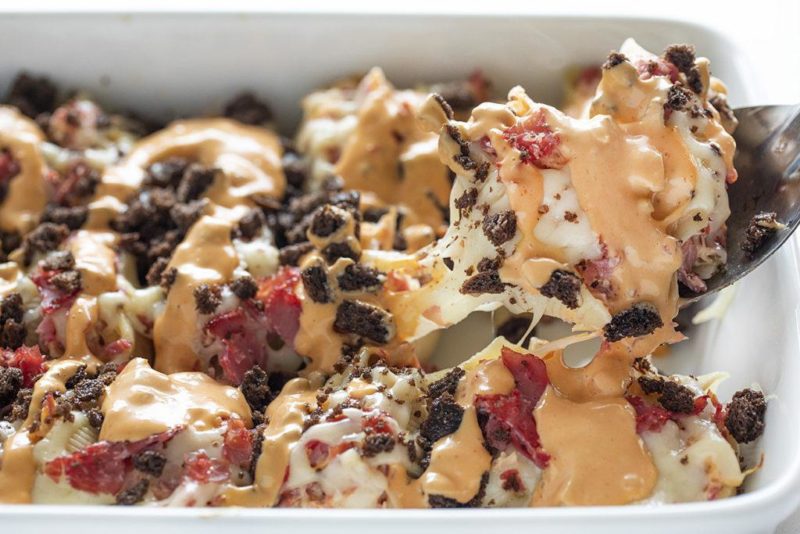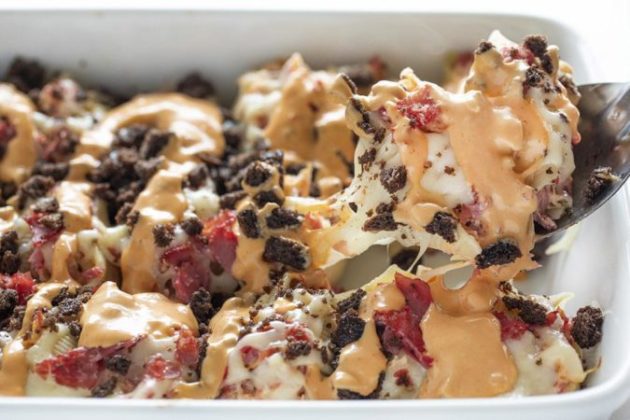 HOW TO MAKE REUBEN STUFFED SHELLS
After you have made the croutons and cooked and drained your jumbo pasta shells, you need to prepare the yummy Reuben flavors that will be packed inside each shell. First, shred the corned beef with a fork. Be sure to save a few tablespoons of the corned beef to go over the top. Mix the shredded corned beef with a half a cup of the Swiss cheese, drained sauerkraut, and thousand island dressing. You can definitely make your own homemade thousand island. Or, if you are a believer that only Russian dressing should be on a Reuben, I have you covered with a homemade Russian dressing as well! Either way, mix the ingredients together and fill each cooked shell with about a spoonful of it. Place each stuffed shell in a greased 9×13-inch pan and top with the remaining Swiss cheese, corned beef, and the crumbled homemade croutons. Bake for 15 minutes at 350°F. When serving, offer extra thousand island dressing (OR Russian dressing) to drizzle on top.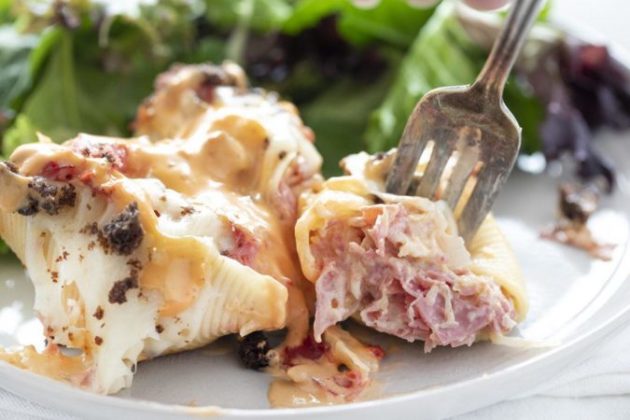 Ingredients
CROUTONS
3 slices pumpernickel rye bread, cubed
1/2 teaspoon garlic
1/4 cup (1/2 stick) butter
1/2 teaspoon parsley
STUFFED SHELLS
25-30 jumbo shells, cooked al dente and drained
8 ounces shredded corned beef, reserve 3-4 tablespoons for topping
4 ounces cream cheese, softened
1 1/2 cup shredded Swiss cheese, divided
16 ounces sauerkraut, drained
1/3 cup Thousand Island dressing
Instructions
CROUTONS
Preheat oven to 350°F.
In a large skillet, melt butter over medium heat.
Stir in garlic, cook 1 minute until fragrant.
Stir in dried parsley.
Add bread cubes and toss to coat. Place directly on a baking sheet.
Bake for 10 minutes, or until crisp.
Crumble the croutons into small pieces. Set aside.
STUFFED SHELLS
Shred corned beef with a fork.
In a large bowl, add corned beef (reserve some for topping), 1/2 cup of Swiss cheese, sauerkraut (drained), cream cheese, and Thousand Island dressing. Mix well.
Fill cooked shells with the corned beef mixture.
Top with reserved Swiss cheese and corned beef.
Add crumbled croutons to the top of each stuffed shell.
Bake for 15 minutes.
Top with a drizzle of Thousand Island dressing.