Kick up classic Chicken Fettuccine Alfredo a bit by adding broccoli and bacon! This Chicken Broccoli Bacon Fettucine will be a big hit with your family!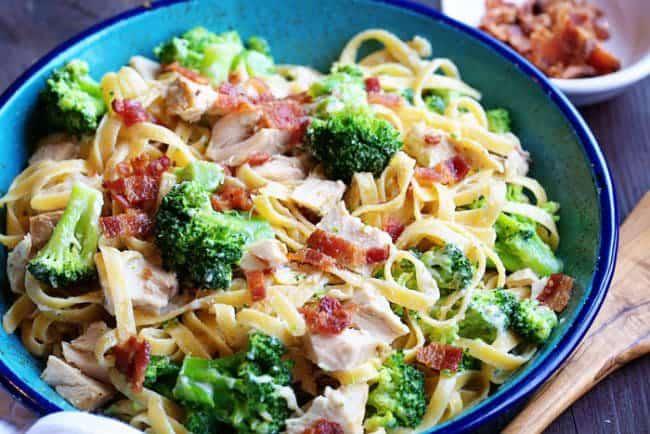 Chicken Fettuccine Alfredo
I can't imagine that I am the only one who can use a little dinner-time inspiration! This recipe is a family favorite for a couple of reasons: we all love pasta and we all love broccoli. Finding a veggie that 7 people can agree on in one meal is no small feat! The method may seem a bit unconventional, but it is the way I was taught growing up, and actually works great.
And while they love classic Chicken Fettuccine Alfredo, I love being able to add in vegetables whenever I can. I add the bacon because, bacon. We love it. Enough said.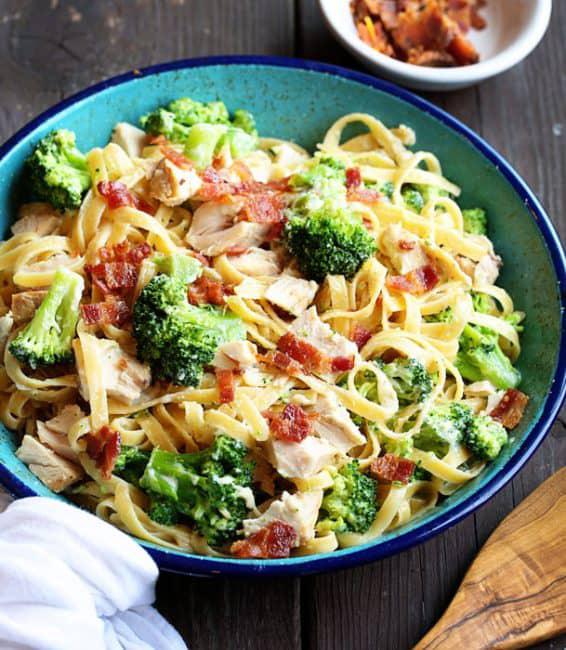 How to Make Chicken Fettuccine Alfredo with Bacon and Broccoli
I always prepare bacon a package at a time. Some people have the self-control and can write "bake four pieces of bacon" but I am not one of those people. We always use it a full package whether it be to snack on or in the next morning's breakfast. If you want you can bake 4 pieces for just this dish. Making the bacon in the morning is one way to save yourself a step for dinner.
I add the broccoli to the boiling pasta water because it is a time saver and it will all be mixed up in the end anyway. You can certainly use pre-cooked broccoli, or if you have frozen, cook it ahead of time.
The longer the sauce sits the thicker it is. If you want to thin it out a bit, add some warm milk (a couple tablespoons at a time) and stir.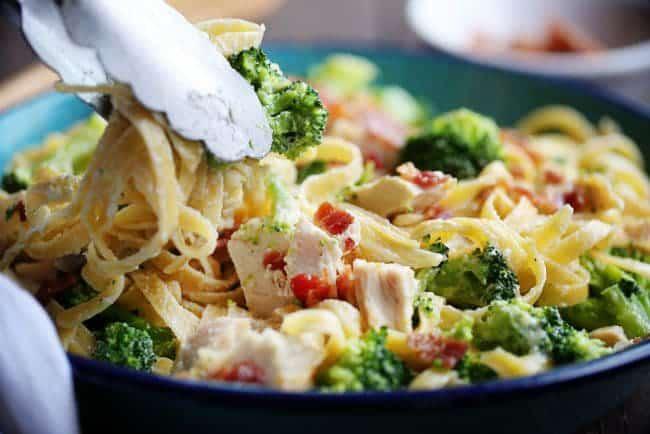 Variations for Chicken Fettuccine Alfredo
We have this with rotisserie chicken as well! Saves a ton of time to just chop the chicken while the noodles are cooking and it tastes just as amazing!
You can also add any vegetable that you prefer. I have tried Brussel sprouts, but I roast them separately and then toss them with the finished dish. My husband loves peas added, but he is outnumbered so doesn't get it that way very often.
We adore Creamy Chicken Broccoli Bacon Fettucine and I am sure your family will too!
INGREDIENTS
1 12 ounce package bacon
8 oz fettuccine noodles
salt and pepper to taste
2 cups (226g) freshly grated Parmesan cheese
1 cup (2 sticks or 226g) salted butter
1 cup (230g) heavy cream
3 cloves garlic minced
salt and pepper to taste
1 lb chicken breasts, boneless and skinless
1 tbsp. olive oil
2 cups fresh broccoli florets
INSTRUCTIONS
BACON
Preheat oven to 400°F. Bake bacon on a baking sheet lined with foil for about 15 minutes or until crispy. (For thicker bacon you will need to cook longer.) When done, move bacon to a paper towel-lined plate and allow to cool. (This can be done well in advance.)
CHICKEN FETTUCCINE
Heat olive oil on medium-high heat in a large skillet. Season chicken breast with salt and pepper.
Cook chicken breast on medium-high heat for 4-5 minutes on each side, until browned, then remove from the skillet. (Juices should run clear.) Set chicken on a plate and cover with a foil. (Skillet will be used again in a moment.)
Start cooking the fettuccine noodles according to the directions on the box.
When there are only 2 minutes left in the cooking time, add the broccoli to the boiling noodles.
Add minced garlic to the skillet and allow to cook for 1-2 minutes, or until lightly browned, on medium heat. Add heavy cream and butter and bring to boil.
Turn heat to low and add Parmesan cheese and stir till it completely melts.
Your broccoli and noodles should be done now, drain completely.
Add cooked pasta and broccoli to the skillet (still on low heat) with alfredo sauce. Use tongs to stir and coat all the noodles. Season with salt and pepper to taste.
Slice chicken into bite size pieces and stir into noodles. (Can also be served on top)
Top with chopped bacon.