In search for a recipe that is healthy and yet simple and easy to prepare? Perhaps, cooking vegetables is the best choice for a healthy meal.
Check out this crispy eggplant recipe that is oh-so-yummy-crunchy and perfect for kids who didn't like lots of veggies.
The crispiness of the eggplant is made possible using breadcrumbs, eggs, and cornstarch and then fried to perfection. What makes it more special is the special sauce made form sour cream yogurt, coriander leaves and olive oil that was also included in this recipe.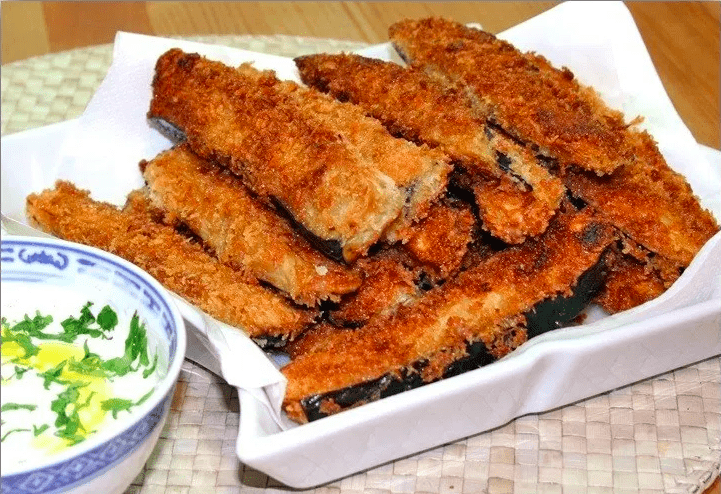 Ingredients
2 pcs. large-sized eggplant
2 cups breadcrumbs
2 pcs. egg
2 tbsp. cornstarch
2 tsp. salt
¼ tsp. paprika powder
⅛ tsp black pepper powder
Cooking oil, for frying
For the dipping (optional):
2tbsp. sour cream
2 tbsp. natural yogurt
Extra virgin olive oil, a drizzle
1 tbsp. coriander leaves
⅛ tsp. black pepper powder
¼ tsp. salt
Instructions
Cut the eggplant into slices ½″ thick and then into 1″ width.
Lay eggplant sticks on a layer of kitchen paper avoiding overlaps.
Pour the salt all over and then cover them with another layer of kitchen paper.
Place a weight on it for 30 minutes to squeeze out the excess of water.
Remove the weight and the kitchen paper.
Season the eggplant sticks with black pepper and paprika powder. Then pour cornstarch all over.
Beat the eggs in a flat dish and pour the breadcrumbs on another plate.
Coat the eggplant sticks with the beaten eggs and successively on the breadcrumbs.
Heat a large pan with cooking oil and fry the sticks until golden brown.
For the dipping (optional):
Mix the sour cream with the yogurt, salt and the black pepper powder.
Top with coriander leaves and a drizzle of extra virgin olive oil.