These cookies are taste tested and kid-approved. Melt-in-your-mouth chocolate chips in the perfect cookie dough batter.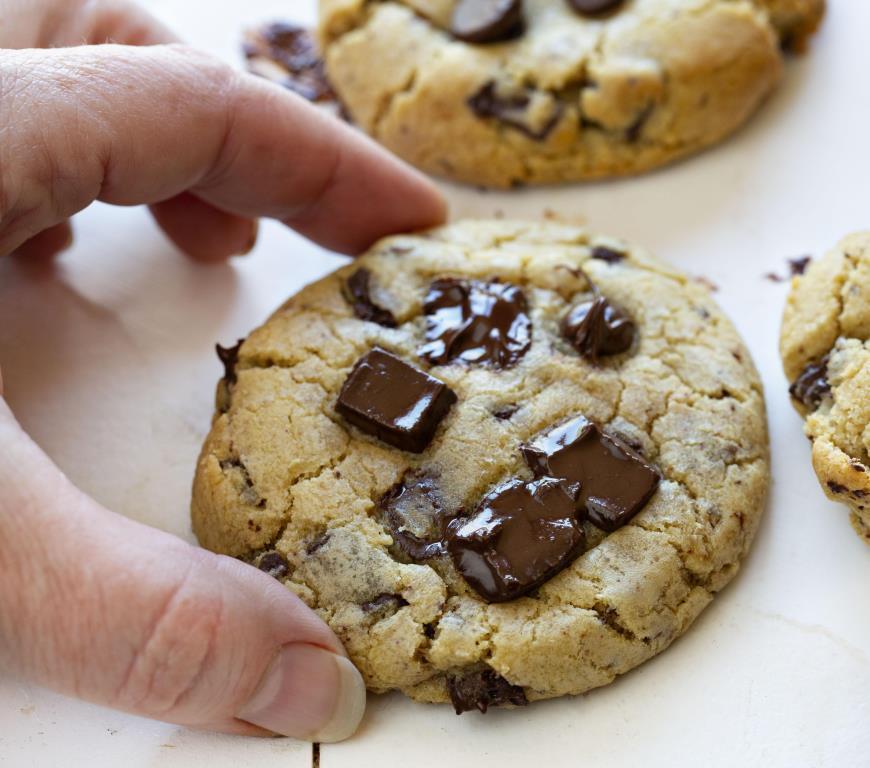 The Best Chocolate Chip Cookies! (Maybe?)
Year after year Chocolate Chip Cookies are rated the most popular by people all over the world. There is something magical about a rich and buttery dough packed with perfect chocolate morsels. Not only does it taste amazing, but it often takes us back to the wonderful memories of childhood.
But there is something that makes this recipe different. The chilling. And if you don't chill the dough it will change the texture and consistency. I found out that folks often skip the chilling. It can dramatically change the final result I highly recommend that you do NOT SKIP CHILLING. If you can't resist snacking or popping them in the oven right away, try making a double batch. It's worth it.
So be sure you plan ahead. After assembling the dough, chill it for at least 24 hours before baking it, preferably up to 36. This allows the dry ingredients time to soak up the wet ones, which results in a firmer, richer dough.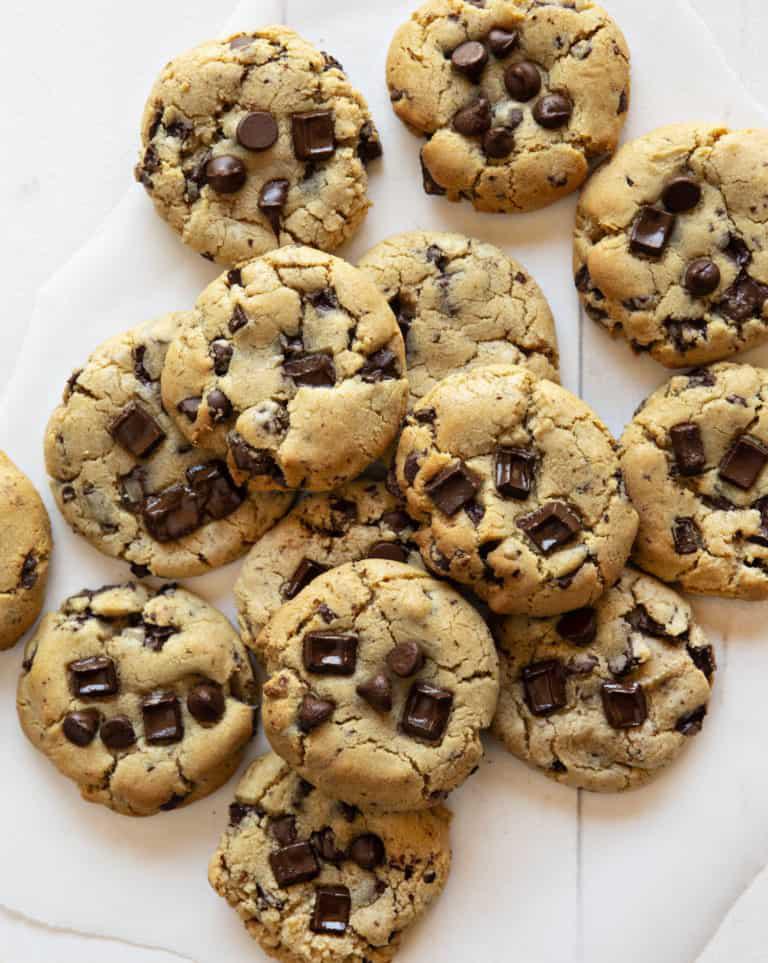 Homemade Chocolate Chip Cookie Recipe
These cookies are good. Really, really good. There is a reason the New York Times picked them as their favorite chocolate chip cookie recipe! They have a crispy exterior and a soft, chewy interior. They are loaded with chocolate and it's the perfect complement to the buttery cookie dough.
What makes these the world's best Chocolate Chip Cookie recipe?
It was originally created by Jacques Torres and shared in the New York Times. His attention to detail, to the use of flours and chilling time, make a big difference in the final result with this cookie. Folks who love cakey chocolate chip cookies love this cookie. Folks who love chewy chocolate chip cookies love this recipe. Everyone loves it!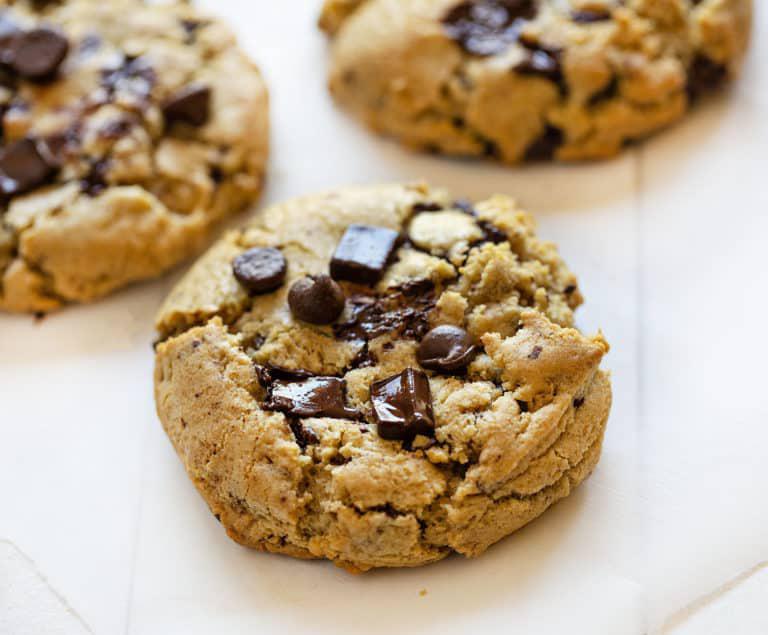 How long do you cook Chocolate Chip Cookies? The cookies bake for 10-12 minutes at 350°F. Remove them when they are light golden brown on the edges.
Can I make bigger/smaller Chocolate Chip Cookies? You can! A giant chocolate chip cookie uses a 1/2 cup of batter per cookie and bakes for 16-20 minutes, but you can size them down to 1-2 tablespoons for smaller cookies. (and keep an eye on them in the oven if you are making minis)
Can I customize my Chocolate Chip Cookies? Absolutely. Swap the chocolate chips for peanut butter chips for even more peanut butter flavor. Use all milk chocolate, or all dark chocolate, or even white chocolate chips. Add flaked sea salt to the top. Heck, you can even add some drizzled chocolate to really make these amazing!
Can Chocolate Chip Cookies be gluten-free? I believe they can, but I haven't tested this recipe specifically. If you substitute the flour for 1:1 gluten-free flour, the recipe should work. This will change the texture slightly.
Can You Freeze Chocolate Chip Cookies? Yes! To freeze baked cookies just arrange them on a cookie sheet and place in the freezer for about 30 minutes. Remove and then place the cold cookies into an air-tight container in layers separated by parchment or a freezer-safe sealable plastic bag that you can get most of the air out of. Freeze for up to 3 months!
Can You Freeze Chocolate Chip Cookie Dough? Absolutely! This is my favorite method. I scoop out the dough with an ice cream scoop and place very close together on a baking sheet. Freeze the cookie dough for about 30 minutes, or until very cold. Place the dough balls into a freezer-safe sealable plastic bag or an airtight container. When you are ready to bake just thaw overnight or feel free to bake them right from frozen, just add 3-5 minutes to your baking time.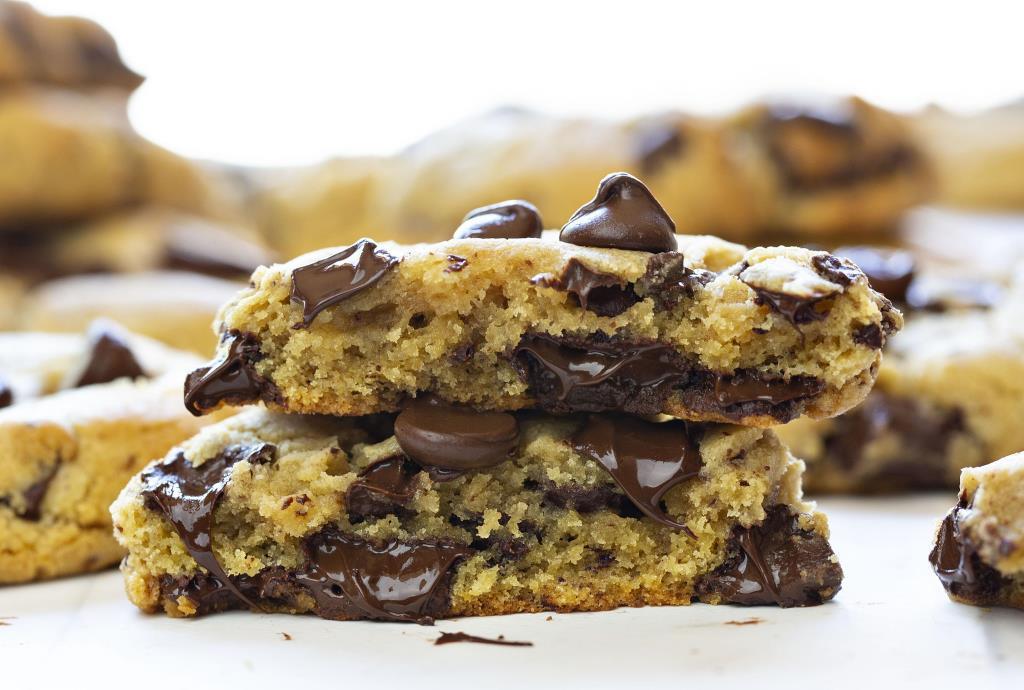 INGREDIENTS
1 2/3 cups (208 grams) cake flour
1 2/3 cups (208 grams) bread flour
1 1/4 teaspoon baking soda
1 1/2 teaspoon baking powder
1 1/4 cups (284g) unsalted butter, room temperature
1 1/2 teaspoon coarse salt
1 cup (200g) granulated sugar
1 1/4 cup (10 ounces or 225g) packed light brown sugar
2 large eggs, room temperature
2 teaspoons McCormick vanilla extract
16 ounces (about 3 cups) chocolate chips or chunks (I use a combination of both and reserve a few to place on top of the cookie before baking)
INSTRUCTIONS
Sift flours, baking soda, baking powder and salt into a bowl and set aside.
Using a mixer with a paddle attachment, cream butter and sugars until light and fluffy, 3 to 5 minutes.
Reduce speed and add eggs one at a time, then add vanilla.
Slowly add dry ingredients, mixing until just combined.
Fold in chocolate chips by hand. Refrigerate dough for24-36 hours.
DO NOT SKIP REFRIGERATION.
When ready to bake, preheat oven to 350°F. Remove dough from refrigerator and allow to come to room temperature.
Drop spoonfuls (2-3 tablespoons) of dough onto baking sheet. Bake for 10-12 minutes.
Cool on wire rack.