Homemade Croutons are packed with flavor, will melt in your mouth, and are easy enough to make that you will never want store-bought croutons again! They are perfect as a snack, as well as topping off a Wedge Salad!
Homemade Croutons
This recipe is based on my love for a big delicious crouton–butter-soaked and garlic-flavored of course! They are just toasted enough to be crunchy but still soft on the inside.
And, in a recent discovery, actually quite unique! Almost every other recipe on the internet calls for the bread to be baked in oil. I tested out the two options and found that BUTTER CROUTONS were far superior in flavor! (Test it for yourself if you are able!)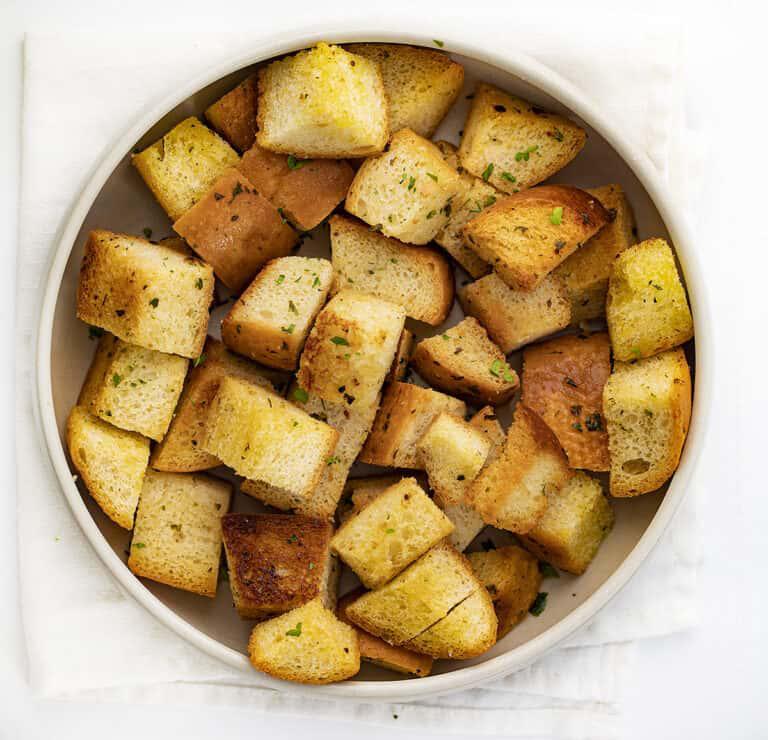 Croutons Ingredients
Bread: A French baguette is my favorite bread to use for these croutons. You could also use ciabatta bread, sourdough bread, or any bread with a solid crust and minimal sugar. If you are making Sourdough Croutons, note that the baking time changes significantly.
Butter: I used Challenge butter in this recipe. With so much butter in the recipe, I knew I had to use the best quality butter. Challenge Butter is made the old-fashioned way, churned fresh daily from the freshest milk and cream from happy cows at family-owned dairies since 1911.
Garlic: The garlic gives just a hint of garlic to the croutons.
Parsley: I prefer fresh parsley, but you could use dried parsley. Other fresh herb options are rosemary, oregano, and thyme.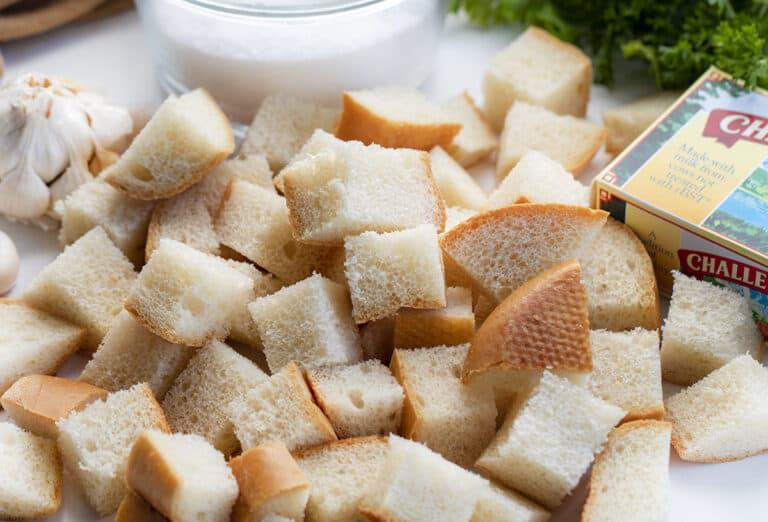 How to Make Croutons
Start making your croutons by cutting the bread into cubes. Size varies when you are making croutons, but the best rule to follow is to make sure you can fit it in your mouth in one bite.
Next, in a large OVEN SAFE skillet over medium heat, melt the butter. Don't be shy with the butter when are making these! Even though it seems like I used a lot of butter, these croutons don't have an overwhelming butter flavor. Stir in the garlic and cook for about a minute before adding the parsley. Add the bread cubes to the skillet and use a spatula to toss and coat each piece of bread in the butter sauce.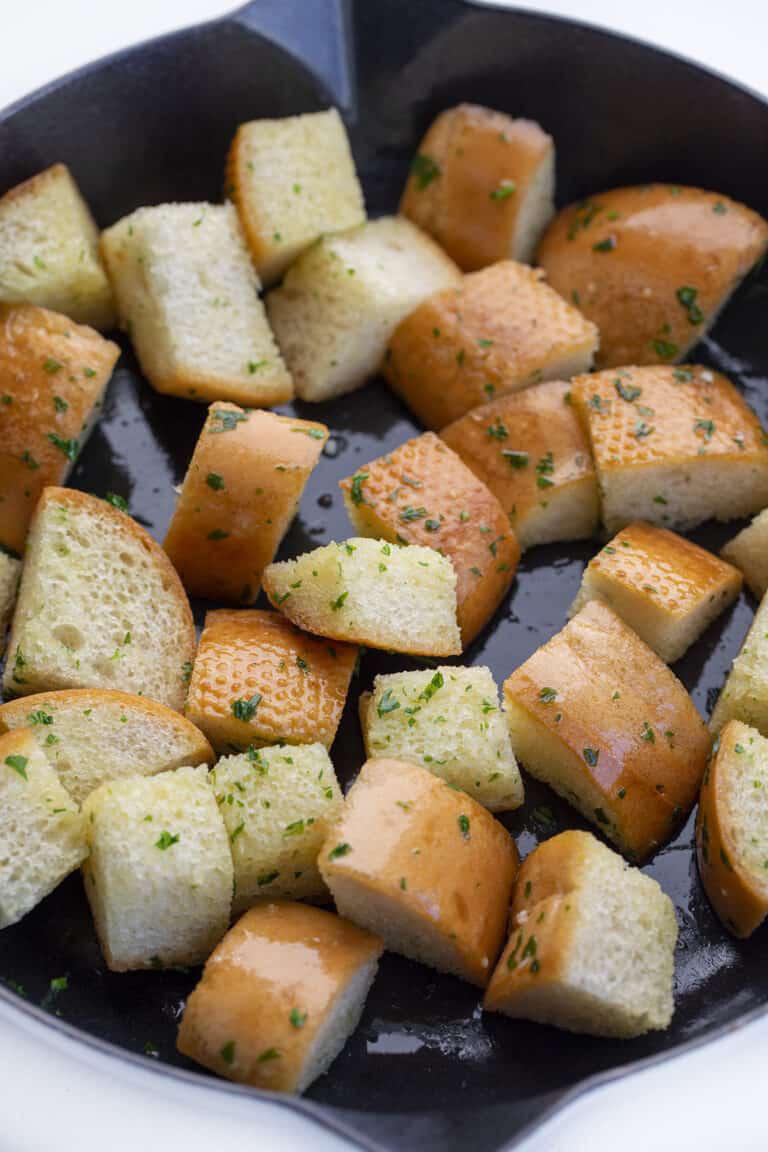 Variations for Croutons
There are a few things you can do to make this crouton recipe more unique. A simple change in your choice of bread could impact the flavor. Again, we use French bread, but some additional variations would be to use a loaf of marbled rye bread or hearty whole-grain bread.
You can also make changes to the flavor by adding different seasonings, like rosemary, oregano, thyme, or even some parmesan. Maybe you want to try them all! Feel free to play around with this recipe until you get the flavor you love.
How to Make Croutons in an Air Fryer
To make homemade croutons in an air fryer, follow the stovetop instructions to coat the cubes of bread.
Then, instead of baking the croutons in the oven, set your air fryer to 350°F. Spray the basket of the air fryer with nonstick cooking spray and place the bread cubes in a single layer in the basket. Again, you may have to work in batches.
Cook the croutons for 12 minutes, flipping them halfway through cooking (after 6 minutes.)
The texture will be exactly what you get with store-bought croutons, in that it is dry and crunchy. The flavor changes slightly in that you are not able to distinguish between a butter-cooked crouton and an oil-cooked crouton, such as with my Sourdough Croutons.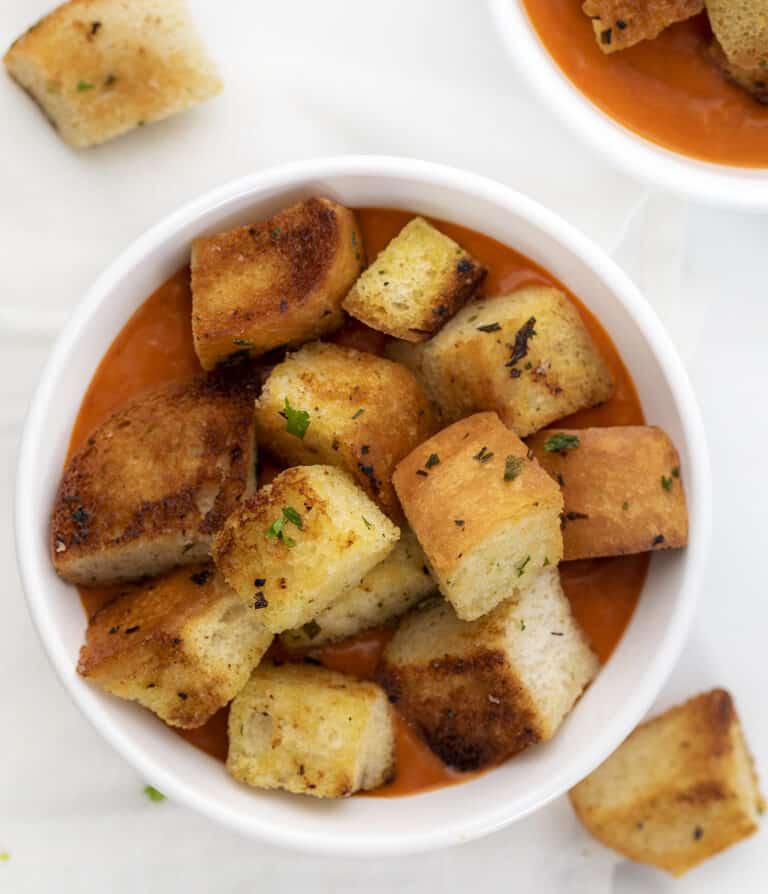 How to Store Homemade Croutons
After the croutons have been baked, be sure to let them cool completely before storing them. You don't want any added moisture in the storage container. Once cooled, store the croutons in an airtight container or jar in a cool, dry place. To soak up any excess moisture, you can add a paper towel to the bottom of the container.
Stored at room temperature, the homemade croutons will last up to 3 days. Storing them in the refrigerator will give you a couple of additional days, up to 5 days. If they lose a little crunch being in the refrigerator, simply put them in the oven for a few minutes to bring back the crispy crunch.
Can I Freeze Homemade Croutons?
Yes! If you freeze homemade croutons, they will last up to 6 weeks. Again, be sure the croutons cool completely before freezing. Store them in a freezer-safe container, making sure to label and date the container. I prefer to portion them before storing them. Another tip when freezing homemade croutons is to freeze them in a single layer on a baking sheet before placing them in the freezer-safe container(s).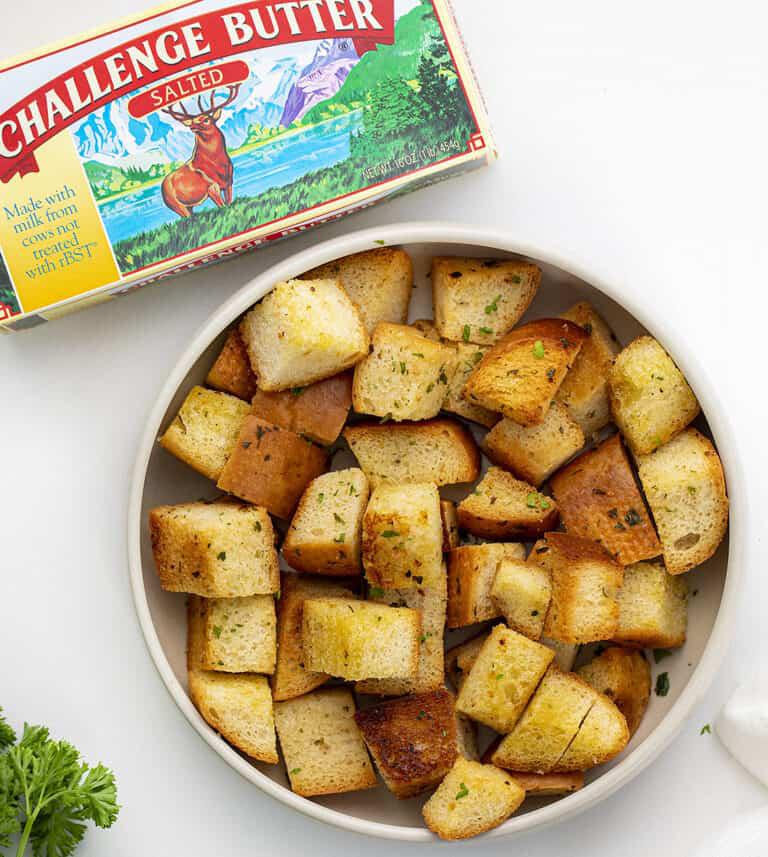 INGREDIENTS
9 slices (cut about 1-inch thick) French Bread, cut into cubes
12 tablespoons salted butter
1 clove garlic, minced
1 tablespoon fresh parsley
INSTRUCTIONS
Preheat oven to 350°F.
In a large OVEN SAFE skillet, melt the butter over medium heat.
Stir in garlic and cook for about 1 minute, or until fragrant.
Stir in parsley.
Add the bread cubes and toss to coat. Place the skillet directly into the oven. (Depending on the size of your skillet you may need to work in batches.)
Bake for 15 minutes, or until crispy and lightly browned. (I removed the second batch at 9 minutes, so be sure to keep an eye on these so they don't burn! Every oven will vary.) You are looking for a toasted on the edges golden brown appearance.