This traditional Wedge Salad is a light, refreshing salad that is a great lunch or beautiful appetizer to serve before the main course. It is topped with my homemade croutons, and it would pair well with my Marinated Steak Bites.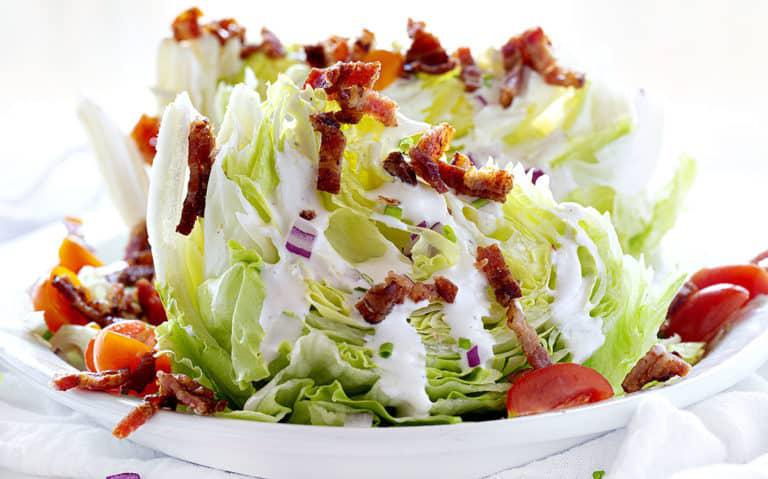 Wedge Salad Recipe
I mostly stuck with the traditional Wedge Salad for this recipe, which includes blue cheese crumbles and bacon. Whatever you add on to your salad, keep the pieces small so they won't fall off the wedge. I love how the dressing slowly cascades into the spaces in the lettuce wedge! Here are the ingredients you will need to have on hand.
Ingredients
Head of iceberg lettuce: Choose your Iceberg lettuce, which used to be called Crisp Head, carefully. The leaves should not too dark or light of a green color–right in the middle. Also, it should be on the heavier side.
Thick-cut bacon: You can cook the bacon a few days in advance. Just lay them flat on a baking sheet and pop them in the oven (cooking times vary but I like to cook mine at 415° F for 18-20 minutes). Once they are cooked through, set them on paper towels to drain. You can chop them when you are ready to add them to your Wedge Salad. I actually like the bacon added cold.
Blue cheese crumbles
Cherry tomatoes: I used tomatoes fresh from our garden. In fact, I enjoyed a few on my way back into the house!
Red onion: I prefer a red onion for salads since they are a bit sweeter. They are still on the stronger side, so you could always go with scallions to get a bit of the onion flavor.
Chives
Croutons: I admit, I LOVE the big croutons that are served at salad bars in supper clubs. I love them so much I decided to make my own! Here is my homemade crouton recipe that is a lot easier to make than you might think!
Blue cheese OR Ranch dressing: Being in the midwest, we are known to put ranch dressing on everything, including this wedge salad. In fact, I even make my own Ranch Dressing. Traditionally, blue cheese is the chosen dressing for a wedge salad, but it is all about your preference!
Freshly cracked black pepper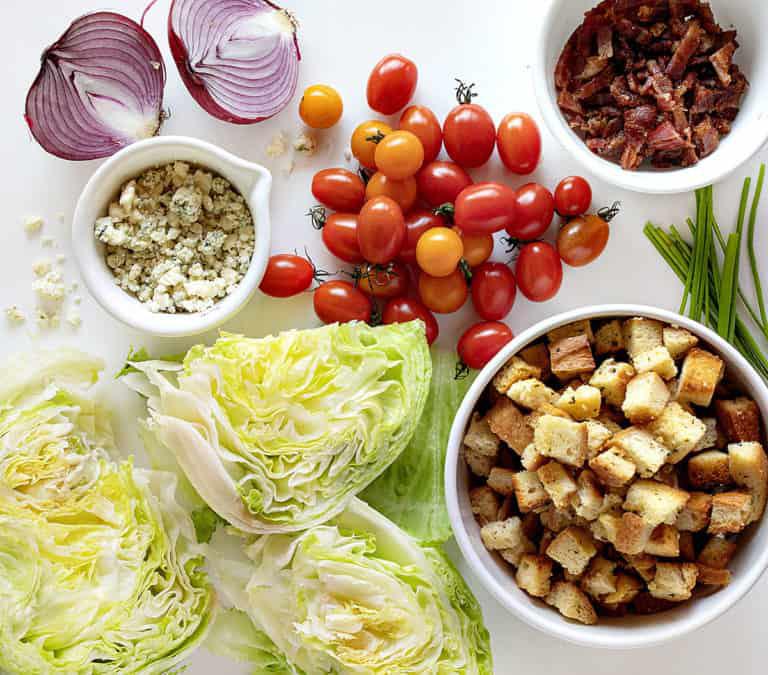 How to Make a Wedge Salad
The first thing you have to do is cut your head of lettuce into four pieces, or wedges. Make sure you remove the stem and any wilted leaves before you cut it. Top the wedges with the blue cheese crumbles, bacon, tomato, and red onion. Make sure the pieces are small enough so they don't slide down the wedge of lettuce! Then, top the wedge with chives, homemade croutons, ranch or blue cheese dressing, and black pepper.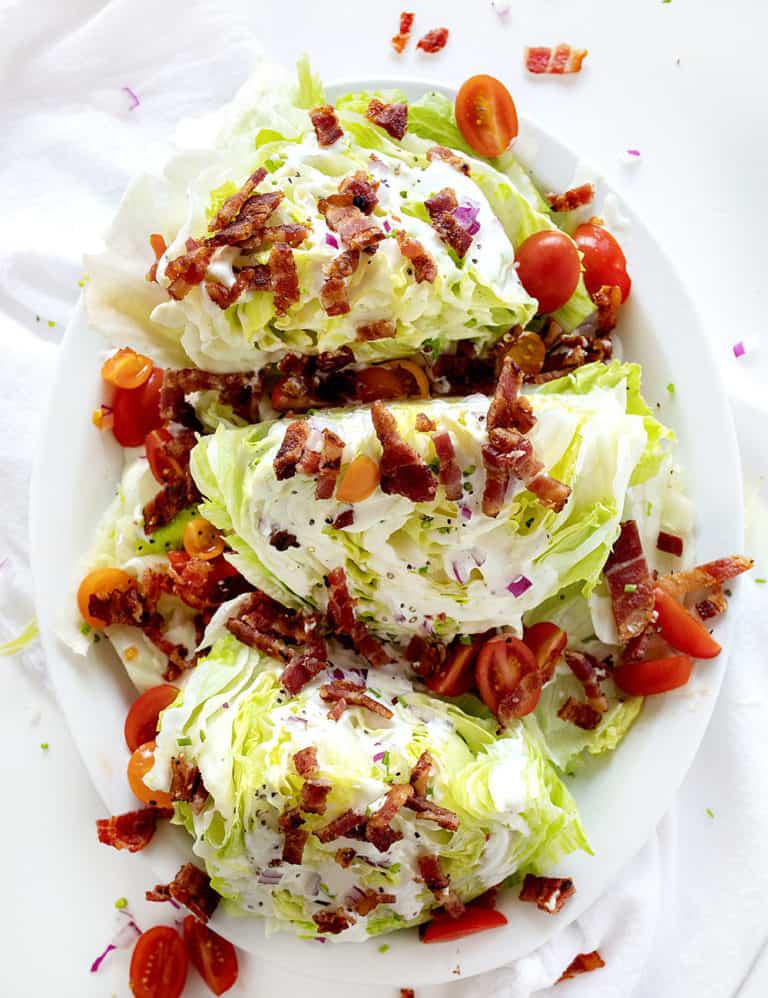 How to Eat a Wedge Salad
Like I stated earlier, I love a wedge salad, but I definitely have not polished the art of eating one without making a mess! Ignoring this delicious salad is not an option for me, so how do I look refined while eating one? I have discovered a few tricks to help me, and possibly you, look like we know exactly what we are doing when eating this refreshing, crispy salad. First, put the tines of the fork in the center of the wedge. Next, use a knife to cut off ONE piece of the lettuce wedge. Then, take it one bite at a time. That part is hard for me, but if you want to keep it a wedge salad, be patient, and don't chop it all apart! I guarantee people will be impressed with your Wedge Salad etiquette. Enjoy!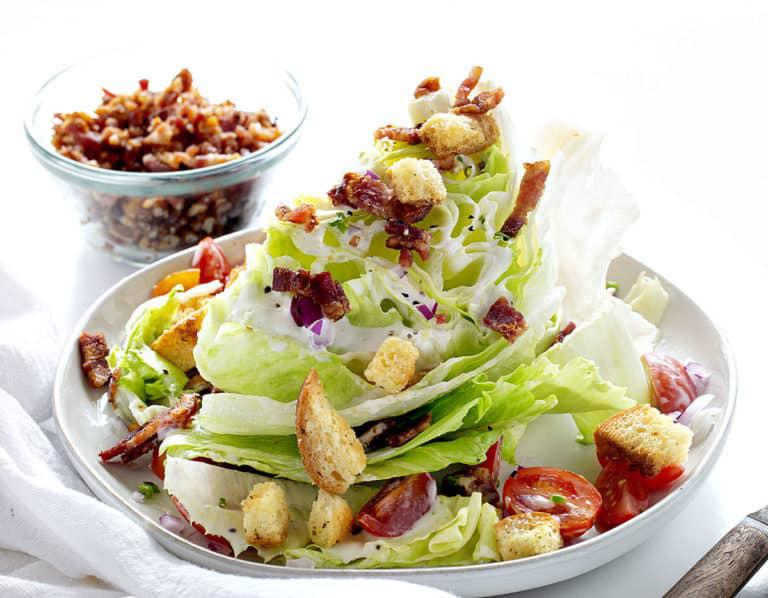 INGREDIENTS
1 head iceberg lettuce
8 slices thick-cut bacon, cooked & crumbled
1/4 cup blue cheese crumbles
1 cup cherry tomatoes, halved
1 cup red onion, diced
Chives, finely diced for garnish
Homemade croutons
1 cup blue cheese dressing
1 cup ranch dressing
1/8 teaspoon fresh cracked pepper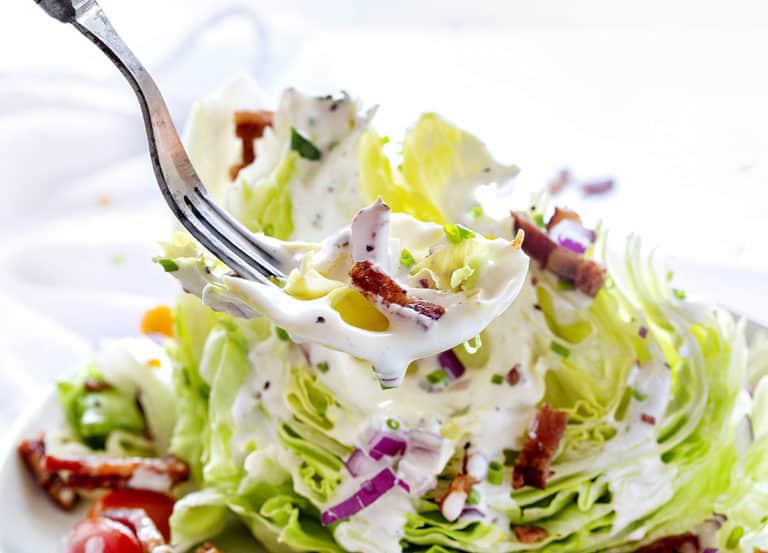 INSTRUCTIONS
Remove stem and any outer wilted leaves from the head of iceberg lettuce.
Chop the head of lettuce in half and then half again, making 4 wedges.
Plate the wedges and top with blue cheese crumbles, bacon, tomato, and red onion.
Top with chives, homemade croutons, and dressing of your choice (blue cheese or ranch), and pepper.
Serve cold and enjoy!