Homemade Ranch Dressing is so much easier than you thought and tastes better than anything you could ever buy at the grocery store.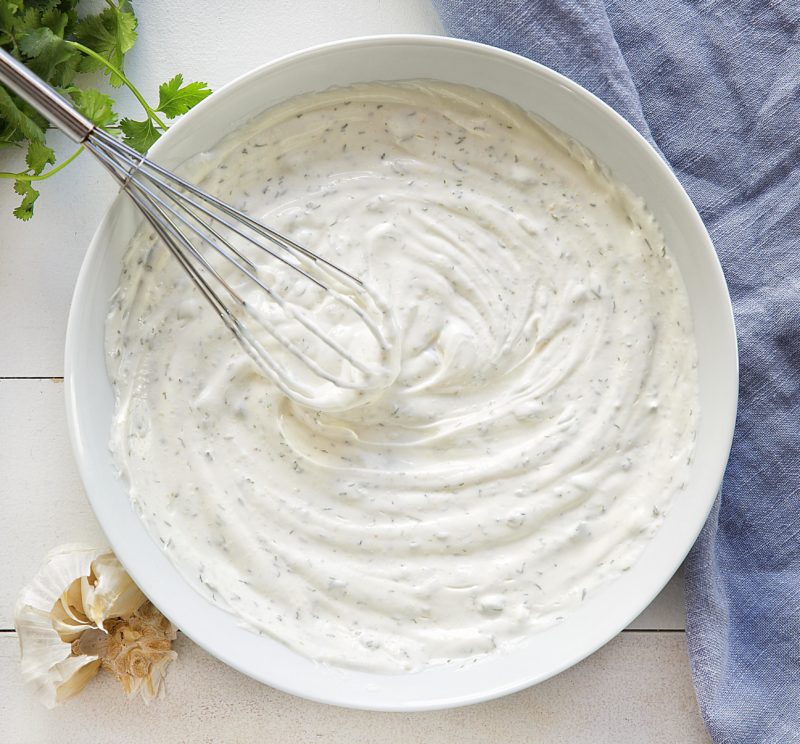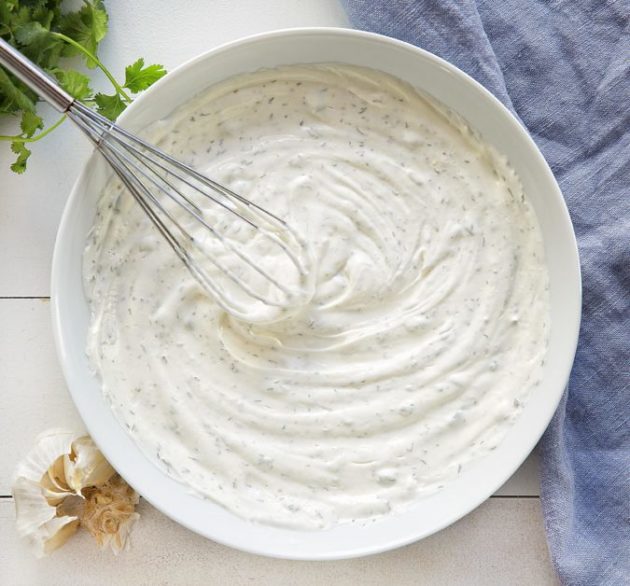 Ranch Dressing
So what makes this ranch dressing recipe so amazing? A few things.
The simplicity and the ingredients. Yes, it is easy to drive to the store, walk the aisles, grab a bottle off of the shelf, go through the checkout line, get back in your car and drive home. Sure, super simple. Guess what? You would already be enjoying your homemade ranch dressing if you would have just made it from scratch. The reality is that you probably already have everything that you need.
Not to mention the taste! The flavor is pure and wonderful.
Ranch Dressing Recipe
Some of the best ranch dressing recipes are pretty versatile too. The reality is that some people like their ranch a little differently. Some like it watery, some like it thick, some like it tangy, some don't. I'll break down a few keys to get the perfect mixture!
Go Full Fat: In our house, we use full-fat dairy products. Primarily because if you spend any amount of time reading the label for a nonfat or low fat or lite version of the same product, you will have a hard time pronouncing all of the ingredients. A simple rule of thumb, if you can't pronounce it, don't eat it. In addition to all of the artificial stuff, you are also getting added sugars. Set aside the nutritional benefits of eating full-fat dairy products, the flavor will be much better too.
Thick or Thin: Depending on what we are using the dressing for, my preference on this changes a bit. For salads, I like the dressing a little thinner, if I am going for a dipping sauce, a like it a little thicker. This homemade ranch dressing recipe is pretty thick. So, to thin it out, you can simply add a little bit of water, whole milk, or canola oil to the mixture. Keep in mind though that anything you add to the dressing will alter the flavor a bit. Add sparingly, and if necessary, keep a few extra spices on hand to adjust the flavor if you need to.
Tang: If you like your ranch dressing a bit more on the tangy side, you can add a squeeze of lemon juice or white vinegar (about 1 tsp) to the recipe.
Greek Yogurt versus Sour Cream: Both Greek Yogurt and Sour Cream provide a creamy, tangy flavor in homemade ranch dressing, but sour cream is higher in fat and calories while Greek yogurt provides more protein. If you like the flavor of Greek yogurt, you could pump up the protein in your dressing by swapping out the sour cream and adding greek yogurt in its place.
Buttermilk Ranch: Some people prefer the buttery flavor from a buttermilk ranch dressing over a regular ranch dressing. If I am talking about it, you only have to make one modification to this recipe. Simply reduce the mayonnaise to 1/2 a cup and add in a 1/2 a cup of buttermilk.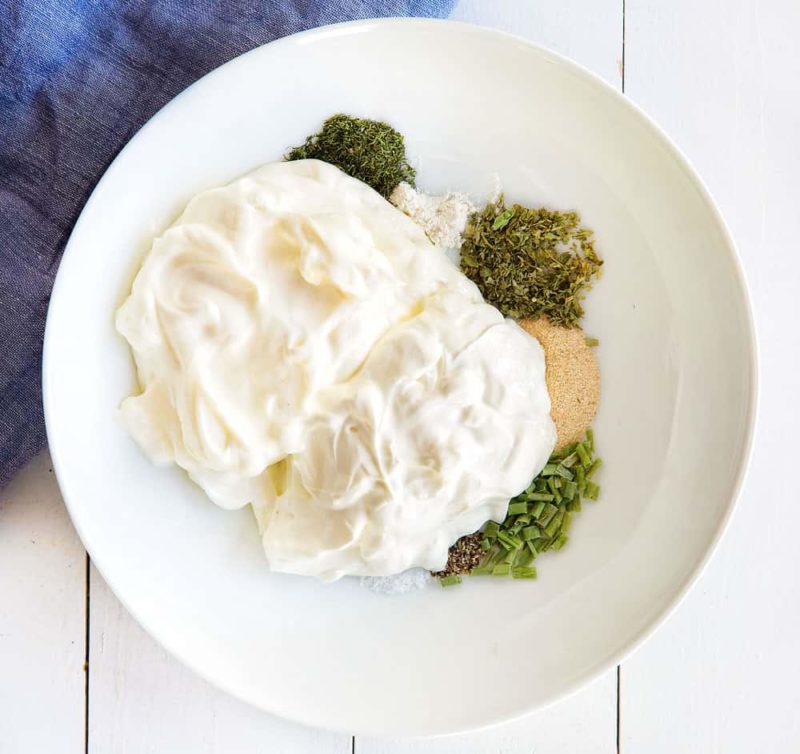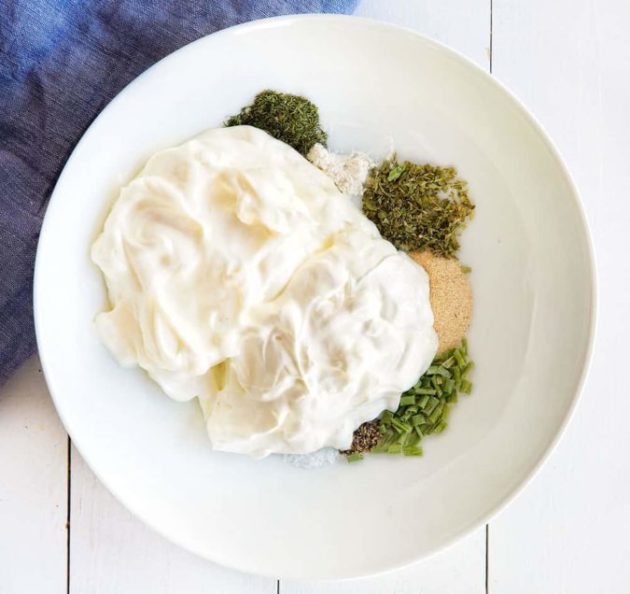 How to Make Ranch Dressing
To make Ranch dressing, start with a medium-sized bowl and add in all of your ingredients. Whisk them all together and cover the dish. Chill in the refrigerator for a minimum of 30 minutes before serving. The chill time allows all of the flavors to marinate together. Once chilled store in an airtight storage bottle. We like to use the squeeze bottles with a lid.
How Long will Homemade Ranch Dressing Last?
Since this recipe calls for only dried herbs and spices, and mayo and sour cream, you should be able to store this in your refrigerator for up to 2 weeks. I typically look at the expiration date of the sour cream (since that would be the first to spoil). Use a permanent marker and make a note on the storage bottle so that you don't run into issues down the road. If you add additional items like yogurt, buttermilk, or fresh lemon this may change a bit.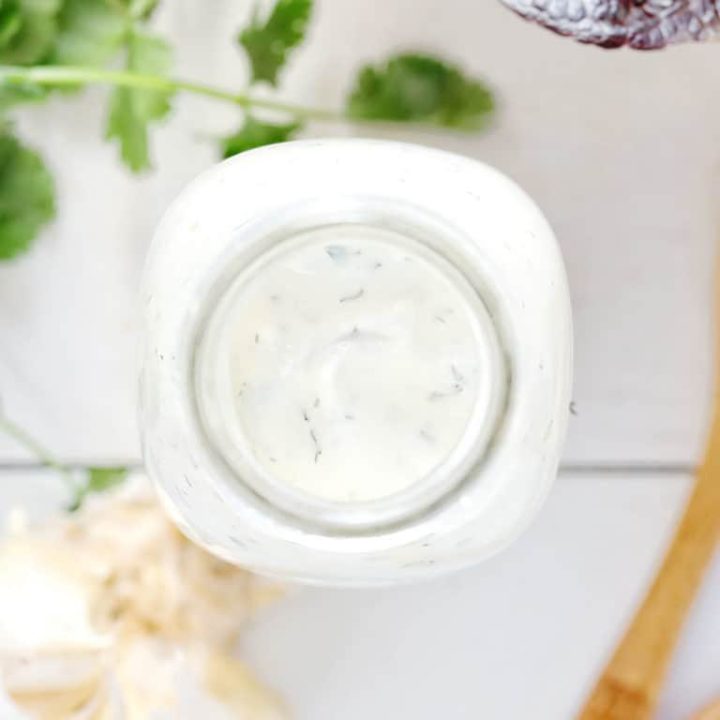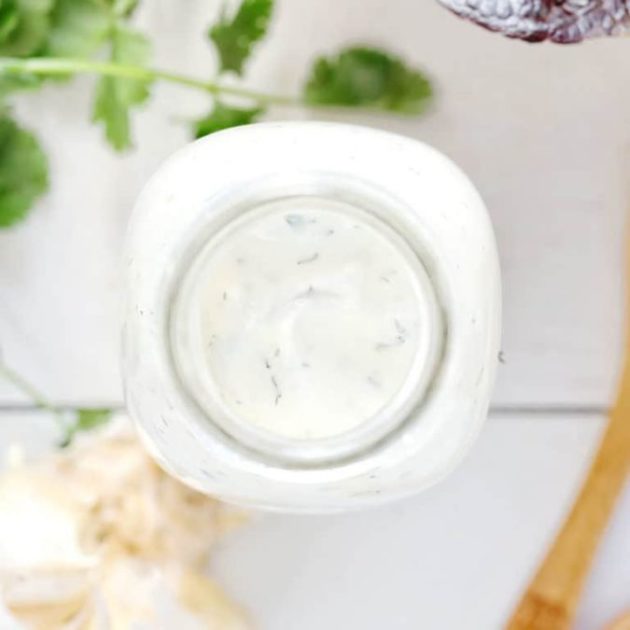 INGREDIENTS
1 cup mayonnaise
1/2 cup sour cream
1/2 teaspoon dried chives
1/2 teaspoon dried parsley
1/2 teaspoon dried dill weed
1/4 teaspoon garlic powder
1/4 teaspoon onion powder
1/8 teaspoon salt
1/8 teaspoon ground black pepper
OPTIONAL: Add milk to make it thinner and easily pourable. About 1 tablespoon at a time.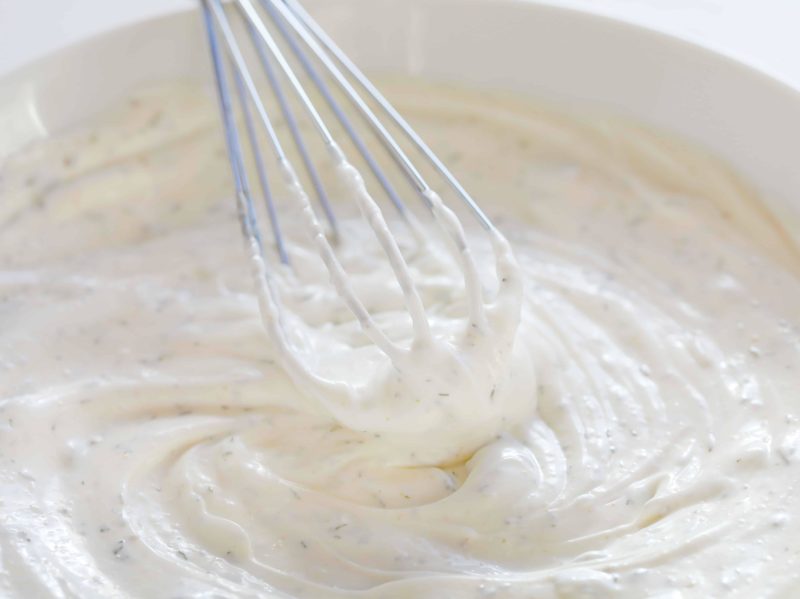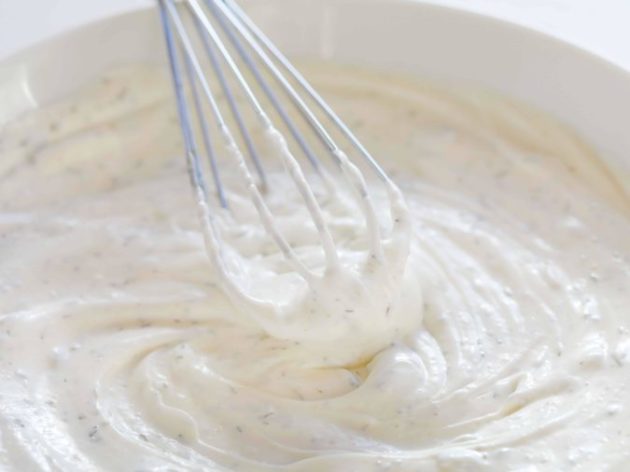 INSTRUCTIONS
In a large bowl, whisk together the mayonnaise, sour cream, chives, parsley, dill, garlic powder, onion powder, salt and pepper.
Cover and refrigerate for 30 minutes before serving.