When you have a craving for brownies but don't want to turn on the oven, this is a great option! This Brownie Puppy Chow is another alternative to the traditional Puppy Chow (aka Muddy Buddies) recipe. You can never have too many varieties of the classic and addicting treat! {Human Food}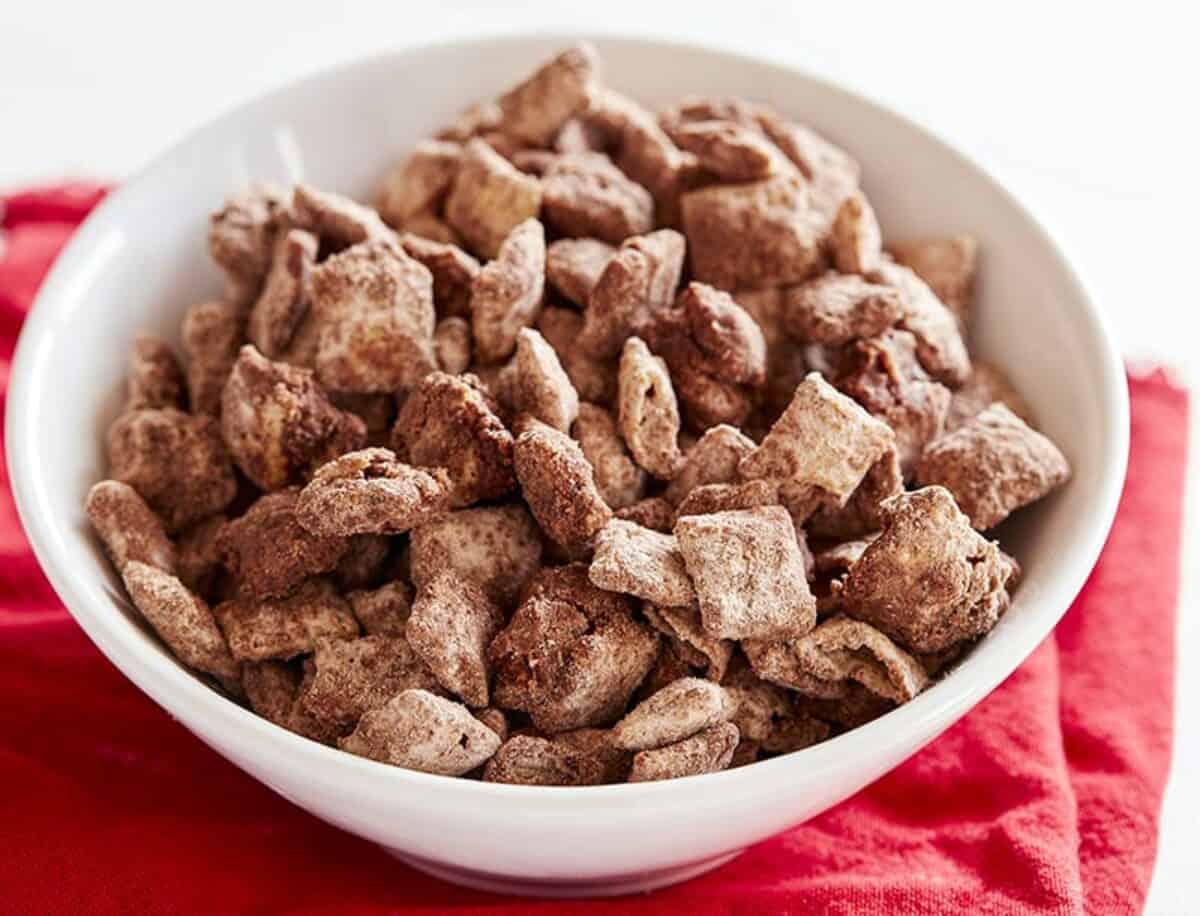 Brownie Puppy Chow
Puppy chow, also known as muddy buddies, monkey munch, muddy munch, and reindeer chow has been around for a long time, and it is a favorite and fun treat to eat and make! Just like puppy chow has many names, it now has many versions of flavors! Trust me, I have made many of them, and they are still fun to try! Brownie Puppy Chow proves that brownies don't have to come out of a pan anymore. This is a no-bake version of a brownie treat, but if you are still craving the classic pan of brownies, try my Best Brownies recipe.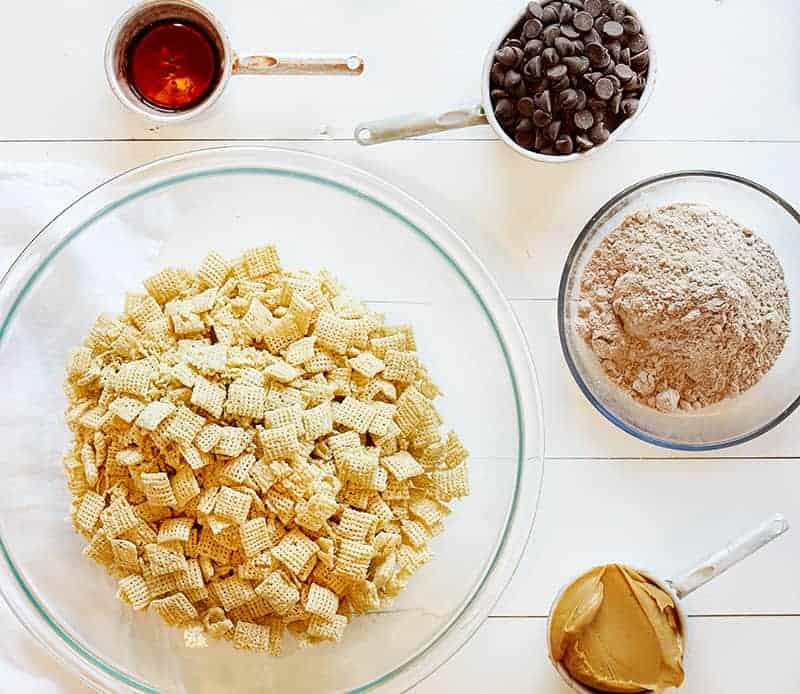 Brownie Puppy Chow Recipe
I feel like I keep repeating myself in the puppy chow posts, but like all the puppy chow treats, this one is so simple to make! It takes just five ingredients, and it is the perfect way to get your kids helping. They love to put the mixure together and shake it up. The only hard part is waiting for the Brownie Puppy Chow to cool so it's ready to eat!
Ingredients:
Rice Chex Cereal: I use Rice Chex, but any waffle shaped cereal will do. This is just the vessel that holds all of the chocolatey goodness together.
Semi-sweet chocolate chips: Semi-Sweet was the chocolate of choice for this recipe. You could use milk chocolate too, but that might be too sweet and not have much depth of flavor.
Peanut butter: The great debate, creamy versus chunky. When it comes to puppy chow, creamy peanut butter is the only way to go.
Vanilla: The vanilla really rounds out the flavor, giving it a smooth and creamy taste.
Brownie mix: You may notice that there is no confectioner's sugar in this recipe; the brownie mix will be the final touch on these.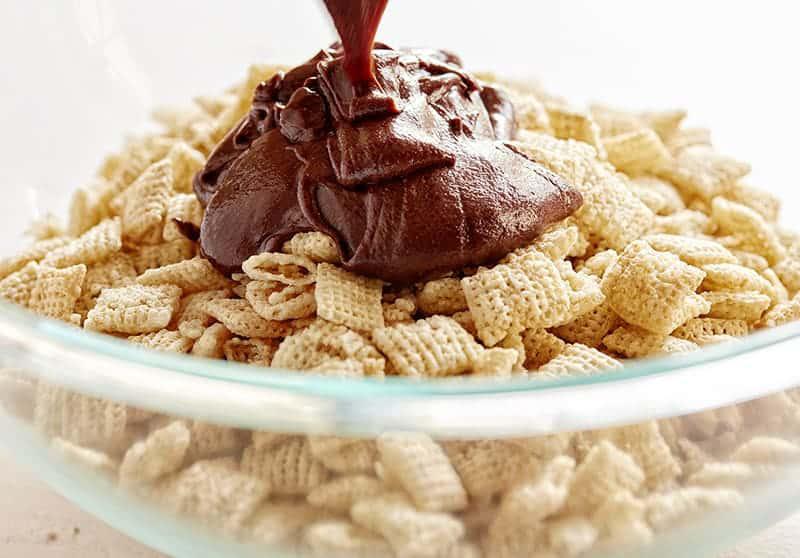 How to Make Brownie Puppy Chow
Place the chocolate chips and peanut butter in a medium-sized microwave-safe bowl. Microwave on high in 30-second intervals and stir after each session. (It's usually fully melted in about a minute and a half.)
Continue until the mixture is smooth when stirred. (This is where I pause to get a shot for Instagram, who doesn't love creamy chocolate pictures?!?) Then mix in the vanilla extract.
Pour the cereal into a large mixing bowl. (Bigger than you think you need, this gets messy.) Add the chocolate mixture and gently stir until cereal is evenly coated. Don't miss all the crumbly bits at the bottom! Now, pour the coated cereal into a large Ziploc bag and add the dry brownie mix. Remember, the brownie mix is replacing the confectioner's sugar that you have used in most other puppy chow recipes. You may need to work in batches. Seal the bag and shake until the cereal is well coated. Let the kids help with this part! (just make sure the bag is closed!)
Spread on parchment paper or waxed paper. Let sit until cool and chocolate is set. You can store the puppy chow in an airtight container on the counter or in the refrigerator for up to 2 weeks, but I doubt it will last that long!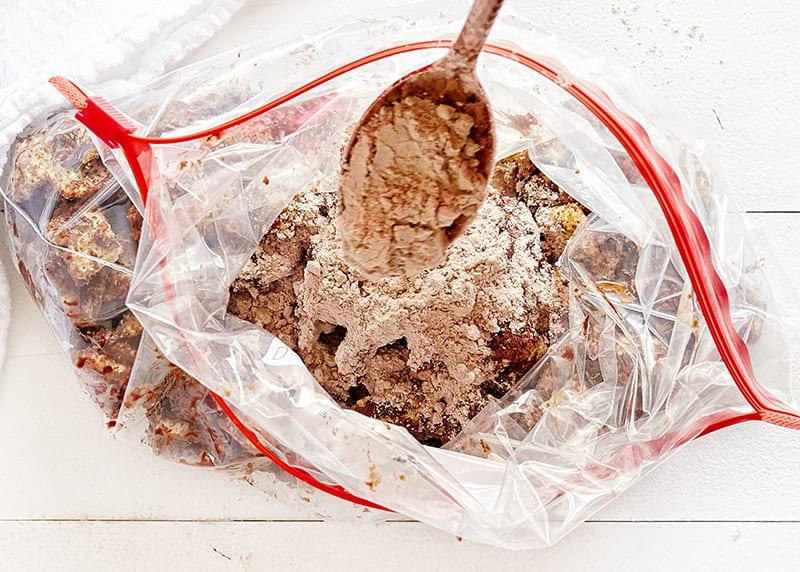 Over the years there have been a few brave souls who have decided to mess with a good thing. It is a good thing they did because we are the lucky recipients of these amazing spins on traditional puppy chow!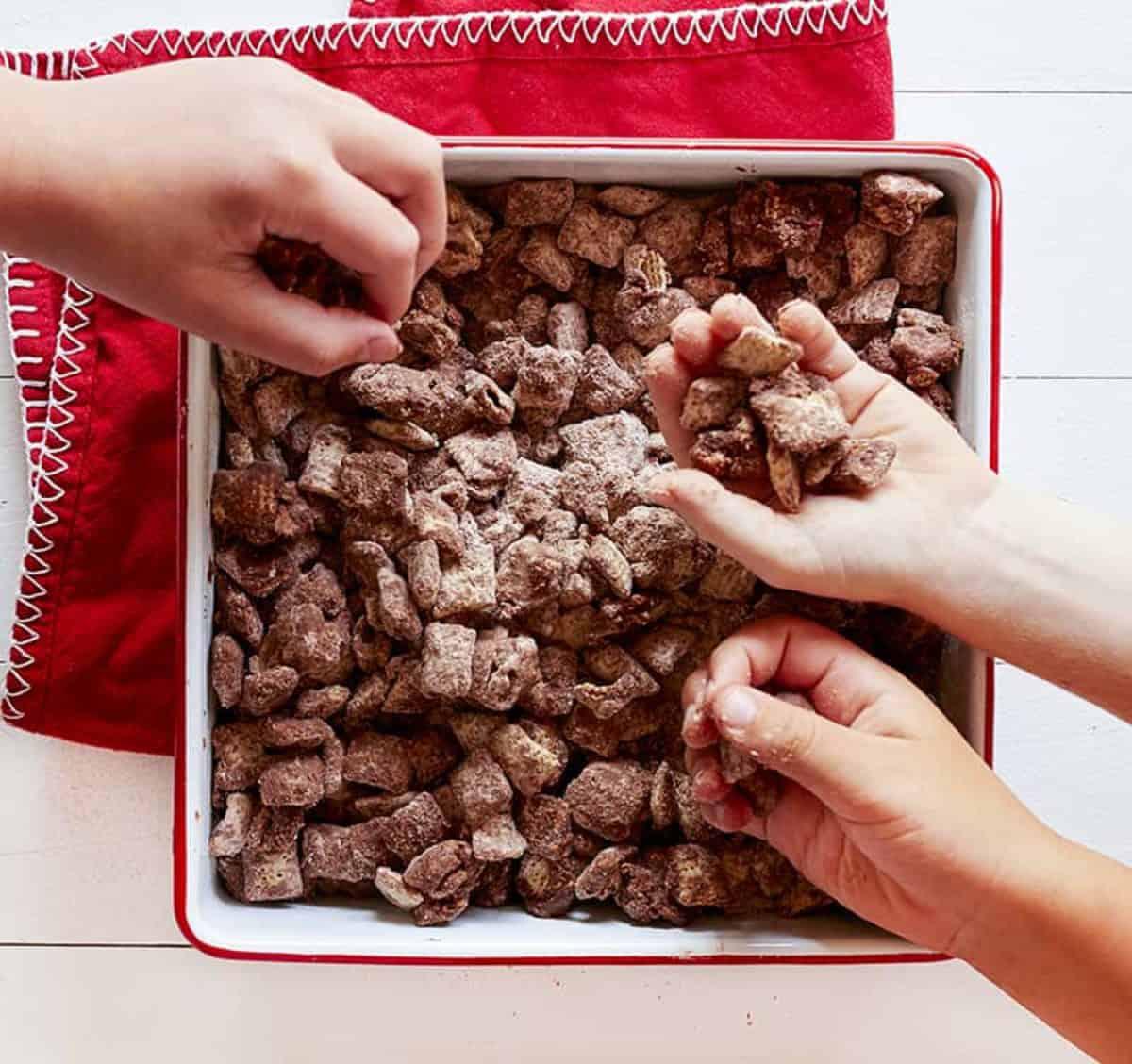 Ingredients
1 cup (168g) semi-sweet chocolate chips
1/2 cup (129g) creamy peanut butter
1 teaspoon vanilla
6 cups (282g) Rice Chex cereal
2 cups dry brownie mix
Instructions
Melt chocolate chips and peanut butter in the microwave in a small bowl. Melt in 30-second increments, stirring between.
After melted, stir in the vanilla.
Pour the cereal into a large bowl and then pour the chocolate mixture over top. With a spatula, stir well, making sure every piece is coated.
Pour the cereal into a large plastic sealable bag and then sprinkle the dry brownie mix over top. Close bag and shake until well coated.
Place mixture on a sheet pan and allow to set.