When you're bored with regular pizza, you can diversify your menu with a very tasty and simple alternative – a flavorful Italian Calzone pizza.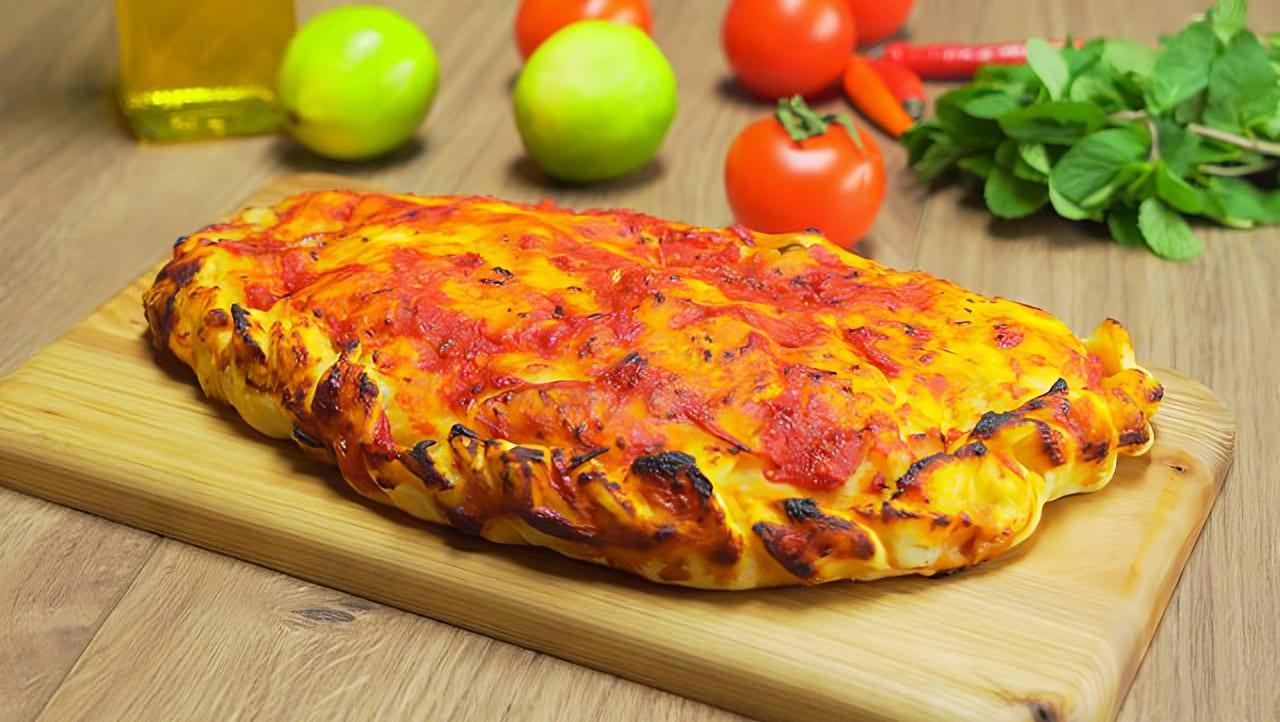 INGREDIENTS
ham – 130 gr.
Smoked chicken breast – 130 g.
Fresh tomatoes (small size or cherry tomatoes) – 3 pcs.
onion – 1 pc
garlic – 2 cloves
mozzarella cheese – 200 g.
Parmesan cheese – 120 g.
chili pepper – 1 pc.
champignons – 4 pcs.
dry Provencal herbs – 1 tsp.
ground black pepper
olive oil – 4 tablespoons
fresh basil – 20 grams
For the sauce:
pureed tomatoes – 200g
tomato paste – 50 g.
Tomatoes in their own juice – 200g
salt and pepper
garlic – 2 cloves
dry Provencal herbs – 1 tsp.
for dough:
wheat flour – 250 g.
sea salt – 1/2 tsp.
dry yeast – 1 sachet (3,5 gr.)
warm water – 160 ml.
Instructions
Prepare the dough: Put dry yeast in warm water and mix well.
Sift the flour and add salt, mix.
Add the yeast and water and knead the dough for 8-10 minutes.
Divide the dough into 2 equal pieces, form balls.
Sprinkle a thin layer of semolina on the mould and place the balls a little apart from each other. Sprinkle the balls with flour. Moisten a clean towel and cover the top. Put the dough in a warm place for 2 hours to rise.
Prepare the sauce: peel the tomatoes in their own juice from their peels, grate them. Mix canned tomatoes, tomato paste and pureed tomatoes (sold in the store) until smooth. Add garlic, salt to taste and 1 tsp. Italian herb mixture.
Prepare the filling: fry garlic and hot peppers in oil for 1 minute over medium heat.
Add smoked brisket and fry over low heat for 3-4 minutes so that the fat is melted, but the brisket should remain soft.
Add onions and fry for 2 minutes.
Add tomatoes and fry for 2 minutes.
Add 1 teaspoon of provincial herbs and mushrooms, fry for 3 to 4 minutes.
Add ham and fry for 1 to 2 minutes. Do not fry for long, as everything will still be roasting in the oven.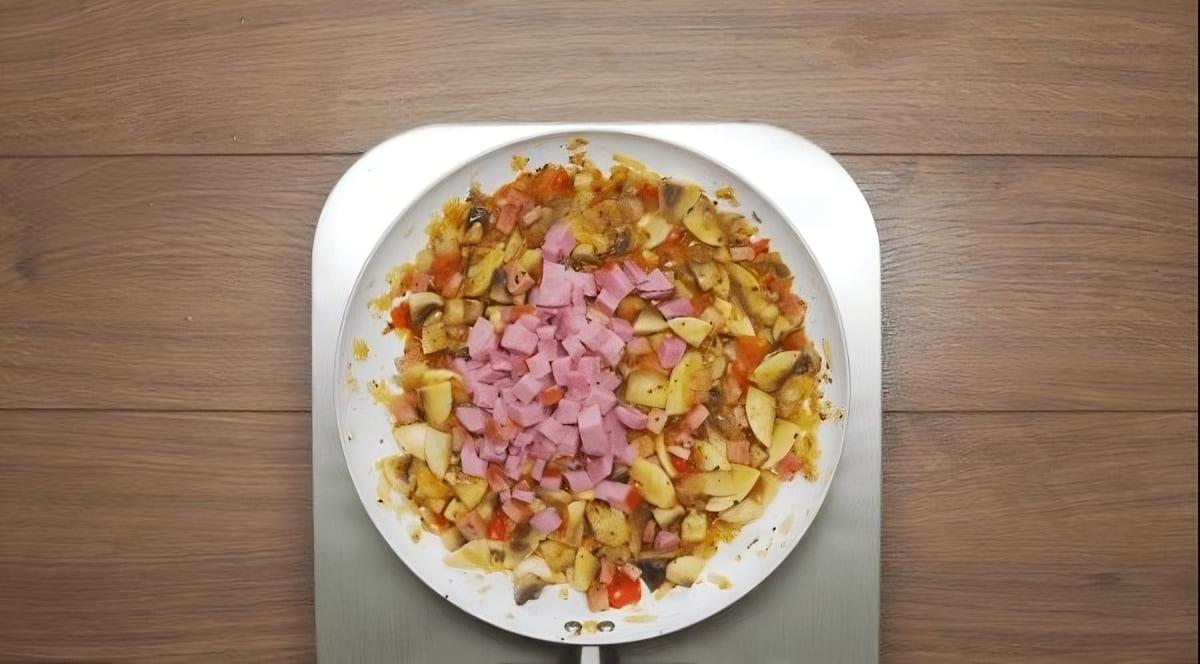 When the dough is ready, take one ball and stretch the dough with your hands so that it forms a circle.
Cover the baking tray with semolina and put the resulting circle.
Pour 1 tbsp of olive oil, then spread a thin layer of tomato sauce, sprinkle with grated Parmesan, put the stuffing, put the basil leaves, mozzarella cheese and sprinkle the Parmesan on top again.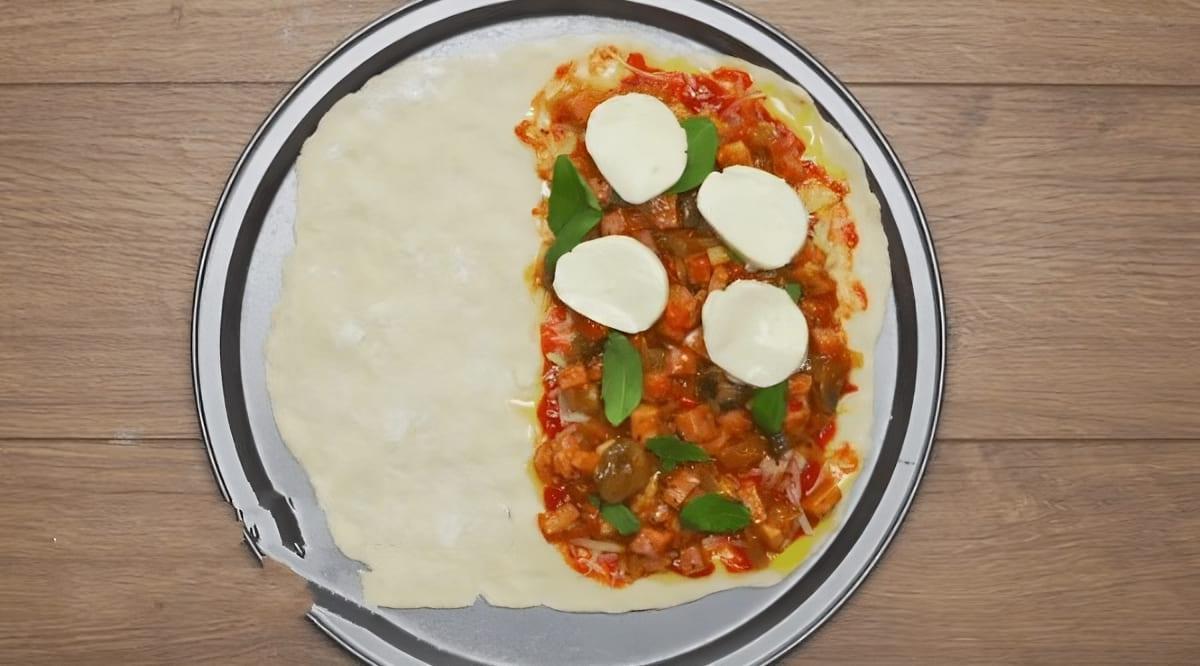 Cover the filling with half of the dough and seal the edges well. Pour 1 tbsp olive oil on top and spread with tomato sauce.
Preheat the oven to 180°C and bake for 15-20 minutes until golden.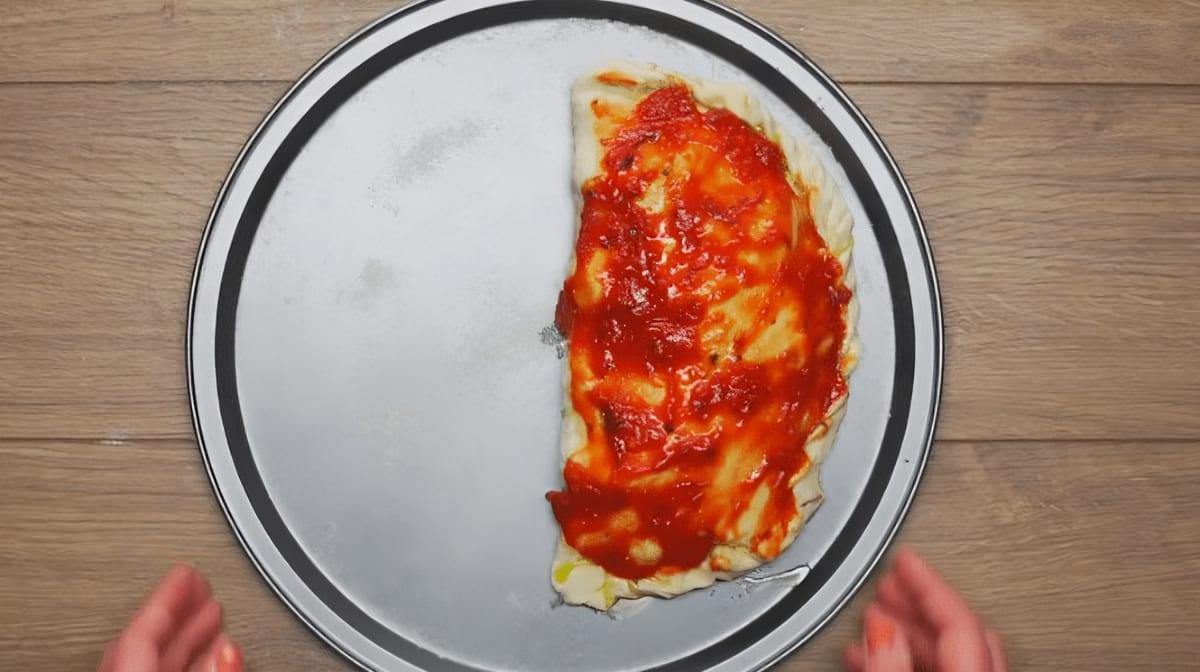 When serving, sprinkle the pizza lightly with olive oil.