If you are looking for a low carb diet, this tilapia recipe is an excellent choice. For that matter, it's a healthy choice no matter what diet you follow. The simple garlic and herb mixture flavors the fish perfectly, and the dish takes just minutes to prepare and bake.
To keep the meal low in carbohydrates, serve the tilapia with mashed cauliflower and this simple broccoli with garlic. Or serve the fish fillets with a rice dish or roasted potatoes and steamed green beans.
This tilapia recipe allows about 4 ounces of cooked fish per person. Double the recipe for larger portions or more dinner guests. A 6-ounce tilapia fillet will yield about 4 to 5 ounces of cooked fish.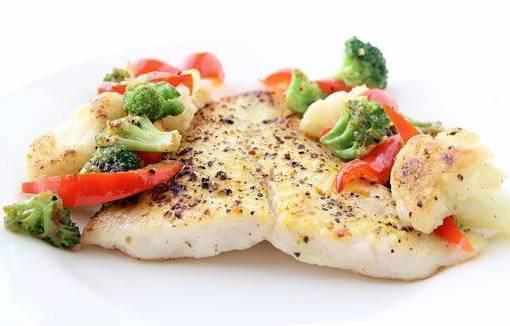 Ingredients
4 (4 ounce) fillets tilapia
2 teaspoons butter
¼ teaspoon Old Bay Seasoning TM, or to taste
½ teaspoon garlic salt, or to taste
1 lemon, sliced
1 (16 ounce) package frozen cauliflower with broccoli and red pepper
Instructions
Preheat the oven to 375 degrees F (190 degrees F). Grease a 9×13 inch baking dish.
Place the tilapia fillets in the bottom of the baking dish and dot with butter. Season with Old Bay seasoning and garlic salt. Top each one with a slice or two of lemon. Arrange the frozen mixed vegetables around the fish, and season lightly with salt and pepper.
Cover the dish and bake for 25 to 30 minutes in the preheated oven, until vegetables are tender and fish flakes easily with a fork.