BBQ Chicken Sliders are the perfect addition to any dinner table. They are small enough to be an appetizer, large enough for a small meal, and delicious any time of year. Roasted Sweet Hawaiian Buns pair perfectly with the savory BBQ chicken mixture and the oh so creamy, melted Havarti Cheese.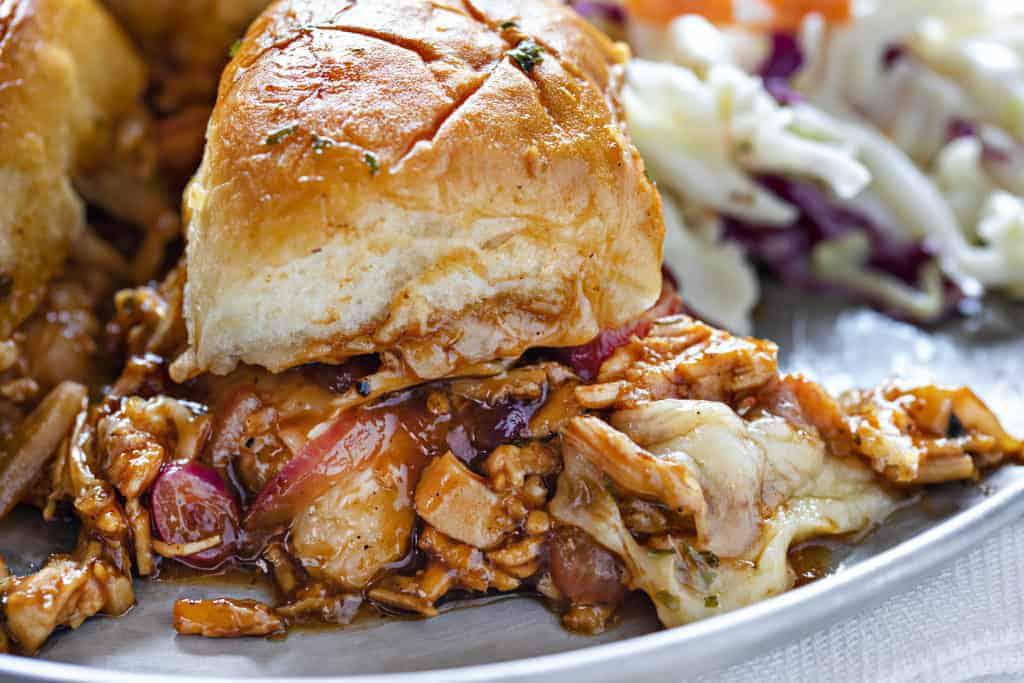 BBQ Chicken Sliders
The discovery of Kings Hawaiian Rolls has had me making sliders like a crazy person. I even have my own recipe for Hawaiian rolls if you want to give them a shot! It all started with my Ham Egg and Cheese Breakfast Sandwiches. The first bite had me imagining all of the pairing opportunities I might come up with. The sweet rolls match perfectly with any savory flavor, so BBQ Sauce was a perfect choice.
Add in the creamy sweet Havarti Cheeses and these little sliders are flying off the table. We are a big fan of BBQ around here and usually try to grill with it as much as we can during the short summer in Minnesota.
BBQ Chicken Sliders Recipe
Served alone, with a bag of potato chips, or a with a side of fresh coleslaw, these sliders are a sure-fire crowd pleaser. The entire dish is put together in just minutes and can serve up to 12 people in one setting. That is assuming that everyone just has one. Depending on how you plan to serve these, you could double the recipe to make sure you have enough. I promise they won't last long!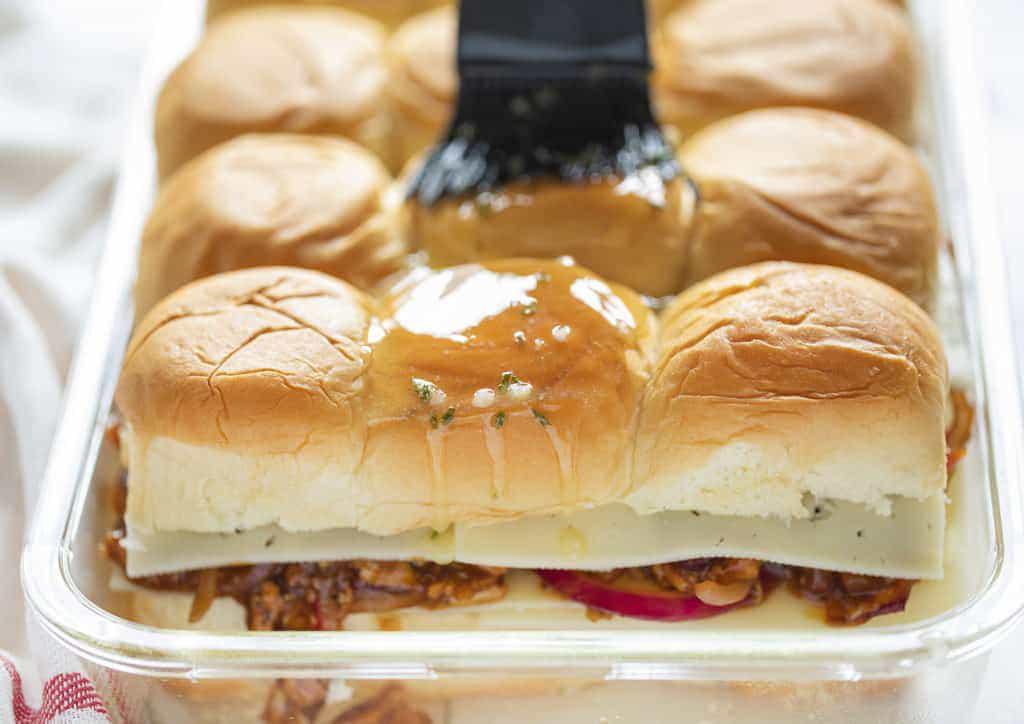 How to Make BBQ Chicken Sliders
I love a good savory meal that doesn't take much to pull together. This is one of those meals. With a few tips, you'll be enjoying these at your own dinner table!!
Garlic Butter
The garlic butter is one of those tiny little touches that take this meal over the edge. Simply add butter, garlic, and parsley to a small bowl and pop it in the microwave for about 30 seconds (until the butter melts). You can add different spices and make it your own at this stage. Set it aside and let it cool just a bit.
Mix the Chicken
The shredded chicken gets mixed first with the paprika, Worcestershire sauce, and BBQ sauce of your choice. Mix that all up and set it aside for now.
Soften the Onions
Red onions are sliced as thin as you can get them and cooked briefly in oil (to soften). After a bit of trial and error, we found that like liked the thinner slices better than the thicker sliced onions. If you choose to do thicker slices of onion, make sure to adjust the cooking time. You may also need to add some additional oil to the pan. Keep an eye on them and stir them around occasionally so they don't stick to the pan.
Combine the Mixture
Add the chicken mixture to the pan and cook for another 2-3 minutes, just until everything is cooked through.
Stack the Sliders
With the bottom half of the buns in the greased pan, layer cheese, BBQ Chicken mixture, more cheese, and then the top buns. Cover the top of the buns with the garlic butter. cover with foil and bake for 10 minutes. Remove foil, and bake an additional 5 minutes or until the cheese is melted and the tops of the buns are a golden brown. These need to rest for a few minutes before serving. They are piping hot, so give them a minute. It will be hard, but I believe in you.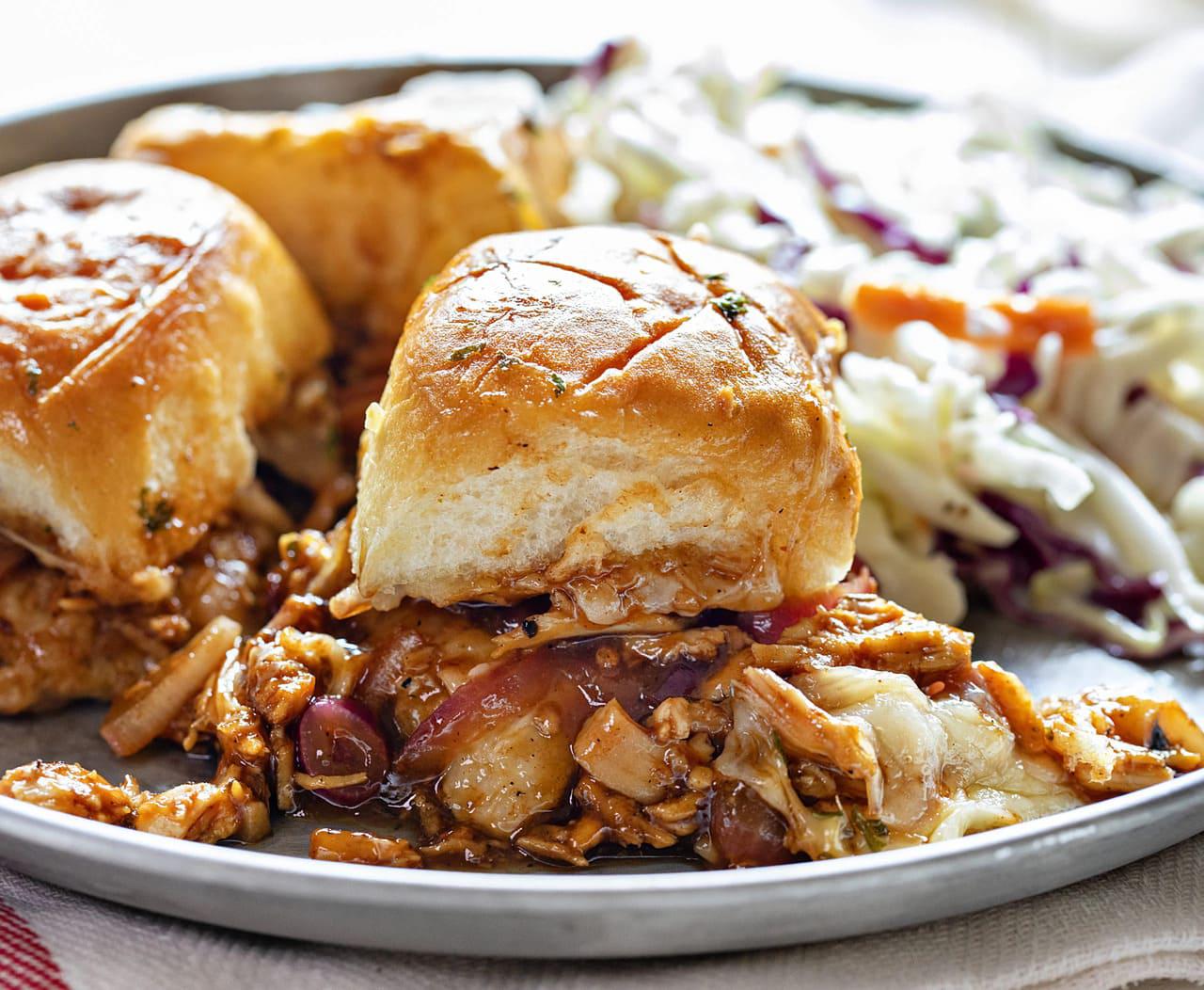 Ingredients
Garlic Butter
1/4 cup butter
2 cloves garlic, minced
2 teaspoons dried parsley,
Chicken Sliders
2 tablespoons olive oil
1 small red onion, thinly sliced
2 cloves garlic, minced
3 cups shredded chicken
1/2 teaspoon paprika
1 teaspoon Worcestershire sauce
1 cup BBQ sauce, any flavor
1 package Hawaiian rolls (12 count)
12 slices Havarti Cheese
Instructions
Preheat oven to 350° Coat a 9×13 inch baking dish with cooking spray.
Garlic Butter
Add butter, garlic and parsley in medium bowl. Microwave until melted (30-40 seconds). Set aside.
Chicken Sliders
In a medium bowl, combine the shredded chicken, paprika, Worcestershire sauce, and bbq sauce. Stir to combine and set aside.
Heat olive oil in a large skillet over medium heat. Add sliced onions and cook until soft, about 4-5 minutes (the thinner the slice, the less cooking time they need). Add garlic and cook 1 minute (garlic should be fragrant but not burnt). Add chicken mixture and cook until everything is heated through, about 2-3 minutes.
Cut the slider buns in half. Place the bottom half of the buns in a prepared baking dish. Layer half of the cheese on the bottom buns. Top with bbq chicken mixture, then layer with the remainder of the cheese. Place the top halves of the buns on top of the chicken mixture.
Brush the tops of the buns with the melted butter mixture. Cover with foil and bake 10 minutes, remove foil and cook for an additional 5 minutes or until the buns are golden brown and cheese is melted. Serve warm.