Lumpiang bangus is a version of Lumpiang Shanghai or deep fried egg rolls wherein fish flakes as used as a filling instead of ground pork. The fish needed to be sauteed with onion, celery, carrot, and parsley before wrapping for best results. It makes a good appetizer can can be enjoyed better with dipping sauces such as sweet and sour sauce, banana ketchup, or spicy vinegar (a mixture of white vinegar, crushed garlic, chopped Thai chili, and crushed black pepper).
This recipe makes use of milkfish. It is locally known in the Philippines as bangus, which happens to be the country's national fish. I prefer using boneless milkfish to make the preparation simpler.
Feel free to use any kind of fish available. Galunggong and tulingan will work, as well as fish with white meat such as cream dory or grouper (lapu-lapu). The steps in preparing the filling and frying the fish lumpia is simple and can easily done by beginners. However, wrapping the lumpia might be quite a challenge if you have not done it before.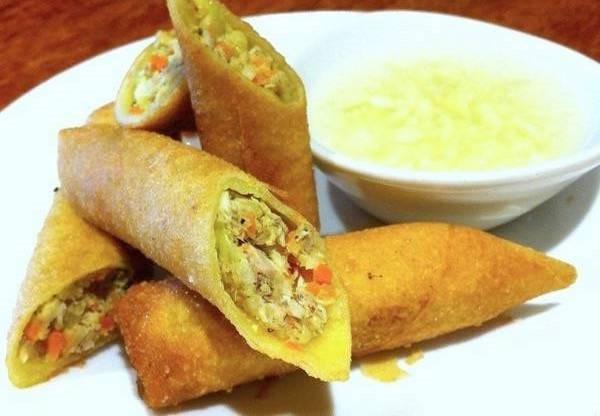 Ingredients
1 and ⅓ cups cooked and flaked bangus (Milk Fish)
½ cup green onions, chopped
2 medium tomatoes, chopped
1 medium onion, chopped
1 and ½ cups sotanghon noodles, cut up and softened in water
Patis
Pepper
lumpia wrappers Sauce:
½ cup sugar
½ cup water
¼ cup vinegar
½ teaspoon salt
1 clove garlic, chopped
1 – 2 pieces siling Labuyo, chopped
¼ cup grated carrots
Instructions
In a saucepan, put bangus and enough water to cover. Simmer till fish is cooked. Remove from pan and cool. Flake fish and pick out bones.
In another pan, heat 2 tablespoons cooking oil. Saute garlic onions and tomatoes. When vegetables are soft, add bangus. Season with patis and pepper.
Drain sotanghon and add to bangus. Cook till noodles are transparent. Add green onions.
Cool the filling and wrap in lumpia wrappers. Fry in hot oil till golden brown.
In a small saucepan, combine sugar and water. Cook over medium heat until syrupy.
Remove from heat and add the remaining ingredients. Makes 8 portion