When it comes to affordability, chicken drumsticks tend to be the go-to cut of poultry for family dinners.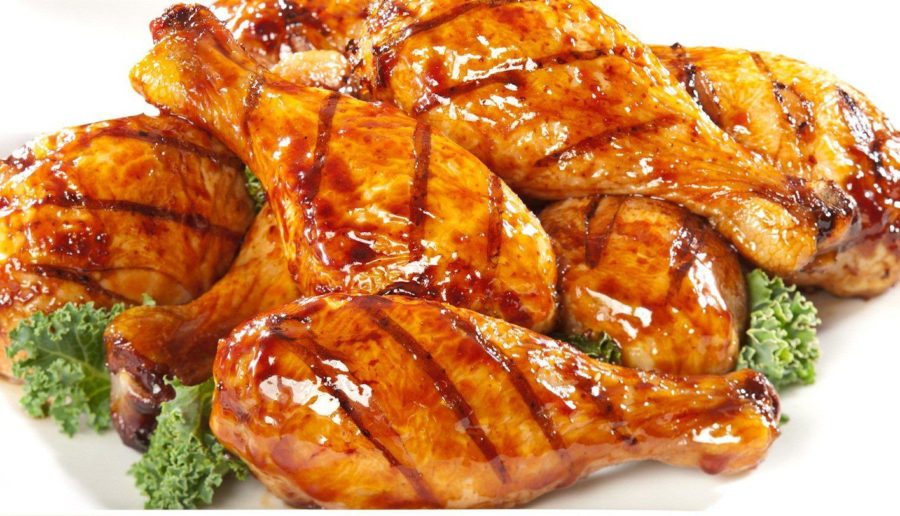 Learn how to elevate the humble drumstick by turning them into incredible mains with these saucy marinades, rubs and star chef concoctions!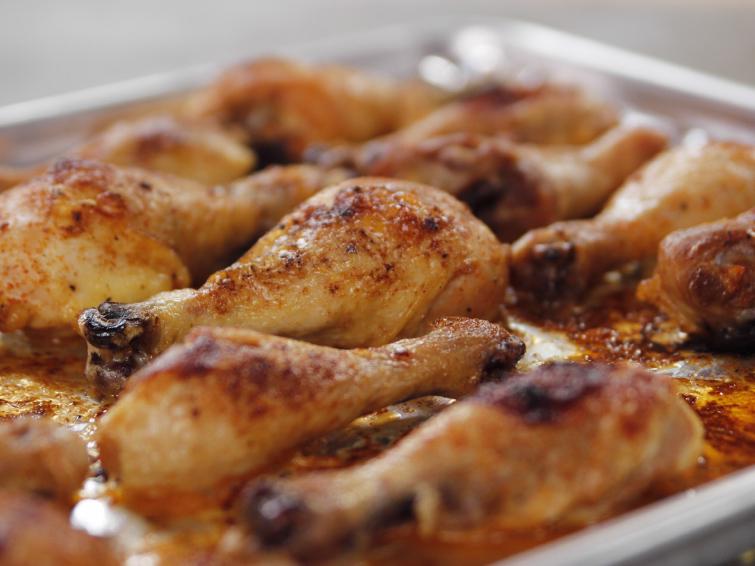 Spicy Roasted Chicken Legs
DIRECTIONS:
1. Preheat the oven to 450ºF. Line baking sheets with foil.
2. Melt the butter in a saucepan. Add the lemon juice, salt, black pepper, cayenne and garlic, and stir. Set aside.
3. Rinse and pat the chicken legs dry. With metal tongs, dip them one by one into the butter mixture and place on the prepared baking sheets.
4. Once all of the chicken legs are coated and on the baking sheet, take a pastry brush and give them one last coating of the butter mixture.
5. Place them into the oven for 30 to 35 minutes, basting a couple of times during roasting. If they need a bit more color, turn on the broiler for a couple minutes and watch them closely.
6. Remove them when they are nice and golden brown and fully cooked.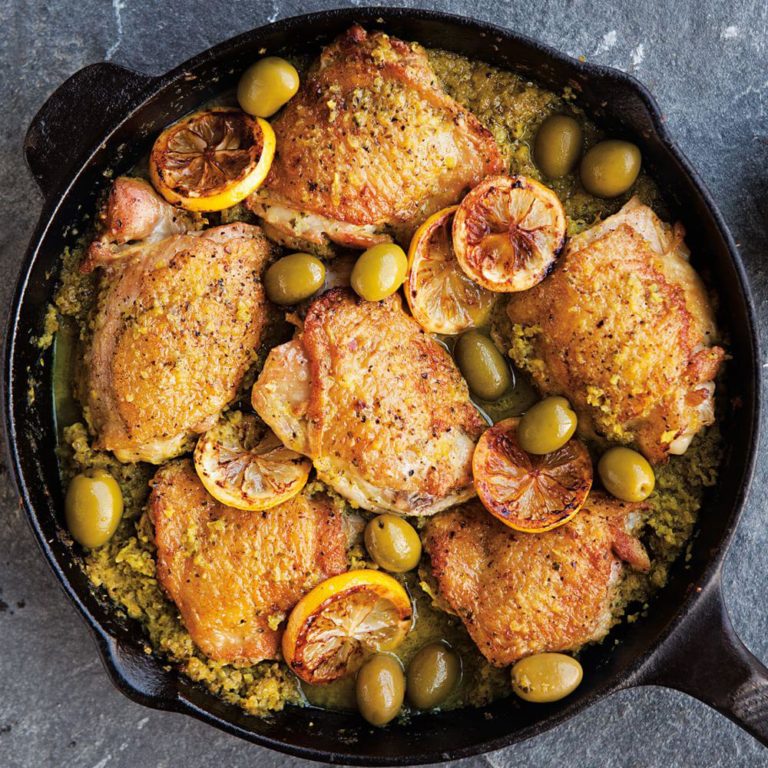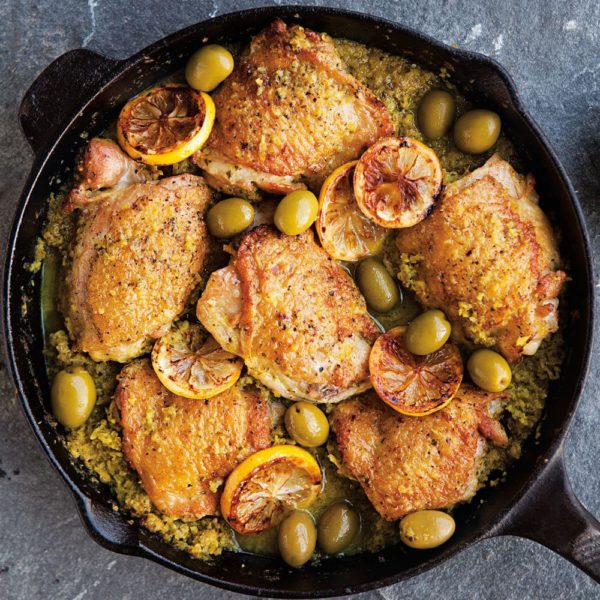 Lemon Chicken with Olives
DIRECTIONS:
1. Sprinkle chicken with salt and pepper. In large cast-iron or ovenproof skillet, heat oil over medium-high heat; brown chicken all over in two batches, about 5 minutes.
2. Arrange and nestle lemon slices, olives, tomato and garlic in and around chicken. Pour in broth; bring to boil. Transfer pan to preheated 375°F (190°C) oven and bake until cooked through, about 40 minutes.
3. Sprinkle with oregano.
4. Tip: No fresh oregano? Replace with chopped with parsley or chives instead.
Quick and Crunchy Potato Chip Chicken Drumsticks
DIRECTIONS:
1. In food processor, blend potato chips until crumbs (or place in resealable plastic bag and use rolling pin to crush). Stir in parsley and paprika; transfer to large bowl.
2. In separate bowl, stir together mayonnaise, mustard, salt, thyme and cayenne pepper; brush all over chicken. Roll in potato chip mixture until coated all over.
3. Line rimmed baking sheet with foil; mist with cooking spray. Place chicken on sheet; bake in preheated 400°F (200°C) oven, turning once, until juices run clear when chicken is pierced and outside is crisp and golden, 35 to 40 minutes.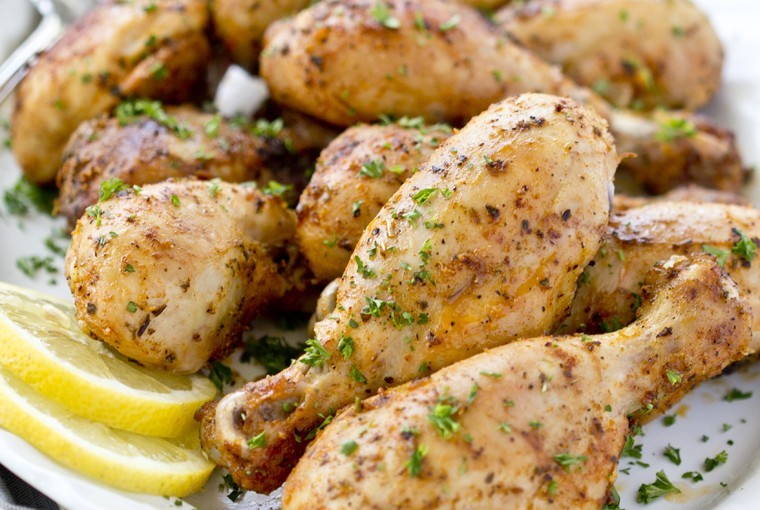 Roasted Lemon Chicken Legs
DIRECTIONS:
1. Put the chicken legs in a large resealable bag, squeeze in the juice of the lemons and throw in the rinds as well. Add the olive oil, garlic and some salt and pepper, seal the bag and toss around. Place in the fridge to marinate for at least 30 minutes or up to 6 hours.
2. Preheat the oven to 450°F.
3. Place the chicken legs on a baking sheet and roast until the juices run clear, 20 to 30 minutes.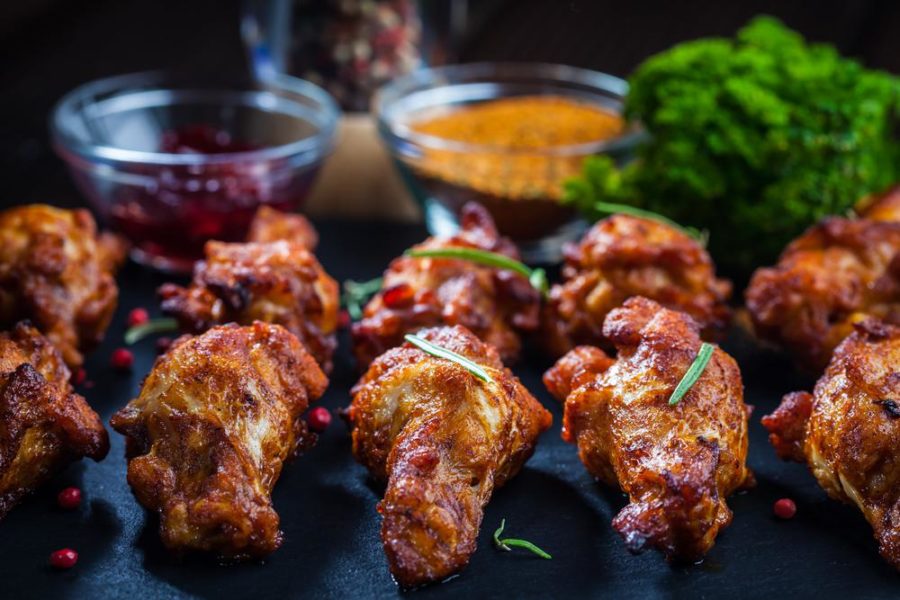 Classic BBQ Chicken
DIRECTIONS:
1. Preheat grill for direct grilling over medium heat 350F (176C). Oil grill to prevent sticking.
2. To prepare the sauce, place the oil in a large skillet set over medium heat, add the onion and garlic. Sauté until onion is translucent. Add all the remaining ingredients and reduce the heat to low. Simmer sauce for 25 minutes. Stirring occasionally. Remove from heat cool.
3. Clean and pat dry chicken. Place chicken on a tray. Season chicken with oregano, salt and pepper and drizzle with olive oil.
4. Place the chicken on the grill skin side down first. Drumsticks and thighs go on grill first, to cook for 5 minutes, then add the breasts and wings. Grill for another 10 minutes, turning pieces once or twice
5. Brush chicken with the sauce and continue to grill for about another 10 minutes, turning occasionally. Chicken is done when the juices run clear.
6. Remove chicken from grill and tent loosely with foil. Let the meat rest for 10-15 minutes. Serve hot!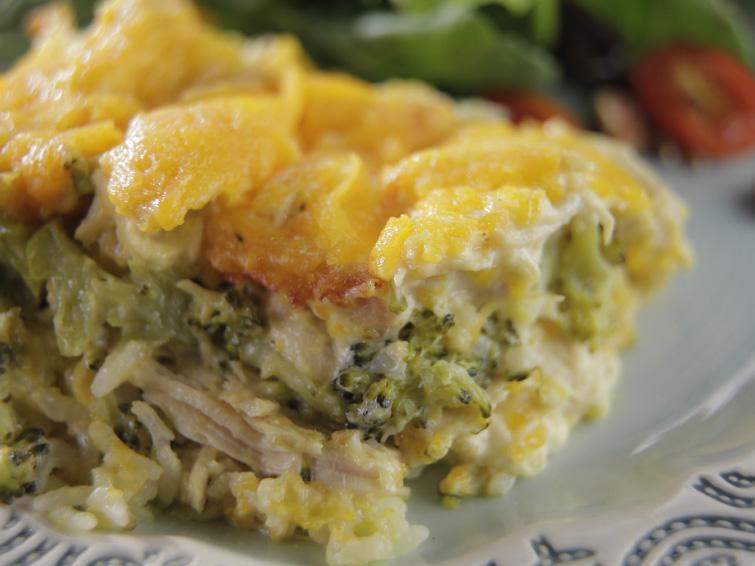 Chicken, Broccoli and Cauliflower with Cheddar
DIRECTIONS:
1. With the rack in the middle position, preheat the oven's broiler.
2. On a baking sheet, toss cauliflower, onion and garlic with melted butter. Lightly oil chicken and sprinkle with thyme. Spread on the baking sheet. Season with salt and pepper.
3. Roast for about 30 minutes, stirring halfway through cooking. Add broccoli and toss to coat with butter. Roast for about 10 minutes. Remove from the oven. Sprinkle with cheese and serve immediately.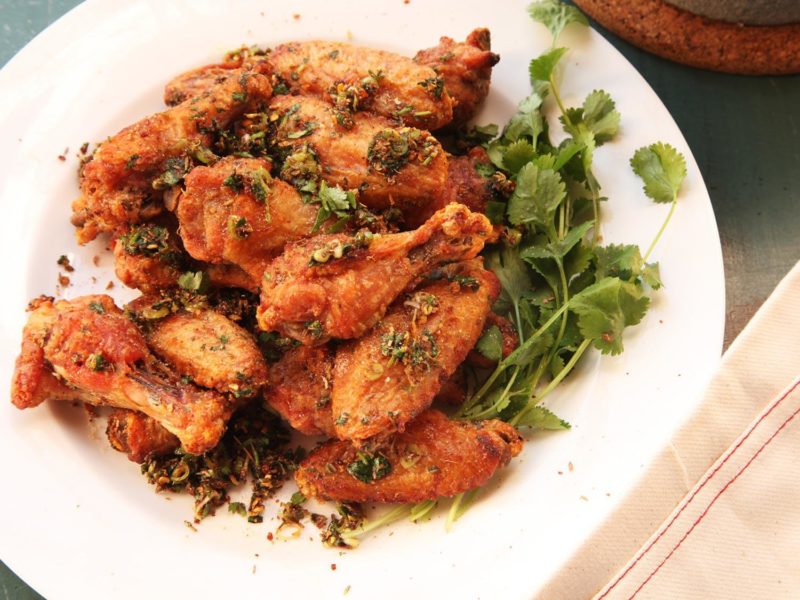 Confit Five-Spiced Fried Chicken with Gochujaung Mayo
DIRECTIONS:
Chicken
1. Combine spices and dry rub the drumsticks overnight.
2. Place drum sticks in duck fat and put covered in a 275ºF oven for about 1.5 hours. Meat should fall off the bone but still maintain its integrity. Drain drumsticks from duck fat and chill in fridge. Drumsticks must be completely chilled before deep frying.
Gochujang Mayo
1. Combine all ingredients until smooth. Set aside.
Batter
1. Combine ingredients to form a batter with the consistency of pancake batter.
2. Coat drumsticks in batter and fry in 350ºF oil for about 7 to 8 minutes until golden brown.
3. Serve with gochujang mayo.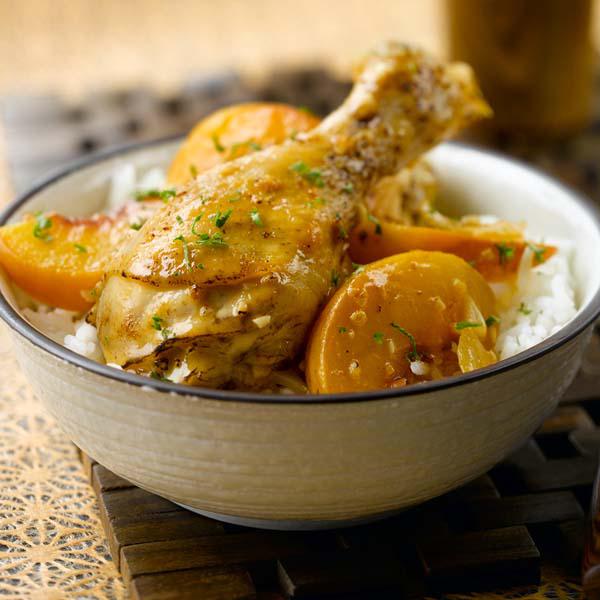 Fruity Drumsticks
DIRECTIONS:
1. In a saucepan large enough to hold all the drumsticks, heatoil over medium-high heat. Add chicken; brown on all sides, about 5 minutes. Remove to plate; set aside.
2. Drain excess oil from pan. Add onions and garlic; cook, stirring, for 3 minutes, or until the onions have softened.
3. Add the chicken stock, lemon juice, desired VH® Dipping Sauce, peaches and chicken.
4. Reduce heat to medium-low; cook until chicken is no longer pink inside, about 15 minutes.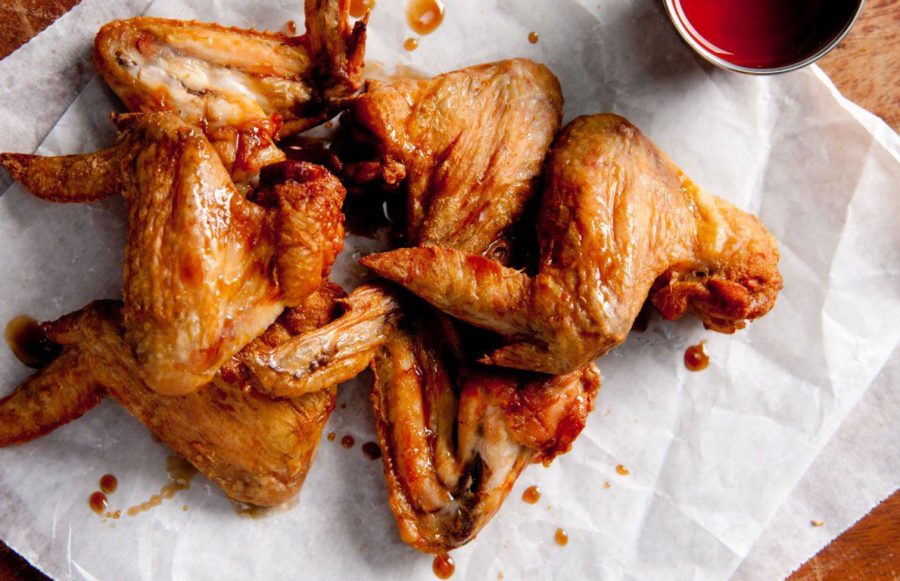 Beer & Buttermilk Wings with Sriracha Glaze
DIRECTIONS:
Chicken
1. In a large bowl, whisk together the buttermilk, 12 ounces of beer, salt, smoked paprika, cayenne, cumin and brown sugar. Add the onions and chicken to the marinade. Cover and place in the fridge for at least 6 hours and up to 12 hours or overnight.
Glaze
1. Just prior to grilling, make the glaze. In a saucepan over medium high heat, whisk together all the glaze ingredients. Bring to a boil, stirring frequently, until thickened, about 8 minutes.
2. Remove the chicken from the marinade. Discard the marinade.
3. Place the chicken on a preheated grill, brush with the glaze, cook for about 2 minutes, flip and brush with glaze. Continue to flip and brush with glaze every 2-4 minutes until chicken is cooked through, about 20-25 minutes. (Depending on the size of the chicken you are using).
4. Transfer wings to a serving platter and sprinkle with cilantro (optional). Serve with blue cheese dipping sauce or any other sauce you may prefer with your wings, but these wings are also excellent on their own!