This Beef Stew Recipe is perfect for the colder weather! Tender beef is simmered in beef broth with potatoes, onions, celery, peas, and carrots until melt in your mouth tender. It's comfort food heaven!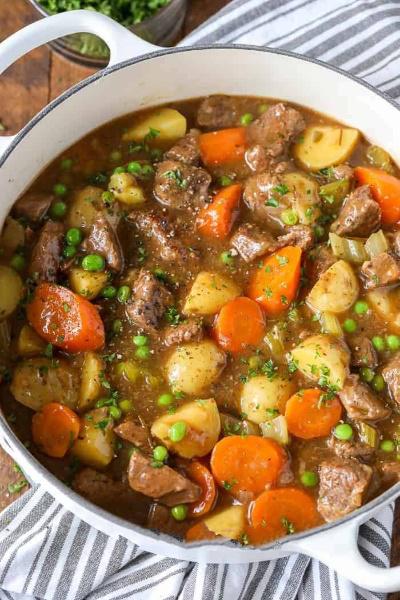 How To Make Beef Stew
Searing the beef pieces before you add the stock makes such a difference in the flavor you get from the soup. It's really the only chance you have to get that delicious caramelization on the meat!
As the veggies and broth simmer, you will really start to notice the flavors in the stew intensify. Peas cook quickly so I add them in the last few minutes!
This stew recipe is also the perfect way to use up any vegetables you might need to use up. If you've got leftover roasted potatoes, glazed carrots or fried mushrooms, just chop 'em up up and throw them in!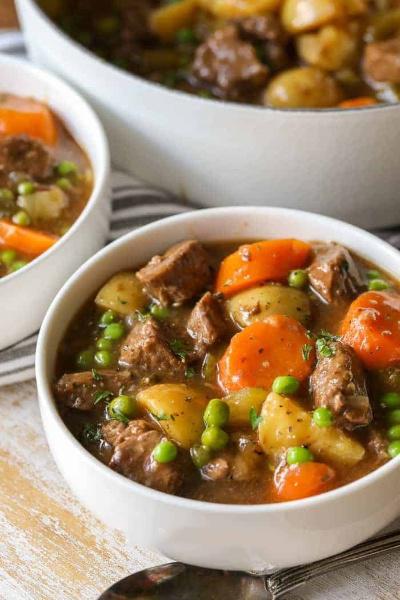 How To Thicken Beef Stew
Beef stew will thicken a bit naturally thanks to the starches in the potatoes and the dredging of the beef, but I always like to thicken it a little bit more.
Stew can be thickened by giving the vegetables a quick mash or you can use either flour or cornstarch. My preferred method for thickening beef stew (and the method used in this beef stew recipe) is to use a cornstarch slurry.
How to Make a Slurry
A slurry is super easy to make! Combine equal parts cornstarch and water and stir. I told you it was easy!!
Pour this mixture a little bit at a time into bubbling soup or stew to thicken until you reach desired consistency. Once your stew is thickened, allow it to boil at least 1-2 minutes to ensure you cook out any starchy flavor.
If left to sit before adding to the soup or stew, a slurry will settle within a couple of minutes so be sure to give it a stir before adding it. I sometimes mix the cornstarch with low sodium (or no sodium) broth instead of water.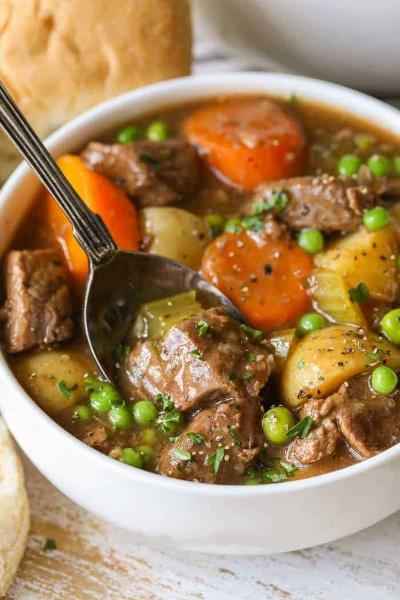 Can You Freeze Beef Stew?
Yes, you can absolutely freeze beef stew! I like to freeze it in freezer bags in single servings portions so I can take one portion out for lunches (or four out for dinner)! Defrost overnight in the refrigerator or you can defrost in the microwave (time will vary based on portion size) stirring occasionally.
What To Serve With Beef Stew
Beef stew is super perfect on it's own; it is a complete meal!
We usually serve it with a bread, biscuit or even Garlic Crescent Rolls to sop up any broth! I also love serving it with mashed potatoes in the bottom of the bowl! Even just some crushed crackers or saltines are all you really need.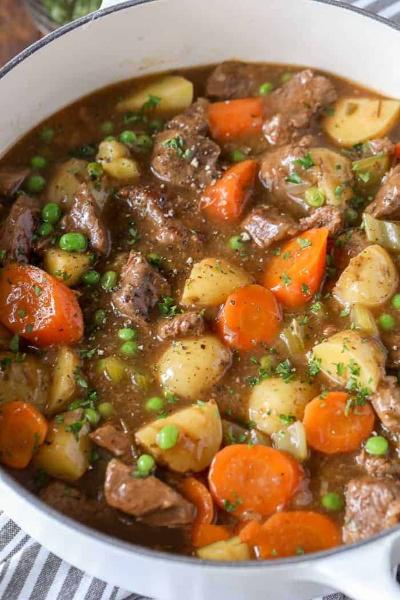 Ingredients
2 pounds stewing beef trimmed and cubed
3 tablespoons flour
½ teaspoon garlic powder
½ teaspoon salt
½ teaspoon black pepper
3 tablespoons olive oil
1 onion chopped
6 cups beef broth
½ cup red wine optional
1 pound potatoes peeled and cubed
4 carrots cut into 1 inch pieces
4 stalks celery cut into 1 inch pieces
3 tablespoons tomato paste
1 teaspoon dried rosemary or 1 sprig fresh
2 tablespoons cornstarch
2 tablespoons water
¾ cup peas
Instructions
Combine flour, garlic powder and salt & pepper. Toss beef in flour mixture.
Heat olive oil in a large Dutch oven or pot. Cook the beef and onions until browned.
Add beef broth and red wine while scraping up any brown bits in the pan.
Stir in all remaining ingredients except for peas, cornstarch and water. Reduce heat to medium low, cover and simmer 1 hour or until beef is tender (up to 90 minutes).
Mix equal parts cornstarch and water to create a slurry. Slowly add the slurry to the boiling stew to reach desired consistency (you may not need all of the slurry).
Stir in peas and simmer 5-10 minutes before serving . Season with salt & pepper to taste.
Recipe Notes
Beef stew meat is often made from the ends of different cuts of beef. If your beef is not tender after 60 minutes, cover and allow to simmer an additional 15-20 minutes or until tender.